Since 2007 when the inaugural Games took place in Aromas, the sport of fitness started a revolution that would widely spread across the globe. Approximately 70 athletes competed in 2007, this year alone 272,667 people registered for the Open.
Still don't know what hopper is? Scroll through the article to found out and see what other things only long-time Crossfitters remember.
1. Chucks before Nanos and MetCons
Converse All Stars shoes were considered "favourite" for MetCon workouts. Many powerlifters still use these for deadlifts.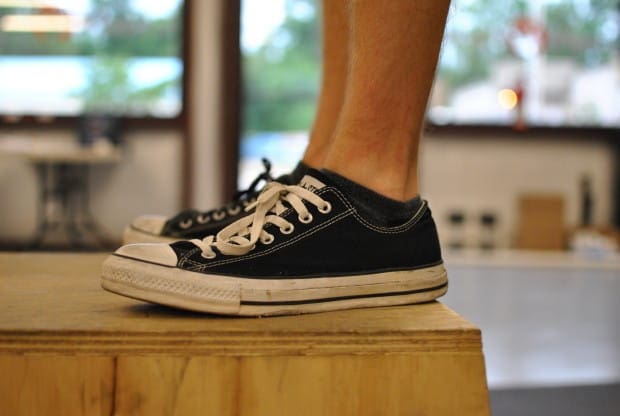 2. Ranch in Aromas with burgers, beer, Chris Spealler and 70 other athletes
Before Home Depot Centre in Carson, Aromas was the home for the inaugural CrossFit Games in 2007. Chris Spealler was already in the line up of athletes.
"It was a simple backyard barbecue on a ranch in Aromas along with burgers and beer and a serious test of fitness…" – from the History of CrossFit Games.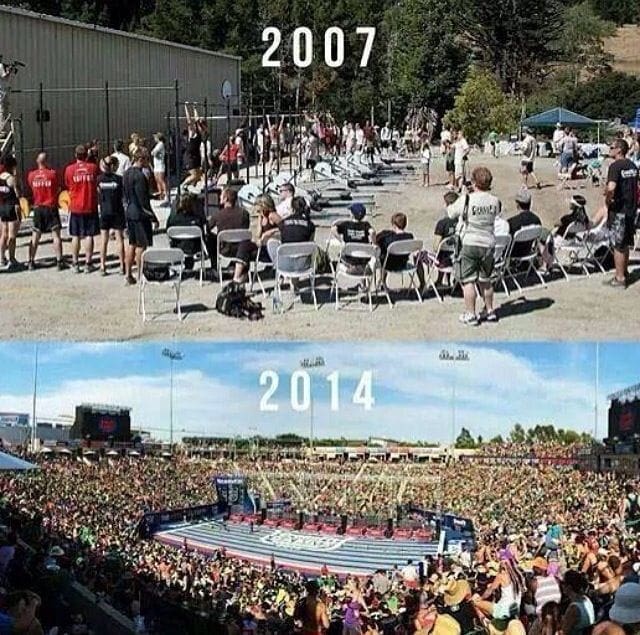 3. Camaraderie among the athletes
Athletes were friends supporting and helping each other.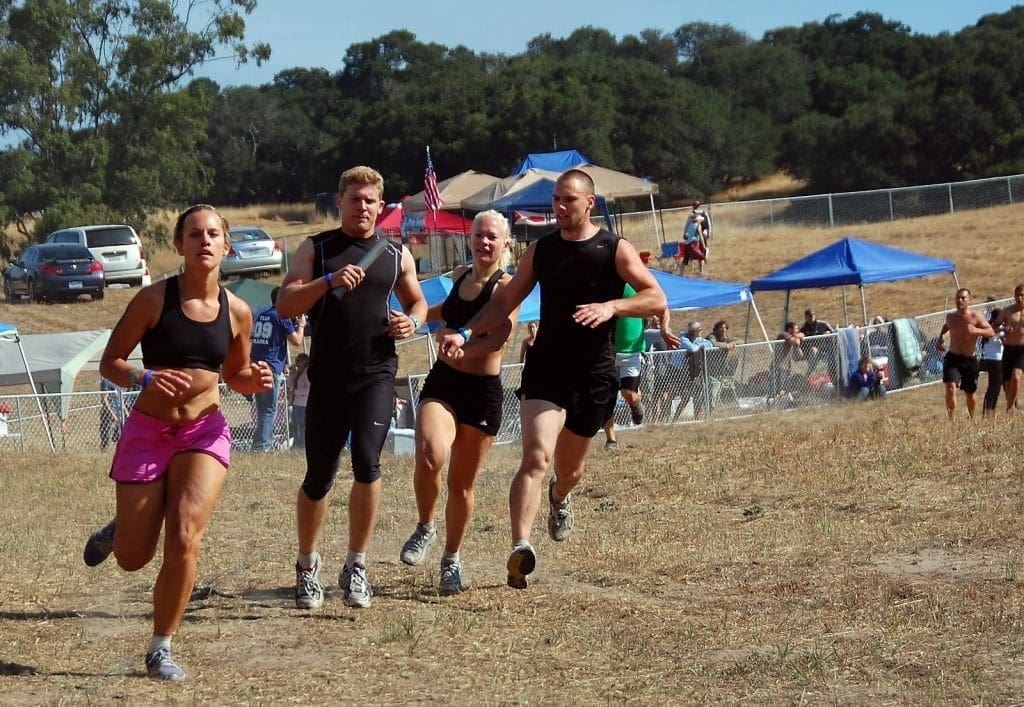 4. The Hopper
The first event of the inaugural CrossFit Games was chosen randomly with a help of coloured balls and the hopper. This workout is now known as the 2007 and was repeated in 2013. Josh Bridges won it with the time of 8:33. In 2007 Brett Marshall finished first in 13:07. Jolie Gentry, the female winner of the first ever CrossFit Games, won the hopper with 16:22. In 2013 Valerie Voboril took first place with the time of 9:48.
For time:
Row 1000 meters
then, five rounds of:
25 Pull-ups
7 Push jerks (61/38 kg)
5. CrossFit Games 2007 flyer
Remember this one?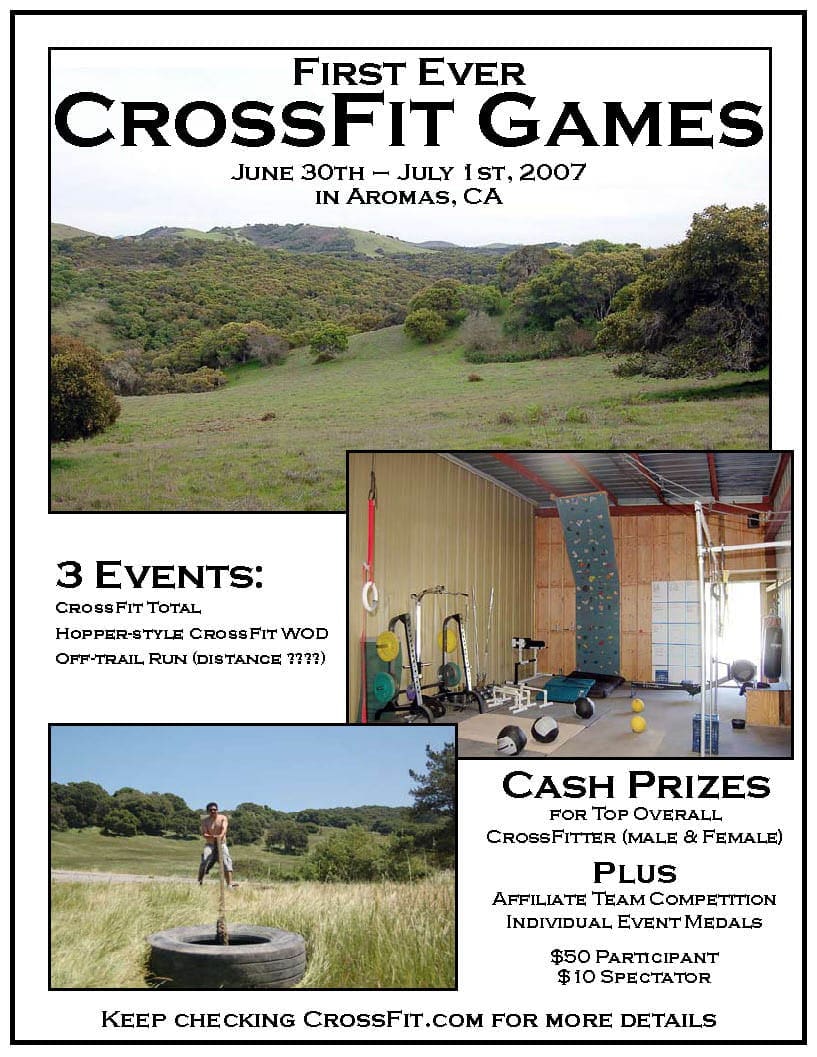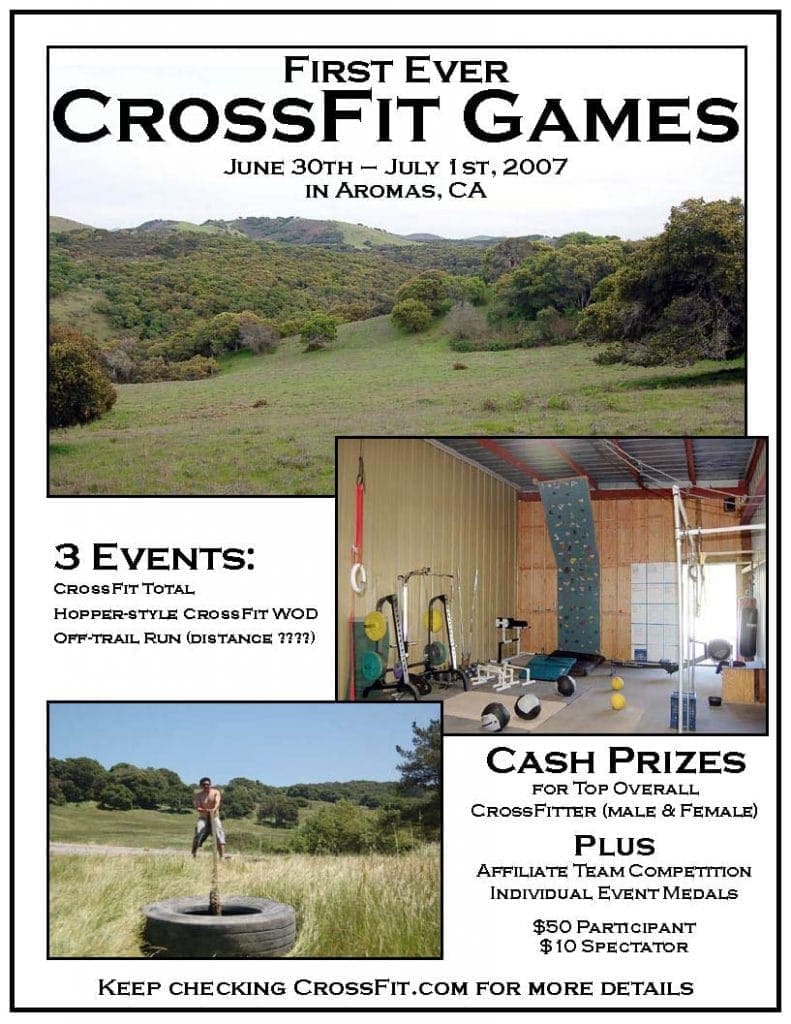 6. Athletes had to pound a stake into the ground
Sledge hammers, 4-foot stake for men, 3-foot for women combined with 2 rounds of 500-meter row. An event from 2009 CrossFit Games.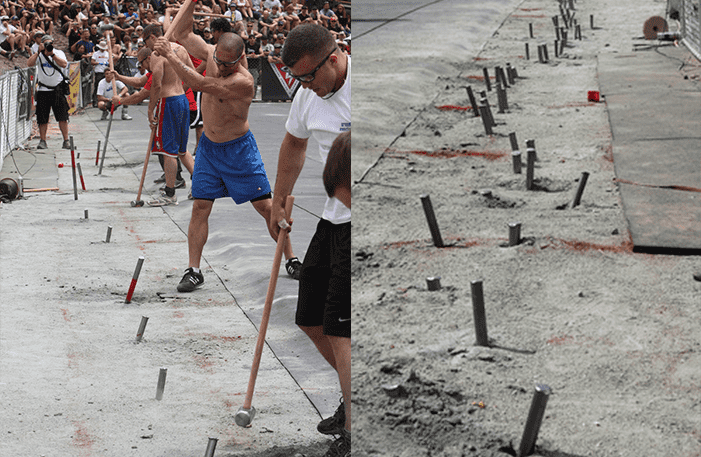 See the video.
7. Julie Foucher was a beginner
So far the girl in the video has placed on the CrossFit Games podium twice: 3rd in 2014 and 2nd in 2012.
8. The uphill sandbag sprint in 2009
The 170-meter long uphill sprint with sandbags looked like fun and was won by two Icelandic athletes: Sveinbjörn Sveinbjörnsson and Annie Thorisdottir.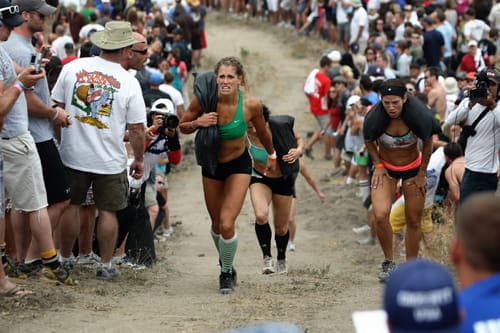 9. 19-year-old Annie Thorisdottir with a 115 lbs snatch
Annie made her first appearance in 2009, not even knowing how to do all movements correctly. She learnt the snatch while warming up and later did a 115 lbs (52 kg) lift.
10. CrossFit Total workout
CrossFit Total was the ultimate strength test: back squat 1RM, press 1RM and deadlift 1RM. Three attempts for each lift.

11. Nasty Girls
The original CrossFit girls Annie Sakamoto, Nicole Carroll and Eva T did the Nasty Girls workout with three rounds of: 50 squats, 7 muscle-ups and 10 hang power cleans (61/43 kg). These ladies are doing strict muscle ups and Annie just placed 14th at the California Regional 2015.
12. James FitzGerald: the first Fittest Man on Earth
Now the founder and owner of OPEX Fitness and a coach to many of today's top athletes.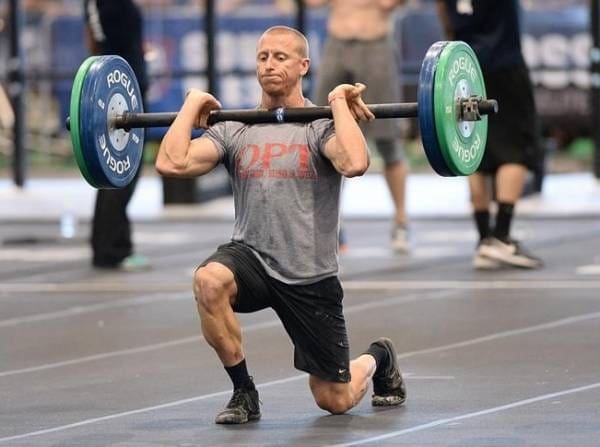 13. In 2009 athletes did handstand push-ups strict
Event 7 in 2009 combined handstand push-ups together with kettlebell swings and GHD sit-ups. Athletes did them strict. Kipping came a few Games later.
In 2015 Regional event 6 has deficit strict handstand push ups.
14. Khalipa winning the Games in 2008
22-year-old Jason Khalipa became the Fittest Man on Earth by winning the Games in 2008.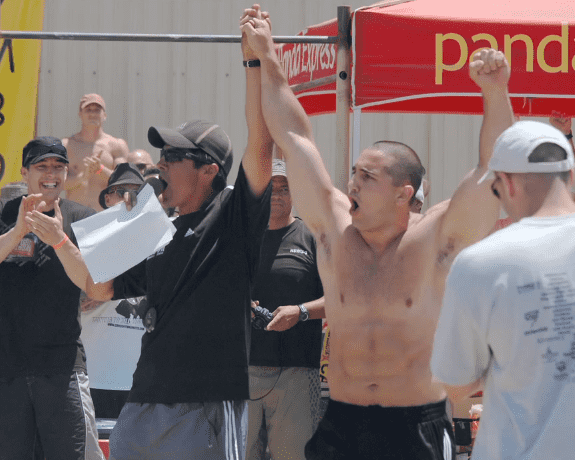 15. Mikko Salo came out of nowhere and won
In 2009 CrossFit Games welcomed international competitors and the firefighter from Finland, Mikko Salo won the title. So far no other European male athlete has come close to Mikko's achievement.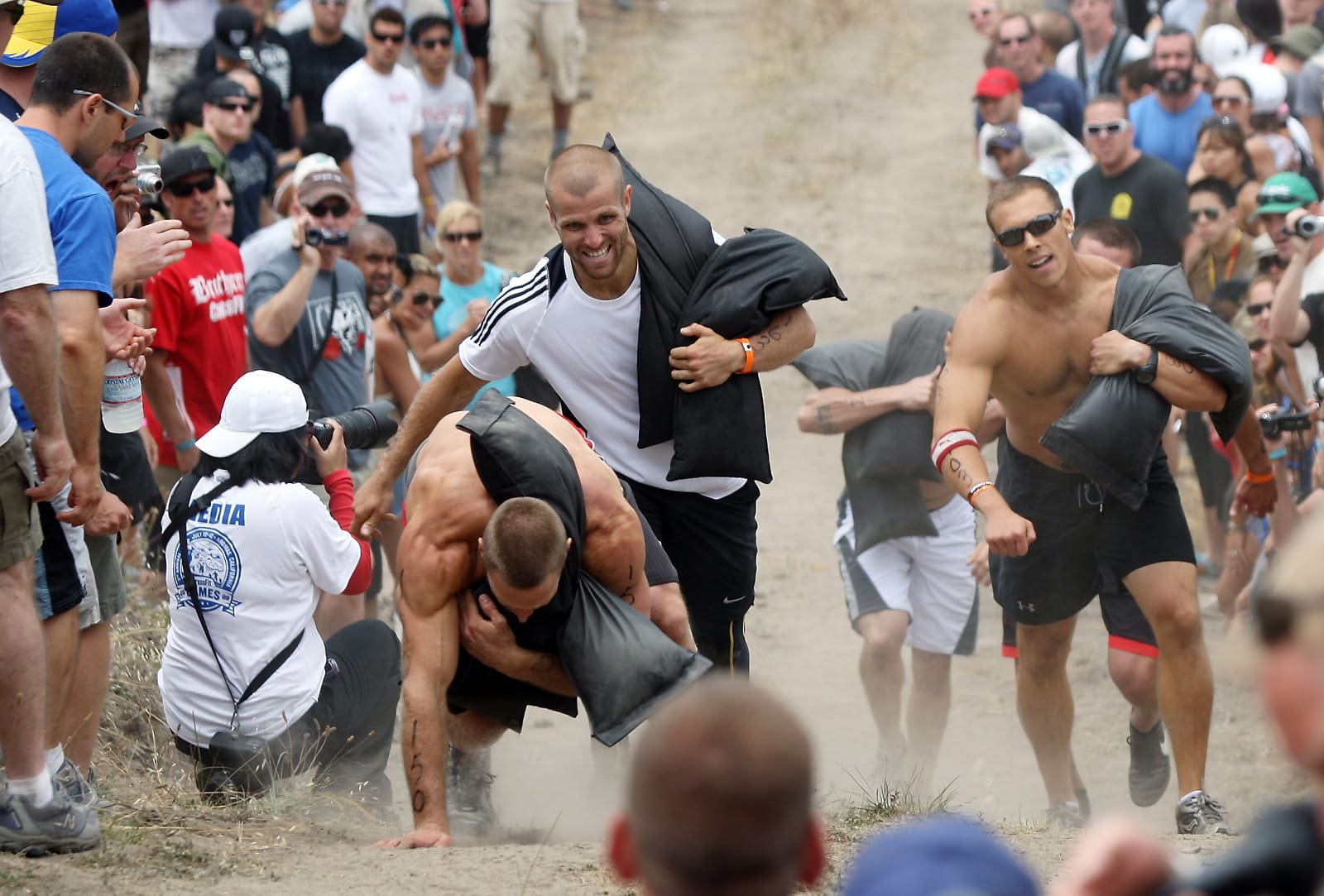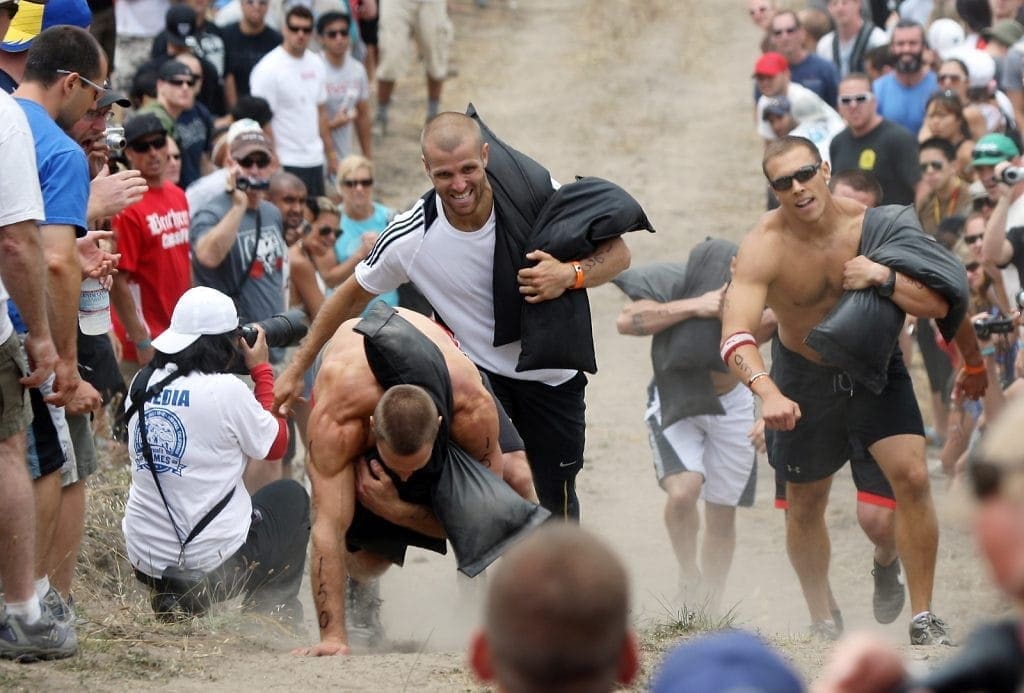 16. Becca Voigt as a Games rookie in 2008
And Becca today, going to her 8th consecutive CrossFit Games.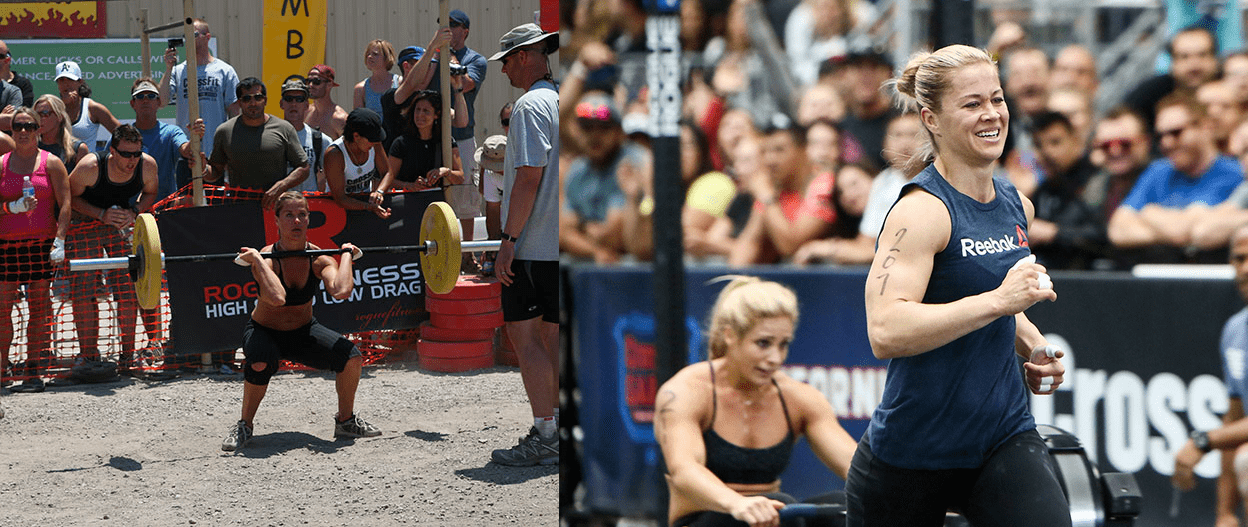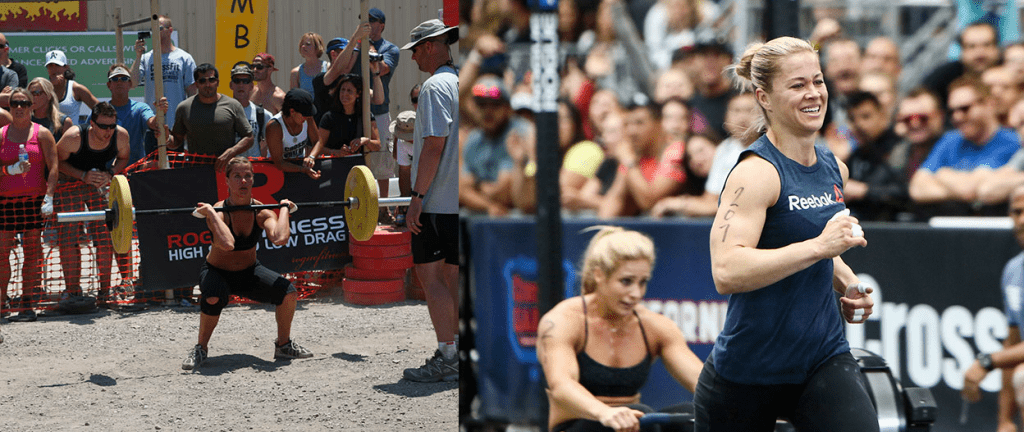 17. Froning finished 2nd in 2010
Before becoming a four-time CrossFit Games champion, Rich Froning was beaten by Graham Holmberg and finished 2nd in 2010.
18. Old School Crossfit Athletes: Passion
No money, no fame, just pure passion for fitness.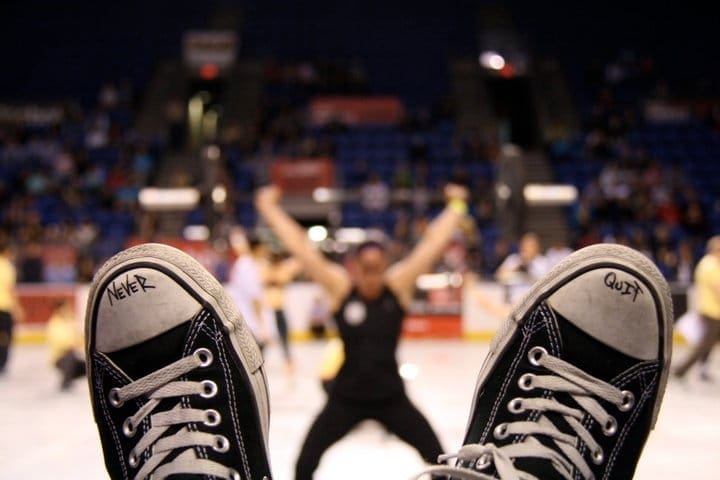 Sources: