Camille Leblanc Bazinet is a former CrossFit Games winner a member of the Canadian weightlifting team, and on top of all that, holds a degree in engineering. She is a world renowned and highly respected athlete. Check out these home workouts from Camille Leblanc Bazinet to help you improve your fitness. 
Camille on Body Image
"When I was growing up, I felt I needed to look a certain way, but it's something now that I've changed a lot. I can look back and see that it was eating me alive and it was so nasty and negative."
"Most women train to fit into some kind of box for the female body, how it's supposed to look, move and function. But this isn't right; women should feel they can work out because they want to work out."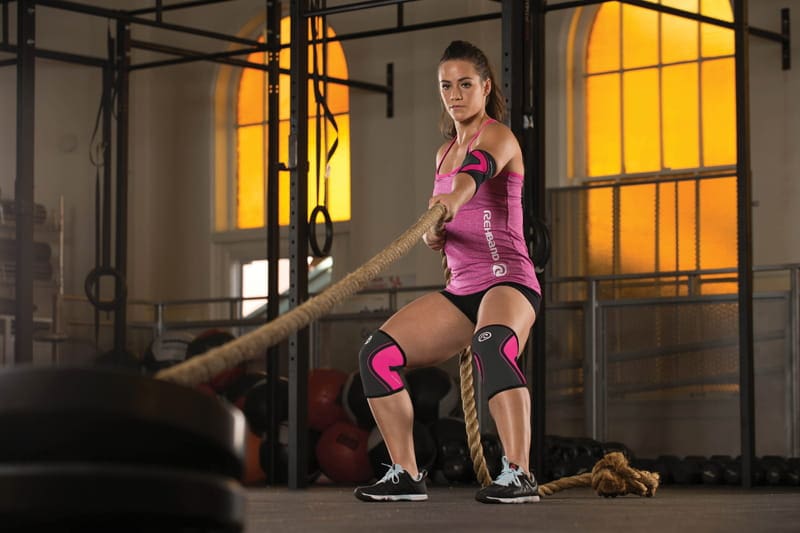 Changing focus from appearance to function
"My body is a reflection of what I do. Now I feel that my body is this way because I do X, Y and Z and I'm really proud of that. That came once I found CrossFit. Everything in my body now has a purpose."
"The mold is starting to be broken up right now, there is a new generation of women who favour being healthy and fit over super skinny and unhealthy. For me, this happens when the focus shifts from appearance to function."
'I was good at school and good at sport, and it felt like I had to be a little bit dumber with guys so I would be accepted. But then I thought, no, I'm going to be as nerdy as I want and I'm still going to kick your butt in the gym.'
And that's exactly what she did.
No Time for Negativity
'You need very supportive people and sponsors; I have no patience for negative people.'
I few years ago she decided to clean up her relationships. 'You must have a strong support network', and with the help of her family, her sponsor Rehband, and her iron determination and talent, she has achieved great things in CrossFit. Camille is an excellent role model and champion of a new kind of femininity and physique for women.
Inspiration and Motivation Tips
"It's important to be honest with yourself. I open myself up to everything that is around me and think about what motivates me?"
Camille finds inspiration in quotes. She writes out her favourite in the gym:
"Find an excuse to win."
"Work hard and be proud" is also scrawled confidently on the wall, acting as constant reminder for her to keep pushing and working. For Camille this is an attitude that extends throughout all areas of her life, including her intellectual and lifestyle aims as well as her athletic performances.
"My goal in life is to do everything as well as I can"
Cami concluded by saying that what she has learnt from CrossFit is more psychological than physical. "You have to ask am I willing to do this? And if the answer is yes, and you put in the extra work, go the extra mile, then you will succeed."
Home Workouts from Camille Leblanc Bazinet: WORKOUT 1
40-30-20-10
Backpack deadlift
Backpack floor press
Backpack back squat
* 25 jumping jack between each movements
Finisher
10-9-8-7-6-5-4-3-2-1-
bent over row
sec hold
WORKOUT 2
3 Rounds
4min AMRAP (as many as possible)
5 Hang power clean
10 Dips
15 Air Squat
Rest 1 min between round
Finisher (glute focus)
3 Rounds
10 1 Leg Hip Bridge + 20 sec hold
12 Death March