WODAPALOOZA 2022 is an incredible event in Miami involving a selection of the best functional fitness athletes in the world, all fighting for cash prizes and places at the 2022 CrossFit Games.
Cancelled in 2021, the prior year saw Canadian Powerhouse Pat Vellner and Australian legend Tia-Clair Toomey-Orr cruise to take the top spots in the male and female Elite Divisions.
Learn about WODAPALOOZA winner Amalia Ortuno.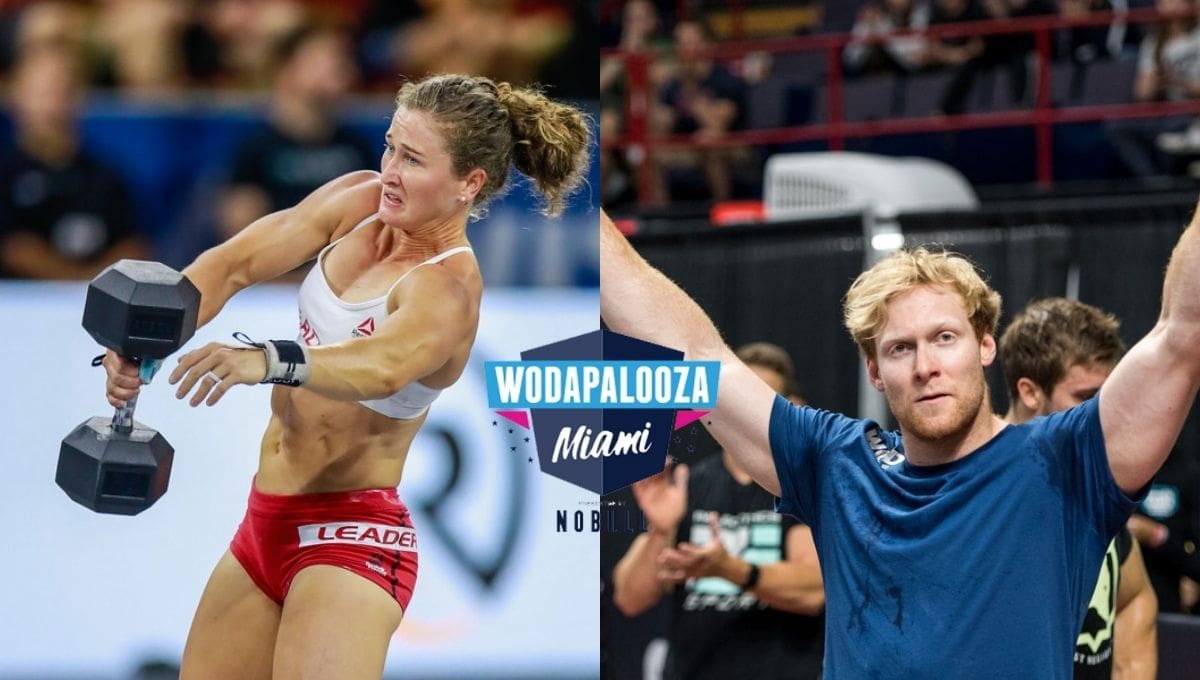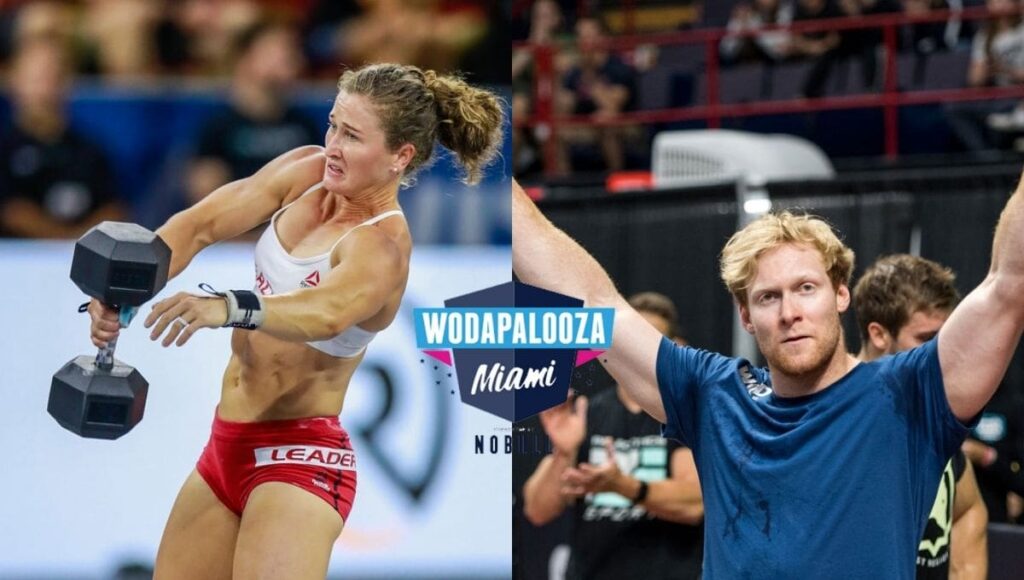 The WZA Miami consolidates 100+ fitness-related brands, 900+ volunteers, 2500+ athletes, and tens of thousands of spectators hailing from all fifty states of the USA and over forty countries.
The wider event also includes the:
Weightlifting Faceoff (1-day Olympic Lifting competition)
WZA Strong (a hybrid competition of Strongman and functional fitness movements)
Gauntlet (an exciting and fast race through three workouts within an hour)
How to Watch
Over 2,300 athletes across 20+ different divisions, including teens, masters, and adaptive, are set to compete at Wodapalooza. The competition will run from Thursday, Jan. 13 to Sunday, Jan. 16 at Bayfront Park in Miami, Florida.
Livestreams of the competition will be available on the CrossFit Games YouTube channel, at games.crossfit.com, and will be embedded below too.
There will be livestreams for the elite individual, elite team, adaptive, masters, and teen divisions throughout the weekend.
Day 4 Livestream
Day 3 Livestream
Day 2 Livestream
Day 1 Livestream
Wodapalooza Event Schedule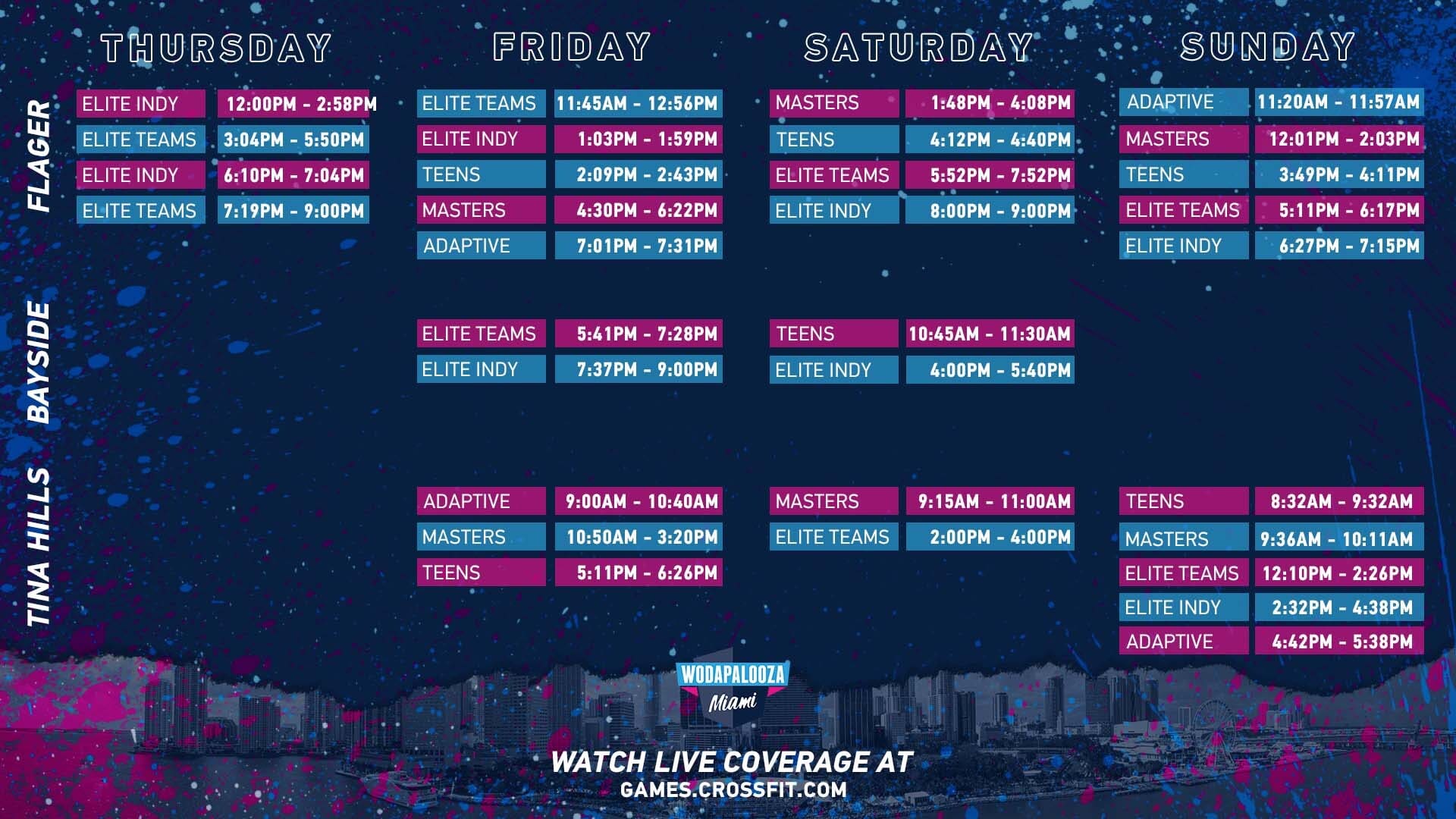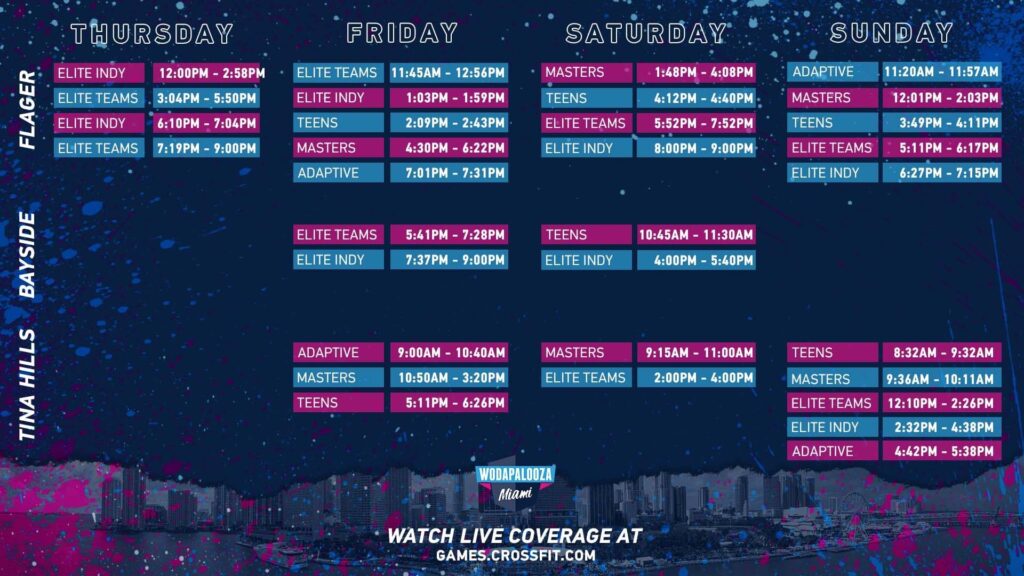 Note: This schedule is subject to change. Visit https://wodapalooza.com for the latest updates. All times are Eastern Standard Time.
Streaming Schedules
Thursday livestream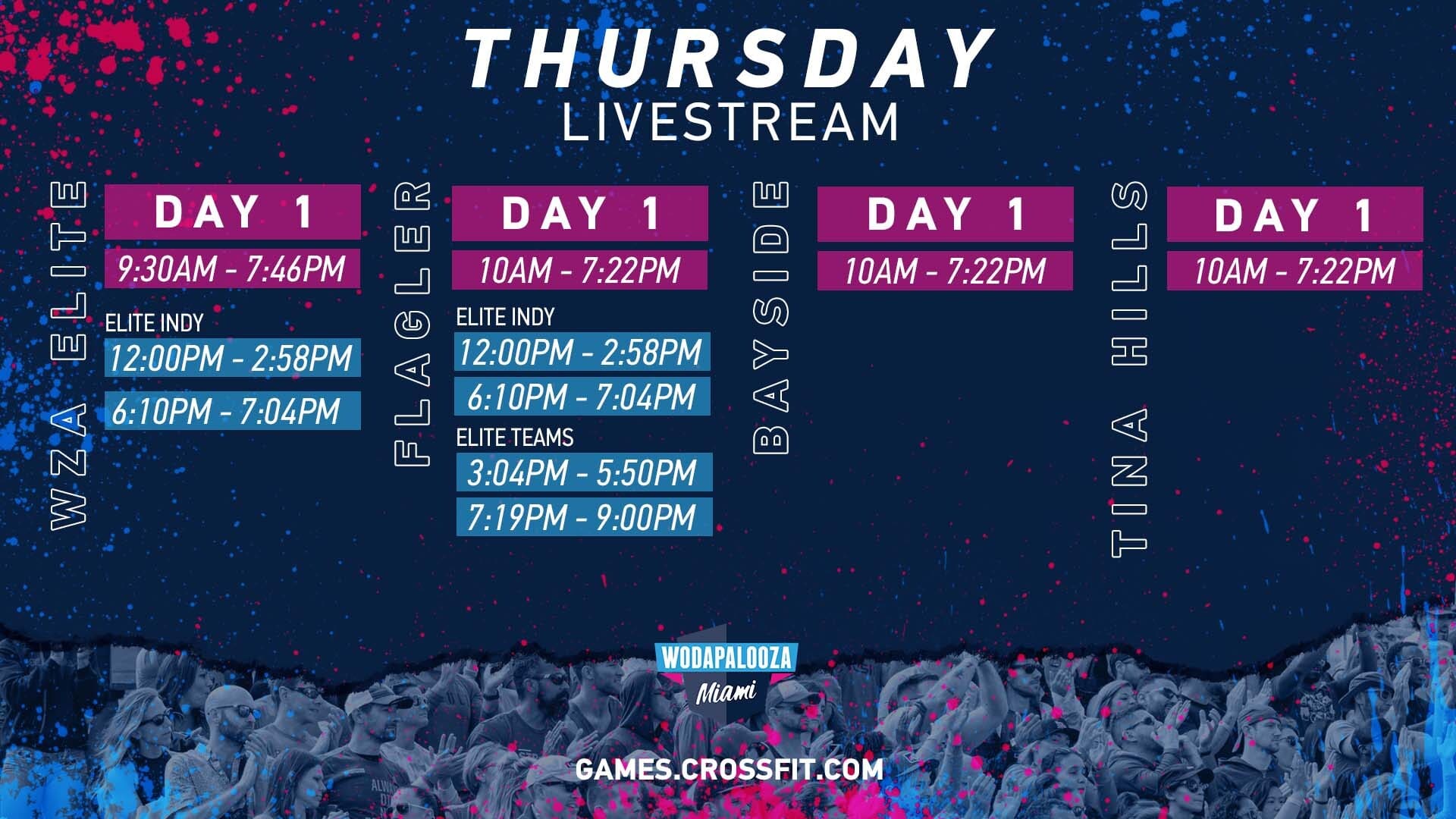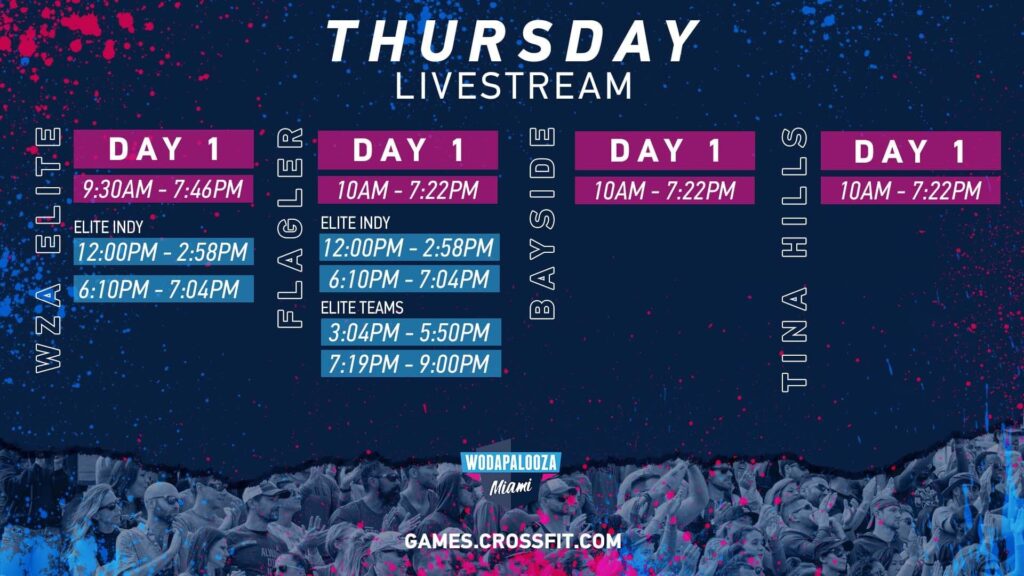 Friday livestream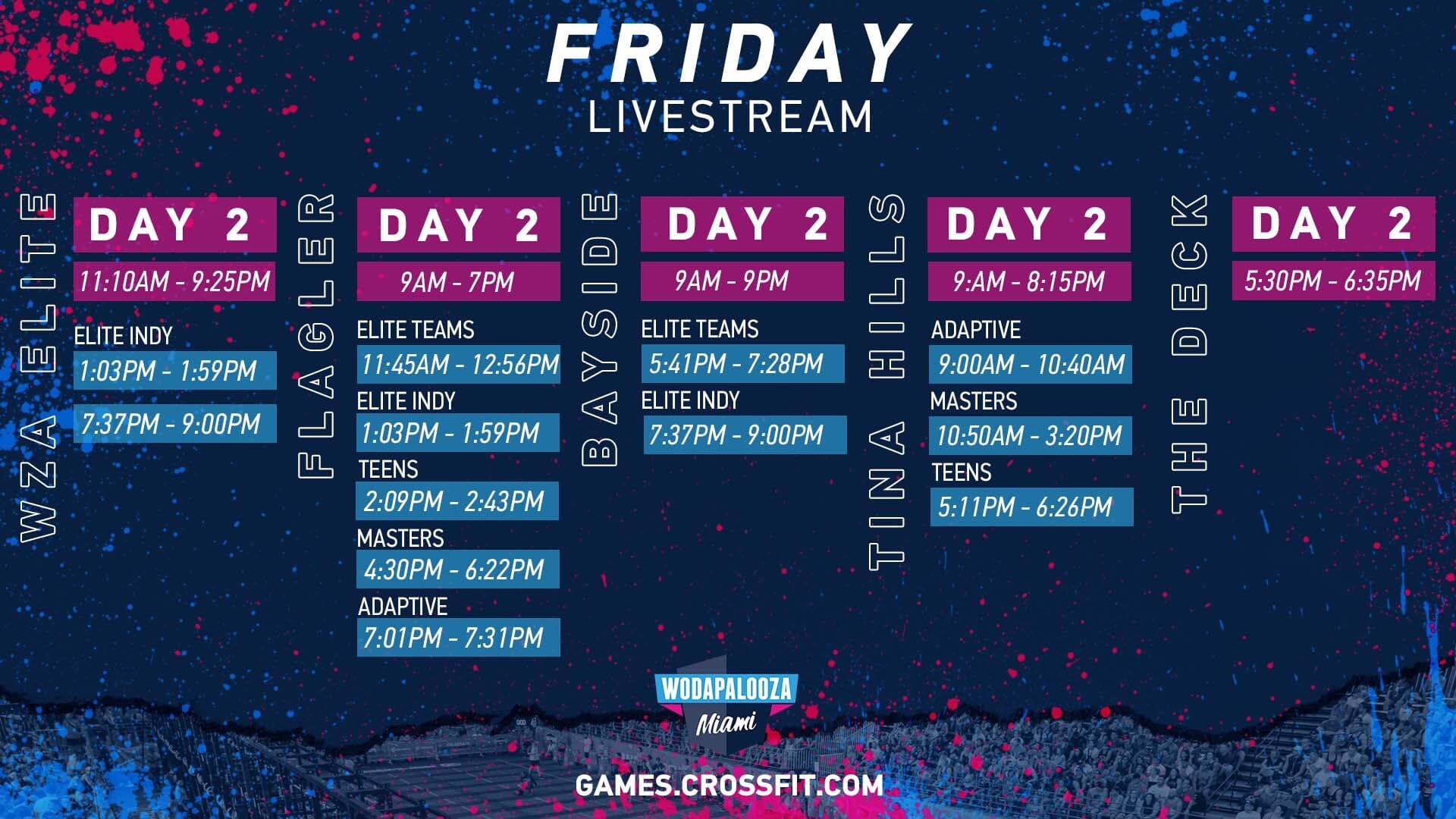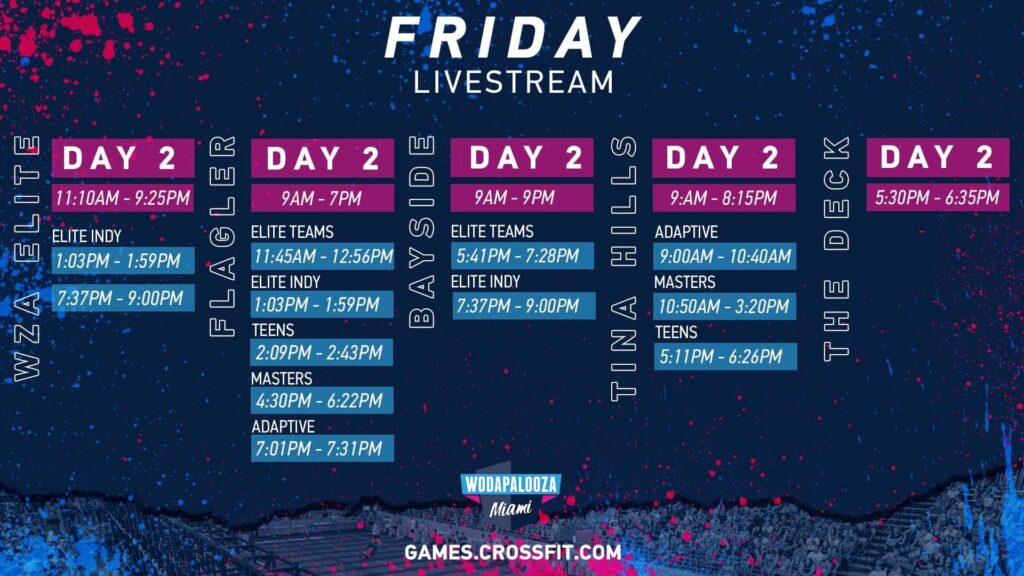 Saturday livestream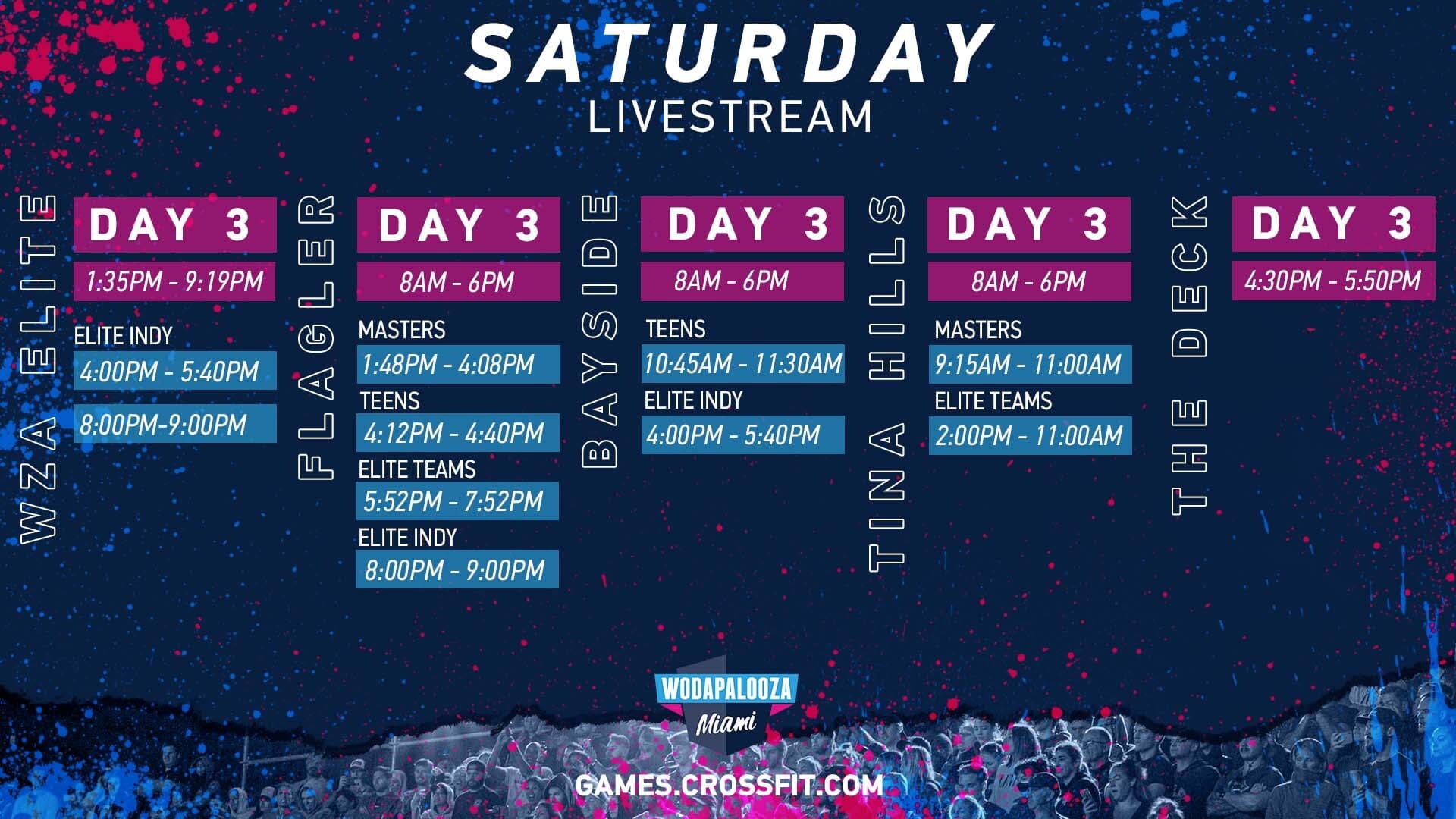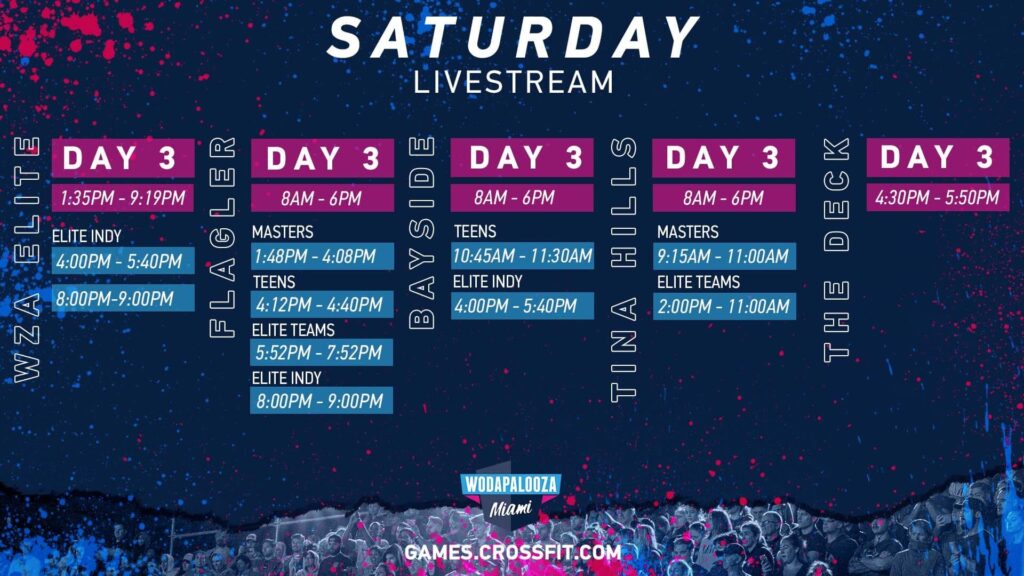 Sunday livestream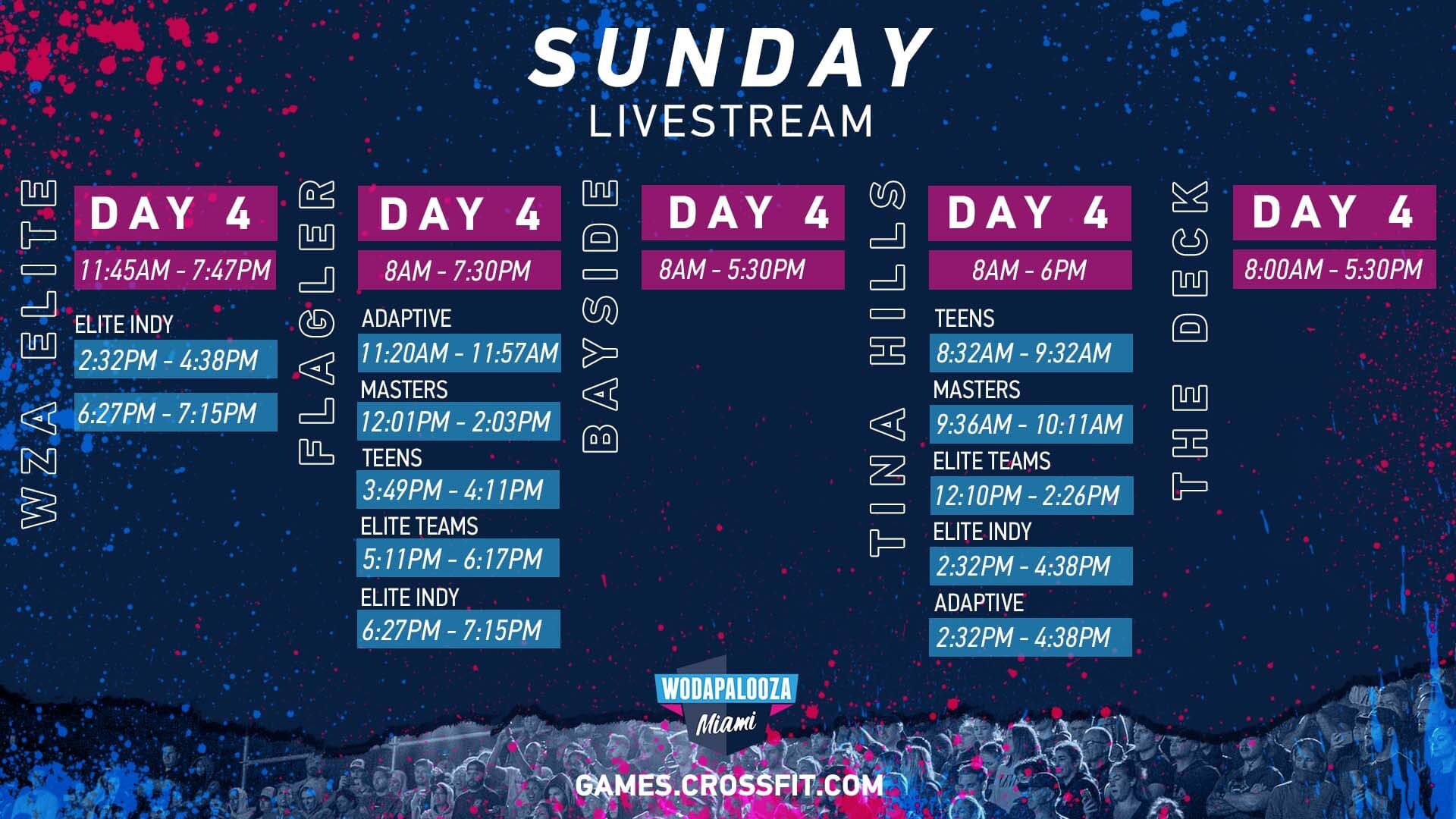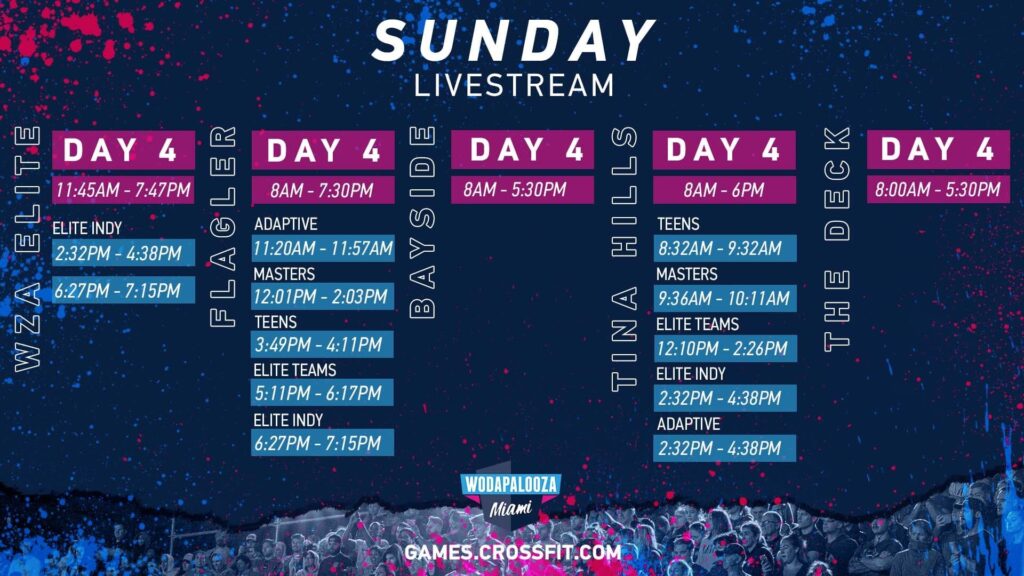 Prize Purse
These are the different amounts that athletes in the different divisions at WODAPALOOZA 2022 will win.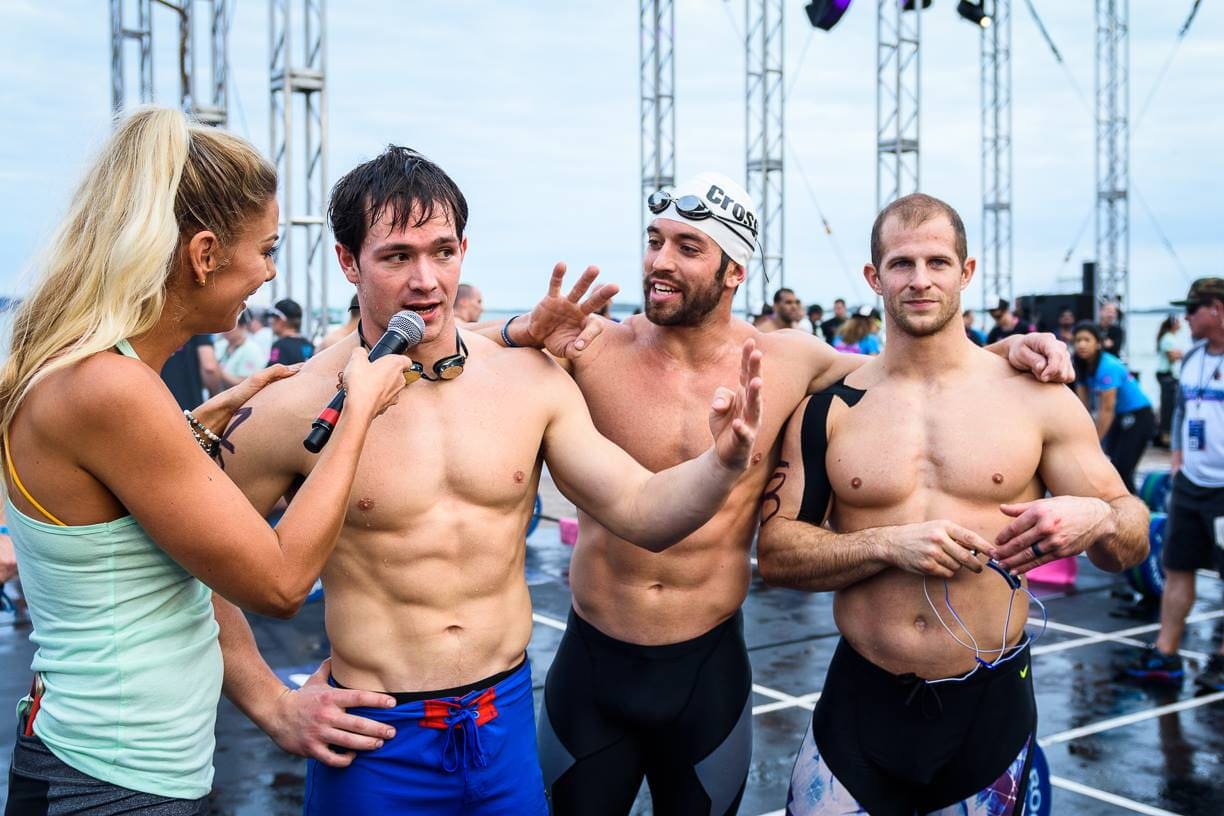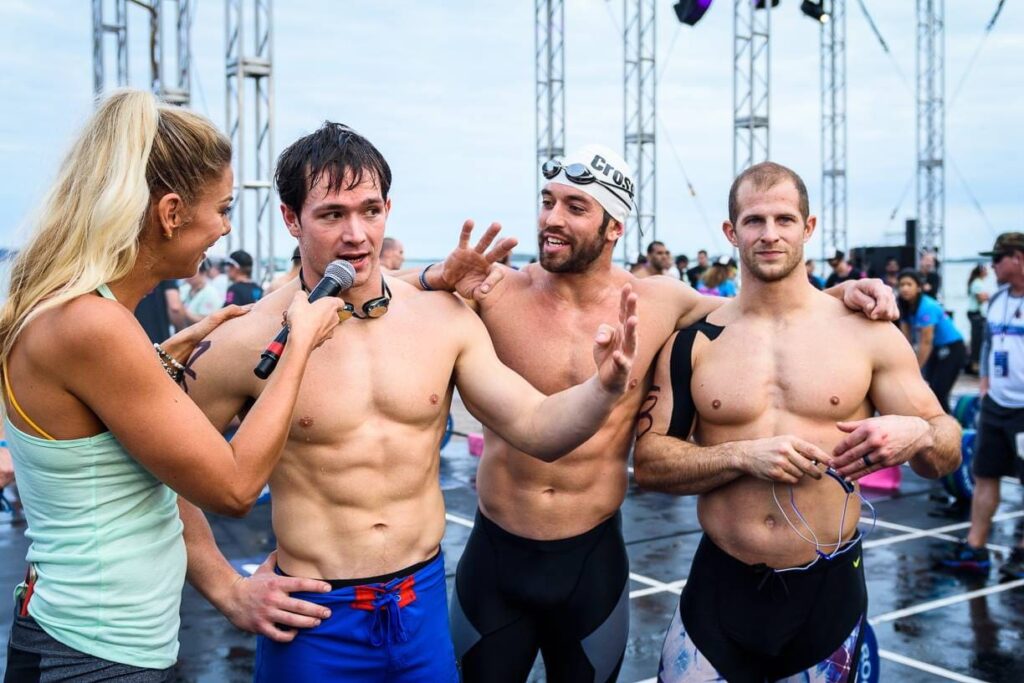 ELITE INDIVIDUALS
| | |
| --- | --- |
| First | $100,000 |
| Second | $35,000 |
| Third | $20,000 |
| Fourth | $10,000 |
| Fifth | $7,500 |
| Sixth | $5,000 |
| Seventh | $4,000 |
| Eighth | $3,000 |
| Ninth | $2,000 |
| Tenth | $1,000 |
Event Wins: $1,000
ELITE TEAM OF 3 (MMM/FFF)
| | |
| --- | --- |
| First | $15,000 |
| Second | $10,000 |
| Third | $5,000 |
| Fourth | $3,000 |
| Fifth | $1,500 |
MASTERS
ADAPTIVE
| | |
| --- | --- |
| First | $2,000 |
| Second | $1,000 |
| Third | $500 |
Which Athletes are Competing at WODAPALOOZA 2022?
This year Legend Rich Froning will participate once again in his team "Mayhem Paradise."
Fellow CrossFit Mayhem athlete Haley Adams will also join the Team Division alongside Andrea Nisler and Taylor Williamson.
Elite Women
Emily Rolfe
Arielle Loewen
Dani Speegle
Sara Sigmundsdottir
Ellie Turner
Caroline Conners
Chloe Gauvin-David
Anikha Greer
Tayla Howe
Kristine Best
Kaela Stephano
Bethany Shadburne
Paige Semenza
Sasha Nieves
Freya Moosbrugger
Emma McQuaid
Fee Saghafi
Olivia Sulek
Emma Tall
Paige Powers
Kendall Vincellette
Michelle Basnett
Thais Nunes
Danielle Brandon (WD)
Baylee Rayl (WD)
Elite Men
Patrick Vellner
Guilherme Malheiros
Saxon Panchik
Griffin Roelle
Spencer Panchik
Cole Sager
Jake Marconi
Anthony Davis
Phil Toon
Jorge Fernandez
Tim Paulson
Dallin Pepper
Colten Mertens
James Sprague
Tyler Christophel
Alexandre Caron
Reggie Fasa
Jayson Hopper
Ricky Garard
Scott Panchik
Samuel Cournoyer
Taylor Self
Alex Vigneault
Elite Female Teams
Jenn Ryan, Brittany Weis, Devyn Kim
Andrea Nisler, Taylor Williamson, Haley Adams
Kelsey Kiel, Kelly Baker, Alexis Kyser
Kristin Holte, Lena Richter, Ingrid Hodnemyr
Alison Scudds, Alex Gazan, Kyra Milligan
Seungyeon Choi, Jung Da Won, Kim MinJeong
Mary Kay Dreisilker, Kelly Stone, Elisa Schauer
Shelby Neal, Jessi Harper, Ashleigh Wosny
Nicole Burke, Rachel Thibodeaux, Hayley Murillo
Matilde Garnes, Marian Johnsen, Veslemoy Kollstad
Alexys D'Tiole, Carolyne Prevost, Danielle Dun lap
Mia Hesketh, Sólveig Sigurðardóttir, Julie Hougård Nielsen
Elite Male Teams
Ben Smith, Alec Smith, Dane Smith
Sam Stewart, PD Savage, Michael Smith
Rich Froning, Angelo Dicicco, Luke Parker
Noah Ohlsen, Travis Mayer, Chandler Smith
Khan Porter, James Newbury, Jay Crouch
Travis Williams, Roy Gamboa, Logan Collins
Joshua Wichtrup, Will Kane, Felix Rehder
Eric Carmody, Ryan Sowder, Joshua Al-chamaa
Willy Georges, Lucas Heuze, Alexandre Pinsolle
Workouts
Check out the workouts that the athletes will be taking on.
Mia Bar Complex
ELITE DIVISION
FOR TIME:
3 Hang Cleans
3 Front Squats
3 Shoulder-to-Overhead
2 Hang Cleans
2 Front Squats
2 Shoulder-to-Overhead
1 Hang Clean
1 Front Squat
1 Shoulder-to-Overhead
Male Load: 275lb, 295lb, 315lb
Female Load: 185lb, 195lb, 205lb
Time-Cap: 5 Minutes
Bayside Chipper
ELITE DIVISION
FOR TIME:
48 Box Jump Overs (24, 20in)
24 Double KB FR Box Step-Overs (62lb, 44lb)
8/6 Rope Climbs
24 Burpee Box Jump Overs (24, 20in)
48 KB Deadlifts (62lb, 44lb)
Time-Cap: 10 Minutes
Flipped Off
ELITE DIVISION
FOR TIME | 3-3-3-4 MIN ROUNDS OF:
Buy-in:
75 Heavy Dubs
25 Medball GHD's
With remaining time, each round:
Flipsled Flips
~1min Rest b/w Rounds
Time-Cap: 16 Minutes
Row, Swim, Run
ELITE DIVISION
FOR TIME
2,500/2,000m Row
250m Swim
2,000m Run
Time-Cap: 30 Minutes
Dale
Elite Division
ELIMINATION STYLE, FOR TIME
60ft HS Walk
90ft Sandbag Bear Hug Carry
300ft Shuttle Run
90ft Sandbag Bear Hug Carry
60ft HS Walk
200lb, 150lb
Round 1: All
Semi-Finals: Top 20
Finals: Top 10
*HS Walk in 30ft UB Segments
Time-Cap: 3 Minutes
History of WODAPALOOZA
2021
Cancelled
2020
2,700+ Athletes
37 Total Athlete Divisions
35,000 Total Attendance
$400,000 Prize Purse
2019
4 Days
1,950 Athletes
35,000 Spectators
850 Volunteers
2018
4 Days
1,590 Athletes
30,000 Spectators
750 Volunteers
2017
4 Days
1,590 Athletes
30,000 Spectators
750 Volunteers
2016
3 Days
6,812 Qualifier Athletes
1,353 Athletes
20,000 Spectators
2015
3 Days
3,000 Qualifier Athletes
809 Athletes
7,000 Spectators
* WZA over doubled their spectators. 2015 (Year 4) was a breakout year for WZA and was noticed globally as a premier functional fitness event.
2014
3 Days
1,200 Qualifier Athletes
658 Athletes
3,000 Spectators
* WZA is on the map! WZA implemented online qualifier and expanded event to full Friday, Saturday, Sunday Festival. 2014 saw nearly 700 athletes competing over MLK weekend.
2013
507 Athletes
1,500 Spectators
* WZA expands to two days and the top athletes in FL come to compete.
2012
1 Day
145 Athletes
500 Spectators
* Started as a homegrown showdown.
WODAPALOOZA 2022 Important Links
FAQs
What are the WODAPALOOZA 2022 Dates?
2022, January 13,14,15 and 16.
Will there be a livestream for WODAPALOOZA 2022?
Yes. There will be a free livestream. We will add it to this article once it is available.
What are the Cash Prizes for WODAPALOOZA 2022?

In the Elite Individual division, first place is $100,000, second place is $35,000 and third place is $20,000. There are cash prizes all the way down to tenth place. Athletes receive $1,000 for winning an event.
The top team wins $25,000, top Masters athlete wins $1,000 and the first place Adaptive Athlete nets $2,000
Who Previously Won WODAPALOOZA?
In 2020, Tia-Clair Toomey-Orr and Pat Vellner won WODAPALOOZA. In 2021 the competition was cancelled due to the COVID-19 pandemic.
Where Does WODAPALOOZA 2022 Take Place?
The WODAPALLOZA 2022 event takes place next to the Biscayne Bay in Miami, Florida, USA.