AMRAP CrossFit Workouts – FIGHT GONE BAD
3 Rounds For Total Reps in 17 minutes
1 minute Wall Ball Shots (20/14 lb)
1 minute Sumo Deadlift High-Pulls (75/55 lb)
1 minute Box Jumps (20 in)
1 minute Push Press (75/55 lb)
1 minute Row (calories)
1 minute Rest
Perform 1 minute of work at each of the 5 stations. Move immediately to the next station after 1 minute. The clock does not reset or stop between exercises. One-minute break is allowed before repeating each round. One point is given for each rep, except on the rower where each calorie is one point.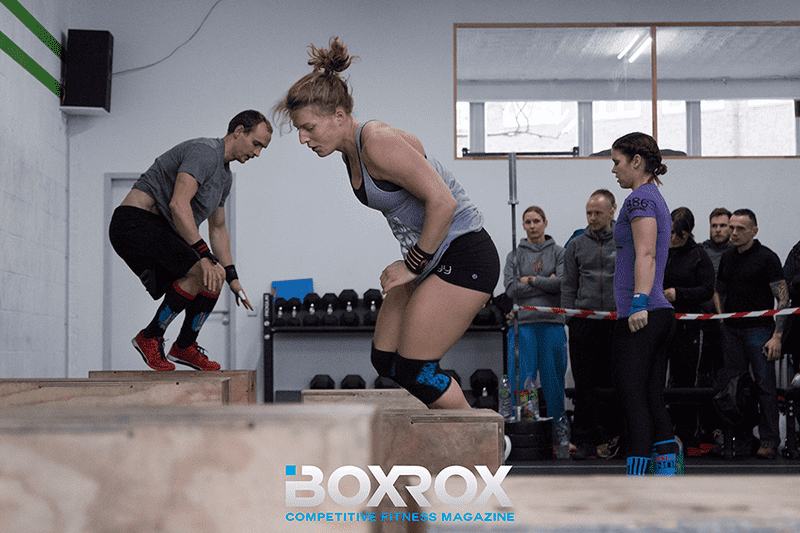 Score is the total number of repetitions completed in the 3 rounds.
Good Score for "Fight Gone Bad"
– Beginner: 150-250 reps
– Intermediate: 250-350 reps
– Advanced: 350-450 reps
– Elite: 500+ reps
AMRAP CrossFit Workouts – Scaling
Most athletes should be able to stick with the interval pattern. Beginners should reduce the loading and height of the box. Intermediate athletes can handle the prescribed loading in this workout.
Beginner 
Men: 10-lb. ball to 9-ft., 45-lb. SDHP and press, 15-in. box
Women: 6-lb. ball to 9-ft., 35-lb. SDHP and press, 12-in. box