These AMRAP CrossFit workouts will create powerful mental and physical conditioning. Included are WODs for beginner, scaled and RX athletes.
FOR ROUNDS/REPS (AMRAP) WODS
When a workouts is scored as "For Reps," "For Rounds and Reps," or "Max Reps," the goal is to complete as many rounds/repetitions as possible ("AMRAP") within a given amount of time.
This is also known as a "time priority" (as opposed to "task priority") workout, because the goal is to do as much work as possible in a fixed amount of time.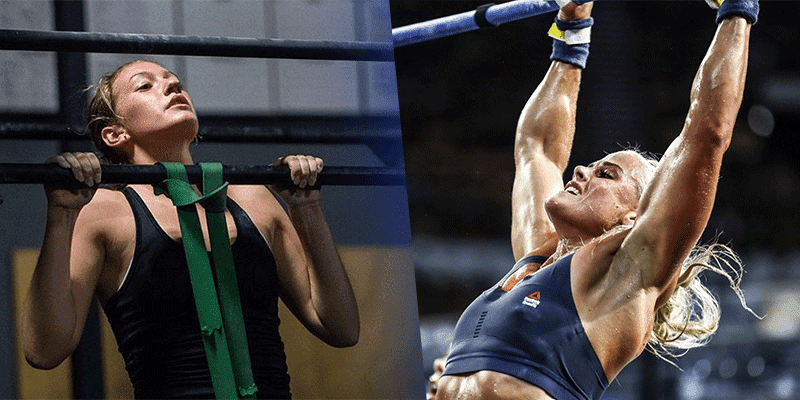 Source: Photo courtesy of CrossFit Inc
The score for AMRAP workouts is expressed as the total number of repetitions completed (eg: 303 reps). Scores for AMRAP workouts that include repeating rounds may also be expressed, for simplicity, as the number of completed rounds plus repetitions of the last incomplete round (eg: 10+13).
Example: "AMRAP in 8 minutes, 5 pull-ups, 10 push-ups, 15 double-unders" means on an 8-minute clock, complete the 5 pull-ups, 10 push-ups, then 15 double-unders, then repeat that cycle until time is up. Record your score as the total rounds and repetitions completed by the 8-minute mark. A score of 10 rounds plus 3 pull-ups would be written as 303 reps (or 10+3).
AMRAP CrossFit Workouts – CINDY
AMRAP in 20 minutes
5 Pull-Ups
10 Push-Ups
15 Air Squats
On a 20-minute clock, perform as many rounds and reps as possible (AMRAP) of the work in the order written. 1 round is equal to 5 Pull-Ups, 10 Push-Ups, and 15 Air Squats.
Score is the total number of rounds and reps completed before the 20-minute clock stops.
Good Score for "Cindy" (source)
– Beginner: 11-12 rounds
– Intermediate: 13-17 rounds
– Advanced: 19-22 rounds
– Elite: 24+ rounds
Scaling Options 
If Rx pull-ups or Rx push-ups aren't something you can do yet, choose a challenging scale that still allows you to reach full range of motion. Pull-ups where the chin never actually makes it over the bar or push-ups where the chest never touches the ground will not help you get any closer to an Rx pull-up or push-up. Full range of motion movement is better.
Beginner
5 Ring Rows
10 Incline Box/Bench Push-Ups
15 Air Squats