Oly lifting shoes ….do you love them or hate them?
I love them as an athlete, and often hate them as a coach.
You know the shoes I'm talking about? They are those clunky looking things with the velcro straps on the top and an extra thick sole. On Squat day most gyms often resemble a foot locker store….You can't tell if the workout is 'One Rep Max Back Squat' or 'Change Into Olympic Lifting Shoes For Time'.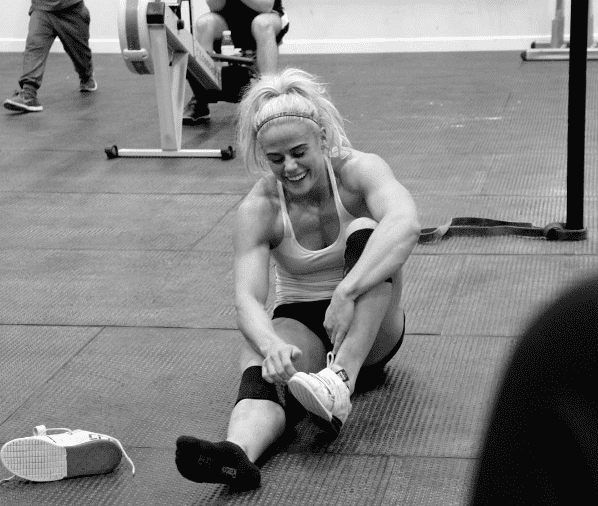 While it might seem completely normal to Squat with these fancy shoes, I want to take a second to dig a little deeper:
ARE OLY LIFTING SHOES REALLY NECESSARY?
The answer: it depends….on a multitude of factors:
Ankle mobility
Stability
Experience level
HOW MOBILE ARE YOUR ANKLES?
If you can do a perfect Squat with your feet all the way together, then congratulations you have very flexible ankles. If the thought of doing that makes you cringe, then your ankles are probably a little tight. (I'll be honest, I am not quite there yet either…)
Ever see someone on their toes during an overhead squat no matter how hard they try to put their weight in their heels? This is probably someone with poor ankle mobility. Oly lifting shoes can help this.
The raised heel platform of an olympic lifting shoe means squatting requires less range of motion in the ankle. In theory this is awesome. (YAY!) It allows someone who previously struggled to have good squat form to get in a much more optimal position.
Herein lies the problem: if they 'fixed' their problem with a pair of shoes, are they still going to work on their ankle mobility? Probably not.
Most likely, they will forget the whole ankle thing was ever an issue, and always use their Oly shoes when squats show up in a workout.
But guess what? The same problem is still there, they're just hiding it with an expensive pair of shoes 😉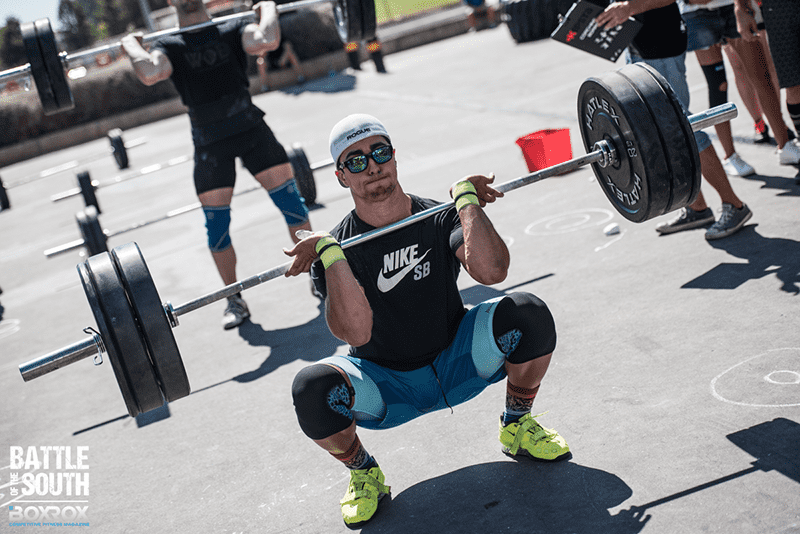 THESE ARE THE PROBLEMS I HAVE WITH OLYMPIC LIFTING SHOES:
They become a crutch.
(example: 'Oh man, I would love to squat, but I forgot my Oly shoes so I'll have to skip them today…')
They hide an underlying issue.
(example: Can't reach full depth without Oly shoes? Yes, you have an ankle issue.)
On the flip side they can be very, very useful…
HERE IS WHAT I LOVE ABOUT OLYMPIC LIFTING SHOES:
They have stiff, stable soles.
Oly lifting shoes will give you MUCH more stability than traditional running shoes. However, 'new-age' functional fitness shoes like Nanos and Metcons have evolved to offer more support. Barefoot squatting is a great way to get a solid footing AND encourage ankle range of motion, but make sure you don't drop any weights on your feet!
You can lift more weight.
With added stability and support, you will feel more control during heavy lifts (squats, olympic lifts, etc.) This ultimately translates into moving more weight, which will make you stronger.
So, with these things in mind…
I CHALLENGE YOU TO TRY WORKING OUT WITHOUT THEM FOR A WHILE
In fact, for the last several months I have tried to wean myself off of the 'Oly lifting shoes addiction'. It was a personal experiment. The result?
MUCH more confidence, control, mobility, and stability!
Check out this instagram post where I Squat 'naked'. (No, I am not actually naked…don't worry) I lifted like this for several months in a row.

When I finally shook the cobwebs off and used Oly lifting shoes again, everything was feeling SO MUCH BETTER!
This instagram post is when I finally tried them again. The result is pretty awesome!
SO WILL YOU ACCEPT THIS CHALLENGE?
Try to go 'cold turkey' and remove Oly shoes from your workouts for 60 days. Heck, try lifting without knee sleeves, belts, or any supportive gear (that's what I did). Go 'all-natural'. 🙂
Continue squatting, lifting, etc. as you normally would (you might need to reduce the weight a little bit, and that's OK).
After a few weeks your confidence will increase and you'll be perfectly fine.
Then, after those 2 months, try to use them again for your next heavy lifting session.
I promise that you will be amazed 🙂
You'll probably have:
Stronger core
Better squat stability
Increased ankle ROM
Less excuses the next time you forget to bring your lifting shoes 😉
Let me know how it goes…
Ben
WODprep