D-Ball CrossFit Workouts are a great way to add new stimulus and fun into your training.
The D-Ball, also sometimes referred to as Medicine Ball or Med Ball, is the heavy rubber ball in the gym. Most gyms have many Dead Balls in assorted weights that range from 5 kg to 100 kg. There are many exercises you can do with them, for example:
Cleans
Deadlifts
Lunges
Squats
Holds
They are hard to hold onto because the object is basically a big heavy ball made of rubber, therefore you must use both arms and torso to hold the d-ball up.
The most popular movement with the D-ball is to pick it up and throw it over the shoulder in an upright position. Here are some tips to help you lift the heavier balls.
Go down to a deep squat position
Scoop up the ball with you forearms
Lift the ball up to your knees
Close your legs and rest the ball there
Hug the ball as you stand up
Flex the hips with some force to help you get momentum
Tilt your head to the side and slide the ball over your shoulder
Let the ball fall down of your shoulder behind you.
If you cannot get it over the shoulder, just stand up and drop the ball in standing position
D-Ball CrossFit Workouts
1. Richard Hill 9 Rounds of D-ball Fun
Move because it's fun
For time 3 rounds of:
3 D-ball cleans
3 Burpee over the box
Straight into 3 rounds of:
2 D-ball Deadlift + Clean
5 Box Jumps
Straight into 3 rounds of:
10 D-ball Clean to Shoulder
10 Burpees
2. Lukas Esslinger's 10 Minute Finisher
AMRAP in 10 minutes:
Step up with 45 kg D-ball
This will get very heavy very fast. Keep in mind you should alternate which leg is stepping up and stepping down.
In the video you can also see two methods of the D-ball carry, on the chest or on the hips.
3. Tim Paulsson D-ball Pistols
If pistols aren't hard as they are, you can add to the challenge by holding a D-ball during the exercise. While it might help some with balance on the way down, the added weight of the D-Ball will make the rest of the pistol feel like a whole new beast.
Accessory work today was brutal.
10 minute EMOM:
Even minutes: 17′ Legless + Legless descent rope climbs
Odd minutes: 10 Weighted Pistols
"I used a 100lb DBall for my last 2 sets. 75lb Dumbbell for the first 3."

4. D-Ball CrossFit Workouts – Linda Maynard D-ball Over Yoke
You are allowed to face the yoke or the opposite direction, the key is to get the D-ball over the yoke.
For time:
60 Slam balls over yoke (chest height)
2 Min rest
Accumulate 50 ft handstand walk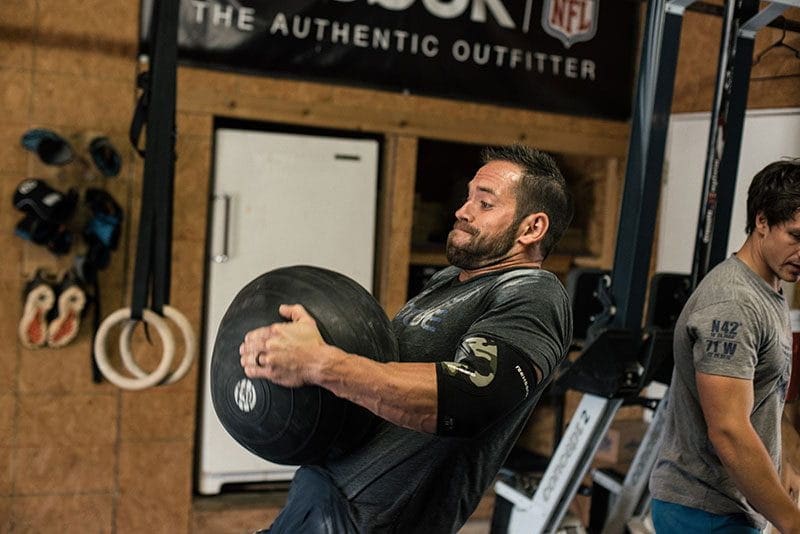 5. Courtney Alison D-ball Overall
The D-ball must go over your shoulder before slamming it down again in the ball slam.
5 Rounds for quality:
10 D-ball over shoulder
20 Ball Slams
Each round was approx 2:20 with enough rest to catch my breath and right back to it. Time to get some heavier slam balls.



6. John Barrett D-ball Carrying
"Trying out a quick finisher tonight and @lauren_broz just had to step in and kick my ass at it! Cheers for that."
5-4-3-2-1 Rounds for Time of:
D-Ball over the Shoulder
Carry 5 m after each one.
60kg for guys and 30 for the ladies if you fancy giving it a go.
"Then did a couple off 'easier' sets of 3-2-1 and kept them in around 55sec. –
The movement is good as it is strongman based training with an awkward object (other than myself) that builds strength in positions not normally trained in your typical linear exercises/positions where equal weight distributions are best practice.
"Very good for posterior chain development, hip power and triple extension for explosive sports"

7. Fern Carver Whole Body Circuit
Remember to finish the clean standing up before getting down again in the squat during the D-Ball clean and squat. Both sides of the dumbbell must touch the floor in the alternating dumbbell clean and jerk.
4 Rounds for time:
7 D-ball clean and squat 155lbs
100ft carry 155lbs
Alternating clean & jerk 55lbs
15 Burpee over D-ball
8. Home Made D-Ball Workout from BOXROX
You need to have two D-balls for this workout. The plank pushing will be difficult on the shoulders. This is not meant to be for time, just for fun and a good workout. Do each exercise with good form, find the right weights to keep nice pace.
3 rounds of:
10 m D-ball Push in plank position – heavy
10 D-ball russian twist -medium wight
10 Push up and wall/floor slam-medium weight
5 D-ball over the shoulder – heavy
20 m D-ball carry -heavy
16 Walking lunges with D-ball
9. Clean It D-ball Mind Game
This workout is going to be strenuous for your mind and body. It is good if you set yourself a goal beforehand, such as finishing X amount of reps each minute. Keep that pace up for the next 8 minutes.
8 min AMRAP: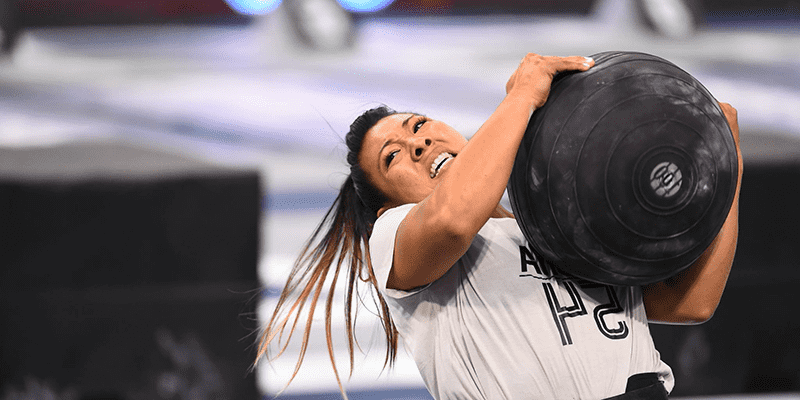 Finally The Cute Version Of D-Ball Over Shoulder
Why Add D-Ball CrossFit Workouts into Your Training?
"Heavy Deadballs are tremendous tools for training strength and power throughout the entirety of the kinetic chain, allowing athletes to focus on traditional strength training exercises or chase strongman style power and performance.
"Constructed from high impact rubber and devoid of handles or hand holds, heavy Deadballs present with a sense of real world awkwardness. This forces athletes to grip, wrestle and grapple with them, whilst developing core strength and stability, from the ground up." – Iron Edge Trainin
Try the Two-Minute D-Ball Hold