You and your friend/significant other are into getting the best shape of your life? Then partner workouts might be just what you need.
You get to spend quality time together while becoming fitter. What's not to love?
Learn from Lauren Fisher and Rasmus Andersen, a couple that works out together, and find out what you can learn from them. We have added 10 partner workouts for you to try.
LAUREN AND RASMUS
Lauren Fisher and Rasmus Andersen are a dynamic duo that push and inspire each other to operate and excel at the highest competitive levels in their sport. Their partnership extends beyond the walls of the Box, and this helps them to pursue their goals together.
Lauren Fisher: "Having a relationship with someone not only outside of the gym, but inside of the gym, means that we hold each other accountable and we make sure we stay on track with our goals."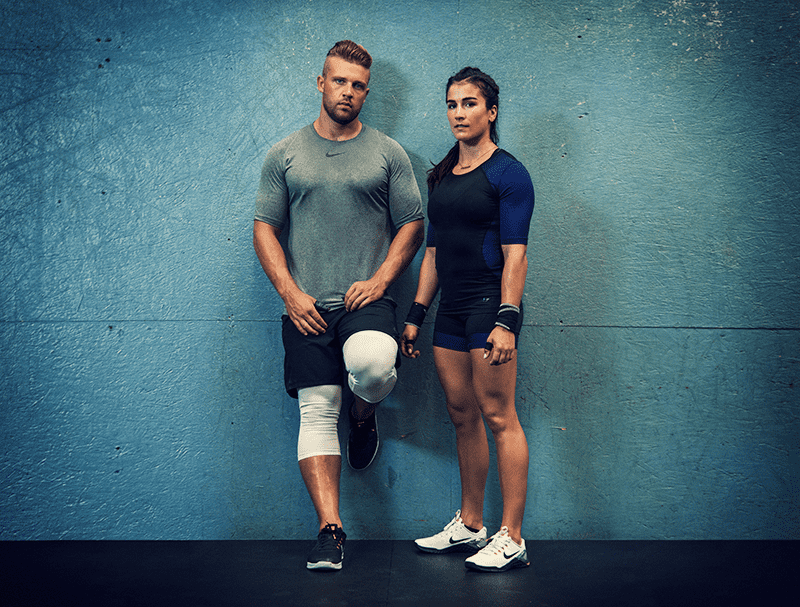 PARTNER WORKOUTS
These 10 workouts are designed for you to complete with a loved one, "frenemy", training buddy or anyone else that you enjoy throwing down with. Pick one where you can work together and encourage each other through the pain!
"Those who train together, stay together."
Remember to wear the right gear for each workout and give yourself the best possible chance of success.
PARTNER WORKOUTS 1
80 wall balls / dip hold
80 T2B / wall ski sit
80 STOH (115, 75lb) / Plank
80 DU / L-Sit
80 Deadlifts (50% of bodyweight) / HS hold (against wall or freestanding)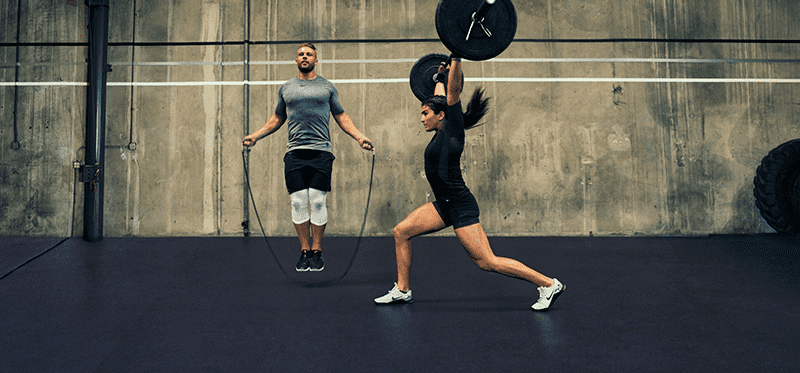 PARTNER WORKOUTS 2
One partner works, one rests.
1000m row
100 walking lunge
400m sled pull (45 lb plate)
100 power cleans 135/95 lb
1000m row
100 bar facing burpees
400m sled pull
100 air squats
1000m row
TIP: THis is a tough, longer workout so pace yourself, but get ready to move quickly when it comes to exercises such as the bar facing burpees.
The haptic technology on the upper of the Nike Metcon 4 is useful for keeping you stable, yet flexible and responsive during this partner workout.
The tri-star shapes (think of this as a rubberized TPU, inspired by the rubber outsole) can be individually printed large or small anywhere on the shoe, adding strategic durability where it's needed most. High-wear areas like the toe box, heel and sides are much stronger, and this has the additional benefit of leaving mesh for breathability and flexibility in other spots.
PARTNER WORKOUTS 3
3 rounds. One partner works for one minute whilst the other rests for one minute.
KB swings
Push-Ups
Burpee box jump overs
Sit ups
Air squats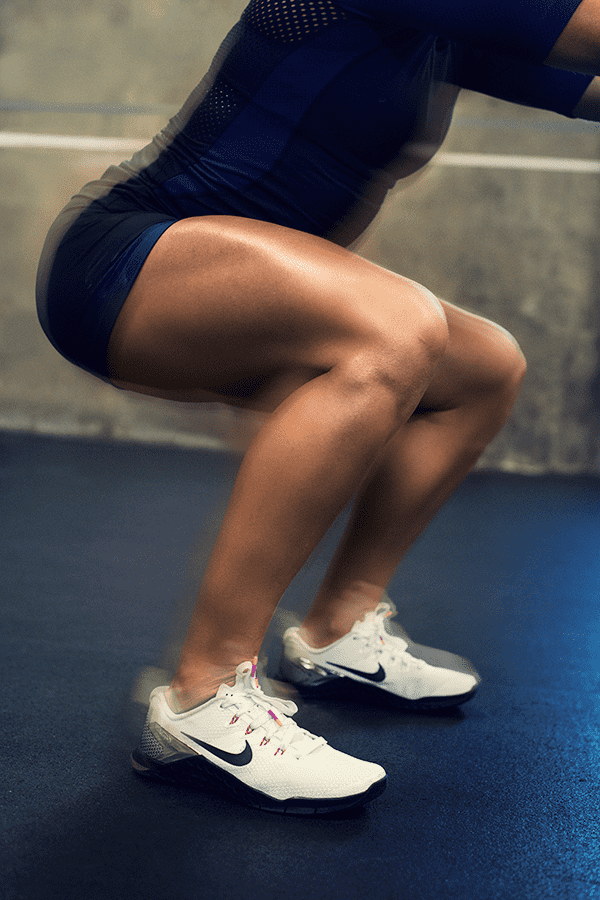 PARTNER WORKOUTS 4
40-30-20-10
Burpees
Hang cleans
Push press
Overhead squat
THE NIKE METCON 4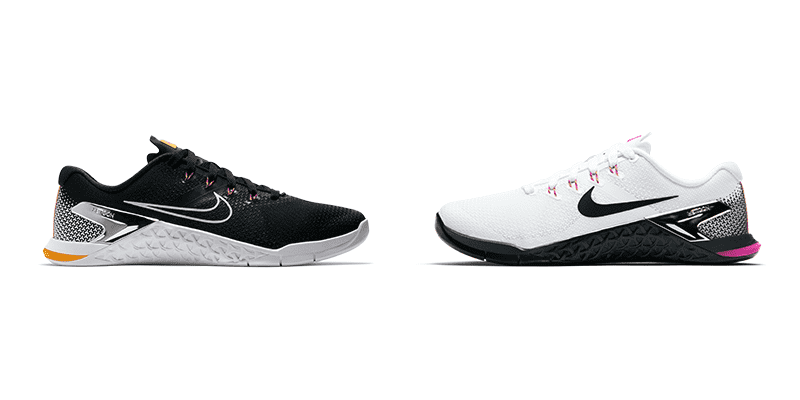 The brand new Nike Metcon 4 Training Shoes are designed to reflect and compliment each other, just like any strong partnership.
These limited edition Nike Metcons are designed with mirror image detailing, such as the inverted black and white colouring on the sole and upper, or the contrasting swooshes.
Each training shoe also features a pop of colour on the heel counter and a stripe of material that also features the Metcon text. These are contrasting colours, so they work well together and create a strong visual effect. Each insole contains an inverted version of the other in the same yellow and purple colours. The final touch that ties them together into a partnership is the metallic silver heel clip, an important functional addition to help keep your feet stable yet responsive for lifting.
Features of The Nike Metcon 4
4mm offset
Heel clip stabilises your foot during side-to-side movements
Sticky rubber in the forefoot provides excellent traction for sled pushes
Textured rubber wraps up the midfoot for durability during rope exercises
Mesh on the heel and ankle help keep your feet cool
Heel counter reduces drag on handstand push ups
Flywire cables offer lightweight support when and where you need it
PARTNER WORKOUTS 5
For time. Alternate every 5 reps.
100 thrusters
100 pull ups
100 burpees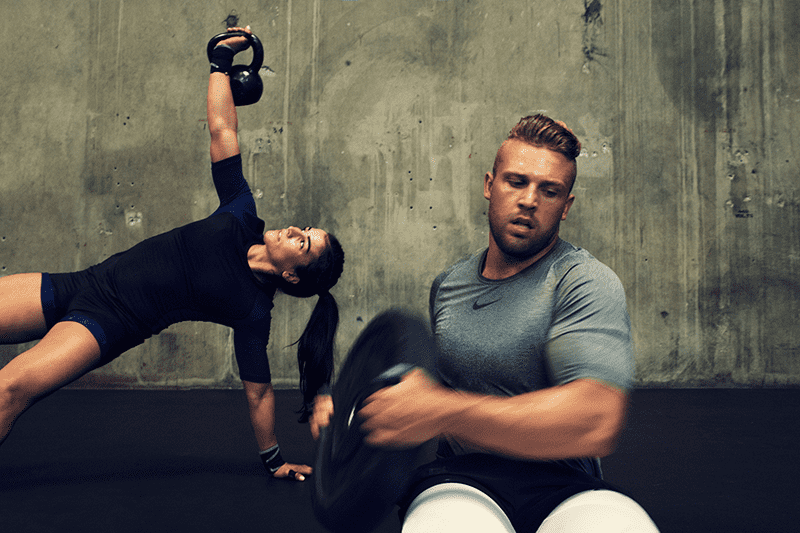 PARTNER WOD 6
Partners must run together, break up reps as required.
Run 800m
70 hand release push ups
Run 400m
70 power cleans
Run 200m
70 bar facing burpees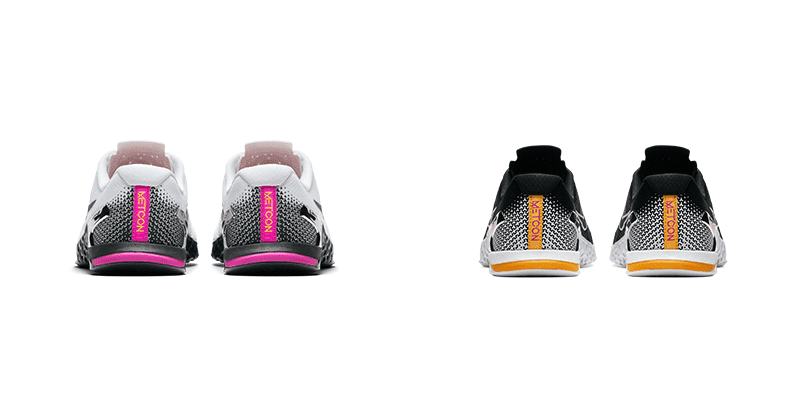 Partner WODs are also a great way to build an even closer relationship with that special someone, because there is nothing like a bit of shared suffering to help strengthen the bonds that tie you together! As Fredrich Nietzsche said:
"Invisible threads are the strongest ties"
PARTNER WORKOUTS 7
Score is total reps.
Partner A: 400m run
Partner B: Back squats (135/95 lb)
Then swap and repeat…
Partner A: 400m run
Partner B: Deadlifts (135/95 lb)
PARTNER WORKOUTS 8
50 DU per partner
200 pull ups
40 DU per partner
200 push ups
30 DU per partner
200 sit ups
20 DU per partner
200 Squats
10 DU per partner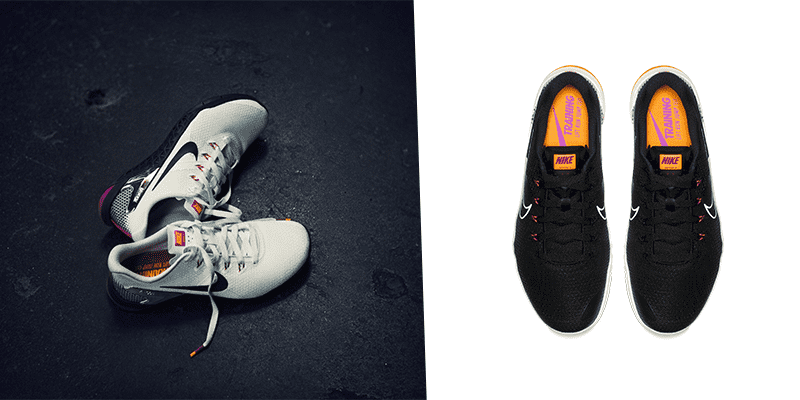 PARTNER WOD 9
5 rounds for time.
50 calorie row
40 wall balls
30 sit ups
20 burpees
10 tire flips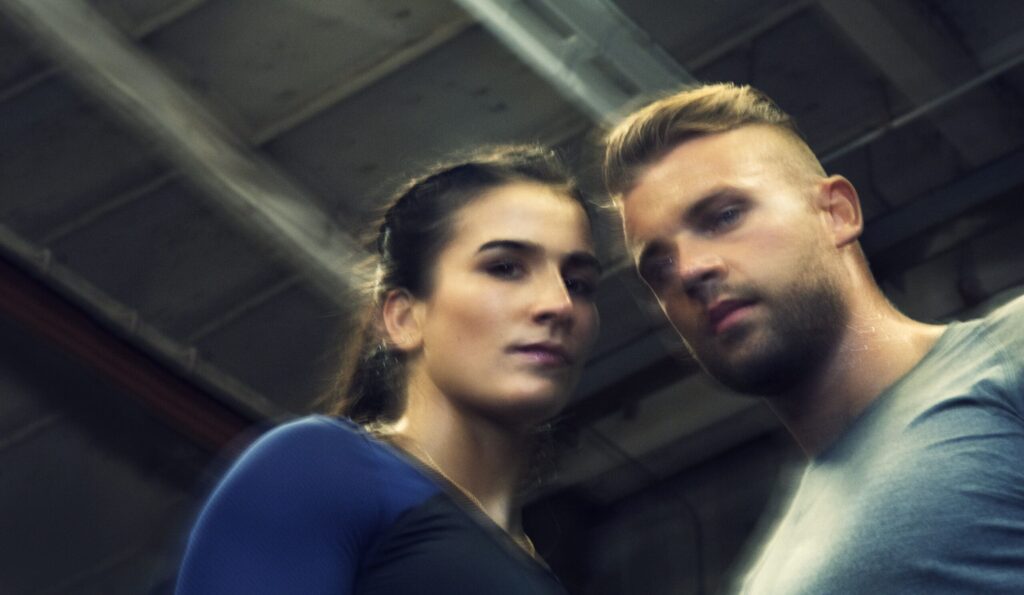 PARTNER WORKOUTS 10
EMOM 15 minutes
8 alternating dumbbell snatches
After each 3 minutes perform 50 DU
Complete the perfect Valentine's Day with the new Nike Metcon 4 styles.