Brooke Wells broke her finger during the friday night lights event "Assault Banger". After the Games were over she posted these stories on instagram: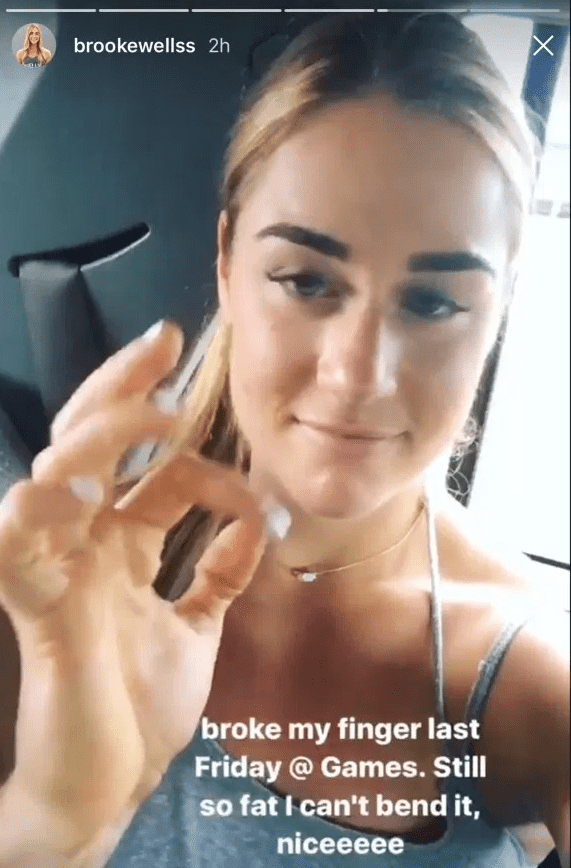 Source: Brooke Wells
Source: Brooke Wells
Brooke Wells: "This weekend was an incredible learning experience, two of the things that stand out to me the most;
• Never stop fighting. On Friday, I was in 31st place. I had three events (IN A ROW) that were a complete disaster for me. That was absolutely devastating. But instead of accepting a spot in the bottom ten, I left everything I had out on the competition floor & worked my way up to 14th. 14th place in the WORLD, that's something to be proud of, right?!
https://www.instagram.com/p/BXjcWQRhndJ/?hl=en&taken-by=brookewellss
• Have FUN! I cannot say I was in the best spirits heading into Saturday, but as soon as I stopped feeling sorry for myself & treated each event like it was MY workout (whether it was in my wheelhouse or not), forgot about what place I was in & truly had a blast on the floor- I started to preform like myself.
2017 has come to a (quick) end & although it did not play out like I had imagined, this does not take away from the amazing year I've had. There is so much to be proud of. Not to mention, the beautiful women I get to compete against are so incredible. After this week of relaxing, good food & focusing on my family & friends, it's back to the drawing board to make 2018 the best year yet. I can promise y'all that ?"
•••
How Much Money Did Each Athlete Earn From The 2017 CrossFit Games?