CrossFit Open Workout 21.1 has been released.
CrossFit Open Workout 21.1
RX
For time:
1 wall walk
10 double-unders
3 wall walks
30 double-unders
6 wall walks
60 double-unders
9 wall walks
90 double-unders
15 wall walks
150 double-unders
21 wall walks
210 double-unders
Time cap: 15 min.
Equipment Free
For time:
1 wall walk
10 lateral jumps
3 wall walks
30 lateral jumps
6 wall walks
60 lateral jumps
9 wall walks
90 lateral jumps
15 wall walks
150 lateral jumps
21 wall walks
210 lateral jumps
Time cap: 15 min.
Foundations
For time:
1 bear crawl
10 jumping jacks
3 bear crawls
30 jumping jacks
6 bear crawls
60 jumping jacks
9 bear crawls
90 jumping jacks
15 bear crawls
150 jumping jacks
21 bear crawls
210 jumping jacks
The bear crawl can be modified by placing the hands on an elevated surface and simulating the walking motion by bringing the knees to the chest.
The jumping jacks can be modified to a "stepping jack" if needed.
Time cap: 15 min.
Read more: How and When to Watch CrossFit Open Workout 21.2 Live Announcement
THE 2021 CROSSFIT OPEN
The CrossFit Open is a three-week online competition that brings together athletes around the world. It marks the start of the CrossFit season and is the first step towards qualifying to the CrossFit Games.
The Open is the largest participatory sporting event in the world and athletes from all ability levels and backgrounds complete three workouts over three weeks. The event brings the CrossFit community together and is a time of personal bests.
All CrossFit Open workouts are released on a Thursday at 5pm PST and scores must be submitted by the following Monday. CrossFit will announce the workouts live, and the reveal will be followed by two top athletes throwing down head-to-head.
The 2021 CrossFit Open is the most inclusive Open to date. In addition to the usual RX and Scaled divisions, CrossFit has added Foundations and Equipment Free divisions, as well as eight adaptive divisions.
The CrossFit Open kicked off on March 11 and runs until March 29.
About CrossFit
CrossFit is a lifestyle characterized by safe, effective exercise and sound nutrition. CrossFit can be used to accomplish any goal, from improved health to weight loss to better performance. The program works for everyone — people who are just starting out and people who have trained for years.
THE WORKOUTS
The magic is in the movement. CrossFit workouts are different every day and can be modified to help each athlete achieve their goals. The workouts may be adapted for people at any age and level of fitness.
THE LIFESTYLE
Off the carbs, off the couch. The CrossFit lifestyle — a combination of sound nutrition and exercise — is the key to fitness and long-term health.
THE COMMUNITY
Your support network. At thousands of affiliates around the world, people encourage and motivate each other in every class as they work toward their goals. Start training with friends. Make new friends. The fun is in the community.
"Eat meat and vegetables, nuts and seeds, some fruit, little starch and no sugar. Keep intake to levels that will support exercise but not body fat."
CONSTANT VARIATION
Different every day, CrossFit workouts are tailored to the individual.
FUNCTIONAL MOVEMENTS
CrossFit uses safe, effective, and efficient movements similar to those you use every day in life.
HIGH INTENSITY
In CrossFit workouts, intensity levels are adjusted to challenge the individual and safely improve fitness.
Is CrossFit for me?
Yes. Everyone can do CrossFit regardless of age, injuries and current fitness levels. The program is modified for each person to help him or her safely become healthier and fitter. Grandparents and Olympians can perform modified versions of the same general workout. Learn More About CrossFit.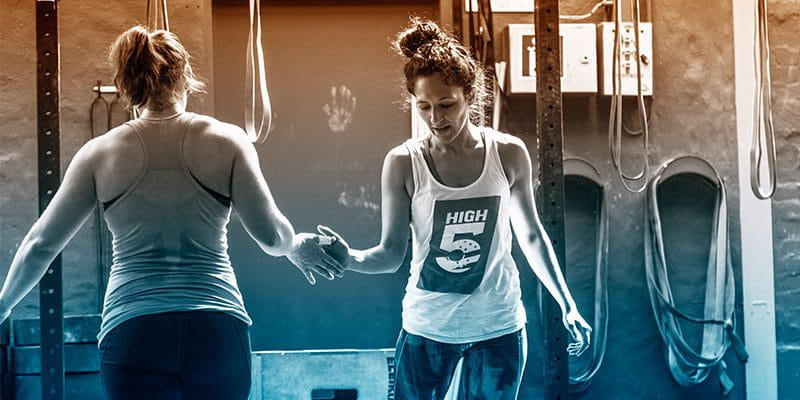 Do I need to be in shape to start CrossFit?
No. CrossFit is the program that will get you in shape. No matter what your current fitness level is, you can start CrossFit. As you become fitter, workouts will become more challenging. Every workout is designed to help you succeed, improve fitness and move you toward your goals. People Who Started CrossFit.
Where can I do CrossFit?
You can use CrossFit.com resources to do CrossFit anywhere—even with minimal equipment. To work with a credentialed coach in a dedicated, fully equipped facility, find a local CrossFit affiliate.
What about Nutrition?
To accomplish your goals faster, we recommend you eat a variety of healthy foods in quantities that support fitness training but not body fat. By avoiding excessive amounts of refined carbohydrates and measuring your intake of protein, carbohydrates and fat, you will see dramatic, measurable increases in health. Learn More About Nutrition.