We're just under a week away from the most inclusive CrossFit Open in history. Not only has CrossFit added new Foundations and Equipment-Free categories for Open workouts, but they have opened the competition to Adaptive Athletes as well.
This is the first year Adaptive Athletes will officially be able to participate in the Open – previously, WheelWOD organised the unaffiliated WheelWOD Open. Yet making it happen wasn't was simple as merely saying "let's do this," and the people behind the process have worked tirelessly to ensure the event is as competitive as possible while maintaining a fair competition.
These leaders are part of the Adaptive Training Academy (ATA), an organisation focused on education around adaptive training, and WheelWOD, a platform dedicated to providing competitive adaptive fitness to coaches and athletes for close to a decade.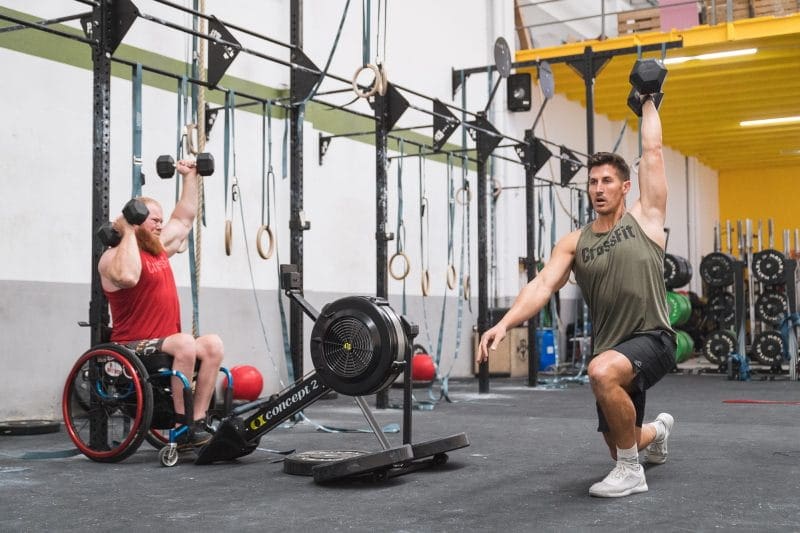 The driving force behind adaptive divisions in the CrossFit Open
Alec Zirkenbach, Logan Aldridge, Chris Stoutenburg and Kevin Ogar are the original team members of CrossFit's Adaptive Training Speciality Course (now a Preferred Course) and pioneered adaptive training and awareness in the CrossFit space.
"CrossFit is moving in a great direction for inclusion," ATA's Executive Director, Alec Zirkenbach told BOXROX. "And they have been inclusive; CrossFit is thought of as this big community, anybody can come in the door and do a workout. We can scale, we can do it for all people.
"But adaptive athletes have been kind of on the fringe of that for a long time."
What has been missing so far is educated trainers and affiliates who know how to work with adaptive athletes (know how to communicate, have awareness, make sure the facility is prepared, and how to actually train athletes and adapt workouts safely and effectively in a group setting) and the opportunity to officially start the competition.
After a couple of years of formally contacting CrossFit asking for a chance to include adaptive athletes in the Open, the company got back to them in 2020 to discuss exactly how this could be done.
Establishing adaptive divisions for the sport of CrossFit
The term "Adaptive Athlete" encompasses an incredibly wide rage of abilities and impairments; within this umbrella fall athletes with intellectual disabilities, athletes with limb deficiencies, athletes with visual impairments, short stature athletes.
Even athletes with impairments that might look similar at first approach fitness differently.
In a sport like CrossFit, which essentially asks for everything in its athletes – 'constantly varied' as well as 'unknow and unknowable' are phrases often thrown around when describing the sport – adapting the workouts to fit all divisions to create an inclusive competition while keeping it fair requires a fair bit of though.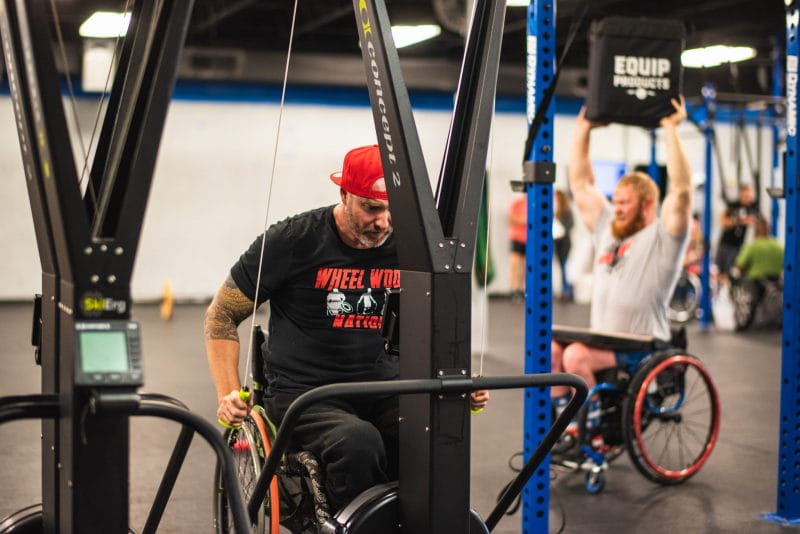 "It is very, very difficult to have an inclusive competition where many people can compete that have various ability levels, but also make it fair competition," explained Alec. "Those two things are kind of like competing ends of the spectrum."
For the 2021 CrossFit Open, the team behind WheelWOD and ATA tried their best to strike the balance.
Lessons from WheelWOD and the Paralympics
Drawing from the lessons learnt during the WheelWOD Games and Wodapalooza – which was the first major CrossFit sanctioned competition to include adaptive categories – the team set out to establish the classification system for the Adaptive division in the CrossFit Open.
"We gained lots of experience through [Chris Stoutenburg's] WheelWOD Open and especially through Wodapalooza, where you can actually see all the athletes competing and making sure the adjustments you're making and the divisions make sense," said Alec.
"Then we took the bones of Paralympic competition, which uses 10 eligible impairments," he continued. Impairments are what makes athletes eligible to compete in the Adaptive division and all 10 have been included for CrossFit.
Lessons from the community
As well as using the knowledge gained during established competitions, the ATA held four Town Hall meetings where anyone involved with adaptive sport could join and discuss the creation of Adaptive divisions for the CrossFit Open.
View this post on Instagram
They included hundreds of people, from trainers, athletes and family members to people from other sports who were simply interested. The feedback they provided proved invaluable: "I don't think we could have been where we're at now without it," said Alec.
Lessons from the Town Halls included:
Perspective: learning how some movements can affect certain adaptive athletes disproportionally, where they would struggle more with overcoming their disability than being able to test their fitness.
Classification and eligibility: with a competition as large as the CrossFit Open, classification and eligibility require a greater amount of specificity than used so far for Wodapalooza and the WheelWOD Open.
Understanding: gaining insight into where people would fit into the newly created divisions, especially the neurological division as it includes such a wide spectrum of impairments.
Confidence: while the ATA offers certifications, they continue to learn and educate themselves and try to improve. Opening these discussions to the community helped build confidence in the project and reassure participants that the people at the top are always open to feedback, criticism and other views.
"We're learning ourselves," Logan Aldridge, ATA's Director of Training said. "We're constantly learning and educating ourselves and trying to improve. We're always open to feedback or criticism or other views."
Having these Town Halls meetings made the team feel they're starting this new stage in the sport of CrossFit right.
Using their experience and input from the community, the new CrossFit Adaptive Athlete Policy was created, establishing eight divisions in which adaptive athletes can compete.
The Adaptive competition divisions include:
Adaptive: Upper Extremity
Adaptive: Lower Extremity
Adaptive: Neuromuscular
Adaptive: Vision
Adaptive: Short Stature
Adaptive: Seated Athletes (with hip function)
Adaptive: Seated Athletes (without hip function)
Adaptive: Intellectual
"We're very thankful that CrossFit was open to accepting those eight divisions the first year because nobody really knows how many people are going to sign up," Alec said.
"I think we're as prepared as possible," he continued. "I do know that there are going to be people that are left out – that's just the way it is with any adaptive competition of any sport. They are going to be people that are on the fringe, that are maybe adaptive athletes but that don't qualify.
"There's many people that maybe can't complete the workouts because of a weight or a movement. But we hope to be able to evolve to include all those individuals, or as many people as possible, while keeping it a fair competition."
He also attributed to the fact that the eight divisions might change and grow over time if there is significant demand.
"The athletes and the registration are going to push the divisions and the changes that happen in the competition," said Alec. "Just the same way they did with the masters divisions and teens divisions."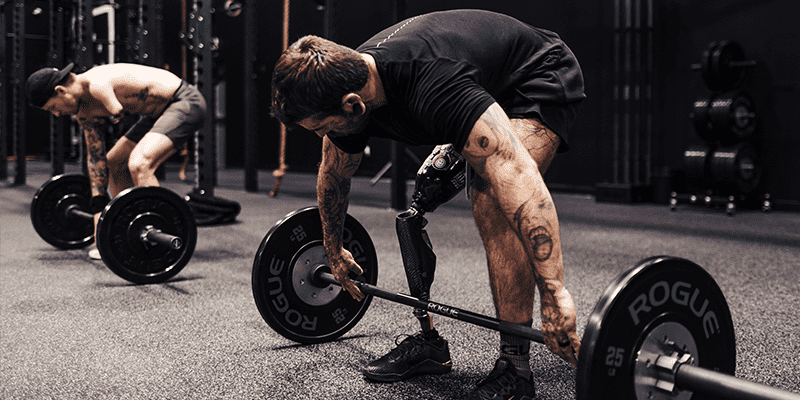 Programming for The Adaptive CrossFit Open
The intention of the CrossFit Open has always been to start the path that leads to finding the Fittest on Earth. The same holds true for the Adaptive divisions, so all workouts have been programmed "to minimise the impact of the athletes' impairment on their performance," as established in the Adaptive Policy.
"We take what CrossFit has provided us for the Open workouts and then we look at each of those movements," explained Chris Stoutenburg, WheelWOD's President. "Sometimes the movements might not be the same as what CrossFit has put out because of the level of difficulty."
"Or for say Logan [an above the elbow athlete] versus somebody else below elbow; if we try to just mimic that movement or just adapt that movement by changing weights, it won't come out the same way. There will just be a much clearer advantage to one impairment than the other.
"And we're really trying to find the fittest, not the least disabled."
While there are no age groups or scaled options for the adaptive divisions yet, there is space for athletes to submit a modification request for every workout should they require additional assistance.
View this post on Instagram
Going Forward: Adaptive Divisions in the CrossFit Competitive Season
In future, subject to demand, the Open will be the first stage to getting adaptive athletes to compete at the CrossFit Games.
As these new divisions evolve, new spot classes and age divisions might be added, just like the WheelWOD Games progressed: "As demand of the athletes came along, we grew our divisions," said Chris. "But we didn't want to run competitions where there was three people competing and everybody would get a spot on the podium. We wanted them to be viable."
Therefore, if you are an adaptive athlete or know someone who is, make sure you sign up. Even if you know you're likely to have to scale most workouts, the aim is to improve.
"Don't be a bystander. Don't sit outside and look at it and say, 'OK, I'll do that next year,' go ahead and sign up now," Logan encourages all athletes. "Yes, there may be workouts that are a little bit too difficult to submit and you can't get on the leaderboard, but now you're seeing what this world looks like."
There are plenty of reasons to sign up for the CrossFit Open, now it's time for adaptive athletes to show they want the platform.
"We want to get to the point where adaptive athletes are just commonplace, where we're just somebody else in the gym doing awesome stuff," said Alec.
Logan echoes his vision: "I hope that in ten years from now, if you're someone living with a permanent impairment of any sort and you have aspirations or the desire to be a professional athlete in whatever sport – whether it's CrossFit or not – you see a path to that and there is a platform for you and there's a real opportunity."
---
Featured image: photo by Alec Zirkenbach