Live announcements hosted by CrossFit are back for the 2021 season for the first time since 2018, and the CrossFit Open workout 21.1 will be streamed live from the CrossFit office in Scotts Valley, California.
Dave Castro, General Manager of Sport and the mind behind the workouts will reveal each Open workout at 5pm (PT) on Thursday, March 11, 18, and 25.
Immediately after the announcement, two top athletes will take onto the competition floor and complete the workout head-to-head.
View this post on Instagram
The 2021 CrossFit Open runs March 11-29.
CrossFit Open Workout 21.1 Live Announcement
Where to watch: you can stream the 2021 CrossFit Open live announcements from the CrossFit Games website, as well as CrossFit's Facebook page, YouTube channel and Twitch.
When: Thursday March 11 at 5pm (PT)
Watch CrossFit Open Workout 21.1 Live Announcement in Your Time Zone
The CrossFit Open is a three-week online competition and has become the largest participatory sporting event in the world. It marks the start of the CrossFit season and unites athletes from all ability levels around the world.
Every week for three weeks, CrossFit releases a workout for athletes to complete at home. Each workout is released on a Thursday and athletes have until the following Monday to submit their scores.
With the addition of Foundations and Equipment-Free divisions, as well as eight Adaptive divisions together with the usual Scaled and RX divisions, the 2021 CrossFit Open is the most inclusive Open to date.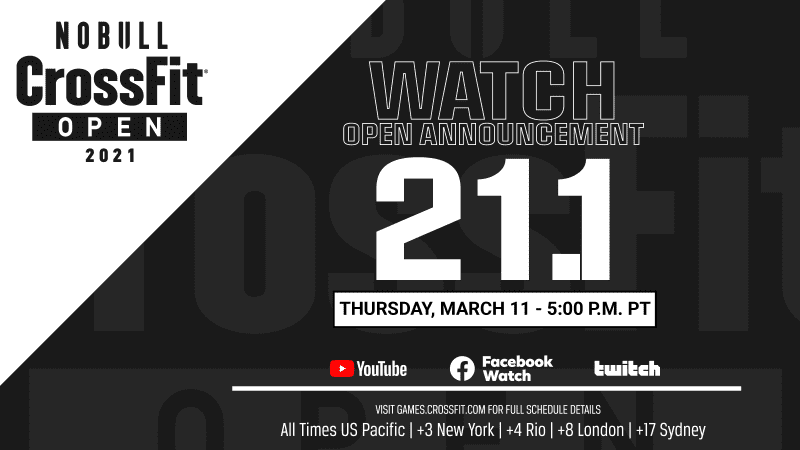 Read more: 3 Ways to Improve Your Open Performance That Have Nothing to Do with Training
CrossFit Open 2021 Workout Announcement Athlete Matchup
21.1 – Kari Pearce vs Kristi Eramo O'Connell
For the first CrossFit Open live announcement, top American athletes Kari Pearce and Kristi Eramo O'Connell will face off. Between them they have 10 CrossFit Games appearances.
Kari Pearce is a CrossFit Games podium finisher and 2020 US National Champion.
Kristi Eramo O'Connell has finished within the top 10 at the CrossFit Games three times.
Read more: The CrossFit Open and Nutrition: How, When and What to Eat