Learn how to double your max Pull Ups in 22 Days with this awesome guide from Jeff at Athlean X.
How to Double your Max Pull Ups in 22 Days
"Want to double your max pullups in just 22 days? Well, if you watch this video and perform the workouts as written, you'll be doing more pull ups. A lot more pullups.  The 22 day pull up workout builds off of the tremendous success of our 22 day push up workout.  The key to the timeline is that this pull up workout progresses you through various pull-ups while demanding that you improve on your rep counts along the way. It consists of three weeks of testing and non-testing days that will quickly build up your back and arms while increasing the number of pullups you can do not only in a single set, but in a total workout."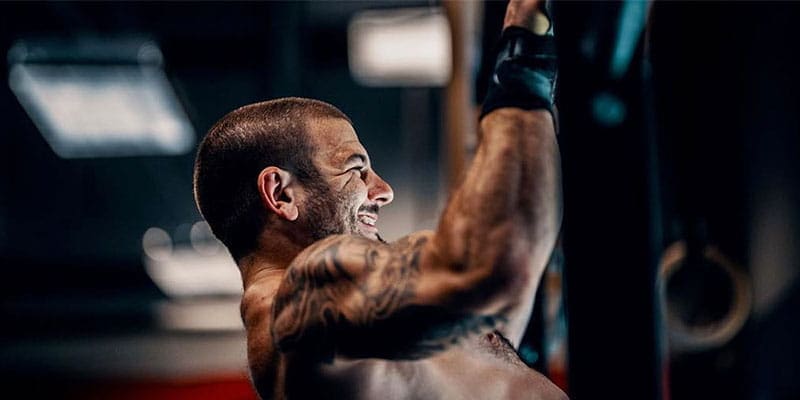 "The way these workouts are structured is by first establishing your max pull ups to failure in a single set. From here, you rest two minutes and attempt to complete more pull ups in an allotted amount of time."
"Day 1 starts with a test day. Complete a single set of max pull ups to failure in good form. Rest 2 minutes and then complete as many pull ups as you can in 5 min resting as needed. Take the number from your first set and the number of pull ups you did in the 5 minute block, add them up and set them aside. You'll need that for later!"
How to Double your Max Pull Ups in 22 Days
"On Day 2, we start a series of non-testing days. In these workouts, the goal is to perform a specific pull up variation for the same number of reps that you did on your max pull up from the most recent testing day. You are allowed to rest/pause when you fatigue and you are advised to stop a few reps short of total muscle failure. This is to accommodate for the fact that you will be doing a lot of pull ups over the next few weeks."
"The second half of the non-test day workouts require that you go back to performing standard pull up, except this time you have to complete your maximum plus 40 percent (on the first non-test day) 50 percent (on the second non-test day) and 60 percent (on the third and final non-test day in a block). Again here, you do not have to perform these unbroken. You simply have to get them done, stopping 2-3 reps shy of failure and using rest/pause."
"The blocks continue to progress and advance with each new testing day. Be sure to re-test your maximum number of pull ups at the start of each new block since you will likely be increasing your overall strength meaning that your number is going to increase. Each block is based on the number of max pull ups that you are able to achieve on the test day that begins that block."
"We continue in this fashion until we reach day 21 of the 22 day pull up workout. Here, you are to complete one of two tests. Refer to the video for the specifics on how to compete the day 21 test. On day 22 we come back again. Using the number we noted on the very first day of the workout, Day 1, we complete a max amount of pull ups in 5 min. Once again we are not going to failure here but stopping a few reps shy. Once the 5 minutes is up, take note of how many pull ups you performed and compare that to your day 1. Not only will you see an increase, often as much as double, but you will have done more pull ups in less time!"
Video – How to Double your Max Pull Ups in 22 Days
Learn More
Add these Standing Ab Exercises and Z Press into your training.
Try BOXROX Pro.