CrossFit Games® Champions Mat Fraser and Tia-Clair Toomey recently started working with beam in order to maximise their recovery, sleep and performance.
These two phenomenal athletes are always looking for ways to constantly improve and develop the ways that they train, eat, recover and perform in their relentless commitment to excellence, health and success.
With both athletes now living in Cookeville and training at CrossFit Mayhem, Shane Orr, Tia's husband, programs for Mat as well as Tia. The trio train together, with Shane constantly tinkering to improve all areas of their fitness and abilities.
The three-times Fittest Woman on Earth truly enjoys having Fraser around. "It's really quite cool just to be able to have his level of experience right there with me," she said, acknowledging that she has definitely learnt from him. "The boys tend to gang up on me a little bit so I've always got to defend myself, but I absolutely love it," she laughed. "He's really become quite a brother to me and it's very special, being able to do what we do."
RECOVER LIKE A CHAMPION
It's always a good idea to learn from the best, so add these recovery tips from Tia and Mat into your life and watch your health and recovery improve. Additionally, learn how beam helps both athletes in their pursuit of excellence, and how it could do the same for you.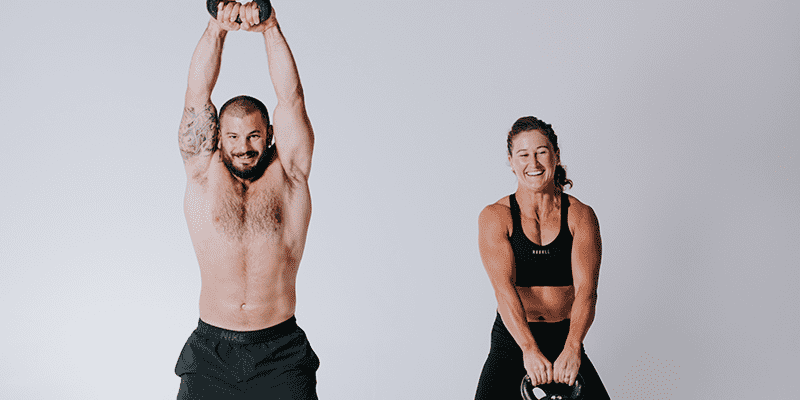 Source: beam
CBD stands for cannabidiol—a naturally occurring essential oil extracted from the hemp plant. By tapping into how we function biologically, CBD can work to regulate pain, mood, appetite, anxiety, and inflammation.
Beam create meticulously extracted, natural, phytocannabinoid-rich CBD products for wellness, rest, and athletic recovery. Their CBD is created using a proprietary extraction method that removes 100% of THC.
"We wanted to ensure our customers were getting pure, high-quality CBD oil in our products. Or, as we put it: no THC, just TLC."
RECOVERY METHODS: OPTIMISE YOUR SLEEP
Top quality sleep is an absolute necessity for both Tia and Mat.
"I've learned the value of good sleep and used it to drive my recovery" Tia comments "The minimum should be 8-10 hours of sleep of the right quality. Maximising sleep quality requires sleeping in the darkest possible environment whilst being well-fed and hydrated."
Often, many people struggle to achieve good sleep, so Tia offers this additional advice:
"If you struggle to get to sleep, reduce "screen-time" in the evening and, if this doesn't work, consider a core circuit or mobility session followed by a glass of water – you'll soon be tired enough!"
Mat Fraser recently stated that he sleeps 9 – 10 hours a night minimum. This is all well and good for top pro athletes, but for everyday people with jobs, families and other commitments, it can be exceptionally hard to adhere to all these principles so a little help can go a long way.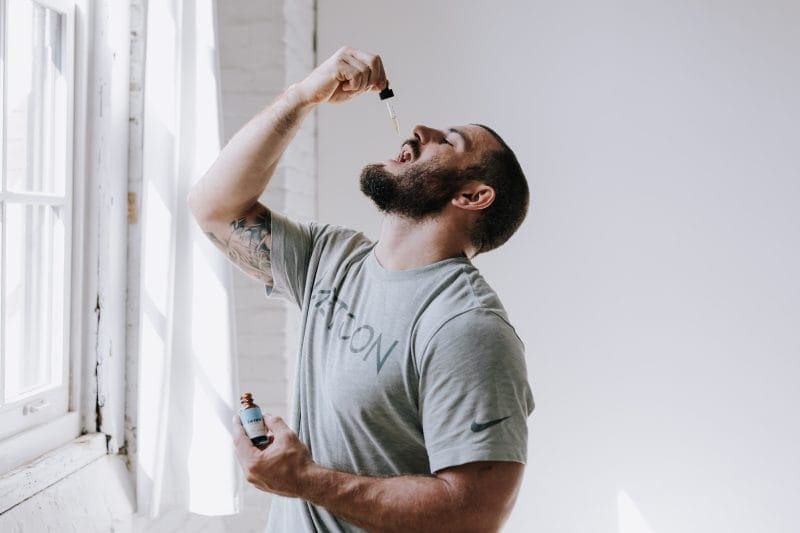 Mat: "If I have an off night and get six hours, I am not functioning the next day."
Harvard Medical School reported that "CBD helps with both falling asleep and staying asleep."
RECOVERY METHODS: EASE DISCOMFORT
Studies have found promising evidence that CBD gives the human body's endocannabinoid system an extra boost in aiding pain relief. When it comes to recovery, this can help dramatically with DOMS (Delayed Onset of Muscle Soreness) and general comfort, making it much easier to relax and recover effectively
RECOVER MENTALLY: CREATE A SENSE OF CALM
To build on this point, both Tia and Mat stress the importance of establishing recovery a daily routine, and to adopt the right mindset for it. Anxiety and stress are great ways to seriously limit the capabilities of our bodies to recover.
Anxiety and depression can be debilitating. CBD's effects within the central nervous system suggest that it may provide fast-acting relief for anxiety, balancing out cortisol (stress) levels, improving behavioral responses to stress, and helping to boost overall mood.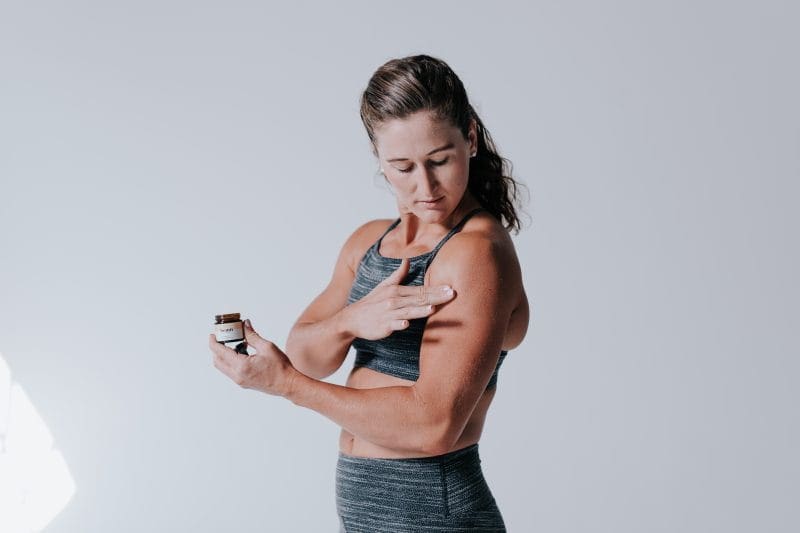 Source: beam
RECOVER PHYSICALLY: ALLOW YOUR BODY TO RESTORE ITSELF
Active Recovery for Muscles
Tia: "Training for recovery is worth considering if you have the time and want to take your training seriously. Active recovery sessions are light, low-volume exercise whose main purpose is to accelerate the body's recovery responses. It might sound counter-intuitive but your body doesn't want to be sat on the sofa: we're built to move every day and casual exercise will keep the blood flowing and de-stress the mind.
"Active recovery exercise can also be a great way to mix up your training and break the tedium of training in the same environment: I like to drop the weights and get outdoors by walking, hiking or swimming. This won't be possible for everyone, but a quick pool session or walking through the park is an enjoyable way to commit some extra time to deliberate recovery."
Connective Tissue
Connective tissues surround our muscles, bones, nerves and blood vessels, and recent research has begun to explore the presence of CB receptors throughout this tissue. The anti-inflammatory effects of CBD may work with receptors in connective tissue to positively influence and protect against cartilage degradation or inflammation in skin and joint.
NUTRITION AND RECOVERY
Tia: "Proper nutrition should be a cornerstone of every athlete's recovery. If your diet sucks it will be impossible to reach your goals: the structure of your diet is the basis for how you recover, progress and perform. Firstly, ensure is that you're eating enough – building muscle requires you to eat more calories than you use, if you're trying to get leaner you'll want to do the opposite. The internet has loads of "TDEE" calculators which will estimate your baseline calorie-use. These aren't perfect, but they're a place to start.
"Once you've set your calorie balance, make sure you're getting the right balance of foods in – a proper balance of dietary protein, carbohydrates and fats will improve your recovery further. The needs of individuals will be slightly different, but a diet high in protein will make recovery much faster and easier, as well as aiding in both muscle growth and fat loss.
"This is not, however, sufficient for optimal recovery: food quality plays a large role in health and performance. It's possible to achieve your calorie balance and macronutrients by eating junk food, but it is awful for recovery and health. Junk foods are heavily processed and often low in micronutrients.
"Micronutrients (such as vitamins and minerals) are key for proper health and athletic performance through processes like energy transfer and protein synthesis, both of which are fundamental to strength and fitness. I keep it simple and give my body the best chance by sticking to whole foods wherever possible – cuts of meat, high-quality fish and lots of fruit and veg should be the cornerstone of any athletic diet!"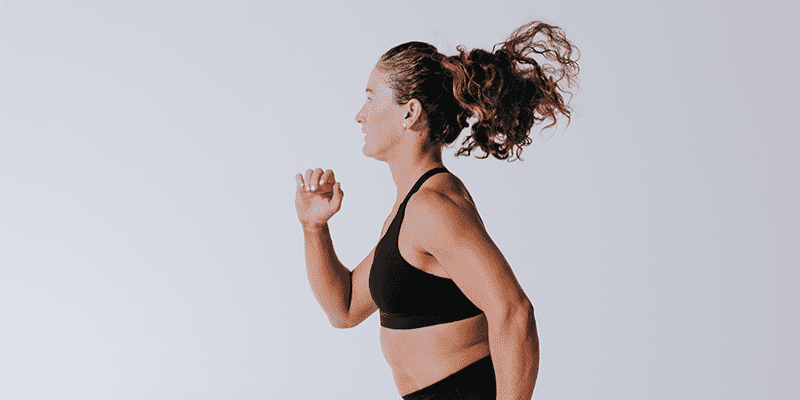 Source: beam
Mat Fraser has a similar approach.
"I tried to take my diet to a more extreme place, but it wasn't for me. It was taking too much time and energy away from different parts of my life. Now, instead of obsessing, I just try to eat well: No junk food. No soda. Very little that comes in wrappers. It's mostly meat, vegetables, and fruit. If I'm hungry, I eat. If I'm not hungry, I don't. There's not too much of a science behind it."
MOBILITY
Tia: "Functioning as a human requires the flexibility to move well without pain. Training, especially hard or repetitive training, can cause all kinds of problems: joint impingement, connective tissue inflammation (tendinitis and others) and muscular tears, all of which can be reduced through mobility work. Stretching and mobility work also reduces soreness and improve recovery after a tough training session."
Dynamic stretching before a session helps to warm the joints, reduce impact injuries and improve exercise technique.
Static stretching after or between sessions will help reduce DOMS and joint pain.
Foam rolling will help remove waste products after exercise and is especially useful for endurance athletes.
Mat dedicates time to his mobility and recovery right after training.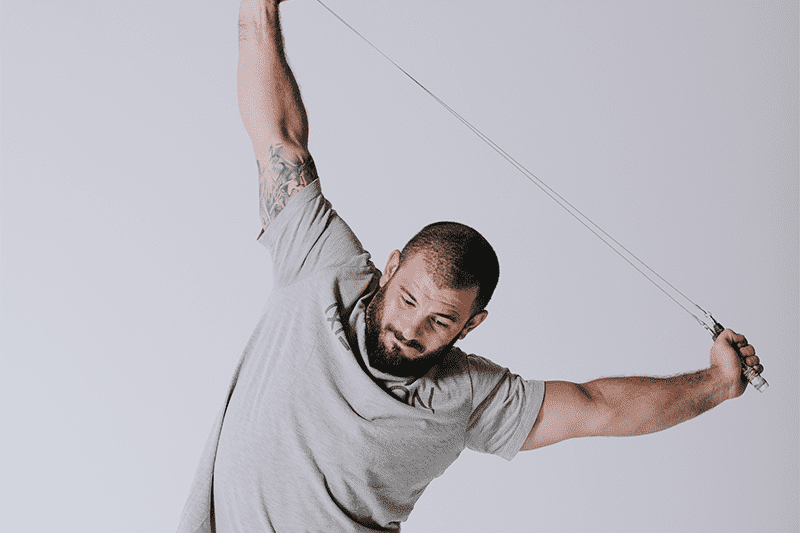 Source: beam
"Usually I finish (training) at 5:00 or 6:00. Dinner's waiting for me at home. I scarf that down, and then turn on the TV. That's when I sit on the floor, stretch, roll out, and pay attention to whatever's hurting from that day of training. That's about an hour and a half."
BEAM AND RECOVERY: BY ATHLETES, FOR ATHLETES
Matt and Kevin are both former professional athletes that have completed ironman triathlons and taken part in CrossFit® competitions, amongst many other achievements.
"Four years ago, we were introduced to CBD. We saw firsthand how it reduced our inflammation and eased our pain. We were sleeping better. We were less anxious. We had more energy. To put it plainly, CBD changed our lives."
Beam complies to the highest possible standards when it comes to both products and process.
Farm bill compliant facilities – They exclusively use Farm Bill compliant facilities in their manufacturing process.
Highest quality extraction – beam uses CO2 extraction to eliminate any trace of THC, leaving only a pure concentration of CBD and other natural hemp botanicals.
Phytocannabinoid-rich – Their extract leaves key botanical compounds from the hemp plant intact, providing a spectrum of ingredients that help our products work better.
CBD will help to calm the mind, destress the body and ease discomfort. Used by Mat Fraser and Tia-Clair Toomey it is a great way to supplement and support healthy recovery habits for everyone.