This is the perfect 4 exercise chest workout for mass.
Designed by John Meadows, aka Mountain Dog, it was created for maximum efficiency and results.
John Meadows died aged 49. Outlets, such as People magazine and the British online publication the Independent, wrote pieces about the Washington Court House, Ohio native's death while a Go Fund Me campaign, set up by Cavaliere, amassed more than $260,000 in just four days.
In his workout you will hit the whole chest.  If you are looking to build your chest this is the workout for you.
4 Exercise Chest Workout for Mass
Muscles of the Chest
The chest muscles are located between the thoracic cage (ribs and spine) and the shoulder girdle.
The pectoralis major muscle has two heads: clavicular head (underneath your clavicle) and sternocostal head (along your sternum). The pectoralis minor is a small muscle underneath pectoralis major; it attaches to the coracoid process of the scapula.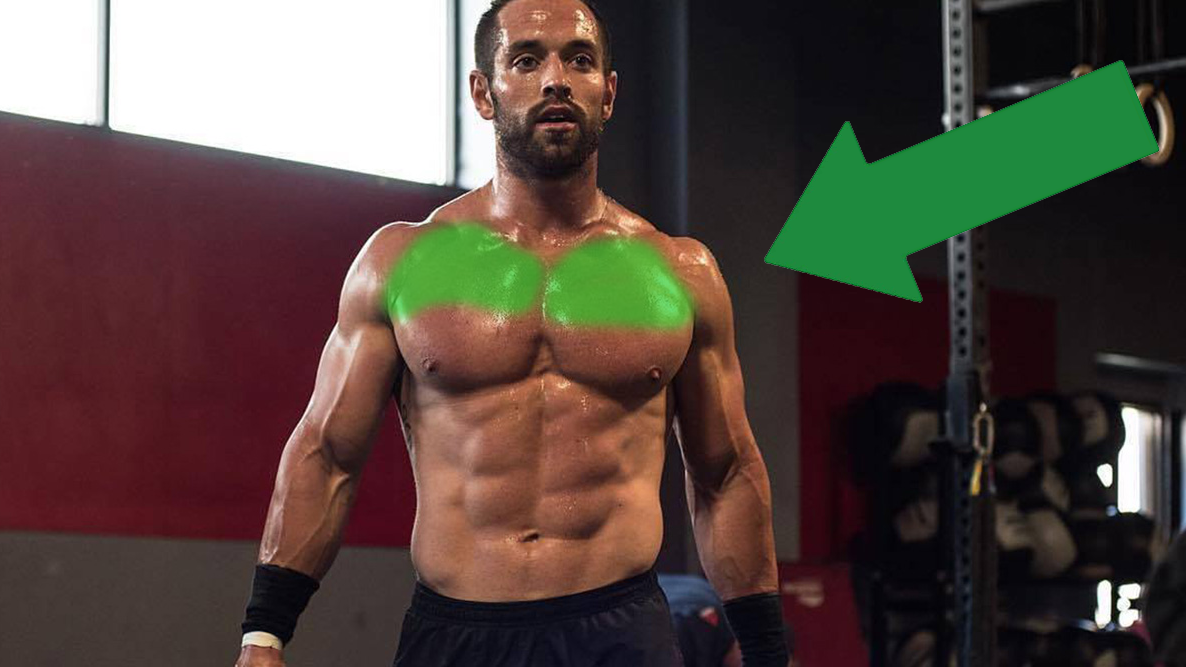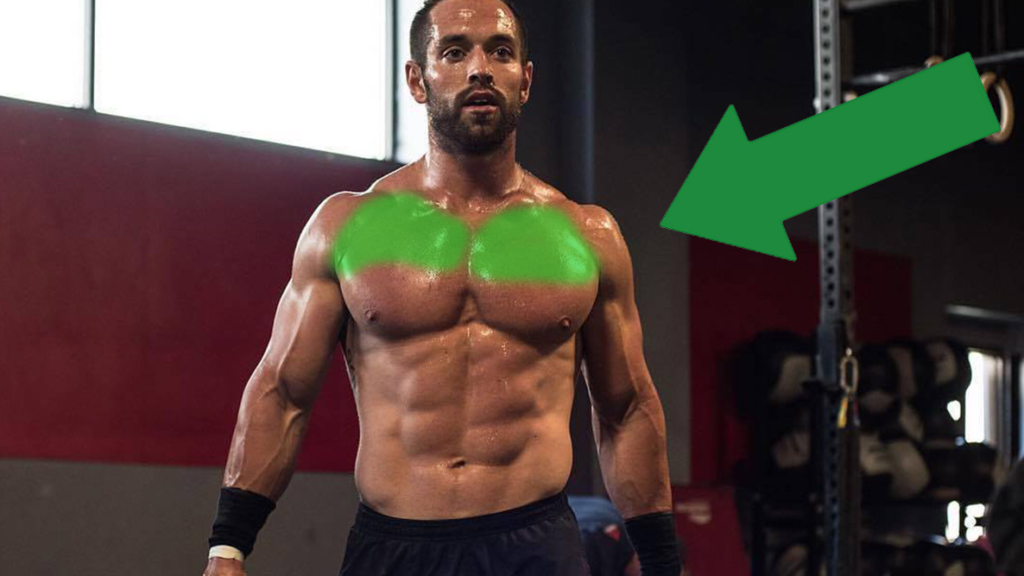 4 Exercise Chest Workout for Mass – Pectoralis major is a chest muscle with two heads
Pectoralis major is a chest muscle with two heads. The upper fibers arise from the cartilage of the sternum, while the lower fibers originate from ribs 2-5. All three pectoralis major muscles meet at the sternocostal junction, where they insert into coracoid process (a flat bone) of scapula.
Pectoralis major is an important muscle involved in many upper limb movements (e.g., flexion and adduction) as well as respiration.
Other muscles involved in pectoralis major action include serratus anterior (pulls down on ribcage), trapezius (pulls down on shoulder blades), and deltoid (rotates arm inward).
4 Exercise Chest Workout for Mass – Pectoralis minor is a small chest muscle under pectoralis major
Pectoralis minor is a small chest muscle under pectoralis major. It's triangular shaped and located in the chest, near the armpit.
Because it's small and under pectoralis major, you may not always feel this muscle when you exercise or stretch.
4 Exercise Chest Workout for Mass – Serratus anterior is a large muscle that runs along the rib cage
The serratus anterior muscle is located along the side of your chest, just under your armpit. It works together with several other muscles to move your shoulders and upper arm.
The serratus anterior can be strengthened by doing push ups and other exercises that involve shoulder movement.
Who Was John Meadows?
John Meadows was an American professional bodybuilder and entrepreneur with an intriguing story. While John now boasts a successful career as an IFBB Pro bodybuilder and fitness company owner, his journey towards the top was extremely difficult.
Growing up, John never met his father, and his mother died at an extremely young age. This meant John only had his grandmother to take care of him. When his grandmother tragically passed away in 1999, John was left alone without his family to support him.
As the years went by, John continued to face new adversities in his life. During his early days in bodybuilding, John suffered from a rare colon disease. After fighting the disease for several months, his colon burst – almost resulting in his death. Luckily, John was quickly rushed to an emergency room where his life was saved. After several months of recovery, John was finally back on his feet.
Coming back into bodybuilding, John used the very obstacles that almost cost him his life as 'fuel' to grow stronger. Ever since he recovered from the colon surgery, John has gone on to become a successful bodybuilder, entrepreneur, and inspiration for many people all over the world.
IFBB North American Bodybuilding Championships, Men's Heavyweight, 4th place
2005
USA Bodybuilding & Figure Championships, Men's Heavyweight, 13th place
Los Angeles Bodybuilding, Fitness & Figure Championships, Men's Heavyweight, 4th place
2007
IFBB North American Championships, Men Heavyweight, 16th place
2010
IFBB North American Championships, Men's Heavyweight, 12th place
2011
North American Championships, IFBB Men's Bodybuilding: Heavyweight, 9th place
2012
North American Championships, IFBB Bodybuilding: Over 40 – Heavyweight, 2nd place
North American Championships, IFBB Bodybuilding: Heavyweight, 7th place
NPC Teen, Collegiate & Masters National Championships, Bodybuilding: Over 40 – Heavyweight, 2nd place
2013
Masters National Championships, Bodybuilding: Masters Over 40 Super Heavyweight, 2nd place
Masters National Championships, Bodybuilding: Masters Over 35 Super Heavyweight, 3rd place
2014
NPC National Championships, Bodybuilding Heavyweight, 6th place
Masters National Championships, Bodybuilding Masters Over 35 – Super Heavyweight, 2nd place
Team Universe, Bodybuilding Over 40 Super Heavyweight, 4th place
2015
NPC Universe, Bodybuilding Over 40 Overall, 1st place – Earned the Pro Card
Wings of Strength Texas, Bodybuilding IFBB Pro 212, 5th place
Tampa Pro, IFBB Pro 212, 3rd place
Vancouver Pro, Bodybuilding IFBB Pro 212, 5th place
2016
Wings of Strength Chicago Pro, IFBB Pro Men 212, 10th place
Toronto Pro, IFBB Pro Men 212, 10th place
Arnold Classic, IFBB Pro 212, 9th place
2017
4 Exercise Chest Workout for Mass – More Tips
BIGGER QUADS – 5 Mistakes Keeping your Legs Skinny
Best Leg Workout Tips for Bigger Legs
Best Science-Based Lower Body Workout to Grow Quads, Hamstrings, Glutes and Calves
The Smartest Push Pull Legs Routine
Good Leg Workouts at Home for Stronger Quads, Hamstrings and Glutes