The 22/23 HYROX season is around the corner and the best way for you to PR your HYROX time, or even begin competing in this global endurance race, is by training with HYROX coach and elite athlete Tiago Lousa.
Registration for his training plan is now open.
What is HYROX?
HYROX is a global fitness race. Each tournament across the world is exactly the same, with athletes completing 8 one-kilometre runs followed by a fitness task each (ski, sled push, sled pull, burpees, row, farmers' carry, lunges, and wall balls).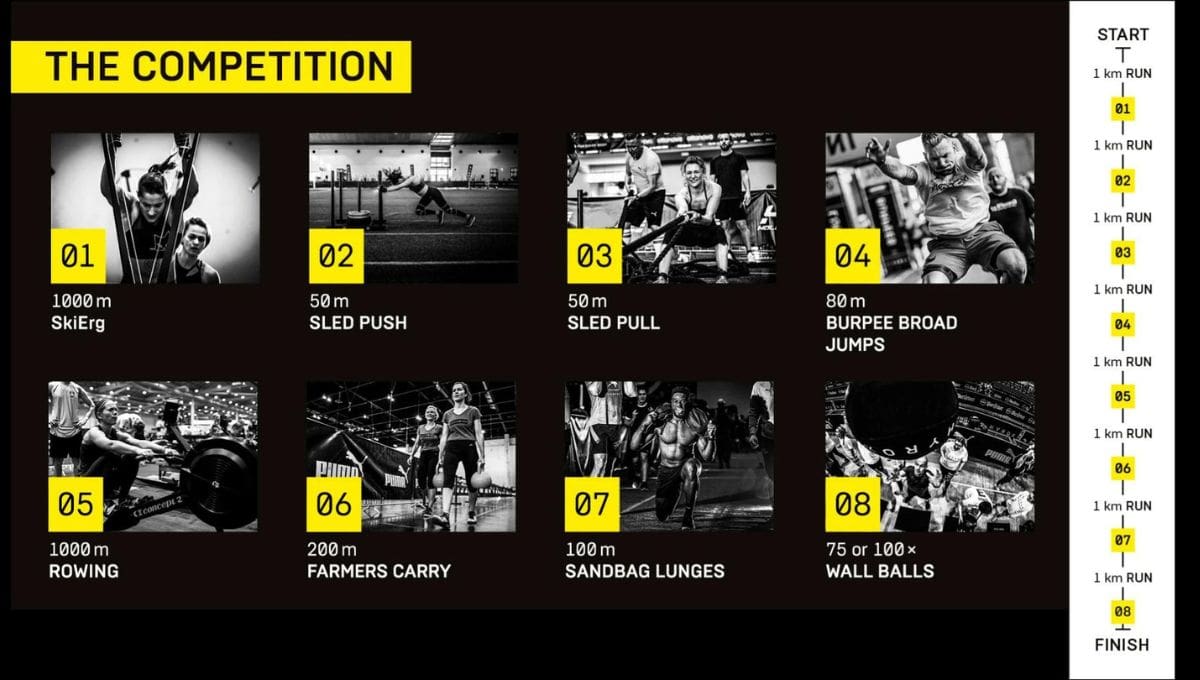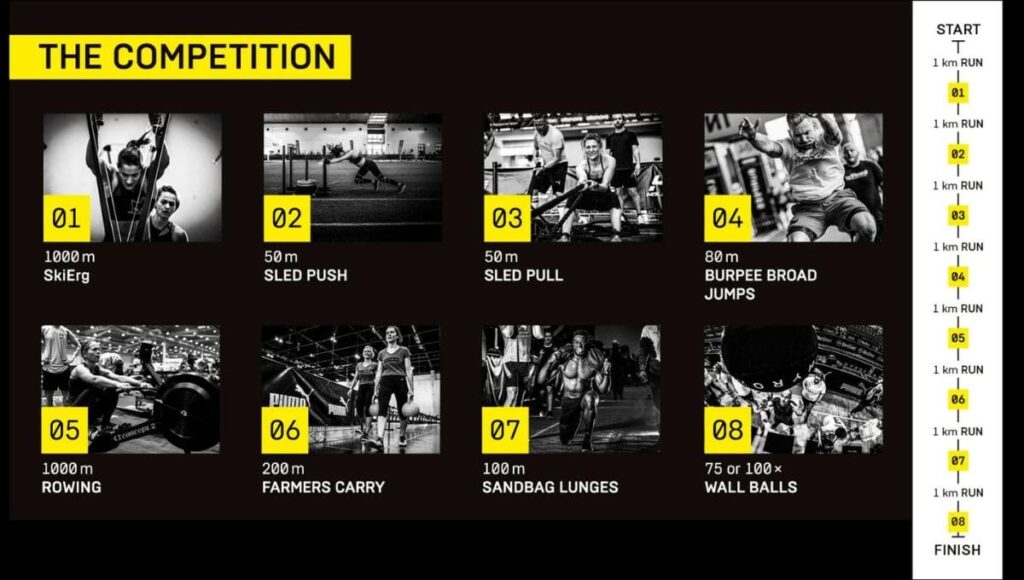 Combining functional exercises with endurance makes HYROX unique yet attainable for people from a huge variety of athletica and fitness backgrounds. It is the perfect competition for everyone who loves to work out, have fun and push their boundaries. You can participate individually or in a team of 2.
The race is organised in multiple cities across the world and any body can sign-up and test their skills and compare with athletes from the other side of the globe. The next few cities are Basel (Switzerland), New York (USA), Leipzig (Germany), Birmingham (U.K.) and Valencia (Spain).
Each season culminates with the World Championships where the athletes with the fastest times from each division in each city go head-to-head.
And if you want to get better at this global race, then you should train with Tiago Lousa.
Get Better HYROX Time with Tiago Lousa Training Plan
Tiago Lousa is the CEO, owner and Headcoach of CrossFit AlphaDen. He is also an HYROX elite athlete that finished 4 times on podium spots – last year at the World Championship in Leipzig, he placed 3rd Elite.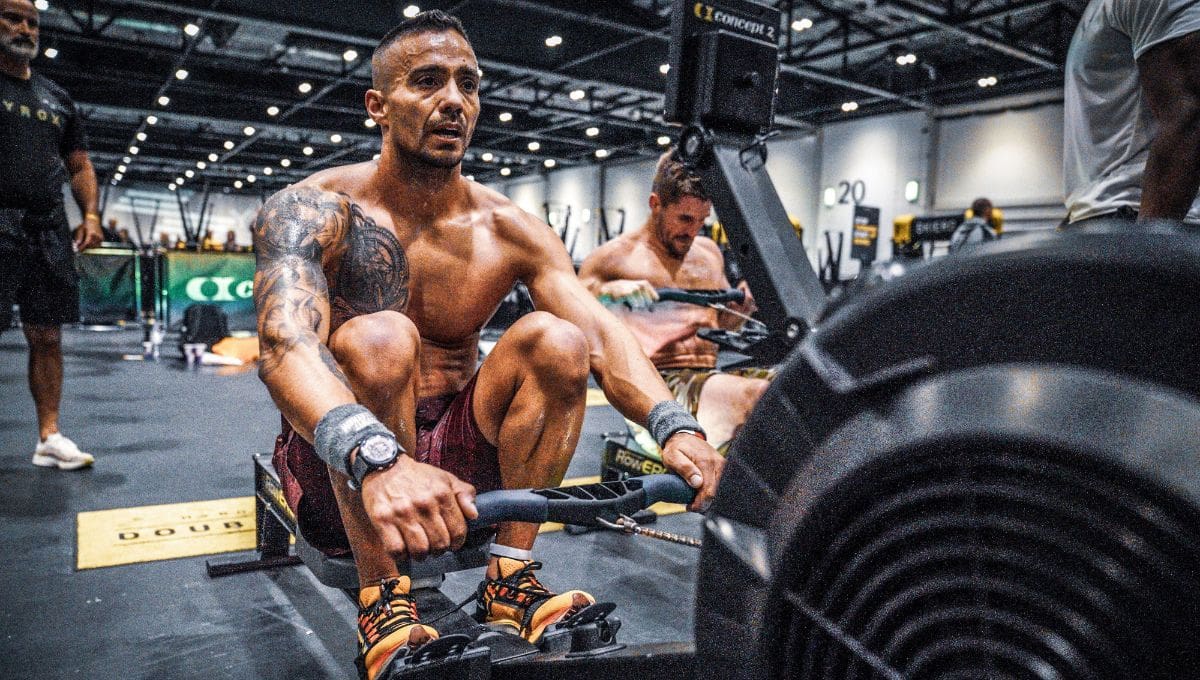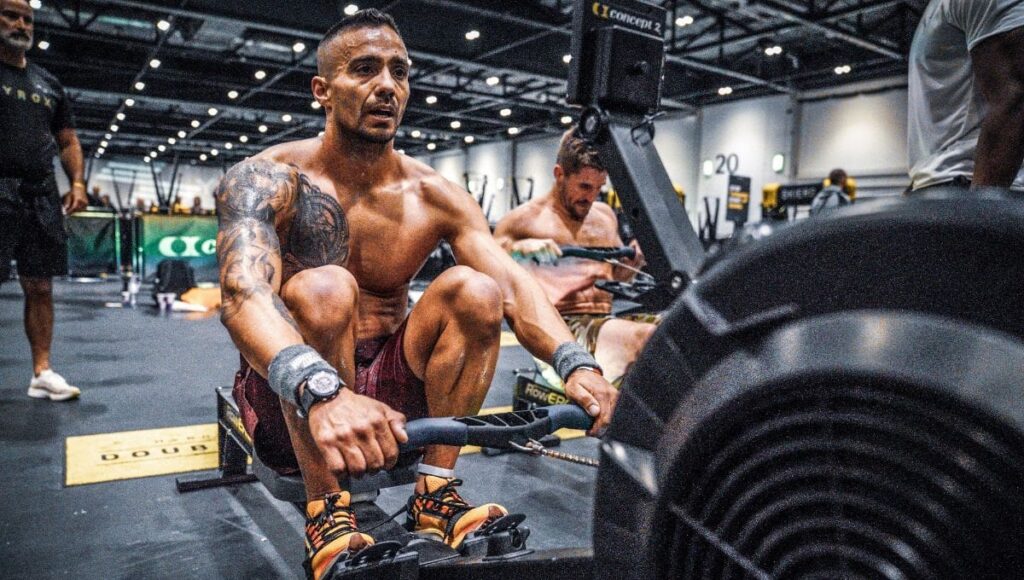 Tiago Lousa prepared athletes for the 21/22 season and achieved remarkable results. These are some of Lousa's athletes achievements at the World Championships held in Las Vegas last year.
Men Doubles (Diogo & Luís, Portugal) 1st Place AG 16-29
Woman Doubles (Tânia & Márcia): 3rd Place AG 16-29
Woman PRO: Carolina Silva, POR, 2nd Place, AG 30-34
Woman PRO: Franziska Lechner, GER, 2nd place AG 45-49
Men PRO: Daniel Arazola, ESP , 6th place, AG 40-44
Woman PRO: Pilar SantaFé, ESP, 10th place, AG 35-39
Woman PRO: Emily Baltierra, USA, 9th place, AG 16-24
There are 3 training levels Tiago Lousa offers:
Standard – if you are new to HYROX challenge, this is the right gateway
Pro – must have finished an official HYROX event in the pro category within a specific time frame
Elite – invitation only
Before starting the plan, it is important to have accurate references. All workouts will have paces that relate to one's performance and should be respected if you want to achieve consistent results.
If you are an experienced athlete and have a good idea of your scores, you won't need to perform the tests. Otherwise, check below the tests you could be doing prior to the beginning of the training.
Standard HYROX Plan
This is the perfect training plan for most beginners or people who have never participated in an HYROX event before. There are no minimum requirements for you to subscribe to this training plan.
This is 5 active days and 10 short sessions per week. Check below a sample week of the standard program.
Daily training time – 60 minutes
Days per week – 5 days
Sessions per day – 1
The standard program costs 25 euros per month.
Pro HYROX Plan
This training plan is for athletes who have taken part in previous HYROX races before. Not only that, you must have, officially, finished an event within a time limit.
Men – less than 1 hour and 12 minutes
Women – less than 1 hour and 12 minutes
Doubles MM – less than 58 minutes
Doubles FM – less than 1 hour and 2 minutes
Doubles FF – less than 1 hour and 6 minutes
The Pro HYROX Plan is for athletes that have competitive goals during the HYROX season. Below is a sample week of the Pro HYROX Plan.
Daily training time – 100 minutes
Days per week – 6 days
Sessions per day – 2
The Pro Training Plan costs 40 euros per month.
Elite HYROX Plan
There is only one spot left at the Elite HYROX Plan from Tiago Lousa. As with the Pro planning, you need to meet the minimum requirements to be eligible for this special training plan.
Men – less than 1 hour and 5 minutes
Women – less than 1 hour and 10 minutes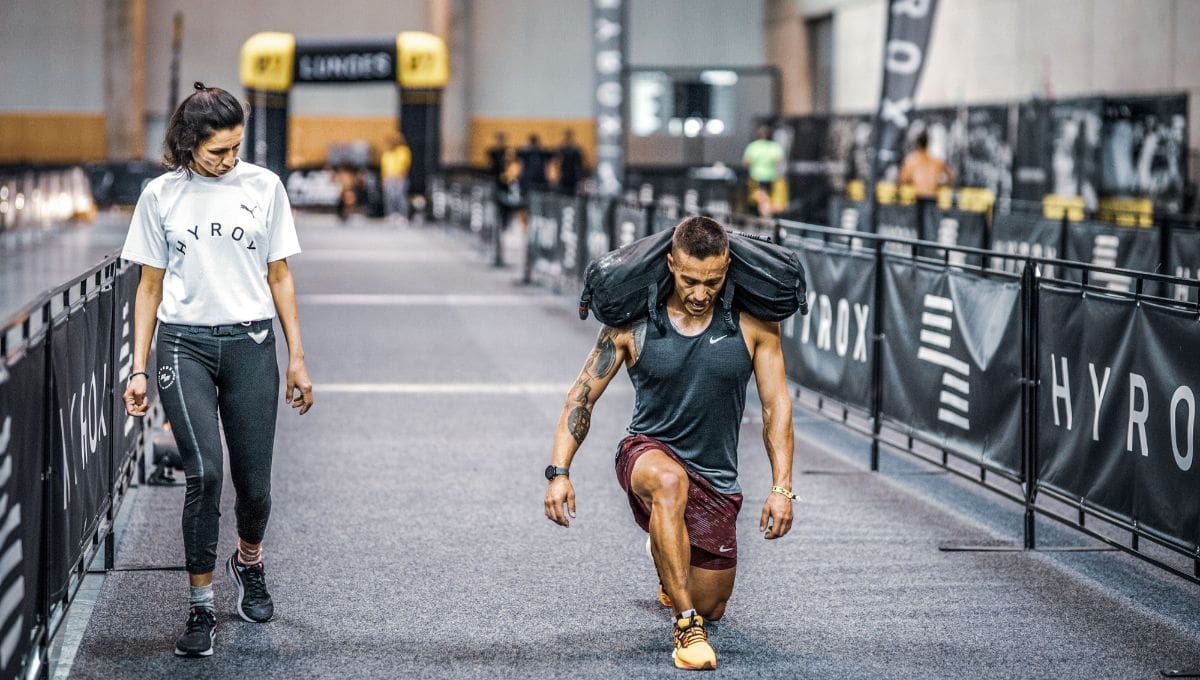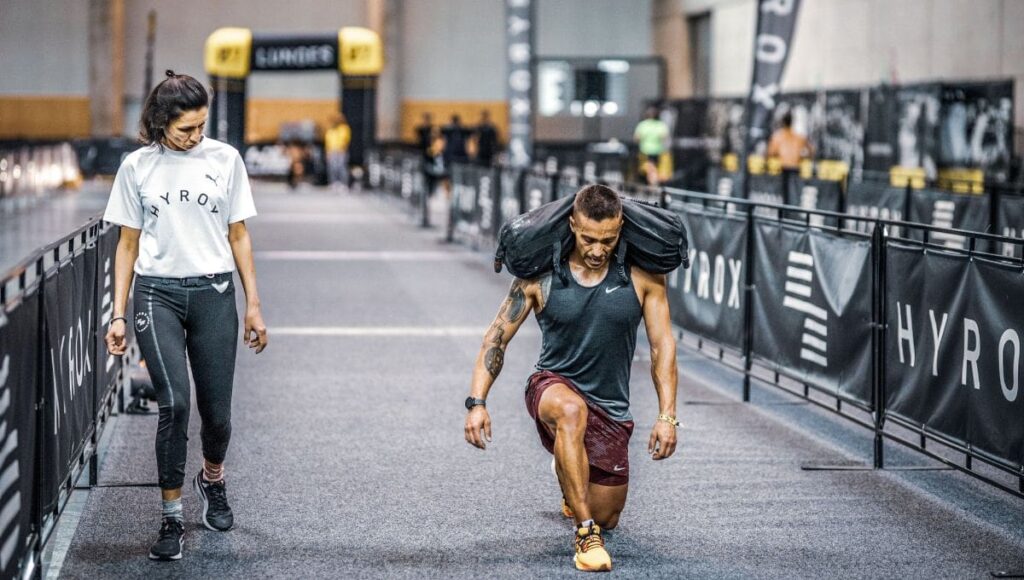 Daily training time – 120 minutes
Days per week – 6 days
Sessions per day – 2
The Elite HYROX Plan costs 50 euros per month.
Why Should You Train Specifically for HYROX?
With Tiago Lousa's training plan, no matter what your fitness goal is, you will get closer to achieving it at the end of the day. His training will not only help you PR your HYROX time, but the fitness level you will achieve will transfer to other exercises and sports.
The most recent example is Diogo Freitas and Luis Silva, two athletes who trained with Tiago Lousa last year and won the age group 16-29 for doubles at the World Championships in Las Vegas.
According to Lousa, they both do CrossFit but have rarely picked up a heavy barbell while training for HYROX in the last few months. "Guess what? Last week [end of May], during a CF Team Competition, both PR'd their snatch," Lousa wrote.
Luis went from 104 to 108 kilos (238lb) and Diogo from 90 to 100 kilos (220lb).
By training for HYROX races, they both improved their conditioning which translates to being a better athlete overall. "They can also do more unbroken reps on a light / medium weight barbell, more unbroken reps on gym movements," Lousa explained.
What are you waiting for? Sign up now to Tiago Lousa's training plan and PR your HYRXO time next time you compete.