Noah Ohlsen is a top CrossFit Games veteran known for his toughness, determination and smiles.
The American athlete won the Open in 2016 (and came second worldwide in 2017), won four Regionals outright (and finished second once) and finished second at the 2019 CrossFit Games, his highest placement to date.
Throughout his CrossFit Games career, he's only finished outside the top 10 once.
Having competed for over half a decade, Ohlsen says he's trained 6 hours a day, 5 days a week for the past 10 years. Before CrossFit, Noah played lacrosse and water polo and did wrestling and swimming.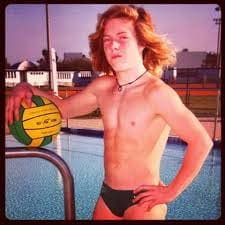 "I was once just a scrawny little dude that didn't have a path," he writes about himself.
Have a look at Noah Ohlsen's incredible transformation, from his first CrossFit competition in 2010 at 19-years-old, to his first CrossFit Games in 2014, aged 23.
TOP WORKOUTS FROM NOAH OHLSEN
1 – A man with his dog
60 min AMRAP with 40# ruck sack:
‪400m run on assault runner
‪20 step ups
‪200m sled drag (45# plate) continuous walking pace
‪100m farmers carry 53#/hand
‪400m run outside
‪50 foot walking lunges
‪200m empty prowler push
5 rounds for time:
5 unbroken power snatch (175)
25 unbroken wallballs (20)
3 – ‪Work hard have fun
For time:
Squat snatch; 3 reps AFAP 205# x3; rest 2 min
‪A2. Squat clean and jerk; 3 reps AFAP 275# x3; rest 2 min ‪
Clean grip deadlift; 1 set of 5 @415# + max reps (-1) unbroken @355# x1 set (go to technical breakdown and no grinding reps)
21-15-9
Bench press (165)
Bicep curl (65)
*same number of banded tricep extensions after the bench and banded curls after the bar curls
Finished with 100 foot anchored situps for time!
That took 2:50 and the first part took 7:40 (although it wasn't really for time)
5 – Elevate Your Heart Rate, Breathe Heavy
30 min EMOM
Min 1 – 18 cal ski
Min 2 – 18 cal bike
Min 3 – 18 cal row
Min 4 – 18 box jump overs
Min 5 – rest
Feel free to scale the numbers in a way that'll allow you to finish each minute with at least enough time to transition to the next!
The last two rounds got TOUGH!
6 – At Home AMRAP Workout
10 min AMRAP
10 Step Back Lunges
10 In-Out Squats
10 V Sit-Ups
30 Sec Plank Hold
7 – Saturday Switch Up
16 minute AMRAP:
100 medball core movements (twists, overhead ball slams, wall slams)
10 paralette shoot throughs
10/10 alternating glute bridge floor press
100' single arm db overhead carry
8 – Thor Challenge
A cheeky challenge to finish off!
Useful Training and Recovery Tips from Amanda Barnhart