An iconic Crossfit Games Champion and an athlete that helped to shape CrossFit into what it is today, Rich is a true legend.
Firstly check out Rich on the right in his earlier baseball days.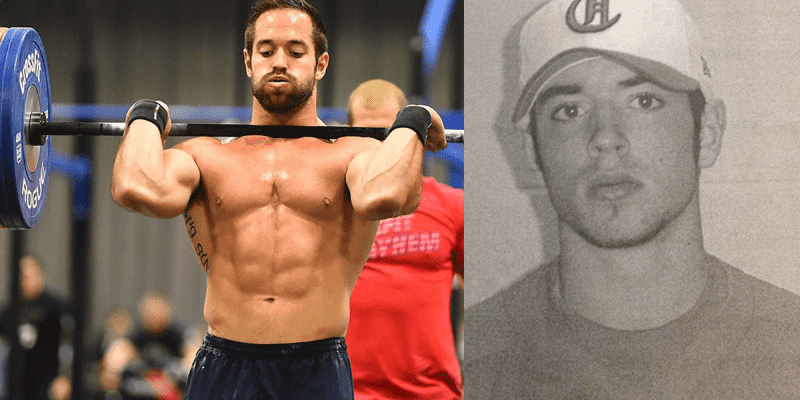 He became the first person to win the title of "Fittest Man on Earth" four times with his first-place finish in the 2011, 2012, 2013, and 2014 CrossFit Games. In 2015, 2016, 2018, and 2019 he led team CrossFit Mayhem Freedom to the first-place finish in the Team category in the CrossFit Games.
But this legend was born from steel and sweat. Rich trains like a beast and there is a reason other Athletes always ask: 'What´s Rich doing?'
Check out these Rich Froning CrossFit workouts to get some inspiration, and for an idea of how much of a workhorse this guy actually is:
WORKOUT 1
A.M.
3 x power clean (205 lbs) EMOM for 10 minutes
Rest 5 minutes
Followed by
15 min AMRAP
5 x pull-up
10 x push-up
15 x air (body weight) squat
https://www.instagram.com/p/BZUkLt9BkQP/?taken-by=richfroning
WORKOUT 2
P.M.
5 rounds of -descending reps (10, 8, 6, 4, 2) of:
muscle-ups
AND descending reps (50, 40, 30, 20, 10) of: wall ball
WORKOUT 3 – DOUBLE AMRAP 7
WORKOUT 4
A.M.
Work to 3-rep max power cleans
Rest 5 minutes
Followed by
AMRAP 15 min
5 x handstand push-up
7 x snatch (95 lbs)
9 x box jump
(24-lb vest)
WORKOUT 5
P.M.
AMRAP for 20 minutes of:
20 x thruster (95 lbs)
20 x pull-up
20 x burpee