CrossFit Open Workout 20.5 is…
CrossFit Open Workout 20.5
For time (20 minute time cap)
Partitioned in any way:
40 Ring muscle ups
80 calorie row
120 wal ball shots
Female: 14-lb ball to 9 ft target
Male: 20-lb ball to 10 ft target
Movement Standards for CrossFit Open Workout 20.5 (RX, Scaled and Masters)
How to Scale CrossFit Open Workout 20.5 (Men, Women, Masters and Teens)
CrossFit Open Workout 20.5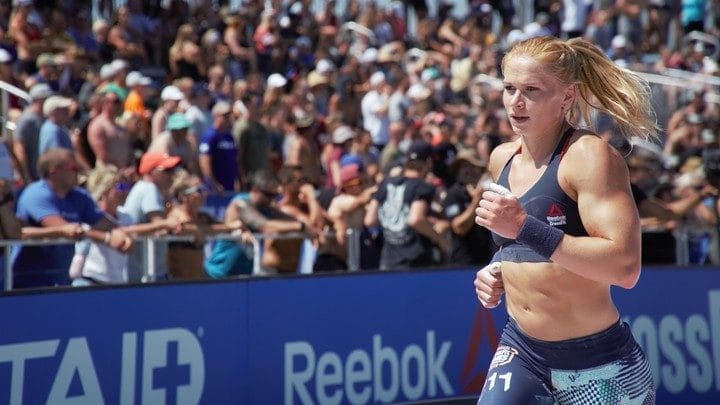 PEOPLE OF ALL AGES AND ABILITY LEVELS CAN PLAY
People of all ages and ability levels can play, Rx'd or scaled. Use hashtags to see where you stack up with friends or others like you.
CROSSFIT AFFILIATES OR ANY GYM, GARAGE, PARK OR FLAT SPACE
Participate at any of the 15,000+ CrossFit affiliates worldwide or in any gym, garage, park, or flat space where you can bring your gear and a camera.
STARTING OCT. 10, 2019
Oct. 10 kicks off five weeks of Open workouts. Talk with your coach and make a game plan.
TIA CLAIR TOOMEY'S THOUGHTS ON THE FORTHCOMING CROSSFIT OPEN
"Typically I would start moving and getting back into the gym around now but wouldn't have to have the pressure of having the Open in a couple of weeks. The first week, Shane and I will be heading over to Australia and doing the whole Open back home. It's been 12 months since I've been home so it's definitely going to be a nice time to see the family and friends."
"The Open is great. I remember when i started CrossFit in 2013. I walked into the gym and they had The Open going. I remember 13.1, they had to teach me a snatch 5 minutes before my heat was starting. The Open means quite a lot to me in that respect because it was something that helped me become close and a strong part of my community.
"I've always loved doing the Open and it's a really great way to qualify for The Games."
Tia spoke about how their planning for the CrossFit Open and any strategies that her and Shane employ.
"This year, just like other years, I don't prioritise The Open. I prioritise my training and incorporate The Open throughout my training and then do what I have to in order to either make the top 10 or come first as the Australian National Champion."
Despite a long off-season and her downtime after winning the CrossFit Games, Tia is still confident.