Workout 3 – Rope Run
For Time:
800 meter Run
50 Single-Unders
25/18 Handstand Push-Ups
100 Single-Unders
25/18 Handstand Push-Ups
50 Single-Unders
800 meter Run
Keep a steady pace and try not to get too gassed on the first run so you get as many single unders done without stopping. The handstand push-ups may need to be broken up early.
The athlete should be able to test their conditioning. The first set of Handstand Push-Up should be a number that the athlete can do unbroken if they were fresh. The athlete should push the pace on the second run.
Swap the handstand push-ups for pike push-ups for scaling.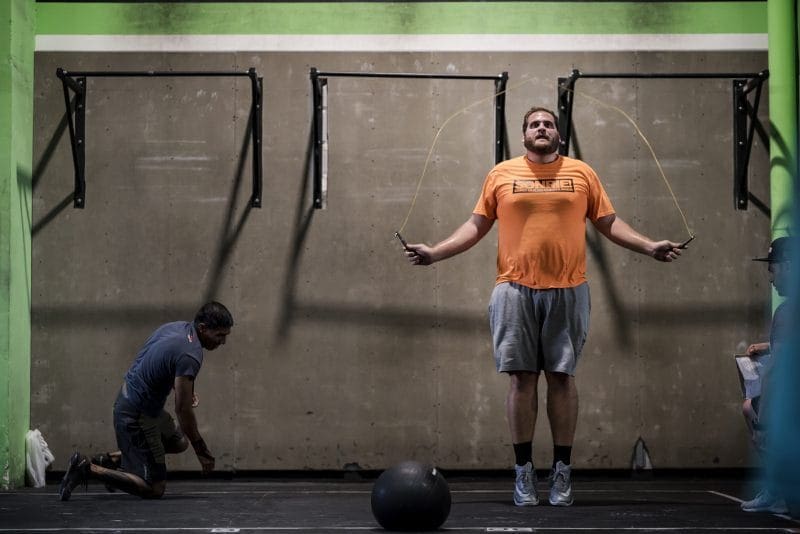 Workout 4 – Flight Stimulator
For Time:
5-10-15-20-25-30-35-40-45-50-45-40-35-30-25-20-15-10-5
This pyramid scheme ascends in increments of 5 until it hits 50 and goes back down to 5.
Each set must be unbroken.
If you break down a set, go back to the start of that set and start again. Your rope should stop moving before starting the next set.
For scaling, go for increments of 10 instead of 5 (10-20-30-40-50-40-30-20-10 reps).
This "Flight Simulator" benchmark workout was designed by OPEX Fitness.