Cook a delicious and healthy plant-based Christmas meal this year with these healthy vegetarian foods for Christmas dinner.
While traditional Christmas dinners feature turkey or chicken, there are many vegetarian alternatives that are not only delicious but healthy as well.
Have a look at our picks and try them out this holiday season.
Healthy vegetarian foods for Christmas dinner
Mushroom and soy risotto
Risotto is healthy and nutritious, especially when topped with vegetables and a protein source such as soya chunks.
This creamy rice dish is a great vegetarian alternative for Christmas. Reducing the amount of butter and white wine you use can make this dish even healthier.
The soya chunks are a great protein source while also being rich in calcium and iron.
What you'll need:
1 onion
2 garlic cloves
30g of wild mushrooms
150g of Risotto rice
2 tbsp of vegetable stock
100ml of soy cream
1 red pepper
250g cherry tomatoes
1 tbsp of nutritional yeast
Soya chunks
Soy sauce
How to do it:
Cut the onion into small pieces while you wait for a large pan to heat up. Add butter to the pan and fry the onions for a minute.
Chop the garlic and add to the pan. Boil 300ml of water in the meantime.
Add the risotto rice to the pan and cover with some water, adding half the vegetable stock.
Continuously stir the rice and add water when necessary.
Boil additional water and place in a deep bowl with the remaining vegetable stock, then drop the soya chunks into it and leave them to soak for about 10 minutes.
Cut the mushroom into thin, long slices and fry them with soy sauce in a separate pan for about 5 minutes.
Once the soy chunks are done soaking, drain the water completely and add them to the mushroom pan to fry.
Your risotto should be close to being fully cooked now, so add the soy cream for an extra creamy texture.
Cut the pepper and half the cherry tomatoes while you wait for the risotto to be cooked.
Once the risotto is done, add the mushrooms, soya chunks, cherry tomatoes, and peppers to the pan and mix thoroughly.
Sprinkle the risotto with nutritional yeast.
Potatoes with oven roast vegetables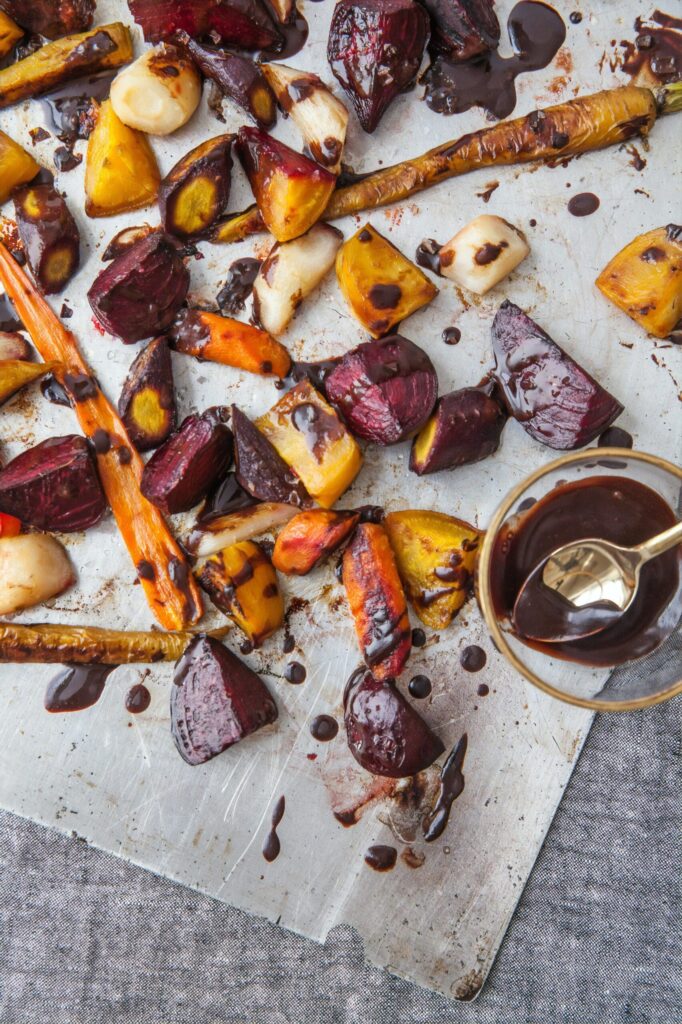 Potatoes are the most popular ingredient in Christmas dinners, with people roasting them, mashing them, or baking them.
Adding root vegetables such as carrots, parsnips, or beetroots to your oven roast is a way to add colour and boost up the vitamins and minerals of your meal.
What you'll need:
4 oven potatoes
3 carrots
2 parsnips
1 beetroot
Olive oil
Herbs
Salt
How to do it:
Preheat the oven to 180 degrees.
Dice the potatoes, carrots, parsnips, and beetroot, the size is down to you.
Place them in an oven dish and drizzle olive oil on top of them, then add some herbs and a pinch of salt.
Shake to spread the olive oil and place in the over for an hour or until your vegetables have acquired a light golden colour.
Seitan and rocked loaded baked sweet potatoes
This healthy vegetarian Christmas dinner delivers three of your 5-a-day. It is incredibly healthy, nutritious and, above all, delicious.
Sweet potatoes are full of vitamins and, contrary to normal potatoes, count as one of your 5-a-day. Their sweet flavour and bright orange paired with strong, dark rocket make for a treat to the eyes and mouth.
What you'll need:
2 sweet potatoes
1 can of chickpeas
200g of seitan
1 red onion
2 tbsp red wine vinegar
Chilly flakes
100g od rocket
2 tbsp of sunflower seeds
Olive oil
How to do it:
Heat the oven to 200C.
Prick the sweet potatoes all over with a fork and place in the oven to cook for 45 minutes.
Add the chickpeas to the oven, then roast for 10 more minutes until the potatoes are completely tender and the chickpeas have crisped a little.
While the sweet potatoes are cooking, thinly slice the onion and mix it with the red wine vinegar. Set aside to pickle.
Add a little oil to a small frying pan and add the seitan with the chilly flakes. Toast the sunflower seeds for a handful of minutes.
Half the potatoes when they are ready and serve on two plates. Top each with rocket, chickpeas, seitan, red onion, and sunflower seeds.
Cherry tomato and feta Quiche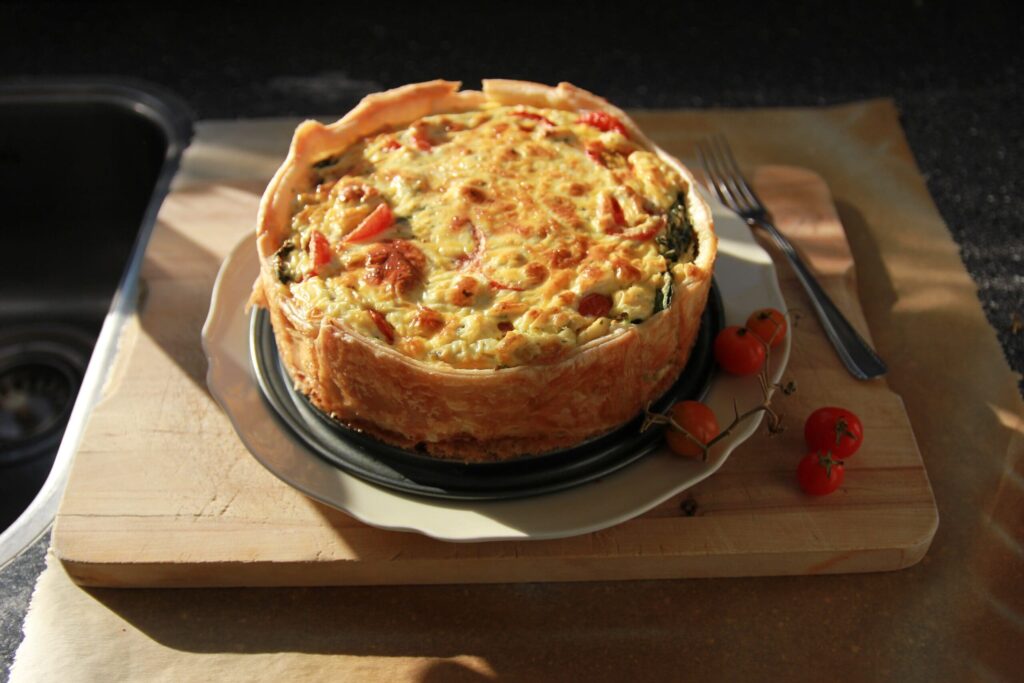 Homemade quiche is incredibly easy to make and is a great addition to your vegetarian Christmas dinner. Serve it with a side of salad for additional micronutrients.
What you'll need:
For the pastry:
225g of flour
75g of cold butter
Pinch of salt
For the filling:
1 red pepper
150g of cherry tomatoes
1 onion
250g of feta
20g of olives
4 eggs
70g of crème fraiche
How to do it:
Preheat the oven to 180C.
To make the pastry, mix the flour, butter, and salt. We recommend you use a food processor so the heat in your hands doesn't melt the butter. If you use your hands, be fast with this process.
Once a ball forms take it out and refrigerate for half an hour to firm up the butter again, this will provide you with a flaky pastry.
In the meantime, chop all vegetables into little squares and place over a large baking tray, leaving them to roast for about 25 minutes.
Take the pastry out of the fridge and roll it out, shaping it so you can cover your quiche oven dish with it. Covering the bottom with baking beans, place the pastry in the oven for 5-10 minutes to avoid a soggy bottom.
Whisk together the eggs and add the cream in a large bowl.
Remove the pastry from the oven and scatter the vegetables over the base. Crumble the feta on top and then pour over the egg mixture .
Place the quiche in the oven and cook for around 45 minutes.
Leave it to rest for at least 10 minutes before serving.
Sprouts with pistachios and pomegranate
Brussels sprouts resemble miniature cabbages and are a Christmas classic. Packed with immunity-boosting vitamin C, Brussels sprouts are among the most powerful cold-weather superfoods.
Add a twist to this classic vegetarian Christmas meal by adding pistachios and pomegranates.
What you'll need:
3 tbsp of olive oil
500g Brussels sprouts
50g pistachios
100g pomegranate seeds
How to do it:
Heat the oil in a large frying pan. In the meantime, half the spouts.
Once the oil is hot place the sprouts in the pan, cut-side down, and leave them to fry for 10-15 mins. Toss them occasionally.
Roughly chop the pistachios and add to the Brussels sprouts when they turn a nice brown. Stir-fry them until toasted.
Remove the pan from the heat and stir through the pomegranate seeds. Season with salt and serve up.
Other vegetarian foods for Christmas dinner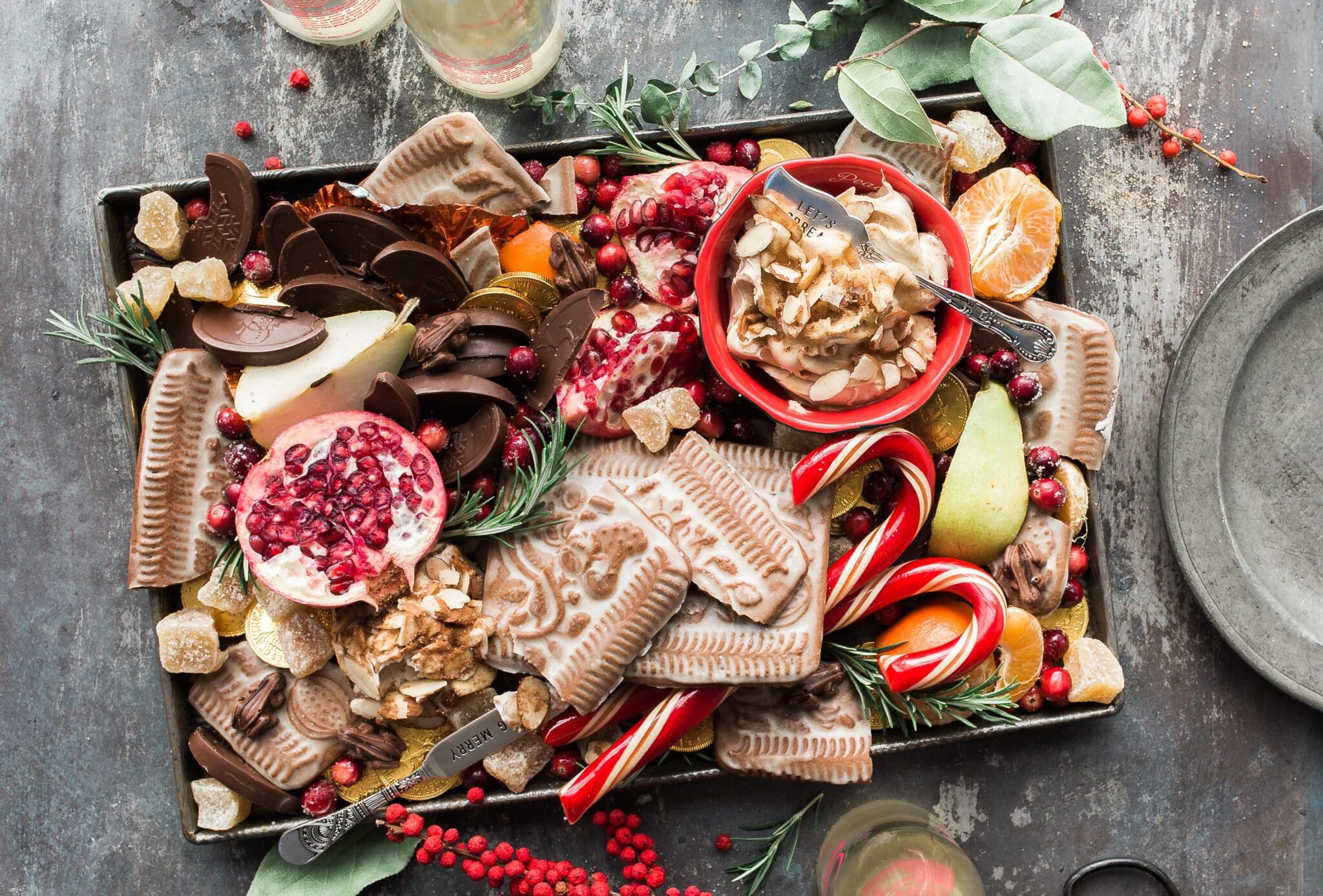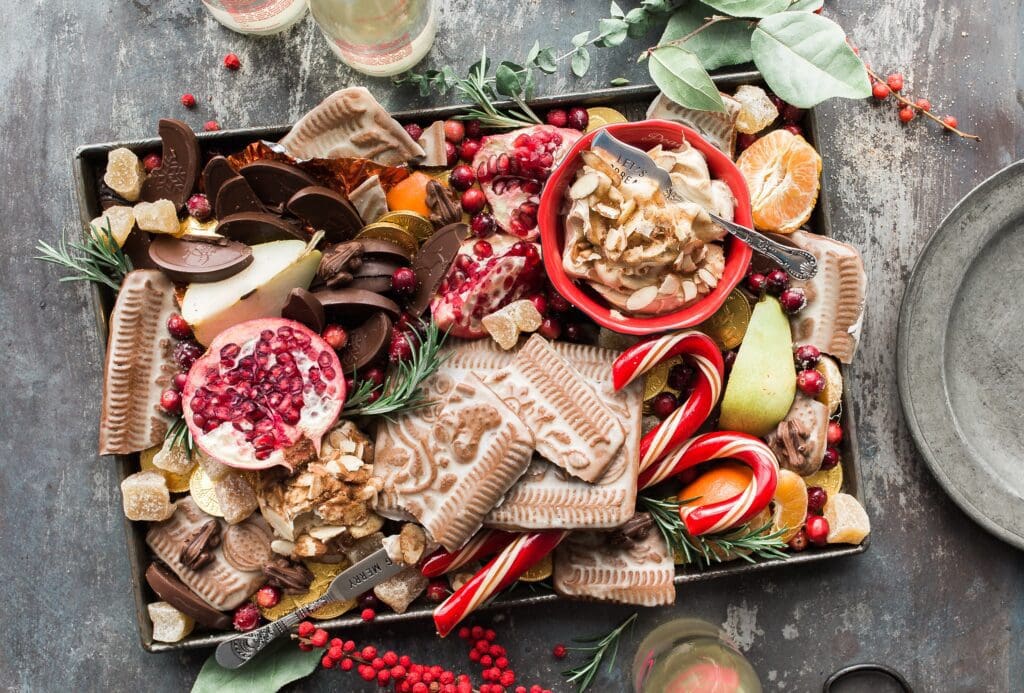 Do you have other classic vegetarian recipes you like to cook for Christmas? Let us know in the comments section.
Read more: Your Guide to Dieting: 4 Popular Diets, Research, Benefits and Considerations