This Thursday the Fittest on Earth from the age group and adaptive athletes have been crown after three days of competition in Madison for the 2023 CrossFit Games.
HOW TO WATCH THE 2023 CROSSFIT GAMES LIVESTREAMS
Today marked the end of the CrossFit season for athletes who competed in Madison in the divisions of 14-17 years old, 35+ years old, and adaptive athletes from 3 different categories.
Sadly, for most days during the competition, the only available livestream for adaptive or age group athletes was a stationary camera from far away from the action. That lasted until the last event when we finally got to see up and close athletes from varied backgrounds and ages giving their all inside the Coliseum.
CrossFit CEO Don Faul Addresses Livestream Coverage; Games Appearing on ESPN
Some of the highlights are Susan Clarke (60-64) who won her 6th CrossFit Games, simply 100% of success as she was invited to the Games 6 times.
Casey Acree has won (again) the title of Fittest on Earth for the upper extremity division. That was barely in doubt, as in his entire career, he has won 23 out 24 workouts ever! He is simply the greatest adaptive athlete in this division!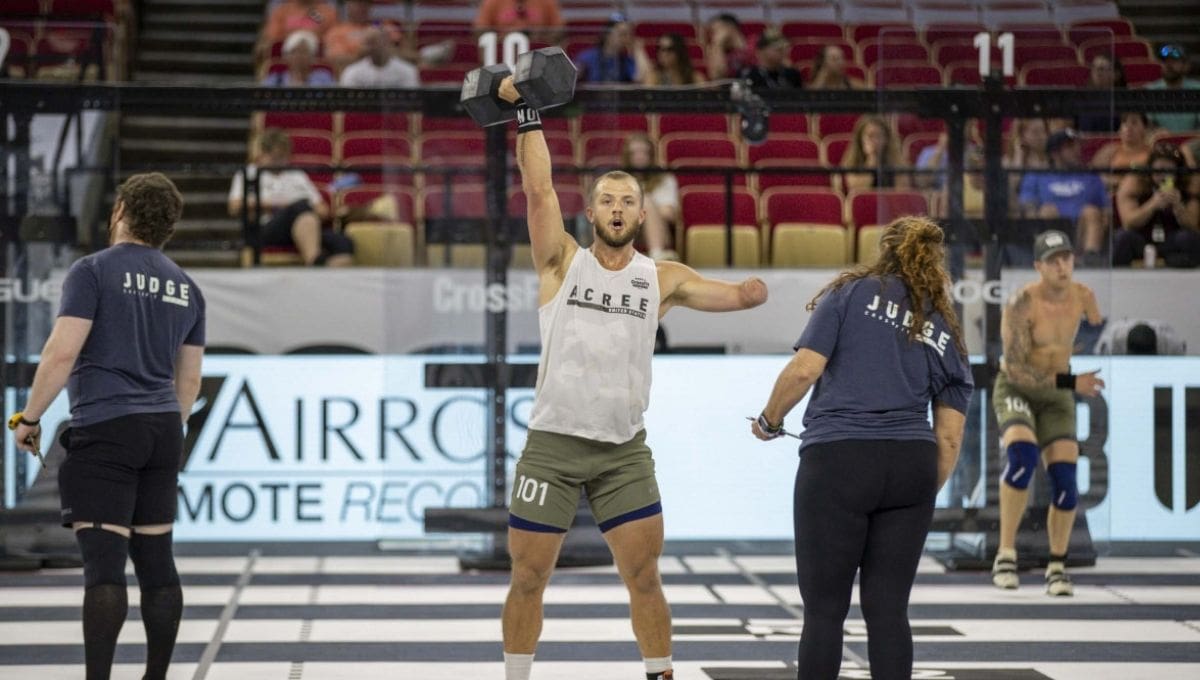 See below all athletes who finished on the podium after 8 events according to the official leaderboard from CrossFit.
Female Masters Division
Women 35-39
Laurie Clement
Stacie Tovar
Colette Casey
Women 40-44
Samantha Brigg
Andreia Pinheiro
Jenn Ryan
Women 45-49
Kelly Friel
Amy Chapoton
Carolina Gutierrez
Women 50-54
Cheryl Brost
Nicole Abbott
Nathalie Connors
Women 55-59
Leka Fineman
Shanna Bunce
Laurie Meschishnick
Women 60-64
Susan Clarke
Betsy Vanderburgh
Patricia McGill
Women 65+
Julie Holt
Dava Jensen
Pauline Sciascia
Men Division
Men 35-39
Sam Dancer
Ioannis Papadopoulos
Bryan Wong
Men 40-44
Rudolph Berger
Michael Laverriere
Bruno Militao
Men 45-49
Jason Grubb
Vlad Liashkevich
Christopher Anderson
Men 50-54
Artur Komorowski
Sean Patrick
Jason Leeves
Men 55-59
Kevin Koester
John Kim
Ryan Joe Hamby
Men 60-64
Stuart Swanson
Tom Fameree
Eric Cohen
Men 65+
David Hippensteel
Daniel Miller
Tom Muhlbeier
Teenage Division
Girls 14-15
Maria Granizo
Miley Wade
Mira Varga
Girls 16-17
Lucy McGonigle
Trista Smith
Bergrós Björnsdóttir
Boys 14-15
Jeremie Jourdan
Lincoln Lavafer
Pau Martins Tiers
Boys 16-17
Ty Jenkins
Hugo Jansson
RJ Mestre
Adaptive Divisions
Men Upper Extremity
Casey Acree
Alexis Fiorucci
Xabier Osa Mendes
Women Upper Extremity
Christina Mazzulo
Anne-Laure Coutenceau
Elaine de Rocco
Men Lower Extremity
Rogan Dean
Charles Pienaar
Hildon Carvalho
Women Lower Extremity
Valerie Cohen
Bayleigh Hooper
Molly Moore
Men Multi-Extremity
Chris Rhyme – 250 points
Mijail Pedrini – 235
James Brown – 210
Women Multi-Extremity
Noelle Henderson
Amea Reyna
Jordan Ingalsbe
CrossFit Games 2023 Individuals and Teams Day 1 Recap