The CrossFit Fittest in Cape Town Semifinal has crowned its leaders, with Michelle Merand and Kealan Henry coming our victorious.
This is the only Semifinal around the world where only one CrossFit Games qualifying spot is available per division, which means only the top female and male athletes and the best team continue their season to the ultimate proving grounds.
The event, which took place between May 27 and 29, in Stellenbosch, South Africa, saw 30 of the best male and female athletes from the region, as well as 20 teams compete in six workouts for their chance to qualify for the Games.
The female competition was hotly contested, with Michelle Merand and Michelle Basnett entering the last day of competition tied in 1st place. Last year, it was Basnett who won the battle, but a 1st and 2nd place finishes on the last two events secured Merand the CrossFit Games spot.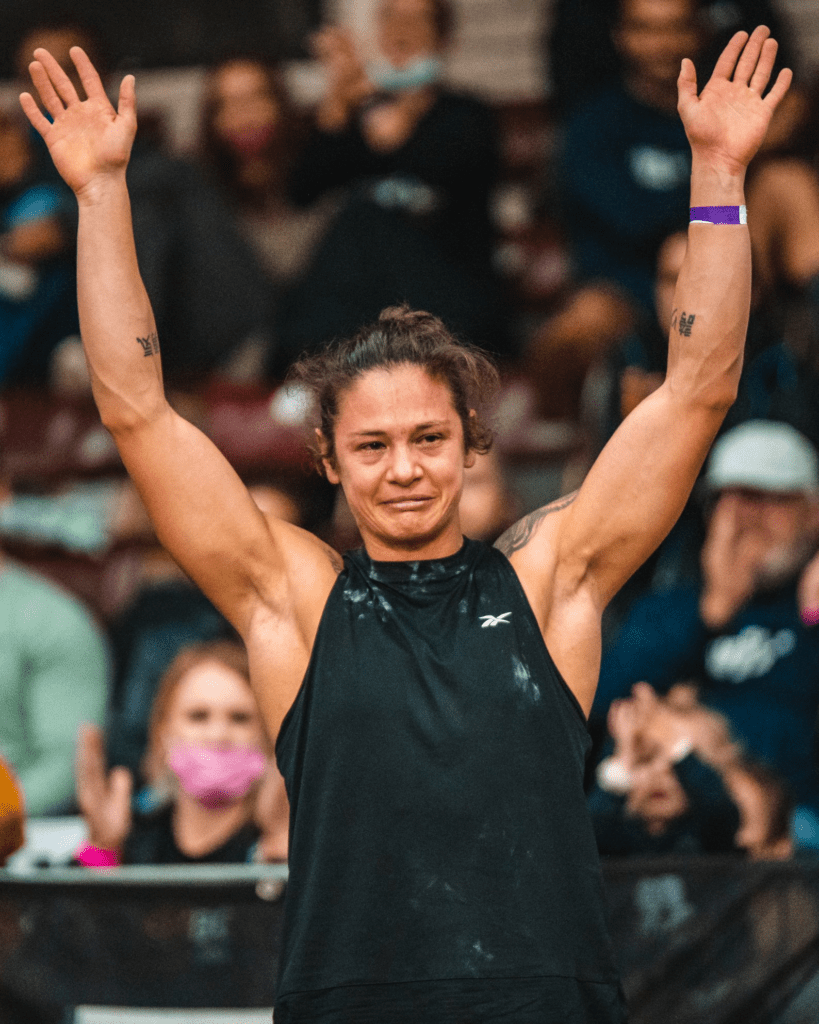 Jason Smith, the beloved South African CrossFit Games athlete, lead the competition coming into the last day. He was, however, bested by Kealan Henry by 12 points. Henry placed inside the top 5 in four out of the six workouts and secured his first CrossFit Games ticket.
Most impressively, this was only Henry's second live CrossFit competition ever.
His first in-person competition was the 2021 Fittest in Cape Town Semifinal, where he finished 5th.
Read more: How to Watch 2022 CrossFit Semifinals
CrossFit Fittest in Cape Town leaderboard
| Place | Men | Women |
| --- | --- | --- |
| 1 | Kealan Henry | Michelle Merand |
| 2 | Jason Smith | Christina Livaditakis |
| 3 | Darren Zurnamer | Michelle Basnett |
| 4 | Ruan Potgieter | Leeverne Engelbrecht |
| 5 | Mohamed Elomda | Anneke Spies |
| 6 | Ruan Duvenage | Tanha Bouffe |
| 7 | Conrad Winnertz | Reegan Finkel |
| 8 | Devin Ramsden | Mary Jamieson |
| 9 | Robert Heuer | Angelique Connoway |
| 10 | James Van Dongen | Dina Swift |
Second through to fourth place finishers have earnt an invitation to compete in the Last-Chance Qualifier, an online competition taking place the week of June 29 – July 1, 2022, with two CrossFit Games tickets for athletes close to qualifying positions after Semifinals.
Who are Michelle Merand and Kealan Henry, winners of 2022 Fittest in Cape Town CrossFit Semifinal?
Michelle Merand is a 33-year-old CrossFit athlete from South Africa. She competed at the CrossFit Games in 2019 and finished 41st, having previously competed at the Meridian Regionals twice, once as an individual and once in a team. She is the owner and Head Coach at FitBox Durbanville and competed in her first Open in 2015.
Kealan Henry is a 29-year-old athlete from South Africa. He has a background in waterpolo, athletics, and soccer but his passion for rugby led him to pursue a career in the sport. After retiring from rugby, he dedicated himself to coaching CrossFit and participated in his first Open in 2017.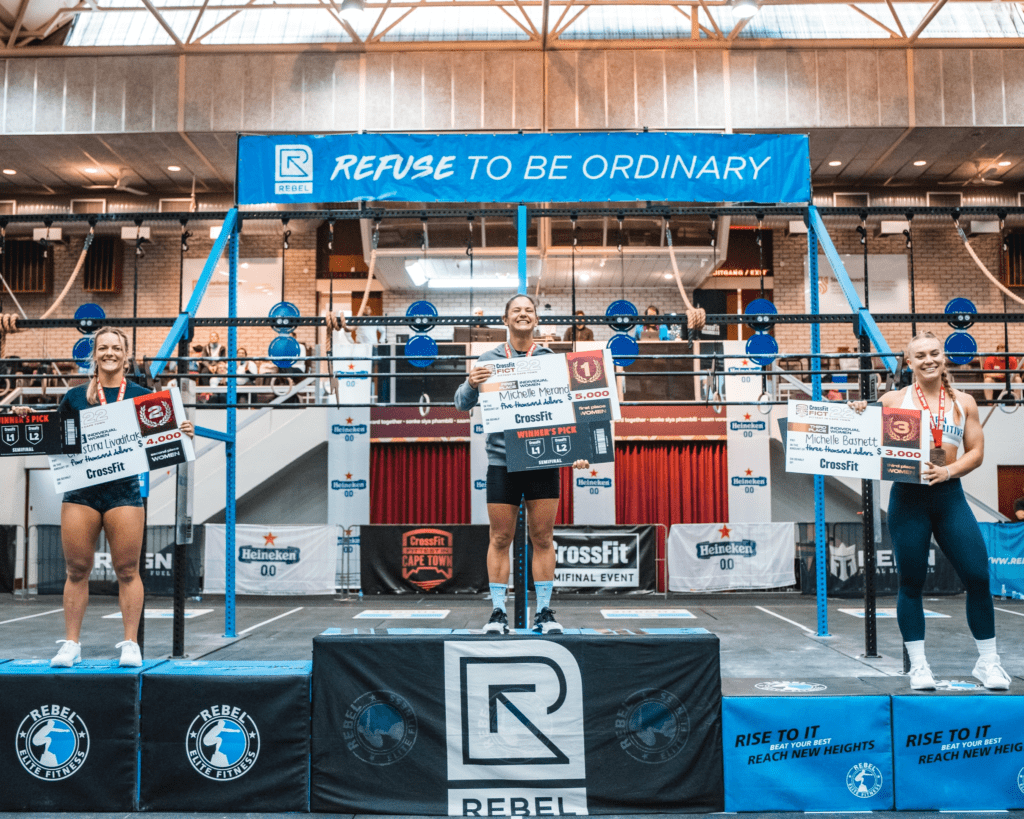 Fittest in Cape Town best performances
Workout 1: The Deep End
For time:
Then 5RfT of:
100m Swim
20 Alternating Bear Hug Forward Lunges with Slam Ball
30kg | 50kg
Time cap: 24 minutes
Winners
| | | |
| --- | --- | --- |
| 1 | Mary Jamieson (17:28) | Ruan Potgieter (16:50) |
| 2 | Christina Livaditakis (17:51) | Jason Smith (17:14) |
| 3 | Michelle Basnett (17:52) | Kealan Henry (17:22) |
Workout 2: 2014 Regional Event 5
10 rounds for time of:
1 Legless Rope Climb
170ft Run
Winners
| | | |
| --- | --- | --- |
| 1 | Michelle Merand (4:16) | Robert Heuer (3:02) |
| 2 | Leeverne Engelbrecht (5:21) | Estian Ferreira (3:04) |
| 3 | Reegan Finkel (5:23) | Jason Smith (3:06) |
Workout 3: Lucky Number 7
7 rounds for time of:
7 Ring Muscle-Ups
7 Bar Facing Burpees
7 Deadlifts
84kg | 125kg
Time cap: 18 minutes
Winners
| | | |
| --- | --- | --- |
| 1 | Christina Livaditakis (12:33) | Kealan Henry (10:16) |
| 2 | Leeverne Engelbrecht (12:50) | Darren Zurnamer (10:58) |
| 3 | Michelle Merand (13:42) | Jason Smith (11:23) |
Workout 4: Barbell Complex
3 attempts for max load of:
3 Cleans
2 Front Squats
1 Jerk
Time cap: 15 minutes
Winners
| | | |
| --- | --- | --- |
| 1 | Megan Faul (225) | Justin Holliday (315) |
| 2 | Michelle Basnett (216) | Assem Effat (313) |
| 3 | Anneke Spies (209) | Brandon Jacobs (311) |
Workout 5: Stellies Chipper
For time:
100 Wall Balls
15m Handstand Walk
75cal Row
15m Handstand Walk
50 Handstand Push-Ups
15m Handstand Walk
25 Toes-to-Bar
15m Handstand Walk
Time cap: 21 minutes
Winners
| | | |
| --- | --- | --- |
| 1 | Michelle Merand (15:42) | Mohamed Elomda (12:54) |
| 2 | Tanha Bouffe (16:12) | Ruan Potgieter (12:57) |
| 3 | Christina Livaditakis (16:49) | Darren Zurnamer (13:33) |
Workout 6: Time for Pudding
For time:
27 Chest to Bar Pull-Ups
27 Dumbbell Squat Snatches
18 Chest to Bar Pull-Ups
18 Dumbbell Squat Snatches
9 Chest to Bar Pull-Ups
9 Dumbbell Squat Snatches
15kg | 22.5kg
Time cap: 8 minutes
Winners
| | | |
| --- | --- | --- |
| 1 | Leeverne Engelbrecht (3:43) | Ruan Potgieter (3:40) |
| 2 | Michelle Merand (3:50) | Mohamed Elomda (3:41) |
| 3 | Tanha Bouffe (3:56) | Kealan Henry (3:43) |