The title for Fittest on Earth was also contested by athletes ranging in ages from 35 to 60+ last week and even though the Elite individual competition is the highlight for many, the Masters' events are equally fierce and impressive.
Probably the most impressive story is that of Susan Clarke, who won every single event of the CrossFit Games in her division, finishing with 700 points – the perfect score. Read on to find out more.
This year only the top 10 athletes from each division made the Games qualifying cut – the Age Group Online Qualifier – where before that number had been 20.
Have a look at the 2019 CrossFit Games Masters workouts, final leaderboard and athletes' thoughts.
2019 CrossFit Games Masters Workouts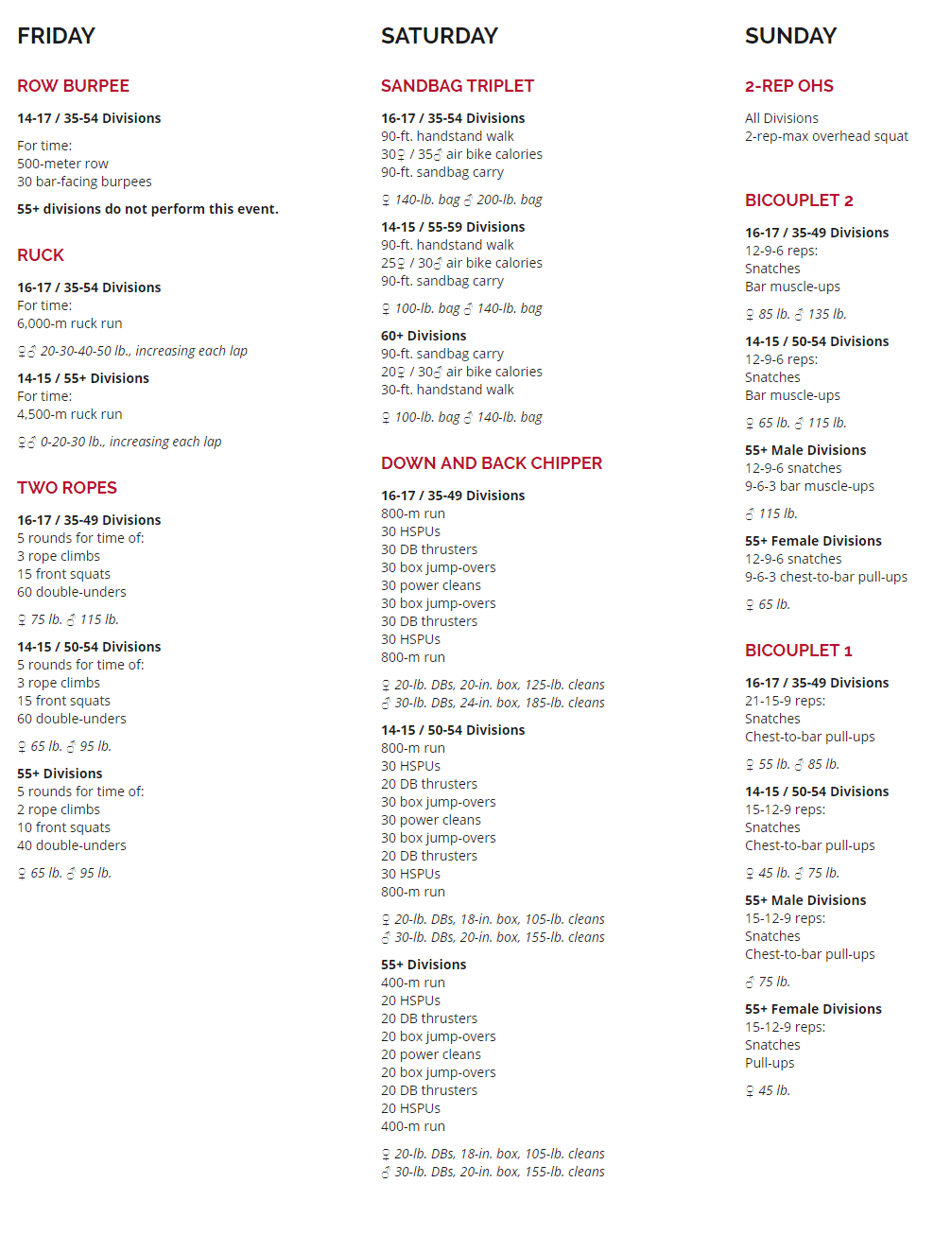 Source: CrossFit Games
MEN 35-39
Nicholas Urankar
Jordan Troyan
Sigurður Þrastarson
Alexandre Jolivet
Michael Laverriere
Stefan Helgi Einarsson
Kevin Longmeier
Mike Abgarian
David Santa Cruz Borgstrand
Kyle Kasperbauer
Winner Nicholas Urankar finished the 2019 CrossFit Games with four event wins. However, he did speak out about the lack of attention around the Masters competition this year.
"Crazy being at the Games competing against the best 35-39 Yr Olds in an Empty Stadium. I'm not sure people even knew we were competing," he wrote on Instagram.

"I'm not complaining, nor do I believe people "should" have watched. More, knowing what was at stake, the amount of people who participated, and where we were it was just odd that not even a whisper was heard about it."
https://www.instagram.com/p/B03emLvgR9A/?igshid=1hcyjfyc4f009
Kyle Kasperbauer, defending age group champion and Fittest Man on Earth (35-39) in 2017 and 2018, had to withdraw from competition due to a calf strain/tear.
"Being a competitor, it was difficult to withdraw from the 2019 CrossFit Games. However, the risk of causing more damage to an already strained/slightly torn calf muscle was too high," he wrote on Instagram after making his decision. "In addition, going into competition knowing I was not going to meet my own expectations was not an option.
"Going on my 10th year in CrossFit and my 9th year at the Games, I feel I was more prepared than ever and in the best shape of my life. And that's at the ripe age of 37. Just experienced a temporary set back. I look forward to a little rest (1 workout/day), recovery and proper lower limb rehabilitation combined with quality nutrition and sleep. Everything will move forward and be just fine. Excited to see where all this takes me, as it was a great year of training."
WOMEN 35-39
Anna Tobias
Carleen Mathews
Rebecca Voigt Miller
Hope Cicero
Alethea Boon
Ursula Fasel
Susana Rodrigues Etto
Jenn Ryan
Jolene Quirke
Corrin Lemieux
Defending age group champion Anna Tobias walked away with another win this weekend. She won three of the eight events and had a lead of 90 points.
https://www.instagram.com/p/B0wYtDPgWnf/
Second place finisher Carleen Mathews wrote: "This feels better than any other athletic accomplishment in my life!!! Right now the only thing that would make this better would be calling my daddy to tell him… but I know he's watching!"
Alethea Boon, who qualified to the Elite individual competition after her performance at the Down Under CrossFit Championship and was a podium finisher at the Asia CrossFit Championship, declined her invitation to compete as a Master.
"This year going masters was the right decision for my current lifestyle and body and you know what even as a veteran of this sport I come away with even more learnings about both body and mind," she shared on Instagram.

"Grateful for every opportunity I get to do what I love. Now to share what I love with more people."
MEN 40-44
Jason Grubb
Richard Vint
Robbie Perovich
Caine Hayes
Nuno Costa
David Levey
Brian Campbell
Heath Moody
Tony Kurz
Chris Anderson
It was the second time at the CrossFit Games for winner Jason Grubb. He went from being an unfit 38-year-old to qualifying to the Games and finishing 3rd (men 40-44) in 2018. This year he beat Britton Richard Vint by 130 points.
https://www.facebook.com/photo.php?fbid=10159744907544616&set=a.10150109862039616&type=3&theater
Soldier at the US Army, Kurz went into the Games ranked 4th overall and 1st in the Age Group Online Qualifier but was recovering from a minor shoulder injury. You can read about his whole experience at the Games here.
WOMEN 40-44
Joey Kimdon
Kelly Friel
Deanna Posey
Jenna Larson
Alexis Rufus
Michelle Suozzi
Melissa Wistrom
Kim Mullins
Stephanie Roy
Karen Mccadam
A third Games podium finish for Joey Kimdon and a personal best, after finishing 2nd (women 35-39) in 2017 and 3rd (women 40-44) last year. She finished the Games with a total of 700 points and four event wins. She started off strong – and won the first two events – and finished equally as strong – beating all women in the last two workouts of the weekend.
Second place finisher Kelly Friel said: "To be called the?fittest female in the world (masters 40-44) for the 2nd consecutive year is just an amazing feeling.
https://www.instagram.com/p/B00yZtUnhJw/
"I'm not gonna lie, a few tears were shed purely because I didn't think it would be possible to make it back onto that podium again- Tbh I still can't quite believe it."