Friday at The Dubai CrossFit Championship is over and here are the results from the third day of competition. After the first two days tested the athletes out of the stadium, in the sea and the desert, day 3 brought them back to face a broad series of punishing tests of fitness, strength, technique, gymnastic ability and aerobic capacity.
Friday
Event 4 "Max Snatch"
5 min to establish a 1RM Snatch
https://www.instagram.com/p/BrXgCImja6H/
Results
Women
Mia Akerlund 104 kg
Dani Speegle 100 kg
Alessandra Pichelli 93 kg
Sara sigmundsdottir finished in 9th place with a 90 kg snatch
Men
1 Mat Fraser 137 kg
2 Jason Smith 136 kg
2 Ruan Duvenage 136 kg
Fraser began at 120kg. He missed the lift at 129kg yet continued on up to 131kg.
Next, he loaded the bar with 136kg, before changing his mind and adding an extra 1kg to bring the total up to 137kg. This intelligent tactical decision allowed him to beat the previous lifts in the most effective way possible. At all times he was acutely aware of all the other athletes around him and exactly what they were lifting.
Tola Morakinyo, from CrossFit Pro 1, stole the show by snatching 150kg. Tola lifted 315 pounds (143kg) at the 2018 CrossFit Games.
https://www.instagram.com/p/BrXmEfhDfj6/
Team
Team Omnicide
Invictus
Training Think Tank
https://www.instagram.com/p/BrXTi4Kjp_v/
Event 5 "Under Pressure"
10 Minute Time Cap
20m Yoke Carry @280/180 kg
15 parallette HSPU (regular for men / 20kg plate + abmat for women)
Then 3 rounds:
15 box jumps over (30 / 24)
10 Ring Muscle ups
20m Yoke Carry @ 280/180 kg
https://www.instagram.com/p/BrXuoc3jSI3/
Results
Women
Jamie Greene
Sara Sigmundsdottir
Sam Briggs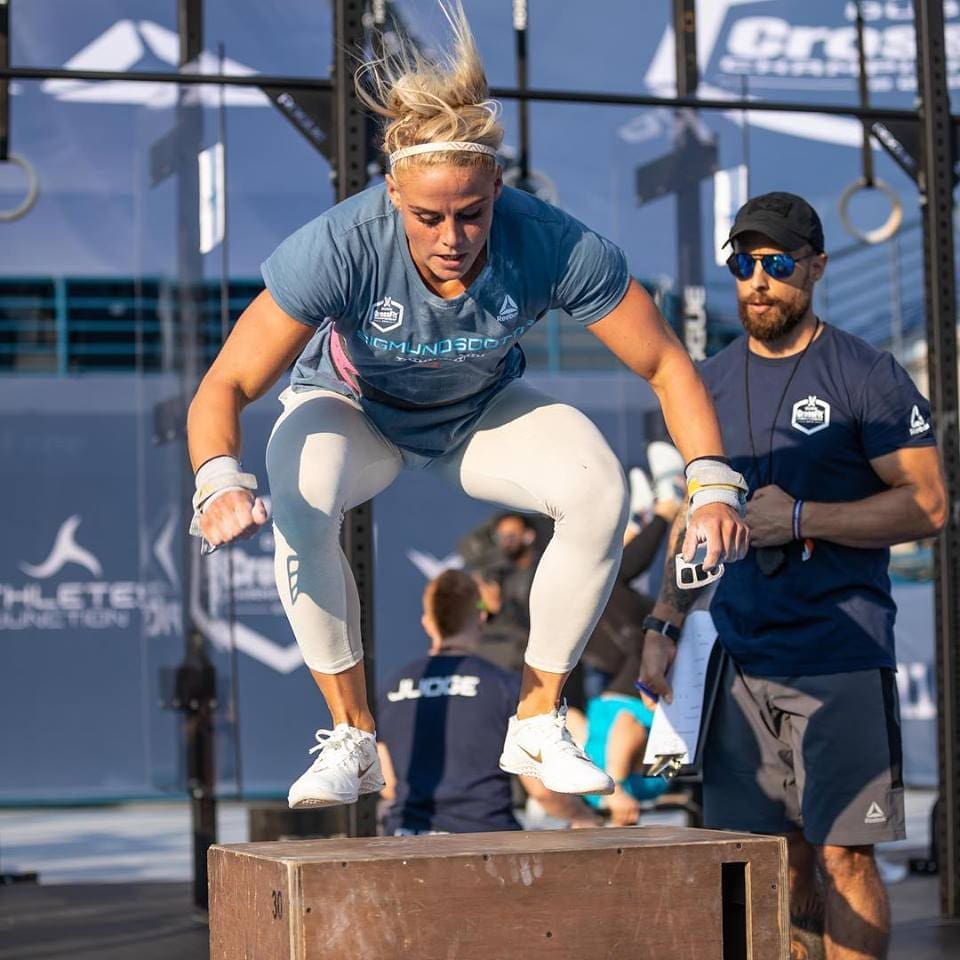 Men
Mat Fraser
BK Gudmundsson
Willy Georges
Team
CrossFit Pro 1
Central Beasts
Invictus X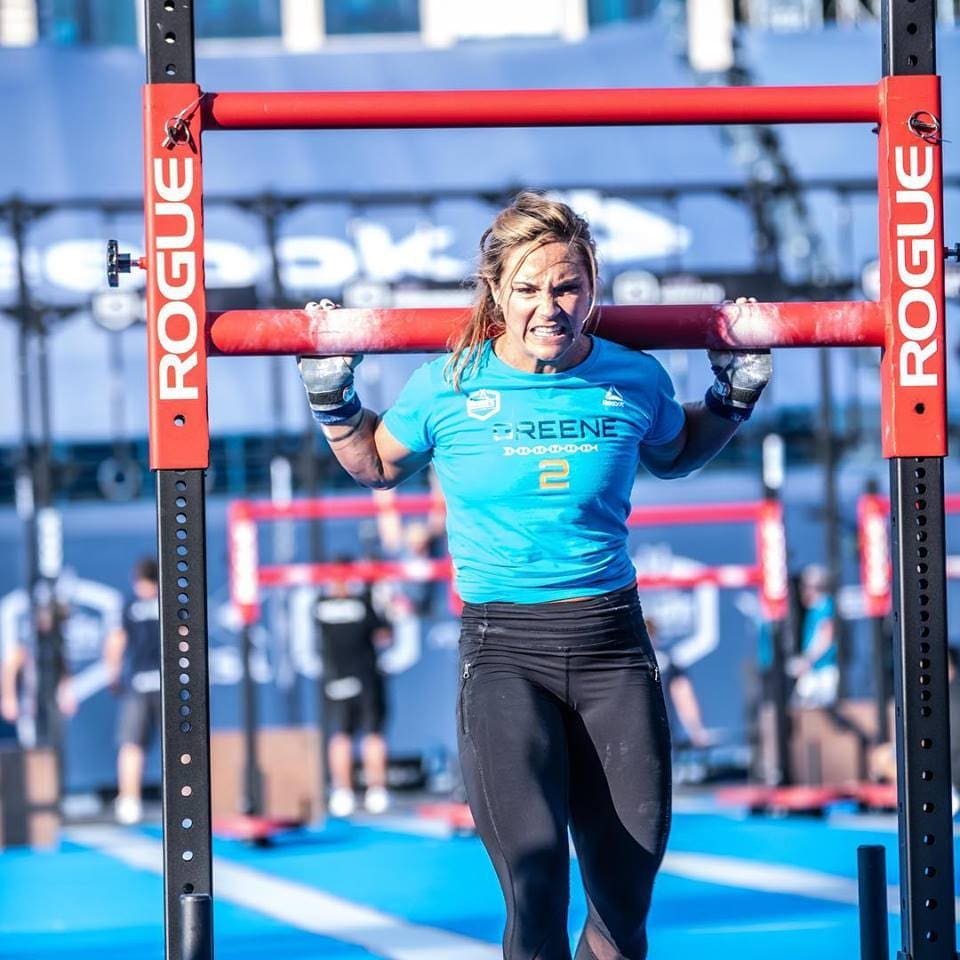 Event 6 "Acid Bath"
7 Min Time Cap Women
6 Min Time Cap Men
500m SkiErg
500m Row
1000m BikeErg
Women
1 Laura Horvath
2 Sam Briggs
2 Mikaela Norman
Men
1 Roman Khrennikov
2 Mat Fraser
2 Eric Carmody
Team
Cassidym Jen, Adrian, Lukas
Invictus
Team Omnicide
WOMEN'S LEADERBOARD AFTER 3 DAYS
Sam Briggs 509
Jamie Greene
Sara Sigmundsdottir 473
Karin Frey 461
Bethany Shadburne 416
Dani Speegle 411
Harriet Roberts
Alessandra Pichelli
Laura Horvath
Gabriela Migala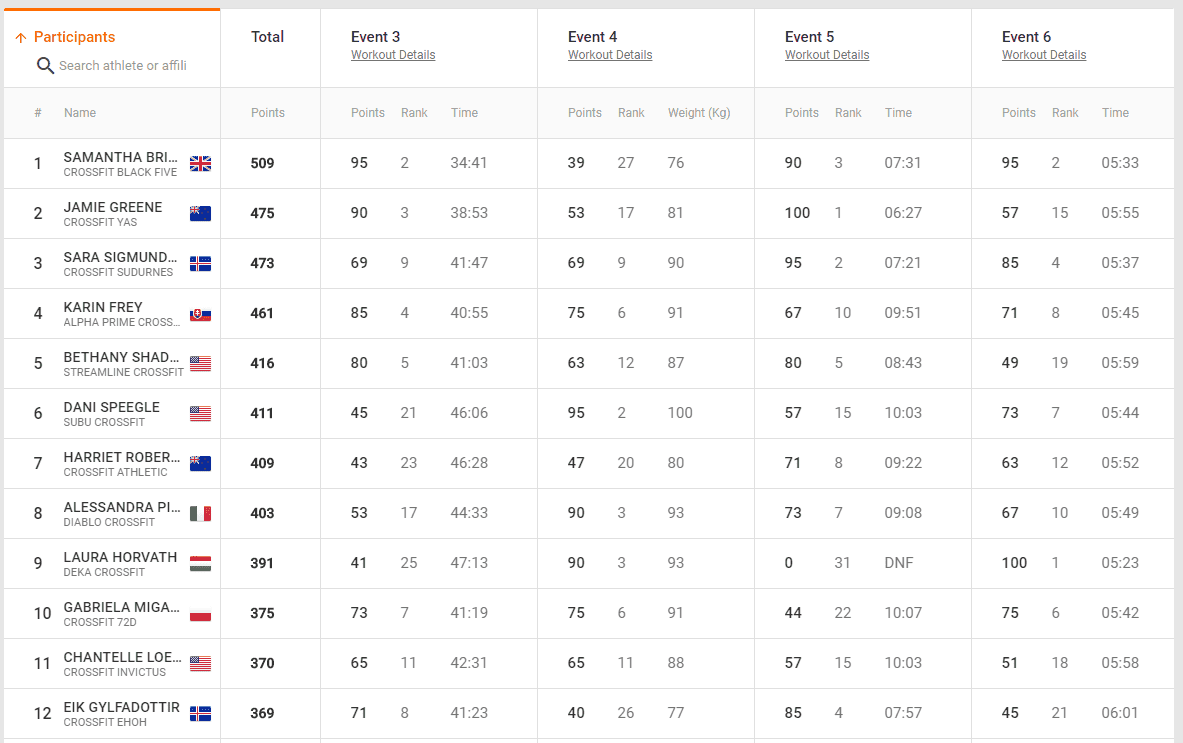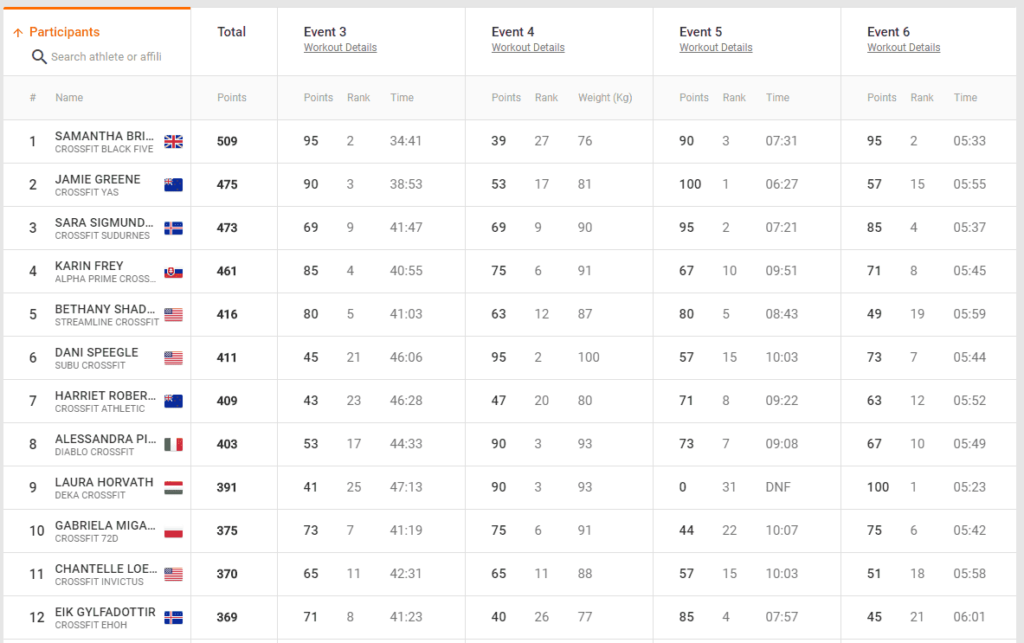 MALE LEADERBOARD
Mat Fraser 535
Willy Georges 495
BK Gudmundsson 493
Travis Mayer 445
Streat Hoerner 420
Roman Khrennikov 409
Connor Duddy 405
Jason Smith 398
Alex Kotoulas 371
Lazar Dukic 362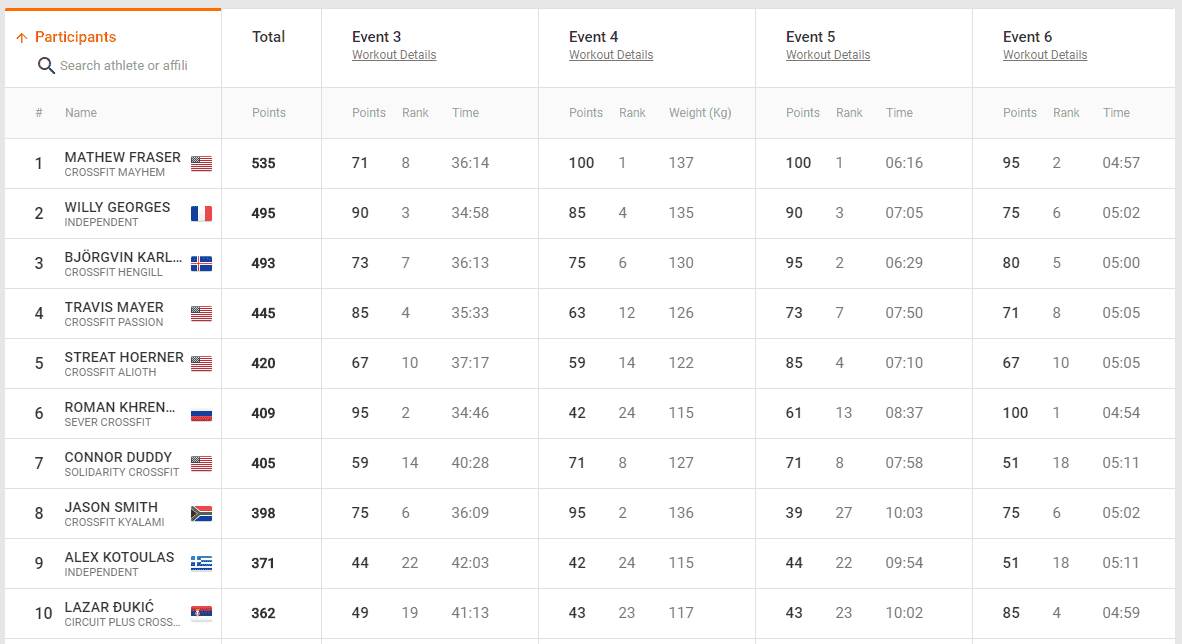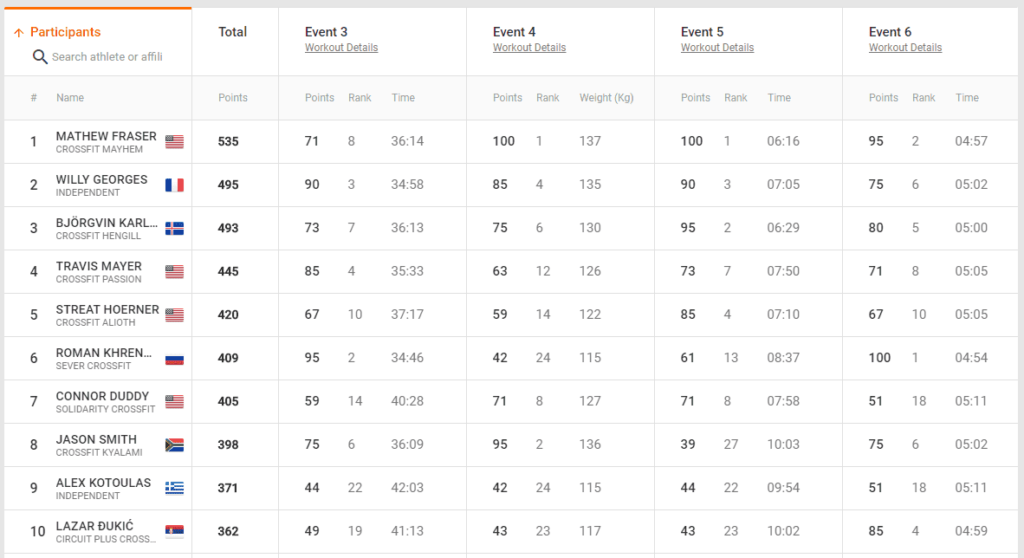 TEAM LEADERBOARD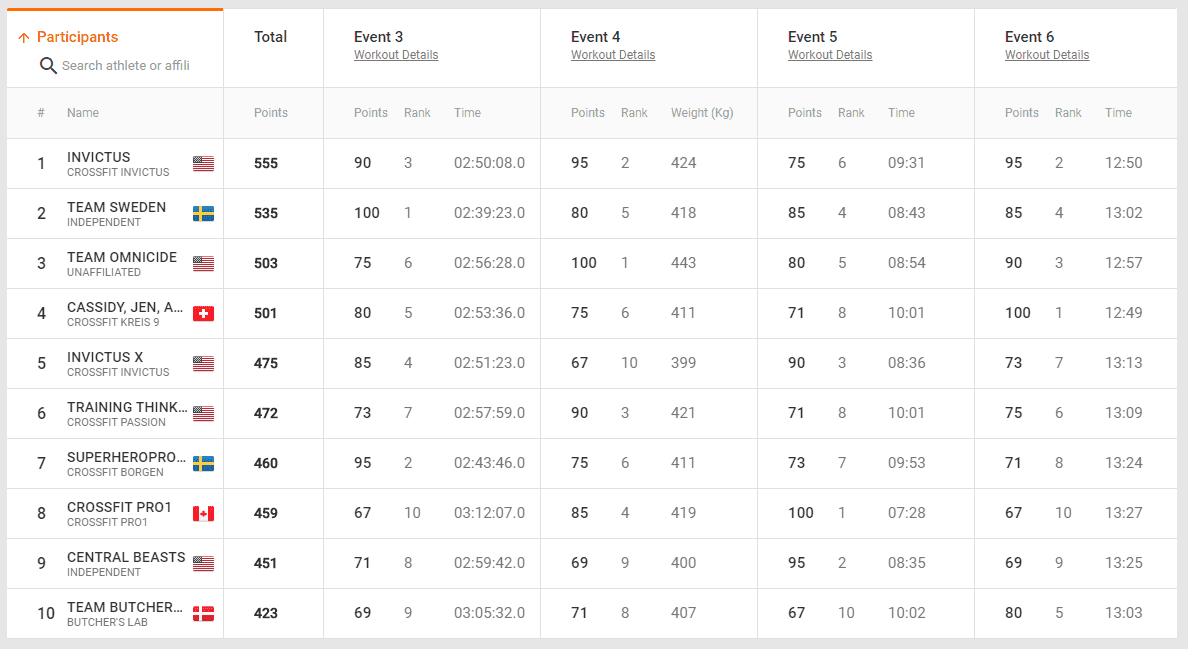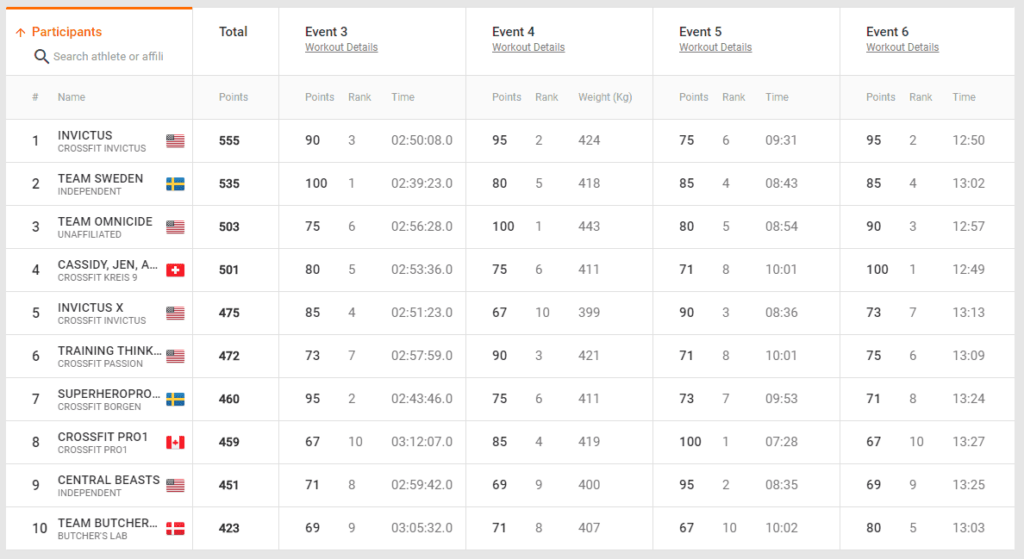 THE FINAL DAY AT THE DUBAI CROSSFIT CHAMPIONSHIP
Saturday
Event 7 "Monkey Business"
8 Minute Time Cap for Women
7 Minute Time Cap for Men
9 Rope climbs
40m Handstand Walk
6 Rope climbs
40m Handstand Walk
3 Rope climbs
40m Handstand Walk
Event 8 "Sprint"
3 Minute Time Cap
20m Sandbag carry (150lbs/100lbs)
12/10 Burpee box jump overs (24/20)
30/20 cal Assault Bike
12/10 Burpee box jump overs (24/20)
20m Sandbag carry (150lbs/100lbs)
Event 9 – "Lift off"
6 Minute Time Cap
15 snatch 90kg / 60kg
15 clean & jerk 110kg / 80kg