Kari pearce was the third fittest woman in the world and put America on the podium on the women's side at the 2020 CrossFit Games.
Unfortunately she was unable to compete at the 2021 CrossFit Games due to COVID-19.
CrossFit Games '15, '16, '17, '18, '19, '20
Fittest American Woman '16, '18, '19, '20
Born and raised in Ann Arbor Michigan. Sister. Daughter. Gymnast. Division 1 Athlete. Physique Competitor. Weightlifter. CrossFitter.
During the previous years she consistently placed highly, excelling in gymnastic workouts.
GAMES
| YEAR | OVERALL RANK | DIVISION |
| --- | --- | --- |
| 2019 | 5th | Women |
| 2018 | 6th | Women |
| 2017 | 10th | Women |
| 2016 | 5th | Individual Women |
| 2015 | 21st | Individual Women |
During the last five years, Kari has competed in CrossFit all around the world including Dubai, France, Canada, Australia, Switzerland, Florida, Ohio, Minnesota, New York, California, and Wisconsin. She also travels to teach athletes the gymnastics side of CrossFit. Having her extensive background, she enjoys sharing her knowledge with others.
She began her athletic career as a gymnast at the age of 3 and did it for 18 years. Kari was on the Varsity Gymnastics team at the University of Michigan where her team won 4 Big Ten Championships. She earned her degree in Movement Science from the School of Kinesiology and was three time Academic All Big Ten.
View this post on Instagram
KARI PEARCE BEFORE CROSSFIT
Kari competed as a physique competitor, on the left you can see her in her pre-CrossFit days.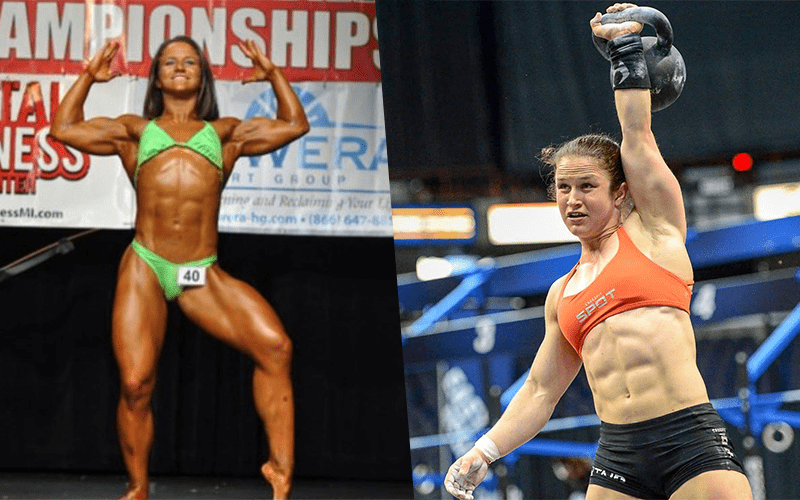 KARI PEARCE WORKOUTS AND TRAINING TIPS
Add these tips and workouts into your training.
1 AB WORKOUT
Let's kick PowerAbs 2.0 launch week off right with…
Hollow Hold Flutter Kicks + Alternating V-Ups!
? Get in 10 reps of each and a total of 5 sets
? This will set your abs, hip flexors, and transversus abdominus (your 6-pack) on fire!! ?
?If you can't keep your legs straight, it's ok to bend them.
AB WORKOUT
View this post on Instagram
2 AB CHALLENGE
Straddle Up + Strict Toes To Bar Left + Strict Toes To Bar Right
How many rounds can you get? Give it a try and tag me!
This will put your abs, hip flexors, shoulders, lats, and forearms to the ultimate test!
View this post on Instagram
3 Strict Chest To Bar Pull-Up + Toes To Bar + Hips To Bar
How many can you get in a row without coming down? That's right, you want to do these unbroken.
? This will put your abs, lats, biceps, shoulders, forearms, and hip flexors to the ultimate test!
View this post on Instagram
4 Medicine Ball Windshield Wipers
? Get in 4 sets of 12 reps
? This will wake up your abs, shoulders, hip flexors, and obliques.
? Make sure you can do regular windshield wipers before giving this a try. If you don't have a medicine ball use a gallon of water or anything else with some weight!
View this post on Instagram