Katrin Davidsdottir made light work of Event 3 at the CrossFit® Fittest in Cape Town. The Icelandic Dottir took victory in the 3rd event with a time of 4.06. Dina Swift came in second with 4.10 and Alessandra Pichelli crossed the finish line in third with a time of 4.20.8.
https://www.instagram.com/p/BtSbq9whj7Z/
Event 3 at CrossFit® Fittest in Cape Town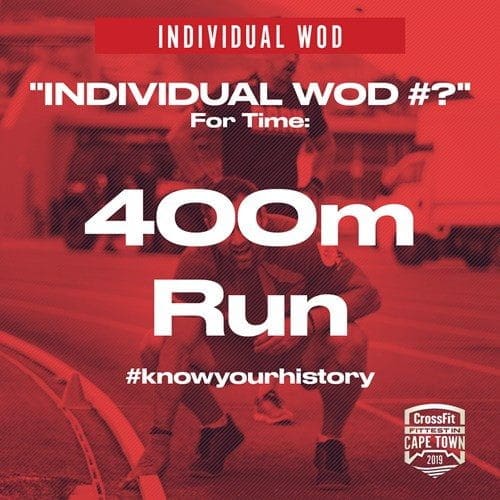 https://www.instagram.com/p/BtS7XPDhHwW/
Leaderboard after 3 Events


10 Awesome Workouts to Watch at CrossFit® Fittest in Capetown Sanctioned Event
She then went on to place first in Event 4 with a time of 12:52.32.
Event 4 at CrossFit® Fittest in Capetown

RULES & FLOW:
Bar Muscle Ups to be performed facing the Mountain.
1-Arm OHS to be performed as 6/6 for 5 sets.
Athletes to step forward after every 12 total reps
During Water Leg athletes stays on the outside of each
buoy, except the last one where they go around it on the inside before turning to shore again.
After exciting the water athletes will sprint towards the finish line in a Zig Zag pattern around marked out flags.
Any unfinished Rep, Buoy, or Flag = 1s added to Time Cap.
"We have proudly hosted the best athletes and teams that South Africa has had to offer, stand podium since our competition began in 2011. We now look forward to having the best in this country measure their capacity against some of the best in the world.
We believe that a fitness test must have an unknown and unknowable factor. In the past, Fittest in Cape Town has tested different outdoor venues such as beach workouts and other creative ways of testing the athletes abilities to find the truly fittest in the field each year.
With only the first place winner in each division of CrossFit® Fittest in Cape Town 2019, walking away with a ticket to the CrossFit Games® 2019, we know that the stakes are high and we intend to test the athletes in every single aspect of their fitness, to make sure we find the very best to represent Fittest in Cape Town at the Games!
With an estimated 450 athletes competing in CrossFit® Fittest in Cape Town 2019, we can only expect the energy to be electric and cannot wait to see them all take on the Green Point Athletics Stadium by storm!"¹
History
"Fittest in Cape Town was started in 2011 by Jobst Olschewski (founder of Cape CrossFit) with the aim to find the fittest athletes in South Africa through a well rounded test of Functional Fitness. Single Skips on a grass soccer field combined with 5RM deadlifts and much more eventually found Neil Scholtz, who just had represented SA at the CrossFit Games in 2010, as the winner on the male side while Ellie Hagopian won the female division.

The competition then was held at Jobst's box, but quickly outgrew that and in 2012 & 2013 the competition ran at Camps Bay High School which attracted competitors from all over South Africa to compete on a venue that surely has one of the most epic arena views in the world?

This followed by a year in Stellenbosch 2014. And then fast forward to 2015 when new Event Director Tiaan Visser brought FiCT back to Camps Bay High and the new team then grew in 2016 with Competition Director Chris Oman and Tiaan introducing the first ever Beach Workout at Fittest, which was equal parts freaking athletes out with the cold ocean swim and at the same time a massive success that athletes chatted about for months afterwards.

The Beach Workouts has since then been a staple at Fittest in Cape Town, and without giving too much info away we know that we like to follow our history started back in the very beginning with a fairly big part of the event taking athletes (literally) outside of their comfort zone and mix the standard barbells and pull ups with running up mountain sides, swimming in the cold Atlantic Ocean – or like last year throw in a Stand Up Paddle Board part of the event!

No matter what surprises we intend to throw in the mix for CrossFit Fittest in Cape Town 2019, we also intend to stay true to the values installed in to this historically loved competition. And as we always say, it might be good to: know your history…"²
¹ CrossFit® Fittest in Capetown website
² IBID