Sam Briggs has won The Australian CrossFit® Championship and The Dubai CrossFit® Championship! The former CrossFit Games® winner trains with ferocity and intelligence. Be like her and try these 7 tough Sam Briggs workouts.
ADVICE FROM SAM BRIGGS
"When the workout gets tough what do you tell yourself to keep picking that barbell back up? I try not to think about the rest of the workout rather just the movement in hand … counting the reps in my head keeps my focus … and remembering to breathe ?"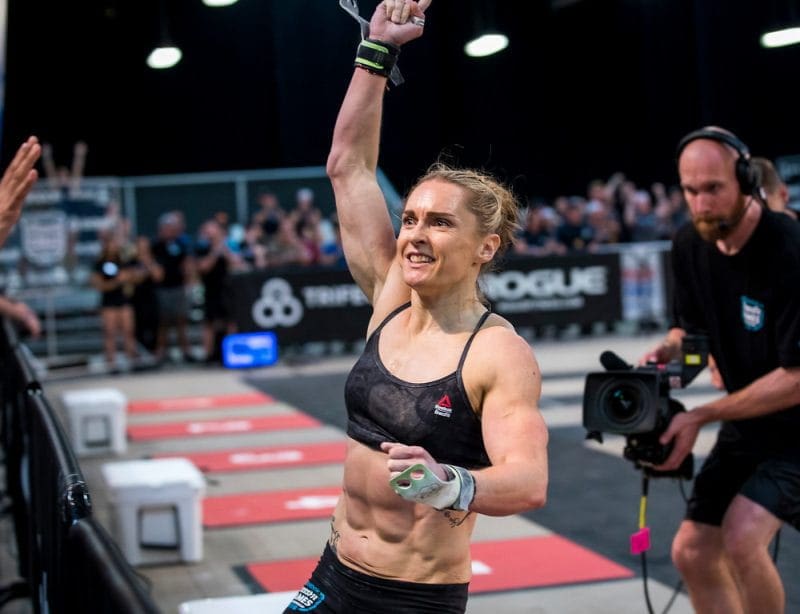 With that in mind, check out these workouts from Sam and give them a go yourself. Tag a friend that you think would love (hate) to try these with you.
SQUAT, HOP, RUN – SAM BRIGGS WORKOUTS
"Every 4 mins x 10
1 back squat at 90%
12 bench hops
5 x 10m shuttles
Each round as fast as possible ⚡"
BARBELL COMPLEX – SAM BRIGGS WORKOUTS
"Regionals training begins … so the complexes are back
Give this one a try:
Clean pull
High Hang Clean
2 Alternating Split Jerks
Back Squat
2 Alternating btn Split Jerks
It's going to be a fun few weeks … who's excited for CrossFit Games Regionals already?"
BIKE ERG WORKOUT
"20 min average watt test on the bike erg
Take your average watts divided by your body weight in kg to give you a score:
1 = novice
2 = fair
3 = good
4 = excellent
5 = exceptional
6 = world-class
At 62kg my aim is to be able to hold 310 watts to achieve an exceptional rating … always aim high and push your body to realise your potential ??"
LEG PUMP
"Want to know what a real leg pump feels like?
4 rds
6 min bike for max ave. watts
50 air squats
40 walking lunges
30 jumping lunges
20 jumping squats
10 pistols
Doesn't look hard enough for you? try wearing a weight vest and let me know how your legs feel on that last set of pistols ?"
KB SNATCHES
"100 Kettlebell snatches for time."
ASSAULT BIKE WOD
"When the aircon in the gym is bust you have to keep the members cool somehow
•••
12 rounds
30 all-out effort Assault Bike calories
4:30 rest
Rest 10:00 between round 6 & 7
•••
No gaming this is a test of pure effort so if you can walk at the end you didn't go hard enough!!!"
SQUAT CLEAN LEG DEATH – SAM BRIGGS WORKOUTS
"In 8 min find 1 rep max squat clean
Rest 4 mins
Every 3 mins x 10
2 squat cleans at 85%
10 jumping lunges
5 x 10m shuttle sprints
Your legs will thank me"