We are in the middle of one of the most exciting times of the year when it comes to functional fitness, and with that in mind, now is the perfect time to delve deeper into the minds and training routines of a handful of some of the fittest athletes in the sport. We sat down and spoke with Nike Athletes. Josh Bridges and Mat Fraser to learn more about their approaches to training and competition.
TIPS FROM MAT FRASER – HARD WORK PAYS OFF #HWPO
Mat Fraser is the epitome of his motto "hard work pays off".
Mat Fraser "It's not about talent, it's about grit, determination, focus, (wo)man hours and discipline. Hard work pays off."
There is simply no substitute for hard work. The work must be focused, intelligently planned and have a clear goal in mind, but without the grunt work, it will not succeed. You must give yourself the best possible chance to succeed. Mat perfectly exemplifies this ideal. He is well known as an exceptional weightlifter but when he talks about his development, he is candid and concise, stating that he was not a natural, rather it took a lot of time, effort and hard work to improve and develop.
Mat Fraser "I didn't take off with weight lifting. I had to keep coming back and keep doing more, learning more. With weightlifting you can always get better. You can always have a straighter pull. You can always be stronger and faster."
We spoke with Josh Bridges and Mat Fraser about what a typical training day looks like for them.
TIPS FROM JOSH BRIDGES – PAY THE MAN
Josh is well known for toughness when it comes to working out, his mental grit and his expression "Pay the man". In order to get what you want, you need to put in the work. Keep this saying in your mind when you train. Every rep, step, jump, workout and moment of pain is taking you closer to your goal. Success is not owned. It's leased, and the rent is due every day – So make sure you pay the man every day!
Josh always tries to remind himself to put things in perspective.
"It's just a workout man, go out there and do it. If you have to put the barbell down for second then put it down and pick it right back up again. I think overthinking can get you caught up in some bad scenarios."
He also insists on the importance of choosing the hard route each time, because ultimately it will make you tougher and more resilient.
"I could do this which is easier or I could choose that way of doing things which is harder. Once you start to always choose the hard decisions over and over then it stops being a decision and starts to become a habit. Doing one more rep, going the extra mile, adding a little more weight will then become a part of you and who you are. Once you start to make the hard decision every time you start to feel comfortable with the uncomfortable and enjoy what you're doing. You also become a better athlete."
We asked Josh and Mat what tips they would give to each other:
JOSH BRIDGES AND MAT FRASER – THOUGHTS ON THE NIKE METCON 4
Josh and Mat both train in the Nike Metcon 4 AMP. Check out the two new AMP styles, Firstly the Nike Metcon 4 Viking Quest.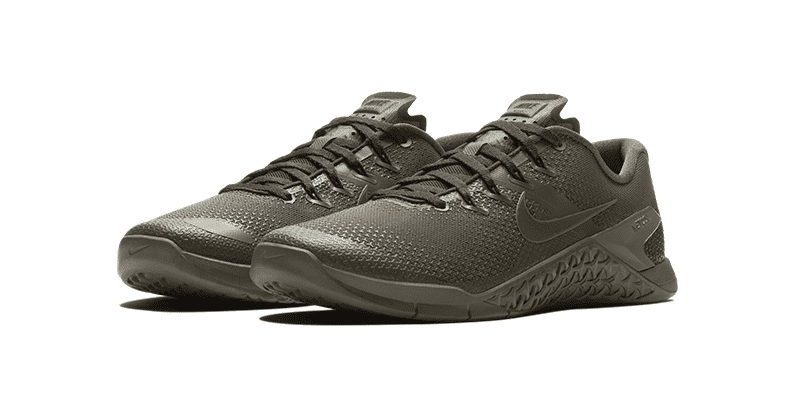 And The Nike Metcon 4 Americana.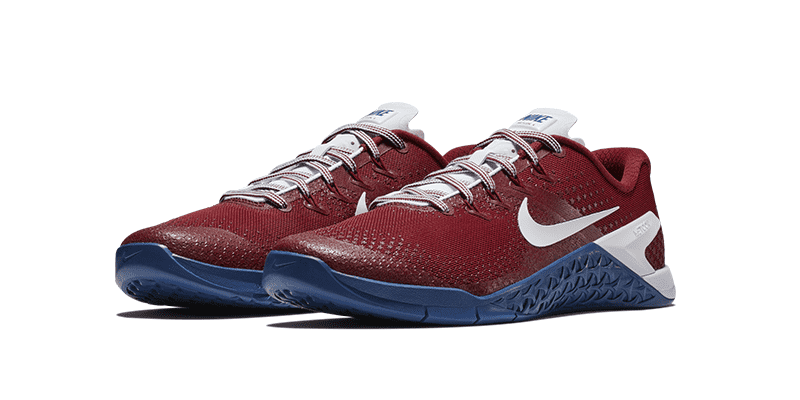 We asked them about their opinions on this popular edition of the Nike Metcon 4.
QUICK SPECS
4mm offset
Heel clip stabilises your foot during side-to-side movements
Sticky rubber in the forefoot provides excellent traction for sled pushes
Textured rubber wraps up the midfoot for durability during rope exercises
Mesh on the heel and ankle help keep your feet cool
Heel counter reduces drag on handstand push ups
Flywire cables offer lightweight support when and where you need it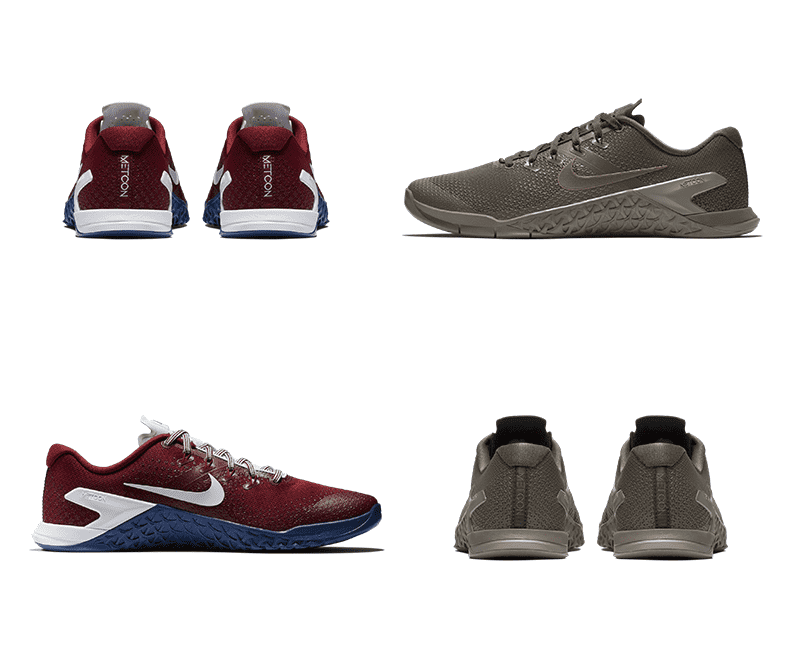 CREATE A GREAT TRAINING ENVIRONMENT
After Mat's recent move to Cookeville, and with Josh training there as well from time to time, we asked the athletes about the training environment down there, and why that is important in the run up to important competitions.
KARA SAUNDERS AND SARA SIGMUNDSDOTTIR – THOUGHT'S ON THE NIKE METCON 4
We also asked female Nike athletes Kara Saunders (formerly Webb) and Sara Sigmundsdottir what they thought about training in the Nike Metcon 4.
Forefoot Cushioning
The Nike designers used a sandwich mesh (essentially a two-layer mesh with vertical fibers running through it) on the upper. This now provides a sensation of cushioning on top of the foot for the first time and also hugs the foot much more effectively than previous models.
Flexible Support
The new drop-in midsole is firmer in the heel and softer in the forefoot, which provides stability for lifting and flexible cushioning for sprints and short runs. You can really feel this upgrade when training, and it is in these enhancements that the close collaboration with top athletes that Nike embark upon in order to collect feedback can be felt.
The eyelets.
There are six lace eyelets (versus five) so you can fine-tune your laces for more precise comfort and support.
The tongue
A soft tri-star at the top of the tongue provides a little extra padding between the forefoot and laces.
The heel counter
More for aesthetics than performance, the carved-out heel counter is more minimal than past silhouettes.
Improved Durability
The most significant update to the Nike Metcon4 AMP is the use of haptic technology on the upper. The tri-star shapes (think of this as a rubberized TPU, inspired by the rubber outsole) can be individually printed large or small anywhere on the shoe, adding strategic durability where it's needed most. High-wear areas like the toe box, heel and sides are much stronger, and this has the additional benefit of leaving mesh for breathability and flexibility in other spots.
Shop the Nike Metcon 4 styles
There are also new AMP styles for the Romaleos 3 as well.
VIKING QUEST
If Ragnar Lothbrook or Lagertha were athletes, then they would be lifting in these!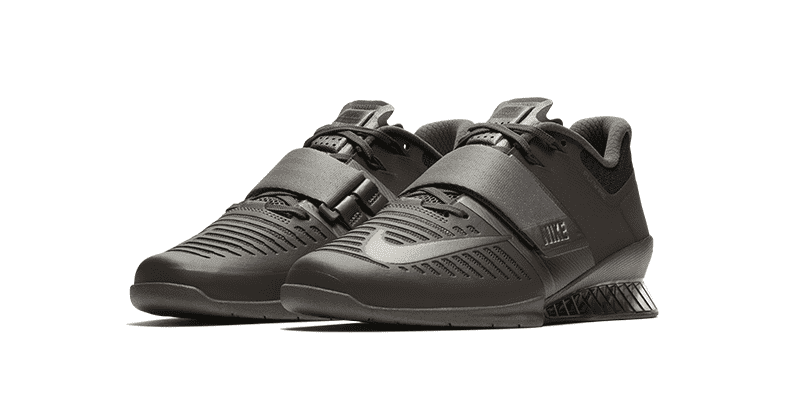 AMERICANA
Classic American styling with the function to lift like a champion, what's not to love?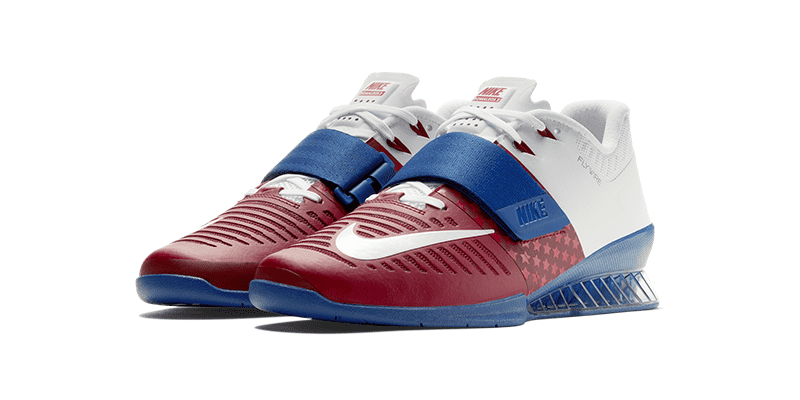 The Nike Romaleos 3 maintain and improve upon the solid, stable base of the Romaleos 2, yet are a much more lightweight shoe with increased flexibility, breathability and an improved fit.
QUICK REVIEW DETAILS
Synthetic leather reinforces mesh on upper for support and breathability
Flywire cables and nylon midfoot strap offer dynamic lockdown
Two interchangeable insoles provide soft or firm support
Honeycomb TPU plate for lightweight stability during weightlifting
Solid rubber outsole provides durable traction
20mm heel
Another handy new feature on the Nike Romaleos 3 are the grooves that run across the forefoot. These aid flexibility and ventilation, and make the shoe more adaptable for alternating between solely Olympic or Powerlifting and longer workouts that incorporate heavy lifting.
Nike's special edition Romaleos and Metcon 4's were sold out within days. Now Nike launched the new Romaleos 3 XD.
Shop the Nike Romaleos 3 styles