Athlete's ID:
Name: Jonas Müller
Country: Switzerland
Box: CrossFit Turicum
Age: 23
Weight/height: 77 kg/169 cm
Deadlift PR: 225 kg
Coach: Jami Tikkanen & his "The Training Plan" program
Favourite food/meal: Anything that comes from Asia (Sushi, Thai curry, Vietnamese fish dishes)
Best results: 23rd Europe Regionals 2013, 21st Europe Regionals 2014, 4th place Battle of London 2013, 2nd place "Are you tough enough" 2014
Favourite quote: "Success is not final, failure is not fatal: it is the courage to continue that counts." – Winston Churchill
Box chat
1. Jonas congrats on taking 1st at the Athlete Games qualifiers. Did you like the workouts? Like the one with 100 burpees and rowing?
Thank you guys. I've been short on time, because I had a competition (Are you tough enough 2014,CrossFit Basel) in that two week period, so I could only do the workout once. I'd say I rather appreciated to see burpees as they are one of my favourite movements. But in general the TAG team programmed fair and diversified qualifying WODs: they had both strength and cardio components.
2. TAG finals are in less than two weeks. But your main goal and focus are probably the CrossFit Regionals?
My main goal every year is the Open. I want to win it in Europe. The second goal this season are the Games, but in team category (with CrossFit Turicum). So I won't go individual this season.
3. Last year you finished Regionals on 21st place. Based on your recent performances, your goal was much higher. The first event – hang snatch didn't go as planned? What happened?
Thank you for reminding me on this he he. I really just had a "black Friday". Nothing worked out right the first day. This has definitely been an important experience for me. I've never struggled like that in a competition so far. I tried to improve my performance on Saturday and Sunday, but I've sold myself short and couldn't perform as I initially wanted. That's life. It was hard for me to accept this, but I'm sure it has made me mentally stronger.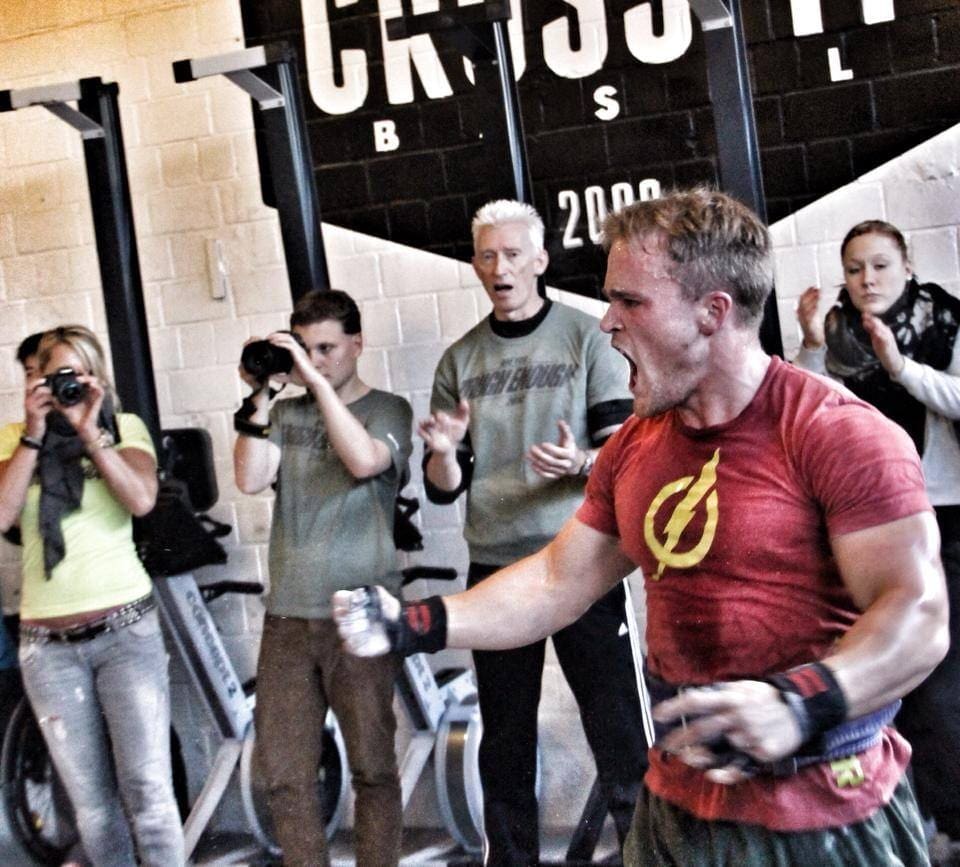 4. Also your CrossFit Open performance was amazing, except with the workout 14.3 (Deadlifts and box jumps)? Did you intentionally slow down here because of safety reasons?
Well, thank you again. No, I'm just not good at high volume deadlifts during a MetCon. I have short arms (hobbit problems he he) and my lower back used to tighten up very fast. I worked on my posterior chain this off-season and I see a huge progress here. But you know there are some movements you like and some you totally dislike. Deadlifts are in the second category.
5. So how are you training for the 2015 season?
I follow closely what Jami Tikkanen, my coach programs on his Training Plan and train twice a day on five days a week. Wednesday is always a restoration day, where I do some kind of easy aerobic work (row, ski erg, Airdyne, swimming) and where I work on my poor ankle and shoulder mobility.
Currently it's very hard to follow the program strictly, because I have exams at University of Berne, where I study sports science & economics. So I'm happy that I don't have to create my own cycles and can just do what my coach programs.
6. What do you think about the new format for the Regionals: instead of 3, top 5 athletes/teams will progress on to the Games?
I really like the new format as I think it will bring our sport to another level. The competition will be harder than ever before and you'll have to dig deep to make it to the Games, because all 40 athletes at the Meridian Regionals will be in top form. Personally I am motivated to try out Regionals in a team, an experience I haven't had so far.
7. When it comes to competing, what's your biggest strength? In what areas you can push harder and faster than your competitors?
Well, I think I just move faster than other competitors. I have a shorter range of motion that might be an advantage too. And I like competitions way more than normal training. Those moments where you must bring all you have to the floor: they count for me and they make this sport so special.
8. Hobbit strength? Your secret?
Avoid the rower and try to move fast (no one will ever notice because you're so short he he).
I've just thought it's funny to add the hashtag #hobbitstrength to my videos because everyone in this scene calls me a hobbit or a dwarf. I know that Jordan Wallace has been the first to be called out as a hobbit, so we're brothers here (or better Frodo and Sam).
9. What about nutrition?
I'm not a role model when it comes to nutrition. I just eat whatever I consider convenient. I drink a lot of liquids (water, tea, shakes) and eat three times a day (very classic: breakfast/lunch/dinner). Additionally I use the flawless products of my sponsors PurePharma and Xendurance, but that's it with supplements.
10. When you're not in the box training, what do you do?
Well, as already mentioned, I currently study sports science and economics at the University of Berne. That takes a lot of time, especially the daily journey from Zurich there and back. Besides that, I still work as a coach in my home box CrossFit Turicum and I offer personal trainings and athletic trainings to clients (individuals, teams, group of athletes). My background is professional football, so I'm still interested what happens in the Swiss Football League. I can imagine returning there later as a coach on the athletic or football specific side.
If I'm not moving around, I love to read and gain knowledge (newspaper, books, whatever falls in my hands). And I love to spend time with my beautiful and beloved girlfriend Sarah.
Jonas thank you and good luck with the future.