Up for a challenge? Then try to tackle this 100 round workout, designed for Regional and Open athletes by Ben Bergeron: the owner and head coach at CrossFit New England, the man behind East Coast Championships and a 2-time Reebok CrossFit Games competitor.
Best time so far was set by Michelle Letendre: 1h 17min (Regional version).

The 100 Round Workout by Ben Bergeron
2015 REGIONAL ATHLETES
100 Rounds For Time of:
1 Strict Deficit HSPU, 6/4″ (15/10 cm)
2 Squat Cleans, 155/105 (70/48 kg)
3 Burpees
2015 OPEN ATHLETES
100 Rounds For Time of:
1 Strict HSPU
2 Squat Cleans, 135/95 (61/43 kg)
3 Burpees
We had a quick chat with Ben:
1. Ben did you try this workout? If yes, what was your time? And how did you like it?
Yes, I did it. I did the OPEN version in 1 hour, 31 minutes. It was brutal and a mental roller coaster with lots of highs and lows. Having said that, it was a great challenge and I was very happy to finish it with a respectable time.
2. 100 rounds = hard mental challenge. What would be your suggestion: how to tackle on a long MetCons like this one?
Setting short term goals. The first goal was to complete 25 rounds. After that, I set my sights on completing 50 rounds in 45 minutes. After that it was 2 rounds at a time. The goal should not be speed, or 100 rounds merely to keep moving at a steady pace.
3. Do you might know what's the best time so far?
Michele Letendre did the Regional version in 1 hour, 17 minutes.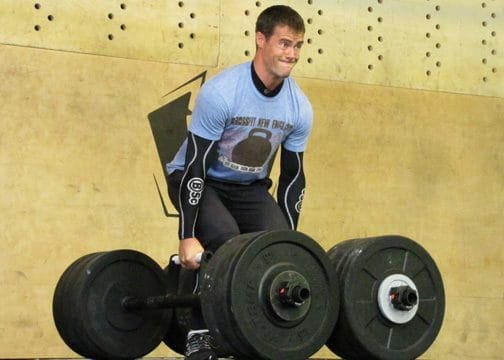 4. What's your training/programming philosophy?
Your goal is to become a three headed monster. Top athletes in this sport have strength, skills and conditioning. Your goal is to be feeding (improving) all three heads at the same time – every month, every week, every day. If you have a serious weakness in one (one head is smaller than the other two), feed it more untill it's as big as the others… Read more on Ben`s website competitorstraining.com.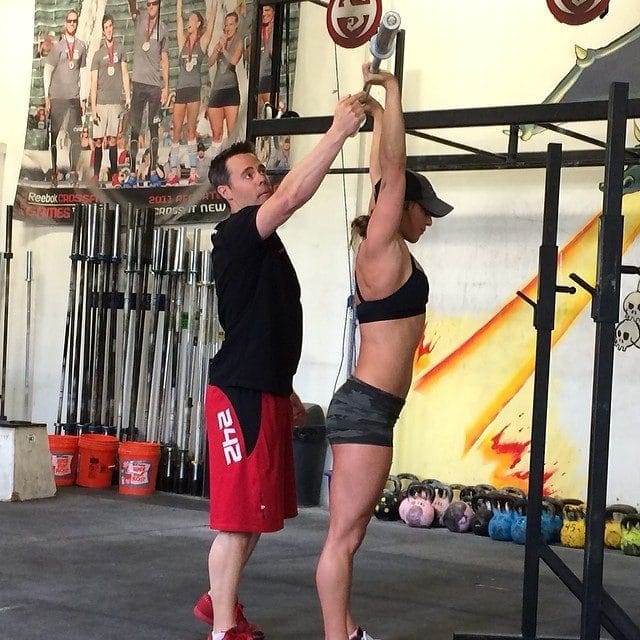 5. You competed at the CrossFit Games twice. Do you ever feel any temptations to go there again? To give Regionals another try? Or do you prefer coaching much more?
Nope, that time has passed and I get all of my competitive juices fulfilled through coaching.
6. One last question: what are you up to currently? What is everything you're working on?
1. My primary focus is on my family.
2.  Improving my affiliate, CrossFit New England.
3. Coaching my athletes (CFNE Athletes, Michele Letendre and Becca Voigt).
4. Developing and delivering the Business of Excellence Seminar.
5. Running the East Coast Championships.
6.  Advising and sitting on the board of a half dozen businesses in the industry.
Read More: 3 Ways to Improve Your Open Performance That Have Nothing to Do with Training