Carly Fuhrer
Fuhrer entered CrossFit Games for the first time in 2016 after three years of CrossFit training. She took fourth place in West Regional 2016 which was a great improvement from her placing in 2015. Carly Fuhrer, previous volleyball, track and basketball player, is known for her side ponytail.
.

Jamie Greene
In 2016 Greene competed with her CrossFit Yas team, where she is currently coaching, and finished 3rd. She decided to go individual in 2017 as she wanted new challenge. Jamie Greene is a formet gymnast and rugby player.
.

Tennil Reed-Beuerlein
Reed ended up 6th at 2017 CrossFit Games and 11th 2016. She was also 2017 South Regional champion.
.

Carol Ann Reason Thibault
Three times CrossFit Games athlete and coach at CrossFit Quebec Thibault is very dedicated Crossfitter. She believes training, nutrition, supplements, hard work and sleep can all make you a better athlete.
.

Bethany (Branham) Shadburne
Shadburne comes from background of gymnastics, bodybuilding, triathlons and personal training. She started CrossFit in 2015 and placed 1st in the 2017 South Central Open which put her top 20 in the world. Shadburne qualified for the 2017 CrossFit Games in her first attempt at Regionals.
.

Kirsten Pedri / Grandma Betty
Kirsten Pedri competed at 2017 CrossFit Games. She is owner at CrossFit Davis in California and proud granddaughter of Grandma Betty, 96 y.o. CrossFitter.
.

Jessica Coughlan
Coughlan is the asutralian elite Crossfitter. She works and trains at CrossFit Norwest and is coached by Rob of RAW Strength and Conditioning in Sydney. Jesiccas Coughlan´s background is gymnastics and running.
.
Camille Leblanc-Bazinet
Fittest Women at the 2014 CrossFit Games, this talented and intelligent French-Canadian powerhouse is also a member of the Canadia Nation Team in Olympic weightlifting, and the best 58 kg lifter in the country. Her sporting prowess and positive, driven attitude is helping to re-define concepts of female body image, health and beauty within Crossfit and wider society.
'Women should be defined by what they can do, not just by how they look'
.

Katrin Tanja Davidsdottir
2x CrossFit Games champion, she moved to the USA to train full time with Ben Bergeron, and is committed to excellence on all levels, as is demonstrated by her favourite quote:
'Full Effort is full victory'
Julie Foucher
Foucher is a warrior, and in her 4 appearances at the CrossFit Games, has never finished outside the top 5. 2nd in 2012 and 3rd in 2014, she consistently performs with incredible heart and ability, and is renowned for her work ethic. In 2015, Foucher tore her Achilles tendon whilst competing, seemingly the end of her career, she decided instead to strap on a support and compete anyway.
A great representative for all Crossfit girls!

Kara Webb
The Australian Kara 'big dub' Webb finished 2nd at the 2017 CrossFit Games, and is a powerful and versatile athlete. Up at 4.30am every morning to coach and train, she believes in going hard or going home.
'Training is when I go to a really bad place…the worst place possible. That way, come game day, I know I've been worse.'
.

Lauren Fisher
Fisher is a dedicated Crossfit athlete and a University student. Known for her 250 lb Clean & Jerks, Fisher says that 'My Dad instilled a work ethic in me since I was a Kid…It can be tough to manage it all – eating well, training, homework, classes. My goal for each day is to stay relaxed, have fun, and just get it all done.'
'I learned that if you want something, you have to work at it.'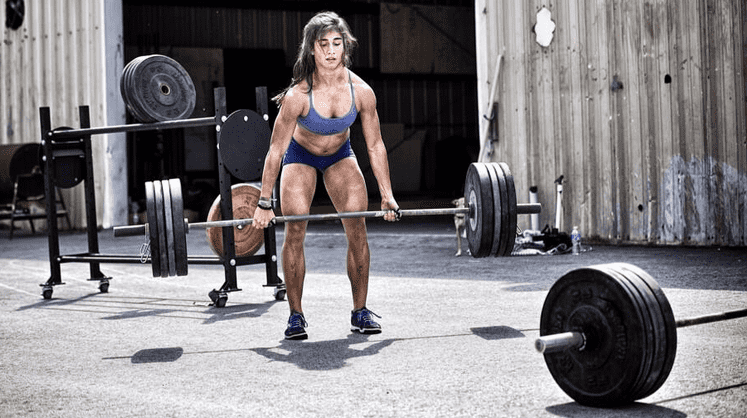 .
Annie Thorisdottir
2x Fittest Woman on earth at the CrossFit Games and 7x Games competitor, Thorisdottir has been featured on Vogue, and as a personal reward for winning the 2012 Games, she bought herself two pairs of heels, one Valentino and one Prada. Her name translates as 'the daughter of Thor', and in her spare time she enjoys running in the Icelandic mountains.
'I want to show women that training can give them more confidence—and that being strong is beautiful.'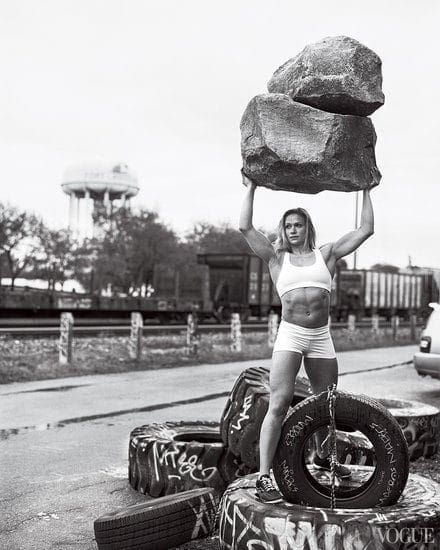 .
Tia Clair Toomey
Toomey is the fittest Woman on earth. She is a tri-silver medalist at the 2015 Pacific Games OIympic Weightlifting and competed for Australia at the IWF Weightlifting champion ships at Houston in the same year. She has also represented Australia at the Olympics, coming off the back of such a strong year, this humble and strong athlete quietly flies under the radar, but could be a surprise contender if things go her way.
.
Sara Sigmundsdottir
Another Icelandic superwoman from the land of ice and fire, this athlete is hotly tipped as a potential winner for the 2018 CrossFit Games.
Her almost unrivalled work ethic, combined with an abundance of raw talent makes her truly one Crossfit girl to inspire you in 2018!
.