The addsfit deep tissue massage gun provides a much deeper massage than foam rollers and lacrosse balls. With five different attachments, it provides highly targeted relief on any body area that might feel tense or sore.
Use code 'BOXROX20' for 20% OFF
The Deep Tissue Massage Gun addsfit Max
Addsfit's five different heads with customised hardness offer the right tool for any situation and mean you can massage around 90% of your body, including areas near the bone.
The Soft- head allows you to massage tender areas near bones, areas that need scraping can be handled with the Medium attachment, and trigger points like the lower back can be treated with the Hard+ head.
Treat yourself to a better trigger point massage experience that lasts longer.
Use the addsfit Max Deep Tissue Massage Gun for:
Pain management
Upper and lower body relief
Warm ups and cool downs
Percussion Therapy You Can Take Anywhere
Weighing only 360g – around the same as one Nano or Metcon – the addsfit Mini is extremely light and small, but still provides a high-power massage and can be transported anywhere.
As big as an apple or a lacrosse ball, you can have the addsfit Mini with you at all times, no matter where you go.
The practical, portable and convenient design means you're likely to feel encouraged to use it often, as there are little reasons not to.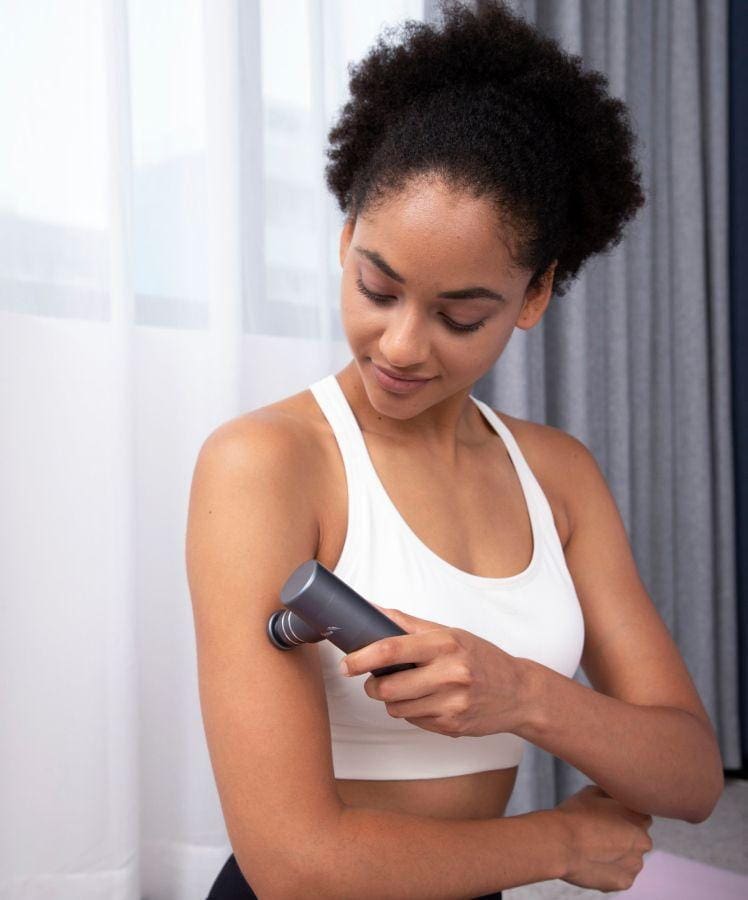 How does addsfit help you recover?
By providing short vibration bursts of up to 3,000 revolutions per minute (RPM), the massage gun relaxes tense muscles by accelerating blood flow, warming up your tissues and promoting metabolism.
Deep tissue massage can:
Reduce chronic pain
Release muscle soreness
Remove tension
In addition, a deep tissue massage is simply very nice. For anyone who is into self-love – and enjoys "the good kind of pain" all functional fitness athletes are familiar with – a percussive massage gun is a great addition to your gym bag.
The addsfit massage gun is a complete massage therapy device that can be used anywhere.
Get 20% OFF now with code 'BOXROX20'
How to include addsfit in your training routine?
Use addsfit to help you warm up and awaken the muscles, to cool down after training or to relax knots and tense spots in your body.
Between other targeted massages, addsfit can provide relief for your:
Neck pain
Wrist soreness
Shoulder stiffness
Back pain
Chest stiffness
Foot pain
While a little soreness and inflammation are good signs of adaptations taking place through training – inflammation happens as your body recovers – chronic inflammation is a sign of overtraining or bad recovery and can lead to injury.
Why addsfit?
Deep tissue massage guns from addsfit have a long battery life, supporting up to six hours of use per charge, they are quiet, so much so you can have a video call while using them, and they include a 30-day cash back guarantee, refunding the product no questions asked if you're unsatisfied with it.
At $189.98 and $105.00 respectively, the addsfit portable massage guns are some of the most affordable in the market without compromising performance.