Hey Alec, so what does your training program look like at the moment?
So at the moment I'm in an intensification phase with my training, sharpening the knife if you will ready for the open. My goal is to get back to Regional's but peaking my fitness for the open is a big part of my training at the moment. I train 6 out of 7 days however this doesn't mean I flog myself every day.
Some days I will have a lot of training and volume, some with be less work and some will be recovery and light work, I also try to get in some yoga or romwod in each week, for recovery and to work on mobility. I also enjoy taking the time to relax. on top of this I'm trying to keep up with my strength numbers so lifting clean and jerk each week and keeping on top of my squats but not as much volume as in the 'off season'. It's fun training at the moment although some of the workouts I have been doing have made me feel awful but it's all for the best!
Can you give us 5 tips for people looking to improve their strength in Crossfit?
1.A) find the right playlist when training!
1. Stick to a program or plan
Personal programming is usually the best way as it is tailored specially for you. If done right, it should help you get better right across the board. Also, with someone else doing it, it should be impartial and honest, with the view of you turning into a better athlete. All training takes patience and hard work, but sticking at something and giving it your best will more than likely end up in success.
'If it can be fun and enjoyable then great, but sometimes it's just a case of putting in the hard graft!'
2. Eat right
Now this is up for debate in so many different ways but I think working out what your body needs and fuelling it appropriately can really make a difference. There are some great companies out there to help, but a small bit of research and prep can really help. Generally, I eat as healthily as I can.
3. Recover, sleep and rest
Make sure that rest and sleep are priorities. If you put the work in you need to make sure you recover and are ready for your next session, so getting the best out of you sleep is essential and taking time to relax and get away from training at least once a week can really help.
Active recovery outside of the gym, walking, swimming and just getting in fresh air is so important. We can spend a hell of a lot of time indoors. I think it's important to get out and still be active, even if it's walking about through town.
4. Improve movement patterns
We can all move more effectively. Refining and improving movements should become a lifetime goal.
'Striving for virtuosity or doing the common uncommonly well is a good way to look at it.'
Train and strive for the best quality in all movements, whether it's a thruster or a muscle up. Make it the best it can be, then you are much more likely to be able to progress further with the movement down the line
5. Develop a strong mind and mentality
Your mind can be weak and talk you out of training sessions or lifts and it can even talk you into taking it easy. Despite this, you can develop and train your mind to be strong and push through the pain or achieve things you thought never possible. I think mindset, and mentality towards training is one of the biggest and most underestimated aspects of training at any level.

'So think positive and visualise yourself achieving great things and you're one step closer to doing it!'
Next time you're in the middle of a tough workout or working towards a heavy lift and any self doubt or negative thoughts come in, try thinking about the worst job you have ever done (mine would be cleaning sick in a bar toilet) then think about how much better it is tucking into some Burpees and Thrusters, and hey if it doesn't work at least you're not doing the thing you hate!
How do you train mentally for competitions?
I am working on mindfulness and visualization, taking time out to see that good things that can happen in competition. I'm relatively new to it, but after having talks with Glen Catley (ex British and world champ boxer) I've been inspired to give it more thought and preparation.
Other than that, training in a competitive atmosphere that mimics the real thing and training with others is a great way to go. Also, just recently i went to a Best of British elite Training camp, where I had the chance to train with, and against, some of the best guys in the uk. It is important to see what level you're at in preparation for competitions.
What advice would you have for anyone who has just started Crossfit, or is thinking about trying it?
Research Crossfit gyms near you and just either book in for a chat or get in to the Box and talk to one of the coaches or owners about the join up process, don't listen to 90% of the people on the internet saying it's dangerous, it's not. Using it as a training method is a completely healthy and fun way to get fit; it will also open up other avenues you never thought of. Most Boxes have a thriving community and you will be welcomed in with wide arms! So just get involved!
So can you tell us a bit more about yourself, your background in Crossfit, and how you got into the sport in the first place?
So I'm 27 and I live in Bath, Uk. My girlfriend and I rent a flat above a motor bike shop about 200m from the Crossfit gym where I work and train. Looking back I've had a mixed bag of sports under my belt over the years from rugby to cricket to surfing and skiing.
I've always enjoyed sports and staying active, a good few years at a globo gym and training across a pretty broad spectrum of fitness put me in good stead for Crossfit. I remember working in a local cafe close to my house and getting hassled by these chaps that always left toast and hash brown on their breakfast plate telling me that I should come and try out their gym, turned out to be one of the best moves of my life and I've since made 100s of new friends, met my beautiful girlfriend (Laura Faulkner) and landed a dream job coaching great people each day.
So a BIG shout out to the guys at Crossfit Bath, Ed Mason, Adam Shackell and of course Ollie Mansbridge.
'Without those guys coming in for coffees and 'paleo fry ups' I wouldn't be where I am now!'
I joined up just before the 2011 Open and after traveling to Bolton, England to watch the Regional's I was hooked and adamant that I could rub shoulders with the competitors I was watching.
2012 -2013 were my first 2 years in team
2013 we narrowly missed trip to the games with a slip up in the final workout.
2014 I sacrificed my individual place so we could take a team to Regionals. One of our members tore her Achilles before the competition so again the team was not to be.
2015 I made the Regionals as an individual, and had a blast (some of the time) including a second place in Randy and a heat win in the Muscle-Up Clean ladder.
Favourite Exercises?
I aways look forward to Olympic Lifts, the Snatch and Clean and Jerk. There is so much room for improvement, whether in increasing the weight, or perfecting the lift itself. This is so appealing to me, and there is also something special about lifting weights with mates and getting after it!
Least favourite Exercises?
I dont have a least favourite Exercise but the sumo deadlift high pull comes pretty close!!
What is your biggest weakness in Crossfit?
Being one of the sweatiest Crossfitters! I genuinely think one day me or a judge will slip over in my sweat, gross but true. It also means I have to pack about 1000 tee shirts when I train.
Who do you think will win the 2016 CrossFit Games in the Male and Female categories?
For the guys, I think it's a pretty open year, if Noah Ohlsen keeps heathy I think he could do really well, you can never rule out Ben Smith (he was my pick last year) and let's get a European up there again! Bjorkvin on the podium last year was awesome he's got a big job to improve on last year, but I'm sure he is focused and ready to get back on the podium.
I'd love to see Briggs up on the podium again, also after meeting Sara and seeing her crazy work ethic first hand I think she should sit up top this year. My prediction Sara, Briggs, Ence.
Ok Alec Harwood, which one other crossfit athlete would you most love to train with?
Marcus Filly the guy is an absolute dude and seems to have a really good outlook on training and training others. I think you could learn a lot from him and he'd be happy to help.
If you could coach a Crossfit 'World Team' (2 women, 2 men) who would you choose?
I think I would be happy to pick but coaching them could be a bit awkward, I'd go Sara Sigmundsdottir and Sam Briggs backed up by Ben smith and Rich Froning. Not exactly a controversial pick but we would be in for the win and I'm sure they would all be happy to debrief at Nandos after.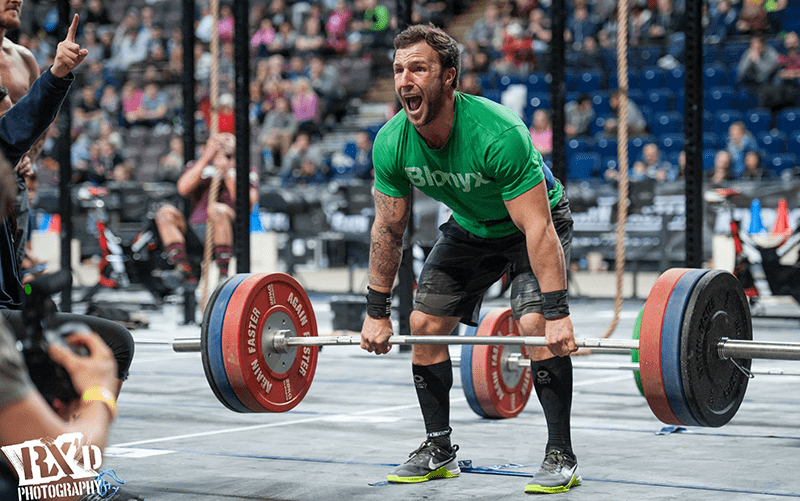 Do you have a specific diet?
I wouldn't say I have a specific diet I eat decent quality food, usually 4 meals + a day based around my training. On weekends I'm more relaxed but its generally meat, veg and rice for dinner, similar for lunch and porridge or banana pancakes for breakfast, oh and coffee, a good amount of coffee and green tea!
What is your favourite cheat meal?
I hope this includes desert, I'd go for a burger with extras bacon, pulled pork brisket etc chips and then cheese cake or ice-cream for after. Yum!
What 3 foods would you recommend that ever athlete should eat?
Chicken, its tasty and goes with almost everything.
Rice, good source of carbs and convenient, uncle ben does a good Mediterranean vegetable…shout out to uncle ben!
Bacon, it's pretty decent seasoning. smile emoticon
What Superhero power would you like to have?
There was a tv show called heroes and a woman had the power that anything she watched, she could instantly master. So you watch a gymnast doing a routine, or a ninja doing ninja stuff, and you could instantly replicate it, even if it was a fictional thing like someone flying on tv. That would be pretty handy for crossfit and just generally bossing life!
If you were stuck on a desert Island, what one luxury item would you take?
Ahh as I think about this question I'm thinking what would Bear Grylls take? Prob some string or something, maybe I'd take a hammock and just kick back (I would have already learnt how to fly because I have those super powers so I'm pretty sorted!)