Team workouts are always so much fun. That is if you have good partners.
They bring the CrossFit community even closer together, especially if you have to do some synchronized exercises!
Who knows, maybe you get far on the CrossFit season by pairing up with your friends from your local Box.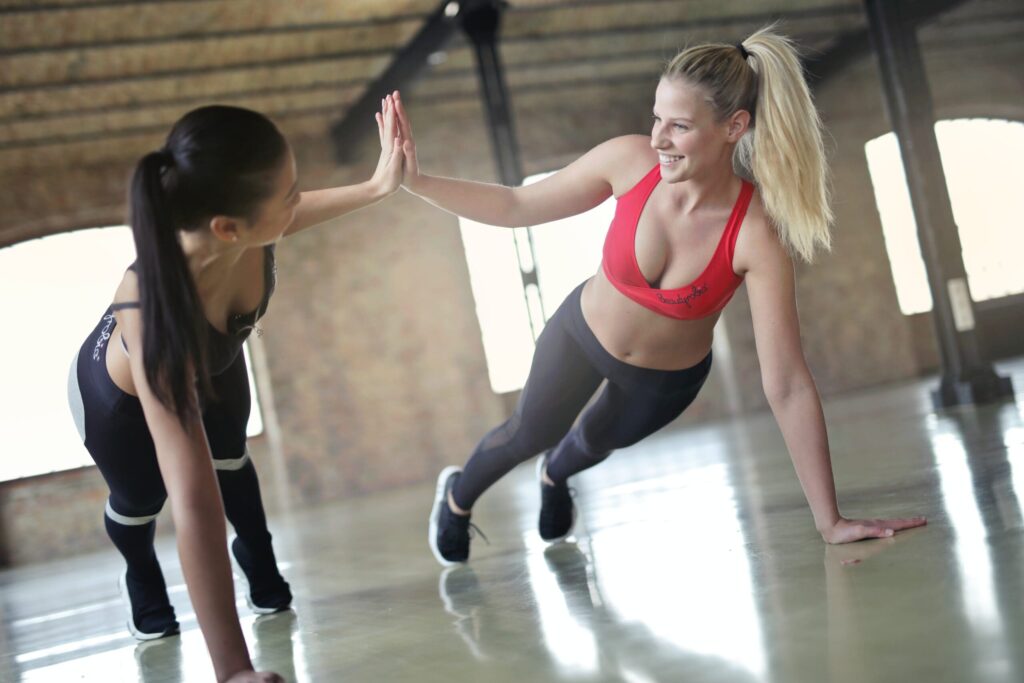 CrossFit Team Workouts
You don't want to drag the other team members down so it ensures that you are always working hard and pushing yourself.
CrossFit Team Workouts
I work out at CrossFit Grenzganger so most of my workouts come from the box programmer Jendrik.
CrossFit Team Workouts – 10 MIN AMRAP SESSIONS
Each station is 10 minutes and the team must be working the whole time. Only one at a time though. Teams of two people can choose how to split the work.
This workout takes a lot of time, 60 minutes of work. If you don't have lot of time you can shorten the time for each WOD to 5 minutes.
Teams of 2
20 Wall Balls, 20 DU 2 Wall Walks
3 Burpees, 3 Push Up, 3 Squats
10 Cal Row, 20 Sit Ups, 2 Stair Run
24 Lunges with Kettlebells, 12 Push Press with Kettlebell, 12 Box Jumps
5 Pull Ups, 10 Push Ups, 15 Squats
Emom, first min D-ball over Shoulder, second minute Wall Sit
I did this workout at CrossFit Grenzganger in Berlin for an open day, where everyone could bring a friend to try out the box and have fun. Pretty tough workout for beginners but every one survived. At CrossFit Grenzganger there are three flights of stairs to run up and down, if you don't have that luxury there is always a possibility for a 200 m sprint or some other cardio exercise instead. Because it was open for everyone, the weights were optional.
CrossFit Team Workouts – WOD 1
I have to admit I had not been working out for two weeks prior, because I was on vacation. So my fitness did not help me through this workout. But the rule was that you and your teammate must split the work equally. Of course both partners must run the 800 meters before and after together. In part two you split the 30 rounds, one round at a time.
Teams of 2
Buy in: 800 m
100 Weighted Lunges
30x 3 Pull Ups, 3 Clean &-Jerk,3 Burpees
100 Weighted Lunges
Buy out: 800 m run
Because of my recent vacation days my shape was so bad that I was literately crawling from the burpees to the pullup bar, it did not help that my partner was super fast so I had no breaks.
This workout was also done at CrossFit Grenzganger on New Years day, so most people were pretty tired after New Years Eve. It was a great way to start of the new year and get back in shape after the holidays.
SYNCHRONIZED TEAM WORKOUTS
It has been very popular at recent competitions to make team members synchronize their movements. This means that you must really communicate with your team members about when to work and when to take a break, because if one team member does not sync up the whole team gets a no rep.
Teams of four persons had to be made for this particular WOD. Using two members at a time to work while the other two had to hold up one barbell, one at each end. It helped if the team members were of the same size (not in my case).
Doing synchronizes wall balls is really fun, then you are two people at the wall with one ball. First person throws it up and a bit to the side so it goes down to the other person. The other team member catches the ball and throws it back up and towards the first member, if there are more then two persons doing the wall ball then it continues down the line.
Synchronized deadlifts means that there are two people lifting the same barbell. That way there can be more weight on the barbell but you also have less space. It is tremendously important to communicate while doing the deadlifts together. It can have serious affects if one person decides to drop the bar while the other is holding with the whole body tensed for the lift.
Teams of 4
200 Wall Balls
200 Deadlift
200 Pull Ups
200 Burpees
200 T2B
Workout performed by Laura Horvath.
CrossFit Team Workouts – FUN FOR FOUR
A great workout for a group of four. The burpee step up was really straining, it is really hard when you have to do repetitions that have triple digits. You are counting and have reached 90 reps and still have 110 left, it plays with your mentality. It is much easier with exercises where you do ten each time, so the number always increases by ten not just one.
If your gym does not have water tanks, it is also possible to use D-balls or even kettlebells.
Teams of 4
Buy in: 800 m run with water tank, each person 200 m
200 Pull Ups
200 Ground to Overhead
200 Burpees Step Up with Dumbbells
200 Overhead Lunges
200 Push Up
200 Deadlift
Buy out: 800 m run with water tank, 200 m each person
Workout brought to you by Khan Porter.
CrossFit Team Workouts – THE CORE KILLER
I am really fond of the D-ball over shoulder. This was a really heavy ball so it did not go all the way over every time. You must really use the whole body to lift the ball and I even scratched off some skin of my hands, when i put them under the ball. For me the hardest thing about the GHD sit-ups is how the head keeps going up and down, makes me dizzy. If that happens to you I have a tip; close your eyes.
Teams of 3
Two rounds of
30 D-ball over Shoulder
120 GHD Sit Ups
30 Clean &Jerk
CrossFit Team Workouts – TOP 100 CHIPPER
100 reps of every exercise on the list, you decide the sequence, but finish the 100 before turning to the next one. As almost all team workouts one is working at a time. I did the mistake of starting too fast with the rower and bench press, so my arms got tired pretty soon.
Teams of two
Bench Press
Cal Row
Pull Up
Sit Ups
Wall Balls
Walking Lunges
Bicep Curl
DU
Lateral Jumps
Burpees
CrossFit Team Workouts – TAG GAME
The team works like a tag game to motivate you.
The first member starts on the rower. When that member has finished rowing the next member may start. You are not allowed to overtake any team member so the first one must work fast so the next one doesn´t have to wait.
If the gap gets too small you can either increase the number of reps so you don't have to wait for your team member to finish. On the other hand, if you are having a really bad day and feel your team member keeps getting closer you can scratch off a couple of reps.
Set the workout up as a line, always move forward to the next movement. After the russian twist you run back to the rower. Sometimes you can catch a break there and have a sip of water for the next round.
Go for 6 rounds.
CrossFit Team Workouts – Team of 3
200 m Run
10 Box Jumps
15 Sit Ups
10 Goblet Squat
10 Deck Squat
20 Russian Twist
CrossFit Team Workouts
11 Painful CrossFit Workouts and How to Destroy Them
Image Sources
bruce-mars-tj27cwu86Wk-unsplash: Unsplash