What is the fifth Fittest Woman on Earth day of eating? Well, CrossFit Games athlete Haley Adams is here to give you an insight into her routine.
In preparation for the Mid-Atlantic CrossFit Challenge Semifinal, Haley jumped over to the CrossFit Mayhem YouTube channel to share her full day of eating alongside a full day of training.
In the end, she consumed 3,106 calories, of which 486g are carbs, 178g of protein, and 50g of fat.
Haley Adams Full Day of Eating
The 20-year-old athlete starts off her day at around 8.30 am, explaining that she used to not eat anything before training, but now she will have toast, banana and honey to fuel her morning.
She also prepares her lunch and part of her dinner in the morning to make the process of refuelling as easy as possible.
Breakfast
41g carbs, 5g protein, 1g fat.
With a morning packed with hard workouts and a lifting session, Haley keeps her body fueled with easily digestible carbohydrates.
Snack
Lunch
Brown Rice
Tomato
Mushrooms
Chicken
Pepper
Onion
Hot Sauce
Apple / Clementine
Crunchy Fudge Bar
116g carbs, 71 protein, 15g fat.
In the afternoon Haley hits another hard workout. For a caffeine pick-me-up she drinks Nocco (3g protein, 180mg caffeine).
After a long day of training, Haley gets most of her calories in during the evening.
Dinner 1
28g carbs, 25g protein, 0.5g fat.
Snack 1
47g carbs, 2g protein, 0g fat.
Snack 2
99g carbs, 12g protein, 18g fat.
Dinner 2
dinner bowl & sweet potato
100g carbs, 41g protein, 10g fat.
Overnight Oats
36g carbs, 17g protein, 6g fat.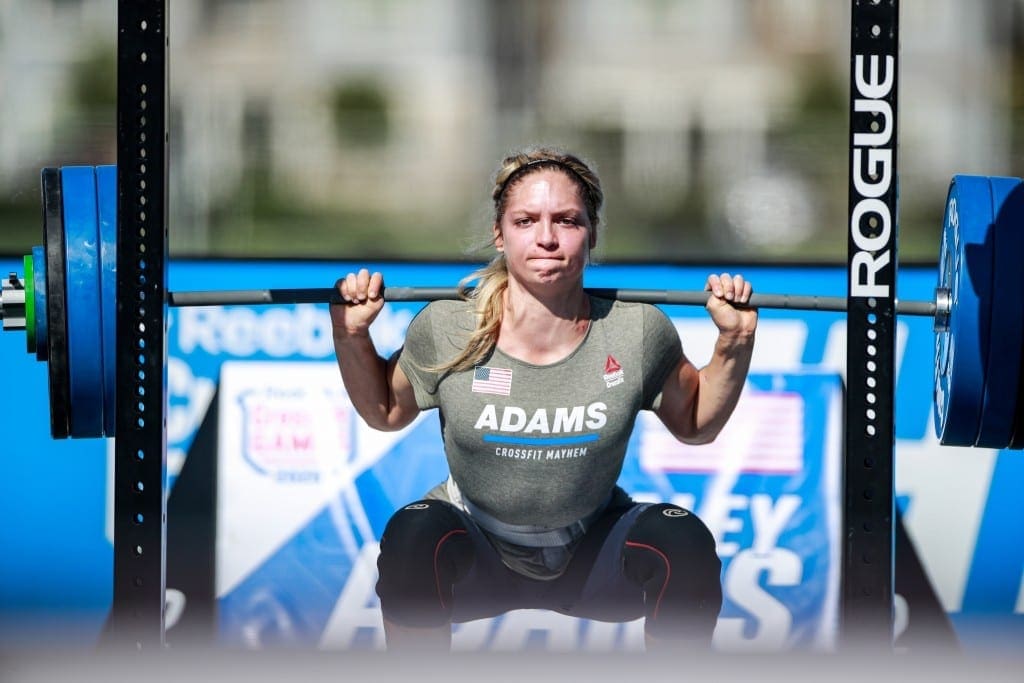 Haley Adam's Workouts
Workout 1
AMRAP – 4 sets of:
15 burpees over rower
35/45 calorie row
15 burpees over rower
Max wall-balls in remaining time (20/14) 10 ft
Rest 90 seconds between each round.
Workout 2
For time:
5 rope climb
20 squat snatch (135/95)
5 rope climb
15 squat snatch (155/105)
5 rope climb
10 squat snatch (185/125)
5 rope climb
5 squat snatch (205/145)
Workout 3
10 sets
AMRAP 2 minutes of:
20/15 cal row
Max lateral burpees over rower
Rest 1 minute between each set.
Read More: Haley Adams Launches YouTube Channel With Behind-The-Scenes Content