Trying to guess Dave Castro's CrossFit Open Workout 18.3 clue feels a bit like this:
(think of Dave Castro as the penguin on the right, and you as the other penguin)
Or occasionally guessing a clue feels like this – if you get it right:
But either way, it's a good bit of fun before the live announcement of CrossFit Open Workout 18.3, and a good way to stop yourself getting too stressed out.
Dave Castro's Clue for CrossFit open Workout 18.3
WHAT DOES THIS CLUE FOR CROSSFIT OPEN WORKOUT 18.3 ACTUALLY MEAN?
Here are 25 of the best responses from the worldwide Crossfit community:


This will probably happen to us all…

A recurring theme throughout a lot of guesses


THE BOXROX RESEARCH SO FAR…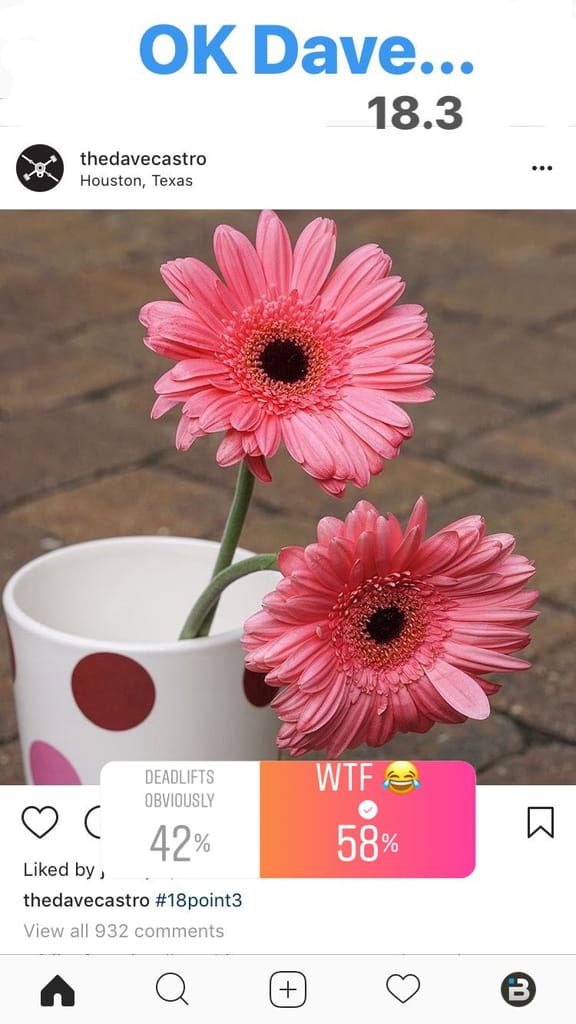 Not a bad guess…


Probably the closest so far

Uh oh


Logic innit.



True!

Also true

This would be a killer!








While we hit benchmark workouts at our affiliates throughout the year (1-rep-max back squat, 1-rep-max snatch, Fran, Cindy), the CrossFit Games Open is the time to see how we perform compared to other CrossFitters around the world.
WHAT IS THE CROSSFIT OPEN?
The Open is comprised of five workouts over five weeks. Open workouts are identified by their year and the order in which they appear. The workouts will be released every Thursday during the five weeks of the Open, and you can watch the live announcement of the workout that will be streamed on the CrossFit Games website.
The announcement will take place at a different location each week, and two athletes (or more) will perform the workout live. After the workout is released, any athlete who has registered for the Open will have until 5 p.m. PT on the following Monday to submit their best score online.
WHAT IS THE PURPOSE OF THE CROSSFIT OPEN?
The Open is the first qualifying stage of the CrossFit Games. Any athlete who wants to compete at the Games must first make it through the Open in their region.
While the purpose of the Open is to find the fittest athletes in each region to move on to the regionals, it's also an opportunity for any athlete at any level to participate in the competition. It can add meaning and purpose to your training while also bringing your gym's community closer together. (As a rule of thumb, the Open is the time of year where we see many people achieve important firsts: bodyweight snatch, muscle-ups, toes-to-bars, handstand push-ups, double-unders, etc.)
Most importantly, the Open will also give you some interesting data on your performance in the gym, which can be a guide for setting realistic goals for the following year.
If you want to learn more about the effects of CrossFit, click on the article link below: