The 2020 CrossFit Games wrapped up last night with the Finals, where the top five men and top five women from the Games Stage 1 competed for the title Fittest on Earth.
While prize money was awarded to athletes placed 6th through to 20th (in addition to event wins money) the final leaderboard, and with it final paychecks, wasn't set until yesterday.
Find out how much money the top 10 2020 CrossFit Games athletes won after the two stages of competition.
2020 CrossFit Games Prize Money
Cash prizes were awarded to the top three athletes in each event. Top finishes by event received the following prize money:
First Place: $3,000
Second Place: $2,000
Third Place: $1,000
The top 5 athletes were awarded the following prize money:
1st Place: $300,000
2nd Place: $115,000
3rd Place: $75,000
4th Place: $50,000
5th Place: $35,000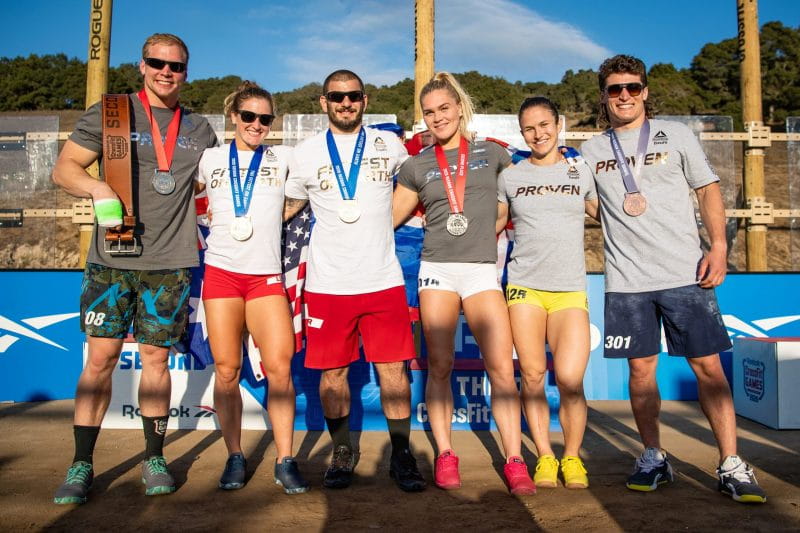 2020 CROSSFIT GAMES WOMEN'S PRIZE MONEY
Tia-Clair Toomey

$13,000 stage 1 total
$3,000 2007 Reload
$3,000 Corn Stack Sprint
$3,000 CrossFit Total
$1,000 Ranch Loop
$3,000 Toes-to-Bar/Lunge
$3,000 Snatch Speed Triple
$3,000 Bike Repeater
$3,000 Happy Star
$3,000 Swim 'n' Stuff
$3,000 Sprint Sled Sprint
$1,000 Atalanta
1st Place: $300,000
Total: $342,000

Katrin Davidsdottir

$6,000 stage 1 total
$2,000 Corn Stack Sprint
$3,000 Ranch Loop
$2,000 Toes-to-Bar/Lunge
$1,000 Snatch Speed Triple
$1,000 Happy Star
$1,000 Swim 'n' Stuff
$1,000 Sled Sprint Sled
$2,000 Atalanta
2nd Place: $115,000
Total: $134,000

Kari Pearce

$2,000 Stage 1 total
$1,000 2007 Reload
$1,000 CrossFit Total
$2,000 Handstand Sprint
$1,000 Bike Repeater
$2,000 Happy Star
$3,000 Atalanta
3rd Place: $75,000
Total: $87,000

Haley Adams

$2,000 2007 Reload
$1,000 Corn Stack Sprint
$1,000 Handstand Sprint
$2,000 Ranch Loop
$2,000 Bike Repeater
$2,000 Swim 'n' Stuff
4th Place: $50,000
Total: $60,000

Brooke Wells

$3,000 stage 1 total
$2,000 CrossFit Total
$3,000 Handstand Sprint
$1,000 Toes-to-Bar/Lunge
$2,000 Snatch Speed Triple
$2,000 Sprint Sled Sprint
5th Place: $35,000
Total: $48,000
2020 CrossFit Games Finals – Day 3 Full Recap
2020 CROSSFIT GAMES MEN'S PRIZE MONEY
Mat Fraser

$14,000 stage 1 total
$3,000 2007 Reload
$3,000 Corn Sack Sprint
$2,000 CrossFit Total
$3,000 Handstand Sprint
$3,000 Ranch Loop
$3,000 Toes-to-Bar/Lunge
$3,000 Snatch Speed Triple
$3,000 Bike Repeater
$3,000 Happy Star
$2,000 Swim 'n' Stuff
$3,000 Sprint Sled Sprint
$3,000 Atalanta
1st Place: $300,000
Total: $348,000

Samuel Kwant

$2,000 stage 1 total
$1,000 2007 Reload
$2,000 Corn Sack Sprint
$1,000 Snatch Speed Triple
$2,000 Happy Star
$3,000 Swim 'n' Stuff
$2,000 Sprint Sled Sprint
2nd Place: $115,000
Total: $128,000

Justin Medeiros

$3,000 stage 1 total
$2,000 2007 Reload
$2,000 Handstand Sprint
$2,000 Ranch Loop
$1,000 Toes-to-Bar/Lunge
$1,000 Bike Repeater
$1,000 Swim 'n' Stuff
$1,000 Sprint Sled Sprint
$1,000 Atalanta
3rd Place: $75,000
Total: $89,000

Noah Ohlsen

$7,000 stage 1 total
$1,000 Corn Stack Sprint
$1,000 CrossFit Total
$1,000 Handstand Sprint
$1,000 Ranch Loop
$2,000 Toes-to-Bar/Lunge
$2,000 Atalanta
4th Place: $50,000
Total: $65,000

Jeffrey Adler

$3,000 CrossFit Total
$2,000 Snatch Speed Triple
$1,000 Happy Star
5th Place: $35,000
Total: $41,000