2020 CrossFit Games Leaderboard Day after Two Days of Competition
Heading into Day Three of the 2020 CrossFit Games Finals, this is what the leaderboard looked like:
| | |
| --- | --- |
| 1. Tia-Clair Toomey – 770 | 1. Mathew Fraser – 875 |
| 2. Katrin Tanja Davidsdottir – 480 | 2. Jeffrey Adler – 440 |
| 3. Kari Pearce – 455 | 3. Samuel Kwant – 415 |
| 4. Haley Adams – 415 | 4. Justin Medeiros – 395 |
| 5. Brooke Wells – 400 | 5. Noah Ohlsen – 395 |
EVENT 10
.@TiaToomey ?? On whether her mindset has changed after having a great day yesterday: "New day. In my eyes, the leaderboard is back at zero and we're all fighting for the same spot. It's just go all out until the very last workout." pic.twitter.com/QuKWsxZyM9

— The CrossFit Games (@CrossFitGames) October 25, 2020
Watch the full event here.
SWIM 'N' STUFF
4 rounds, each for time:
Air bike calories (10 | 15)
50-meter swim
10 GHD sit-ups
10 ball slams (40 | 60 lb.)
Rest
Begin a new round every 4 minutes
*Rounds 2 and 4 performed in reverse
This tactical event forced athletes to monitor and control their heartrate whilst sprinting through the assault bike, swim, GHD machine and a set of Slam Balls.
Working down and back in single intervals, the event proved highly exhausting for all athletes. On the men's side Sam Kwant looked smooth and controlled on the swim and powerful on the assault bike, eventually racking up enough cumulative time to take first place.
Samuel Kwant quietly picks up his first event win of the weekend in Swim 'N' Stuff, finishing in 8:29.66, eight seconds ahead of @mathewfras. pic.twitter.com/vxsKDk4HWj

— The CrossFit Games (@CrossFitGames) October 25, 2020
One of the biggest challenges was handling the wet equipment and ensuring quick transitions.
Haley Adams attacked the event hard. She was the quickest on the GHD and assault bike yet Tia-Clair's swimming prowess ultimately proved unbeatable as she gracefully set a pace that none of the other women could match.
.@haleyadamscf's ?? speed on the GHD sit-ups vs. @TiaToomey ?? in the water pic.twitter.com/CXVajniiv6

— The CrossFit Games (@CrossFitGames) October 25, 2020
Men's Results
Sam Kwant 8:29.66
Mat Fraser 8:38.14
Justin Medeiros 8:52.93
Noah Ohlsen 9:14.34
Jeff Adler 9:43.30
Women's Results
Tia-Clair Toomey 8:26.48
Haley Adams 8:40.41
Katrin Davidsdottir 8:47.62
Brooke Wells 9:39.96
Kari Pearce 10:10.58
Round by round break down: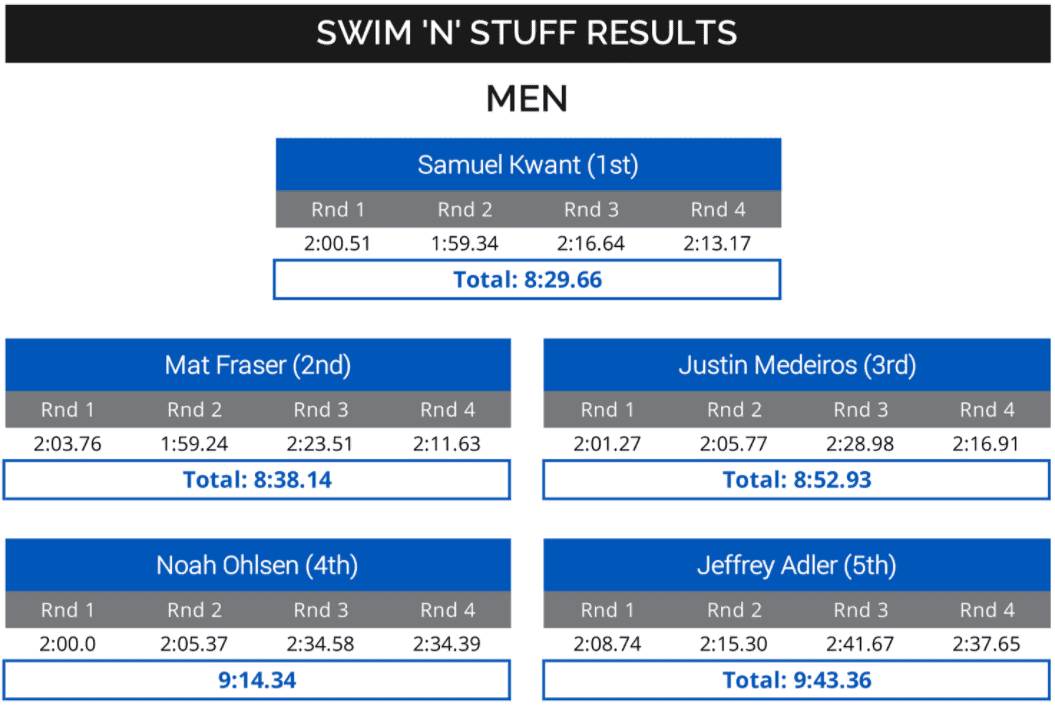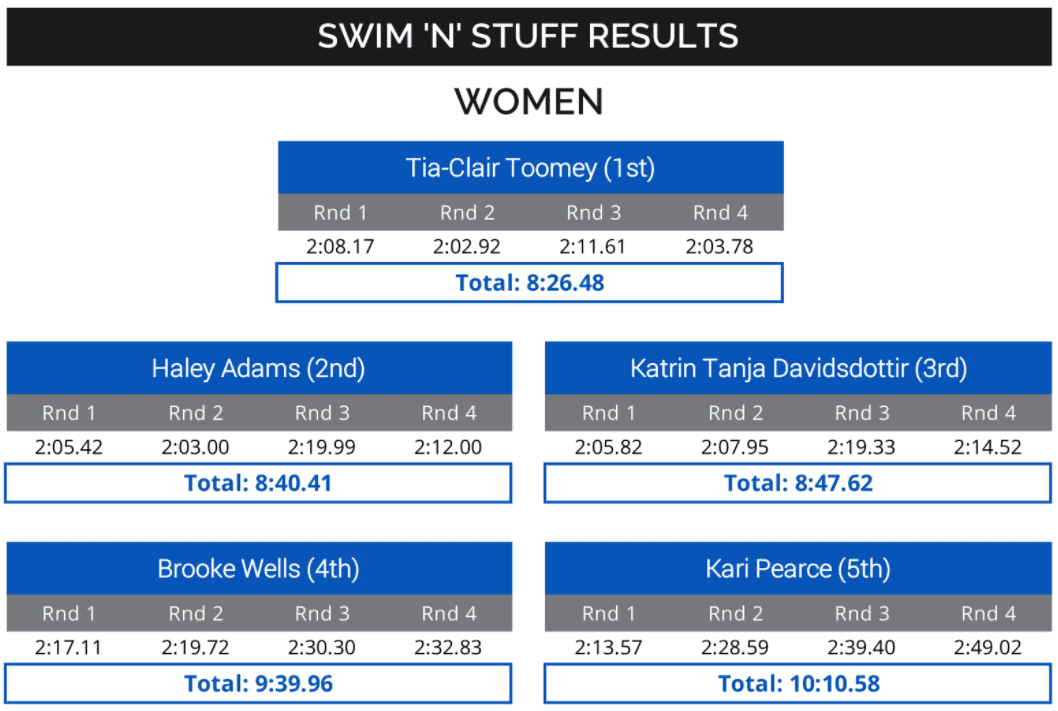 EVENT 11
After what Noah Ohlsen described as "the most painful workout of the weekend," referring to the previous event, athletes faced the Sprint Sled Sprint.
[box]Sprint Sled Sprint
100-yard sprint
100-yard sled push
100-yard sprint
W 80-lb. sled // M 105-lb. sled
[/box]
All women got to the sled almost at the same time, but Toomey pushed ahead as they sprinted with it. Wells, lifting the sled, made up a great amount of ground and started the second sprint sitting in second place.
This was the fastest workout of the weekend – all was over in just under a minute.
Toomey earnt her 9th event victory of the weekend and, with her third-place finish, Davidsdottir pushed slightly ahead of the pack on the overall leaderboard.
The men took to the floor next and it was Ohlsen who reached the sled first, yet Fraser and Kwant took the lead during the sled sprint.
They both started the last sprint together and, while Mat pushed ahead for two seconds, Kwant caught him and it would have been impossible for a human eye to determine who crossed the finish line first.
In the end, Fraser would beat Kwant by less than four tenths of a second for his ninth Event victory of the weekend.
Event 11 Leaderboard
| | |
| --- | --- |
| 1. Tia-Clair Toomey (1:05.23) | 1. Mat Fraser (0:56.08) |
| 2. Brooke Wells (1:07.81) | 2. Samuel Kwant (0:56.45) |
| 3. Katrin Davidsdottir (1:12.57) | 3. Justin Medeiros (1:01.97) |
| 4. Haley Adams (1:14.93) | 4. Noah Ohlsen (1:03.89) |
| 5. Kari Pearce (1:24.51) | 5. Jeffrey Adler (1:05.64) |
Watch the full event here.
EVENT 12
The shortest event of the 2020 CrossFit Games was followed by the longest final event in Games history.
Mat Fraser and Tia-Clair Toomey headed into the final workout of the 2020 CrossFit Games, Atalanta, with an insurmountable lead. They were 460 and 380 points ahead of second place respectively (every event win is worth 100 points). With both the men and women competing in one heat, the training partners could potentially compete against each other.
Dave Castro wanted to make sure every athlete finished what he described as "the most difficult final of any Games, if not the most difficult event, to date." During the event announcement and briefing, Adrian Bozman, Head Judge, warned athletes about a final rule: "if you want to get on the podium, you have to finish this event."
[box]
CrossFit Games 2020 – Atalanta
For Time:
1-mile run
100 handstand push-ups
200 single-leg squats
300 pull-ups
1-mile run
W 14-lb. vest // M 20-lb. vest
Athletes must wear a weight vest. Reps must be completed unpartitioned — i.e., all 100 handstand push-ups must be completed before moving on to the single-leg squats, etc.
[/box]
The mash-up of Murph and Mary – both workouts that have featured in past CrossFit Games – "Atalanta" is the longest final event in Games history.
Most athletes started in a tight pack on the first mile run, with exception of Adams and Pearce, who ran ahead of everyone and reached the handstand push-ups first.
The top 10 athletes were well into the 100 handstand push-ups by the 10-minute mark. After 12 minutes, Pearce was done with the move and set off to start the single-leg squats. Moving steadily through the 200 reps, she was the first athlete to start on the pull-ups.
Meanwhile, Fraser led the men's field. The leader performed each rep and took breaks at the same time as Toomey, who sat third in the women's field.
With over a hundred pull-ups to go, Adam's hands started bleeding. She was overtaken by Davidsdottir. Pearce reached the last 100 pull-ups at the 33-minute mark, sweating hard and clearly pushing to her limit. Davidsdottir looked like she might catch up with Pearce, but it was Pearce – who beat all athletes during last year's Mary – who hit the run first.
She was followed by Davidsdottir and Ohlsen. Toomey and Fraser, together, were the next athletes to start on the final mile run.
The pair overtook Ohlsen and while the men's lead moved to Fraser, Pearce pushed the pace of her run, ensuring she wasn't going to get caught and securing her first event win for the weekend.
Pearce didn't only finish the workout ahead of every athlete, but secured her first CrossFit Games podium spot with her victory.
"I liked that workout," she said on the floor seconds after finishing, with an astounding time of 47:56.68.
Davidsdottir crossed the finish line as the second woman and second athlete overall. She was followed by Fraser and Toomey who, in their matching white and red jerseys, crossed the finish line hand in hand.
2020 CrossFit Games Atalanta Leaderboard
| | |
| --- | --- |
| 1. Kari Pearce (47:56.68) | 1. Mat Fraser (51:46.66) |
| 2. Katrin Davidsdottir (49:09.96) | 2. Noah Ohlsen (52:24.75) |
| 3. Tia-Clair Toomey (51:46.72) | 3. Justin Medeiros (53:18.87) |
| 4. Haley Adams (52:56.60) | 4. Jeffrey Adler (57:28.45) |
| 5. Brooke Wells (1:00:19.01) | 5. Samuel Kwant (1:05:39.80) |
Watch the full event here.
2020 CrossFit Games Overall Leaderboard
| | |
| --- | --- |
| 1. Tia-Clair Toomey (1025) | 1. Mat Fraser (1150) |
| 2. Katrin Davidsdottir (665) | 2. Samuel Kwant (605) |
| 3. Kari Pearce (585) | 3. Justin Medeiros (560) |
| 4. Haley Adams (560) | 4. Noah Ohlsen (540) |
| 5. Brooke Wells (525) | 5. Jeffrey Adler (505) |
Women's Division
Men's Division