When it comes to tough CrossFit workouts, Kalsu regularly makes the cut. Deceivingly simple and devilishly hard, this workout is as much about mental stamina as it is about brute strength.
It's is a Hero WOD which honours Robert James "Bob" Kalsu (April 13, 1945 – July 21, 1970), a former professional American Football player, who left his sport career behind to serve his country in the Vietnam war.
What is Kalsu?
This WOD is just two exercises: burpees and thrusters.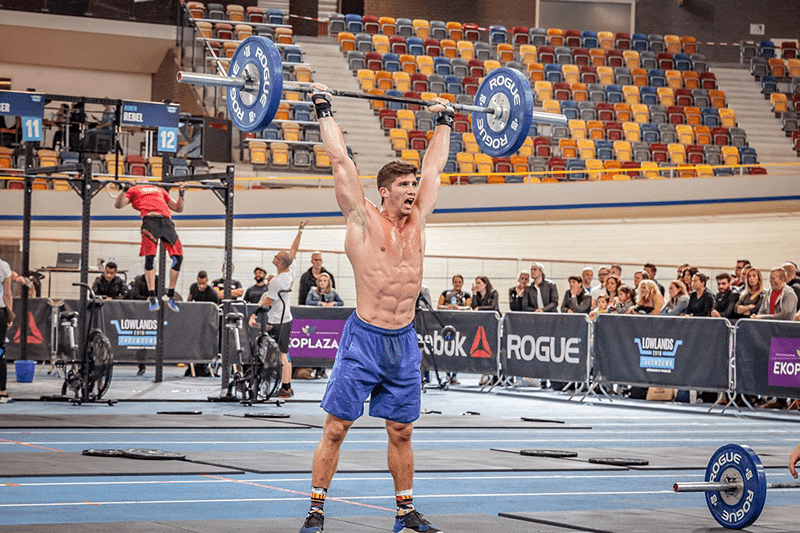 For Time:
100 Thrusters (135/95 lbs)
5 Burpees to start and at the top of every minute
Start with 5 burpees. Then complete as many thrusters as possible until the minute is up. At the top of the minute (1:00) complete another 5 burpees. Repeat each minute until 100 total thrusters are completed.
Score is the time it takes to complete 100 thrusters.
Good Scores for "Kalsu"
– Beginner: 22-30 minutes
– Intermediate: 19-22 minutes
– Advanced: 15-19 minutes
– Elite: <14 minutes
Why is Kalsu So Hard?
The grueling combination of thrusters and burpees will push you to your limits. Just when you think you're getting through the 100 thrusters, the burpees will stop you in your tracks and exhaust the muscles in your legs and arms.
According to one Redditor, "this workout literally broke me mentally."
"I had never pushed myself this hard in a workout. I had never before gone into such a deep and dark place mentally where I was comfortable with pain."
"I just accepted that more burpees were coming my way, and the only way to do less burpees was to get that weight overhead."
"I promised myself I wouldn't quit, and that was the hardest part of the workout. I knew I couldn't quit, so I had to do more reps, and it was just a slog fest. I'm not too sure where my mind was most of the workout, but all I know is that it was a revelation for me. I found my new mental limit, and am surprised at how far away that limit is from what I thought it was at 6:30 am today."
Kalsu Variations: Build Your Stamina
If you're building up to Kalsu, there are variations of the workout to try before giving the classic WOD a try. Alternatively you can make the workout harder with heavier weights or different equipment — either way, you're going to work up a sweat.
1. Light Kalsu
100 Thrusters (95/65lbs)
Burpees (EMOM Choose Between 5, 4 or 3 Burpees)
Time cap: 15 min.
2. Rob Orlando's Kalsu (with Power Cleans)
100 Power Cleans (225lbs)
5 Burpees to start and at the top of every minute
Time cap: 20 min.
3. Strongman Kalsu
100 Tire flips
3 Burpees to start and at the top of every minute
Time cap: 30 min.
Read More: 40 Hard Workouts at Home to Build Better Conditioning and Transform your Body.