BoxMate, a performance tracking app, recently interviewed over 500 women, 94% of which were told that CrossFit and weightlifting would make them 'too bulky' and 'too muscly' – despite that, 85% felt more body confident.
The performance tracking app partnered with International Women's Day to support their Women in Sports mission. In a video, they highlight the comments four female CrossFit athletes have endured, as well as their thoughts on female strength.
Hear what they have to say and how CrossFit has changed their lives for the better.
Each for Equal is the International Women's Day theme this year, and it hopes to challenge stereotypes, fight bias and celebrate women's achievements.
"There is a real disparity between the empowerment women are experiencing through training and the negative comments they are receiving purely on the aesthetics of their body," BoxMate issued in a press release about the survey findings.
"CrossFit women embody this image of health and show that it is good for women to pursue competitive sport without worrying about their bodies becoming 'too much' of anything; their bodies are allowing them to do what they enjoy – that's the goal."
CrossFit is a sport that celebrates its athletes for what they can do, not for what they look like. On International Women's Day, let's celebrate strong women, capable, fit and healthy.
BoxMate's survey found that the vast majority (94%) of women practising CrossFit or weight training have been told their preferred sport will make the "too bulky", "too muscly" or "masculine".
Yet despite this, 85% of them had experienced an increase in body confidence since starting training.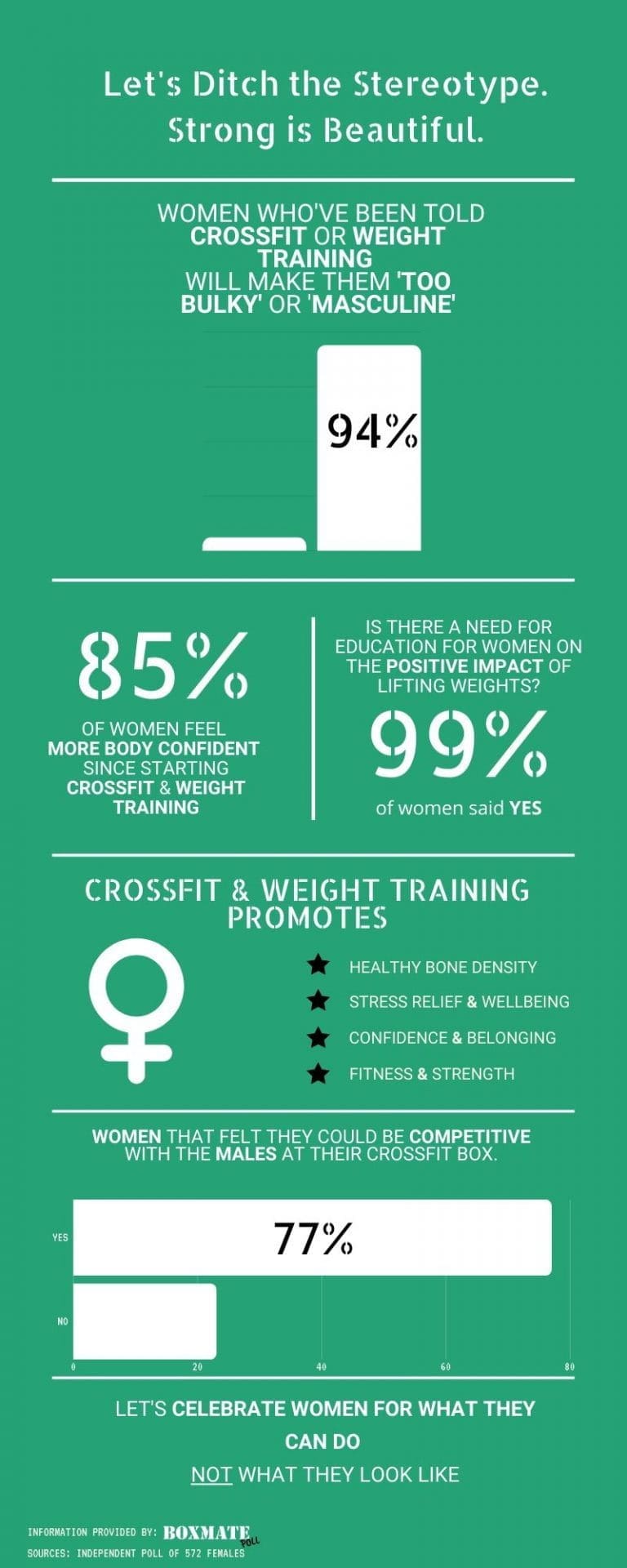 Source: BoxMate
With sport's myriad of positive benefits, ranging from physical to mental health improvements, we should celebrate anyone who decides to take on a fitness journey, without passing judgement.
"We're proud to be part of such an inclusive community with a focus on making improvements for our mental and physical health – not on just losing weight," Danny Redfern, founder of BoxMate, said. "Fitness and strength is something to be celebrated and being strong is beautiful. Strength comes in all shapes and sizes – health, fitness, and feeling good about yourself should be the goal for all of us."
"Let's stop it being OK to tell a woman that she is 'too muscly' and instead, celebrate everyone equally for wanting to push and challenge themselves. Let's ditch the stereotypes that 'muscles are just for men' and celebrate women for what they can do, not what they look like," he continued.
You can read about the full study findings here.
Happy International Women's Day!