Day three of the Australian CrossFit Championships did not disappoint with the continued fight for the CrossFit Games qualifying spots for individuals, and a fight on the team side to take the top spot. Today, individuals were put through two events, and the team's three. This brings the total of events over the three days with one day remaining to nine and eight respectively.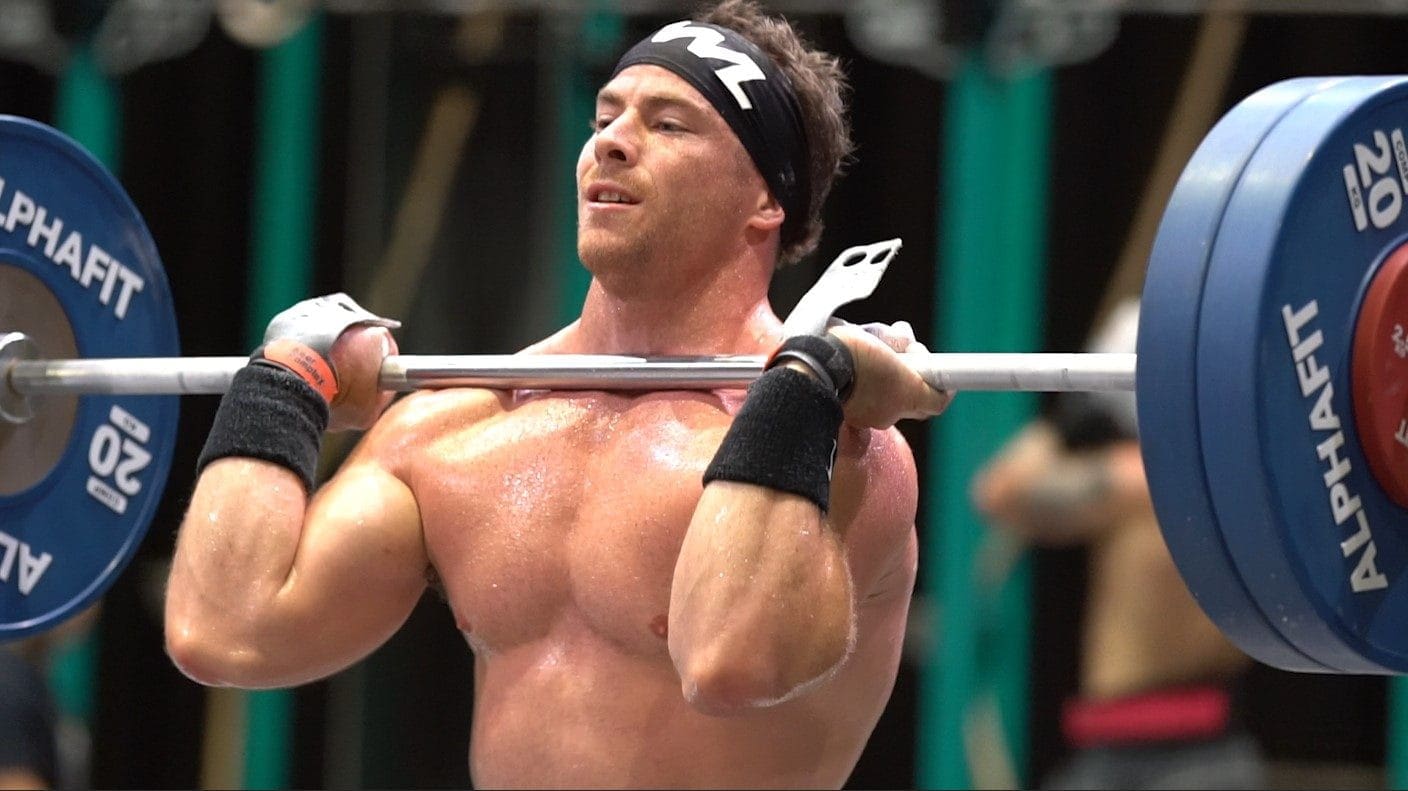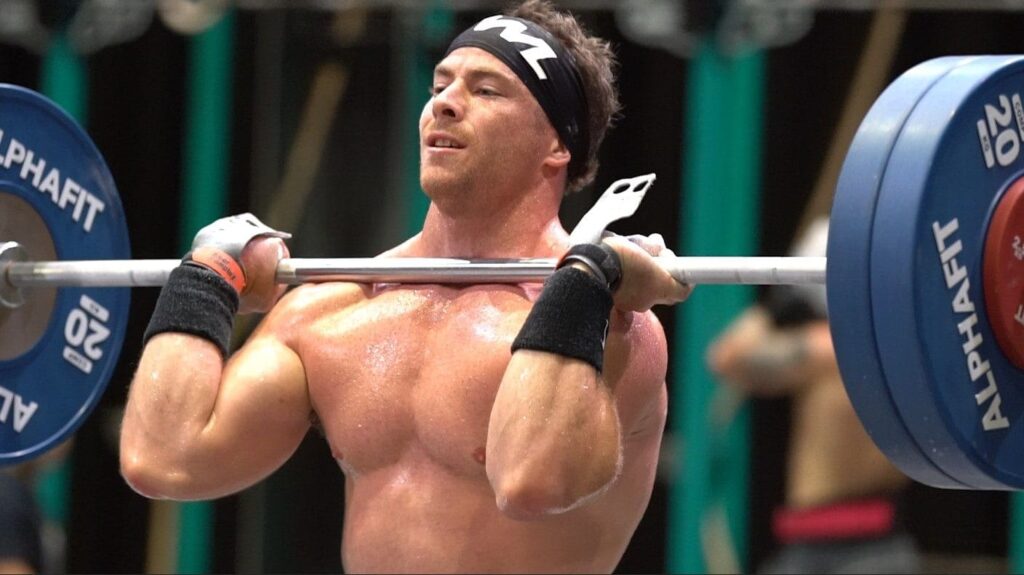 Women's competition recap
Coming into the day three saw Kara Saunders and Maddie Sturt in first and second place, but both already received their Games invites from the open meaning the invite will be handed down. Laura Clifton from New Zealand was in third ahead of Mia Hesketh in fourth, both of whom are looking to secure their spots to the games. Amazingly, the leaderboard was still the same by the end of the day except that the point gaps had narrowed. Tomorrow will be a real battle for the qualifying spot as only 26 points separate Laura and Mia going into day 4.
Womens Leaderboard After Day 3
Kara Saunders 802 (already qualified)
Maddy Sturt 690 (already qualified)
Laura Clifton 686
Mia Hesketh 660
Men's Competition Recap
There was some movement on the men's side today after Bayden Brown showed that he is really one to watch this season after winning both events bringing him to a tie with James Newbury in points for first overall heading into day 4. Bayden after being knocked out in the first round of the Beach Flags event on Thursday has gone on to win an impressive 5 of the 9 total events so far. He seems well rounded with few weaknesses.
https://www.instagram.com/p/B9bZ6K3lZL8/
21 year old Jay Crouch, who trains under veteran Rob Forte is currently in third place and 46 points behind the leaders. Bayden Brown has already received his invite to the games through the open so Jay Crouch has to try to creep ahead of James Newbury to get into that qualifying spot..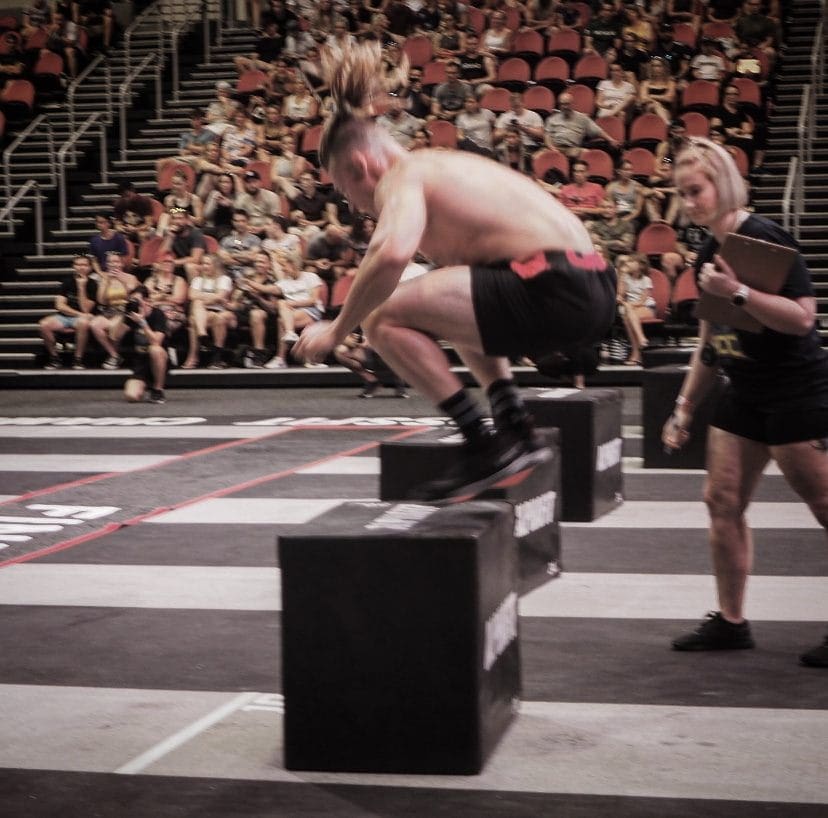 Mens Leaderboard After Day 3
James Newbury 742
Bayden Brown 742
Jay Crouch 696
Team Competition Recap
The team competition has been very tight so far with two teams tied for first place coming into the day three. However, despite a close race in every event today, Mayhem Independence came away with two out of three event wins putting them 50 points ahead of Starr Strength Black. With Mayhem Independence already having an invite to the games from Wodapalooza, Starr Strength Black needs to stay ahead of 'Not Bhed', who are 105 points behind them, to receive the invite to the games. Starr Strength Black contains multiple time CrossFit Games Athlete Alethea Boon as one of their Females on the team.
Team Leaderboard After Day 3
Mayhem Independence
Starr Strength Black
Not Bhed
There have been a few withdrawals too over the last two days worth mentioning including Alec Smith, who injured his back on the beach flags, and Team CrossFit Urban. One of their team members, Katelin Van Zyl injured her ankle coming off the rope on day one. Katelin already has an individual invite to the games qualifying through the open so hopefully she can recover quickly and get back to full fitness as soon as possible.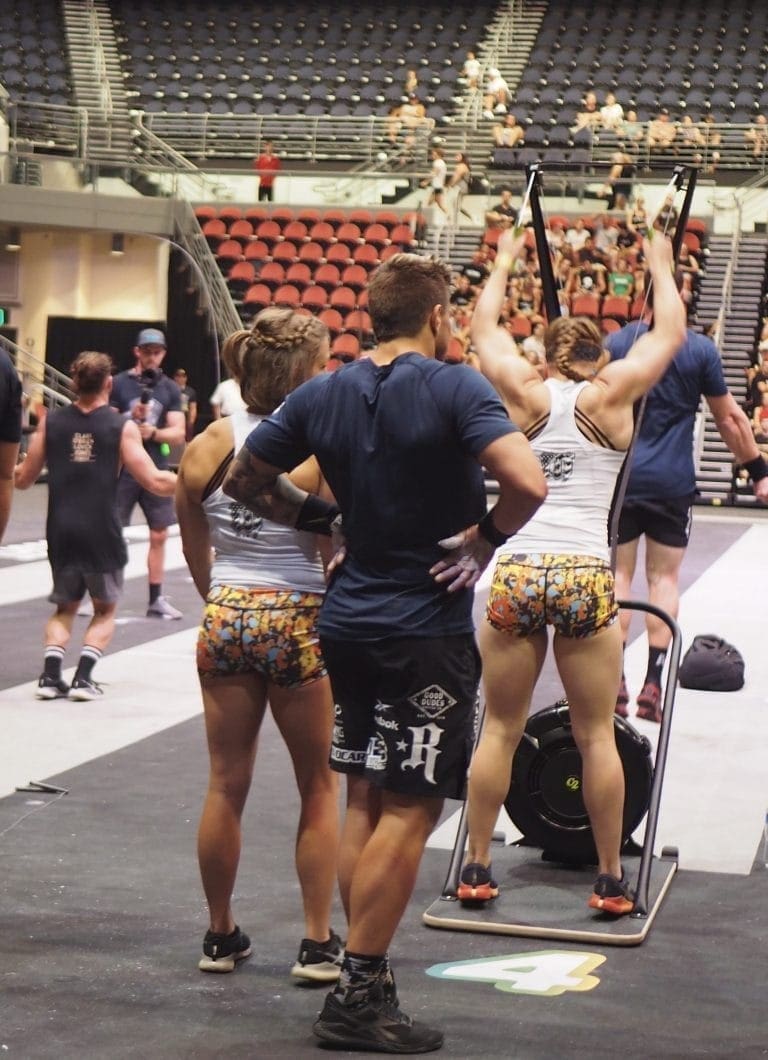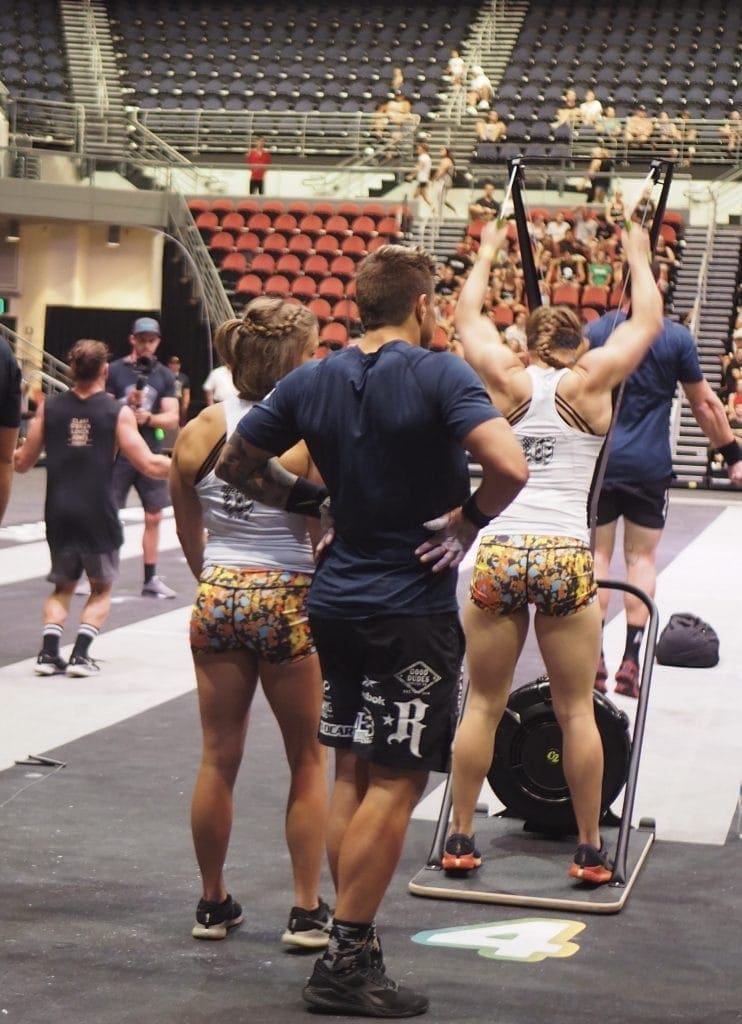 Highlights:
Watching Laura Clifton come into day three in third place overall and ending the day in the same position. She is now only 4 points away from third place and is currently sitting in a CrossFit Games qualifying position. Laura is relatively new to the elite CrossFit scene. Last year she took part in a few sanctionals and has worked hard to dial in her nutrition and lifestyle this year and has focused more on training, and it seems to be paying off.

Watching James Newbury give everything he could in event 8 causing him to trip on the box jump overs and spill onto the floor. Although slightly comical to watch (thankfully James wasn't injured), it demonstrated the effort these top athletes go to to try to win events and how close to the line they push themselves.

Team event 6 to kick start the day was an exceptional workout and a visual spectacle. The rivalry between Mayhem Independence and Starr Strength Black has been great to watch today and they finished within seconds of each other in this event.

Ellie Turner is another sanctionals rookie who has landed herself in the top 5 coming into day three managed to stay in 5th position heading into day four. She also made a statement by taking an event win in Event 8 which was a nasty combination of air bike and burpees box jump overs. Ellie came off the bike first and maintained her lead on Kara Saunders and Laura Clifton despite their best efforts to catch her. When asked about this workout she simply said "I love grunt work". Ellie has only been doing CrossFit for two and a half years and can't believe she is in the top heat competing next to the likes of Kara Saunders.
https://www.instagram.com/p/B9bdpolARp4/
The two men, John Champion and Phil Hesketh went unbroken on all three rounds of the seven heavy 100kg hang squat cleans in Event 9. The crowd loved it and it was impressive to watch. On the ladies side neither Kara Saunders or Mia Hesketh, who were both almost rep for rep in their last round, could hold onto their 70kg bar and make the set unbroken.

"Unknown and Unknowable" was the theme running through this sanctional with regard to the programming, the way information on schedules and events has been released, and also with the leaderboard being withheld until later in the evening. By day three it seems the dust has settled and everybody knows how it rolls. The complaints have stopped and people no longer seem to care that no one knows the scores through the day. This was in part what the organisers wanted to achieve and focus is then on giving everything to every workouts and less on the leaderboard.

Women and men have over the last three days have been treated equally with regard to handling exactly the same weight as the men, jumping on to the same height boxes, and completing the same number of calories on machines. It has been refreshing to see a sanctional event put themselves out there running things a little differently without compromising the integrity or standards of the competition. Alethea Boon, a member of Starr Strength Black said "I loved that the girls have had to lift the same weights as the men. I think it great".
Event Breakdown
Individual event 8: Pedal Prey
40 cal Assault Bike
20 Burpee over Box
30 cal Assault Bike
20 Burpee over Box
20 cal Assault Bike
20 Burpee over Box
13 min time cap
Of all the workouts in the competition to date this one had all the athletes rolling around the floor trying to catch their breath on the finish line. As one would expect the men came out hot on the bike.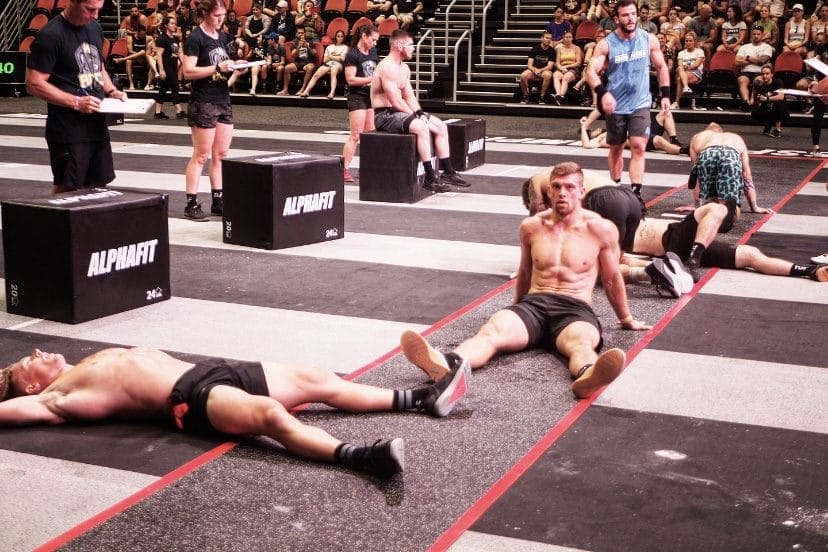 However, as the workout progressed most of the athletes fell victim to the bike, with power output declining and the legs starting to fatigue. In the final round of box jumps there some trips over the box including the competition leader coming into day three James Newbury who took a dramatic fall! Mens times were fast with Bayden Brown coming through the second round on the bike and winning the event in 8.24. James Newbury was second, and Matt Gilpin third. After the event, Baydon Brown was asked if this workout was totally in his wheelhouse after his impressive performance. He replied
"Burpees are not my favourite thing but the bike is so I guess it balanced out".
As mentioned above Ellie Turner led from the start. She moved fast on the bike and never slowed on the burpees despite Kara Saunder's and Laura Clifton's best attempt to catch her. Mia Hesketh placed 4th in this event and commented she said she liked the event but felt she had underdone the bike at the start. It was difficult to make up the deficit in the final round of 20 cals and 20 burpees.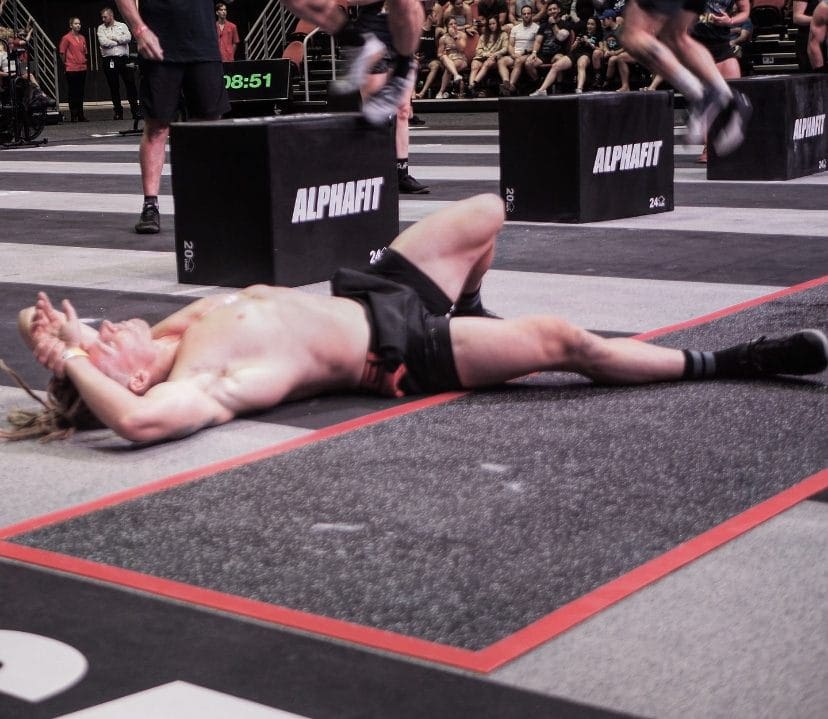 Breakdown of Individual Events
Individual Event 9
3 round for time
7 ring muscle ups
30 wall balls 30/20lb
7 hang squat cleans
weight: 100kg/70kg 13 minute time cap
This perfect mix of something heavy and something gymnastic, combined with 90 heavy wall balls. This was an exciting event for the spectators as the athletes had to fight for the last reps of the heavy hang squat cleans before running over the line.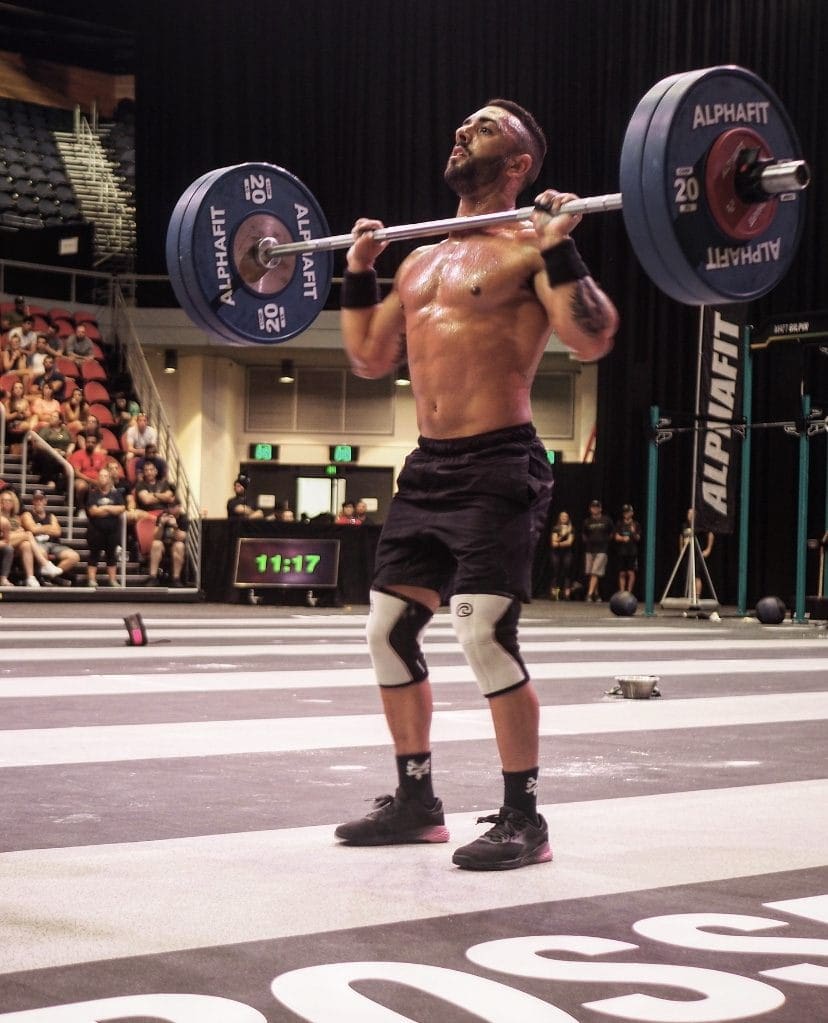 As previously mentioned only two men managed to go unbroken on the 100kg hang squat cleans, whilst the ladies all had to break the last set. The heavy wall balls took their toll on some people, although Kara Saunders did her last 30 unbroken to pull ahead of Mia Hesketh and win the event.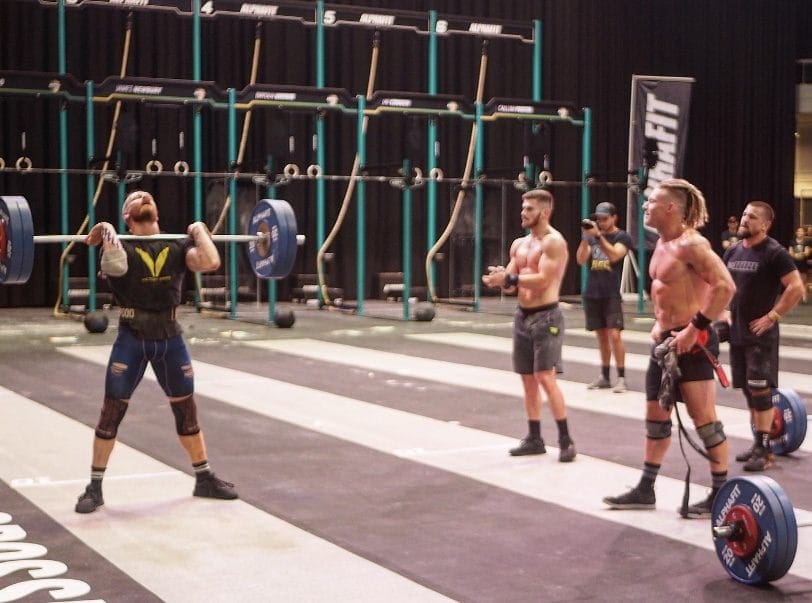 Breakdown of Team Events
Team event 6: Best Mates
2 rounds for time in pairs MM/FF
70 overhead squat 55kg/35kg
50 Chest to bar pull ups
2 rope climbs
100m buddy carry (50 metre each)
10 minute time cap
The first event for teams was exciting for spectators, it was fast, and relied on good team work. In pairs of Males and Females they set out working their way through the 70 OHS, 50 C2B pull ups, 2 rope climbs and a buddy carry. There was no opportunity to pause and any error was costly. In the top heat the battle was on between Mayhem Independance and Starr Strength Black. Mayhem independence sent their men first whilst Starr Strength Black sent their ladies. At the pairs changeover Mayhem Independence were slightly ahead of Starr Strength Black after a very fast partner carry by the Mayhem boys put them ahead. The Mayhem ladies held this lead in the second round coming over the line first. All athletes had big smiles on their faces, as did the spectators watching!
Event 7 Team: Madame Butterfly
M/F/M/F
500m Bike Erg
60 synchro toes to bar
3 laps walking lunge
15 minute time cap
https://www.instagram.com/p/B9bTkEHH10X/
Each member had to complete the bike and pairs of M/F then completed the 60 toes to bar. Moving on to the worm lunges as a team of four it was clear some teams were very familiar with the worm whilst others struggled timing and communication. It was a close race again to the end between Mayhem Independence and Starr Strength Black but a slight error and no rep by Starr Strength Black gave Mayhem a clear win.
Team event 8:
Time cap 13 minutes
500m ski Erg
75 double unders each
50 sandbag cleans (conga line)
13 minutes time cap
All individuals had to work through the ski erg here before competing 75 double unders one at a time, and then performing the sandbag cleans in a line (conga style). Again, it was a close race between Mayhem Independence and Starr Strength Black, with them and being almost rep for rep on the sandbag cleans. However, it was Independence again that gained a small lead and took the win.