Kara Saunders is about to compete in her first CrossFit Sanctional event, the Australian CrossFit Championship, after having her daughter, Scottie, nine months ago.
We were lucky enough to interview Kara and find out how having Scottie has changed her outlook on life and training, how she has managed to juggle being a mum, a business owner and professional athlete, as well as learning what her goals for this season are.
Kara has always been an incredibly inspiring athlete in every way. Her performance has always been dominating, with seven CrossFit Games appearances under her belt and a personal best of 2nd place in 2017.
Now as a mother of nine-month-old Scottie, Kara is leading the way showing new mums that it is possible with hard work to be a great mum, a successful business owner and a professional athlete all at the same time.
"I will try and define a new normal for me, for other athletes, or just hard-working mums out there. My girl is my number one now but I'm still a hard-working woman and I love to succeed as 'Kara', so I want to try and find the balance of the two," she told BOXROX.
The Australian native is loving life as a new mother. She cannot say enough good things about how lucky she is, how incredible Scottie is, and how much of a positive impact being a mother has had on her life and outlook.
"Being a mum is so epic. I love every second of it and my girl is just so damn cool," she highlighted.
https://www.instagram.com/p/B7g3laqpdQG/
TRAINING WITH A TODDLER – HOW HAVE THINGS CHANGED?
Kara competed in the CrossFit Games Open in October 2019, only five months after giving birth to Scottie. She placed an astounding 12th and, much to her surprise, secured herself an spot at the 2020 CrossFit Games.
Kara is now about to start her season of CrossFit Sanctional events, kicking off with the Australian CrossFit Championships on March 5.
Kara trained right up to the birth of Scottie, had a few weeks off after, and then started slowly building back up again. Her volume is now back up to where it used to be pre-baby and she is back to training five days per week.
Most of these days are made up of a morning (1.5 – 3 hours) and an afternoon session (1 hour). Morning sessions are often strength, accessories and CrossFit-style workouts, and the afternoon ones more of a longer aerobic piece.
"It's not always easy juggling a baby and a full training schedule," Kara said. "I try to make it work however I can, and not miss out on anything too important. Instructions from my coach are that family always comes first now, so don't ever feel bad about needing to do that sometimes."
Scottie often hangs out with Kara at the gym and it's not unusual for her to have to stop what she's doing mid-workout and tend to her.
"I do whatever I can as best I can and if I have to stop and relocate her or give her a snack, then I usually hustle more when I get back to work anyway so it doesn't bother me in the slightest".
https://www.instagram.com/p/B84cYLQJxQV/
RECOVERING AND COMING BACK TO TRAINING FROM PREGNANCY
Pregnancy takes its toll physically on a mother's body. The abdominal muscles get stretched, the core muscles are often weak, and there is usually some laxity around the ligaments in the pelvis and other joints thanks to relaxin, a hormone which is released as part of pregnancy to assist with childbirth.
Also, a mother's body will always prioritise feeding the baby above everything else, so in those early months it can be frustrating for athletes wishing to dive back into a sport such as CrossFit.
Patience over many months is required to build back strength and skills, and let the body heal and find its normal balance again.
When asked how Kara's body was feeling nine months postpartum, she commented:
"It's a long road and I don't know how long it actually is or if I will be as strong. I'm just taking it as it comes and trying to do all of the right things to have the best possible chance.
"I'm not too far off where I used to be but I find that my body still prioritises feeding Scotti, so some things are a little different. Strength has been really hard to get back and is still taking time. The skills and aerobic capacity came back pretty well."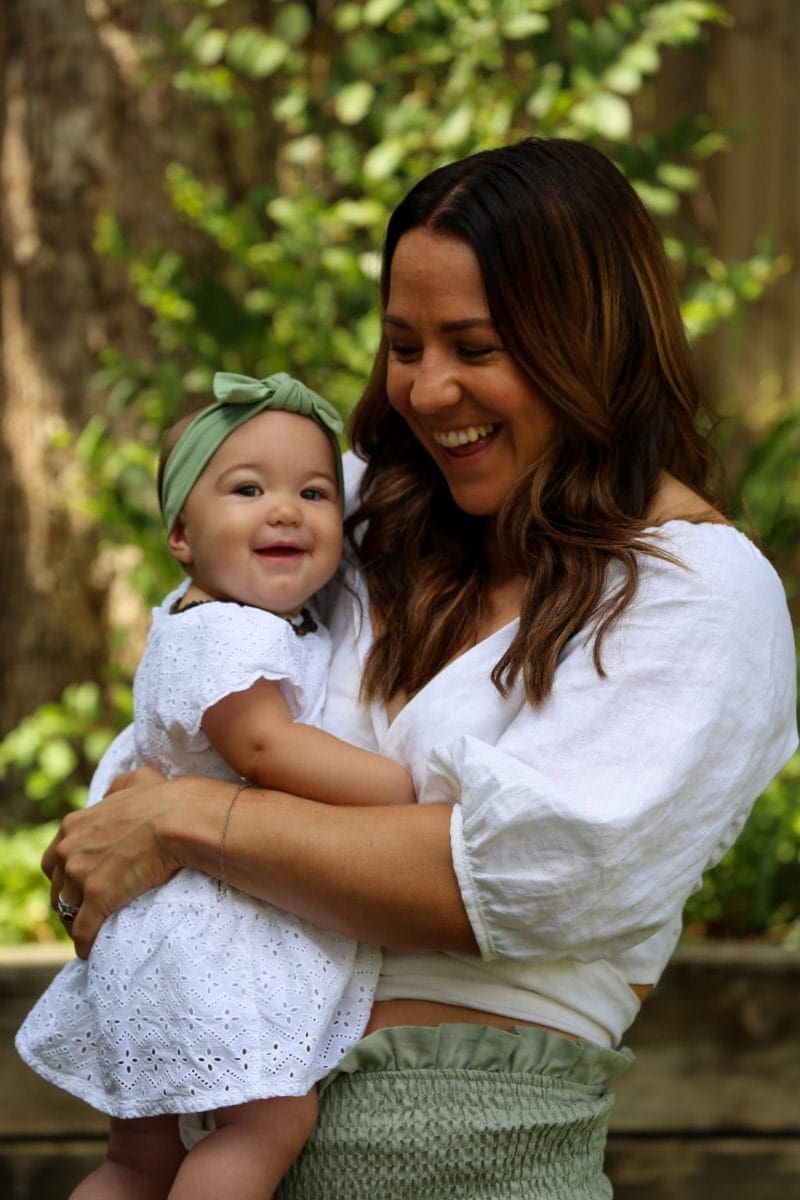 HOW HAS KARA'S OUTLOOK ON LIFE AND TRAINING CHANGED SINCE BECOMING A MUM?
When Kara was asked what was the biggest thing that has changed since Scottie came along, and how her outlook on life and training had changed, Kara replied:
"I never really had a why before and I just did what I did because I was good at it and I liked how it makes me feel.
"Now, every single move I make every single day is for the sole purpose of giving Scottie the best opportunity to have an amazing life. Obviously I want to pay the bills, but it's more about being her greatest example and showing her what I want her to know as normal.
"I want her normal to be about health, fitness, hard work, and having a blast in life and not working a job or doing anything because everyone else says you should. I'm a lot more relaxed about my own pride and ego around competing and have much more drive towards my influence on her."
Kara also remarked that she is not willing to make training her number one priority anymore… Scottie now comes first.
HOW DOES KARA MANAGE TO FIT IT ALL IN?
Any new mother can appreciate and sympathise with the challenges that are brought with raising a little human being. Sleep deprivation, things not going to plan, and being time-poor often makes life a struggle.
It is impressive that Kara is successfully juggling being a mum, business owner and professional athlete, and is still smiling and full of nothing but positive praise for her new life. When asked how she does it all, Kara replied:
"I say to Matty regularly that one day I'll look back and wonder how on earth I did them all!
"It sounds corny but I'm so lucky I have a husband that doesn't work a 9-5 office job and can be home with us so much and co-parent totally 50/50 with me.
https://www.instagram.com/p/B66dHY1g1dM/
"In both of my businesses I have such amazing supportive and understanding business partners that just have my back and cut me some slack when I'm a bit hopeless or hold Scotti so I can finish a workout. It truly takes a team and I happen to have an epic one."
Kara also admitted like any other new mum: "I also max myself out a little too much sometimes and have bi-weekly breakdowns and then come good again!"
SETTING UP KARA'S NEW BUSINESS
Alongside bringing up Scottie over the last nine months, Kara is part-owner in CrossFit Kova and has also been working hard to get her new brand of Sunglasses, Activ Performance Eye Wear, off the ground.
This business is developing great-looking sunglasses that can be worn when being active or working out. The idea came from one of Kara's previous business partners and it fitted with Kara's philosophy for living a fit and healthy lifestyle and it totally aligned with the kind of lifestyle she lives and breathes.
The business is at the stage of having stock and is getting ready for its exclusive launch. People can register their interest on their website and Kara stated: "They'll be the first ones to know when we're live and the first ones to be able to purchase them."
She also added: "We have huge plans for this business. I'm so excited and it's so hard keeping the details a secret!"
https://www.instagram.com/p/B8FAGRDp6iX/
PLANS AND GOALS FOR THE REST OF THE SEASON
Kara is competing at the Australian CrossFit Championships (ACC) as her first Sanctional event on the 5th of March 2020. She is also planning to compete at the Rogue invitational but warned: "I'll be flying solo with Scotti to the US in May for Rogue, so if I fall asleep on the comp floor you know why ;-)"
With regard to who would be looking after Scottie on the side-lines, Kara has help from all corners of the globe lined up, including Sam Brigg's mum!
"Hubby is on dad duty for ACC with the exception of the early morning event on the Thursday, as he's coming off night shift.
"My mum will sleep over and keep her alive while I do that early event and then dad should arrive after her morning nap.
"For Rogue I've got a little bit of a crew. Briggsy's mum is going to help out and I've got a good team of sponsor families that I can hand her over to while I do an event. She will be with me between every event so I can feed her and just be her mum."
https://www.instagram.com/p/B8pBH_Tp1gv/
With regard to her goals for this season, Kara added: "My dream is to just turn up and go out on the comp floor and have a blast with the girls throwing down and come straight back to my little one for some playtime and debriefs.
"I don't have any pressure to achieve a certain number just yet, but I love to give 100% and I won't accept anything less than that from myself. My 100% is just a little different now."
We think everyone around the world will agree with us in wishing Kara all the best for this season. What she has achieved in the last nine months is both incredible and inspiring.
Keep leading the way for mums all around the world who are also ambitious, hard working, and who want to be a great mum at the same time as succeeding in other areas of life. Thank you for letting us share a part of your story.