The latest in the iconic series, it's time to challenge expectations with the Reebok CrossFit Nano 8 Flexweave.
WHY THIS IS THE BEST NANO YET!
The designers at Reebok have added a new heel bootie construction that helps to creates ultimate performance comfort with the addition of a CMEVA moulded midsole and sockliner. This really helped to hold my foot in place when lifting, yet I didn't loose any responsiveness. This works well when combined with the forefoot flex grooves to enhance this flexibility and improve my ability to balance. The high abrasion rubber grips the floor well and you notice this most during lifts and quick explosive movements such as bar facing burpees.
The "Toe tection" is a nice touch that adds durability in key areas for the kinds of damage to your shoes that is inevitable when it comes to CrossFit training. From Brent Fikowski and Katrin Davidsottir, to Rich Froning and Tia-Clair Toomey, the Nano 8 has been created with input and feedback from some of the best athletes in the Sport of Fitness.
This shoe is also the first version to include Reebok's new innovative Flexweave technology.
WHAT IS FLEXWEAVE?
Flexweave is the latest landmark technology from Reebok. The material enables a revolutionary upper boasting a coveted balance of lightness, durability, fit and stability.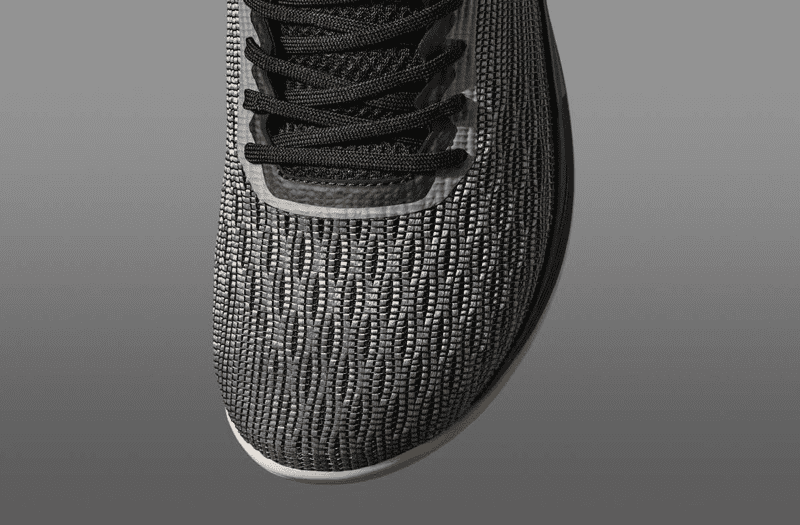 Reebok Flexweave interlocks strands of fibers into its open figure-8 construction in order to create a single unified surface. This means that the material can be altered to provide areas of the shoe that are more flexible and others that are more rigid. These specially tailored zones provide an improved fit and performance when and where you need it most.
DURABLE COMFORT
Another advantage of the Flexweave upper is the way that it hugs your foot and offers great comfort for workouts. The shoe also feels light, allowing you to move quickly and confidently during WODs, runs and lifts.
Check out what one of our Account Managers at BOXROX had to say after testing the shoe:
"I have worn the Reebok Nano Series since the beginning. They are a good fit for me because I have splayed and flat feet and I still wear the 2 as it has been the most comfortable shoe for me so far. After testing the new Nano 8 however, I can say that this shoe is outstanding. It's a really snug feeling to slip into the shoes as they feel like they hug your foot from all sides. Tight but without being too narrow. The front and mid sole are super flexible, even more so than the 2. This is A good sign as the Nano 7 was, in comparison to these, really stiff. So far I tested them for running, lifting and regular WODs and I felt comfy at all times. Thumbs up Reebok!"
DISTINCTIVE STYLE
The Reebok CrossFit Nano 8 Flexweave has a striking silhouette and a clear and simplified design. There are no unnecessary elements and the form and style of the shoe is a reflection of its functional attributes.
STRONG FOUNDATION
The wide toe box creates a comfortable fit for powerful movements. This allows you to splay your toes during exercises such as deadlifts or Olympic lifts and helps to generate more explosive power as you drive force downwards and propel the bar upwards.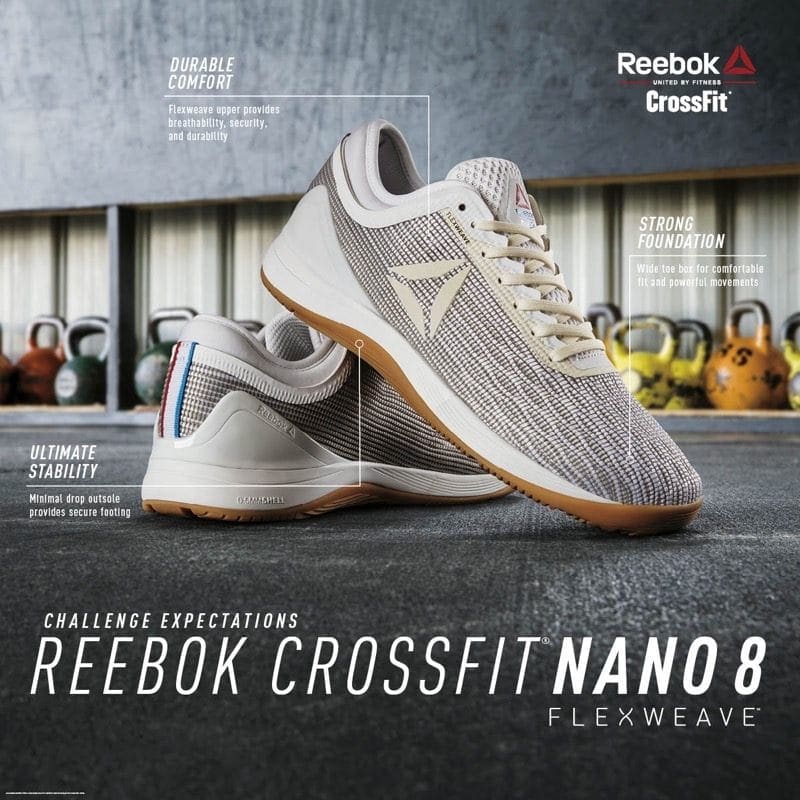 ULTIMATE STABILITY
The Minimal drop outsole provides secure footing. The Crystallised rubber outsole flexes naturally for balance and strong support. The shoe grips well, feels stable and is also highly responsive to sharp turns and quick explosive movements. Testing the shoe across many different exercises, from box jumps to burpees, the Reebok CrossFit Nano 8 Flexweave felt secure, light and stable.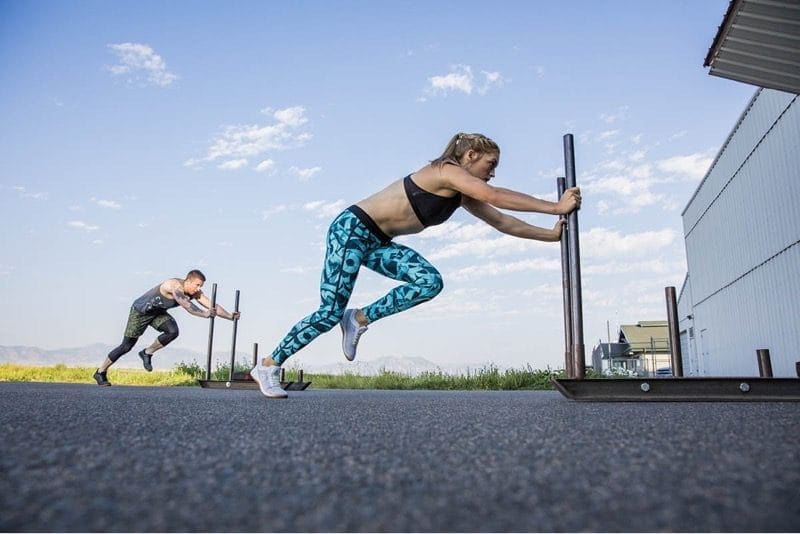 ENGINEERED PERFORMANCE
Evolved woven technology provides a comfortable and secure fit.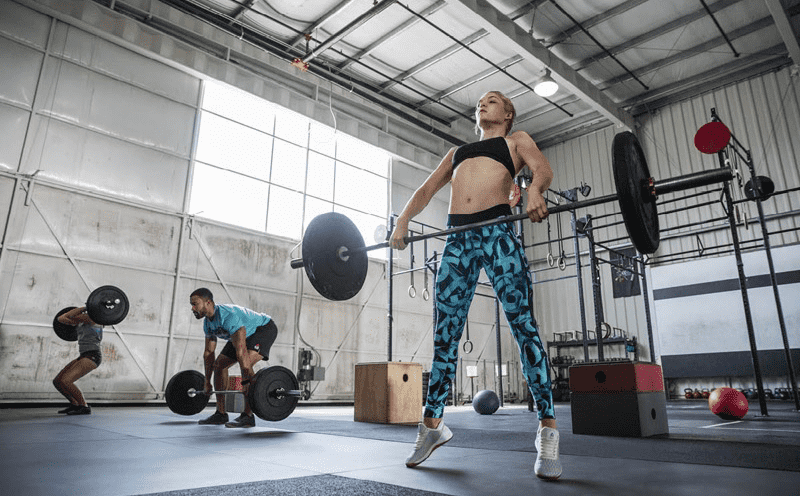 ENHANCED BREATHABILITY
The seamless upper construction provides durable ventilation. This is especially useful for keeping your feet cool during longer workouts and runs.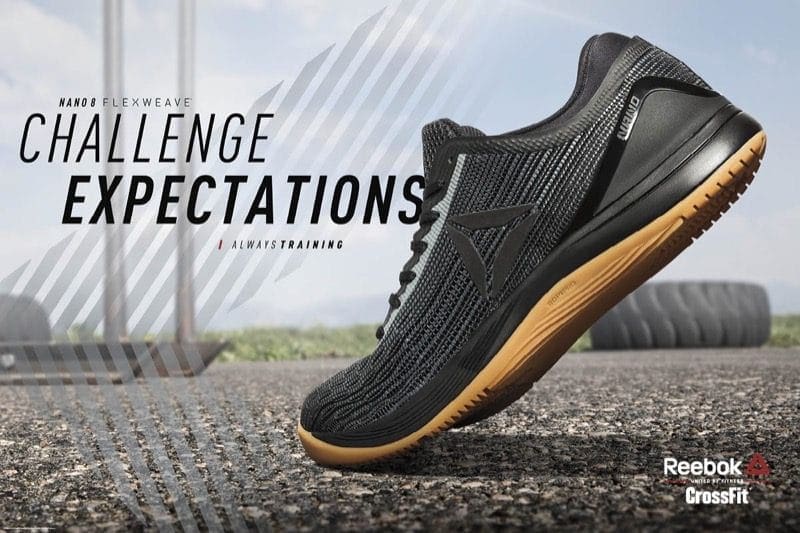 CHECK OUT DAVE CASTRO'S DESIGN
Director of The CrossFit Games Dave Castro was asked to design his own version of the Reebok CrossFit Nano 8 Flexweave.
"I generally like shoes that are black or in darker colors," says Castro when asked what inspired his colour choices.
"But with how my role has now evolved in CrossFit, there's some fun in being flashy and making a statement," he continues. "That's why I threw in the silver heel cap."
As for the portions of the shoe that are blue, those are a reference to Castro's time in the U.S. Navy.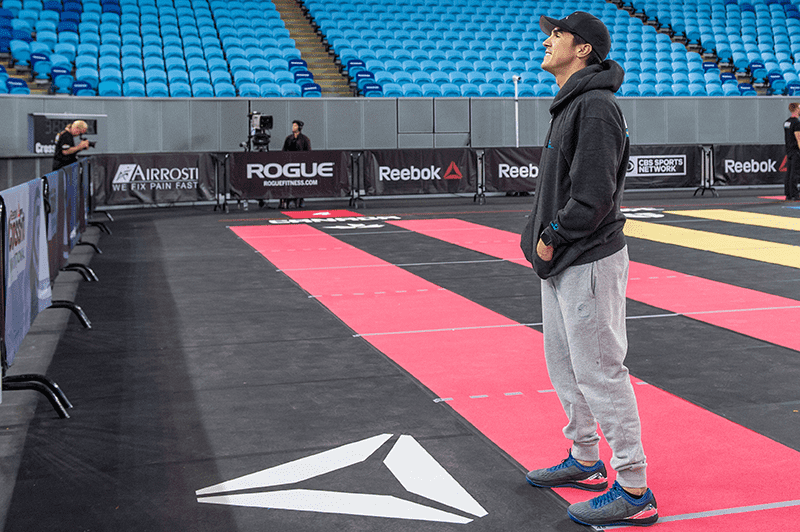 Get your new Nanos now!