Saturday 23rd September, 6 am, Maidstone
It's 6am on a breezy Saturday morning in September, and I have HUGE butterflies in my stomach. They don't stop me devouring two enormous bagels smothered in peanut butter and a gigantic coffee, but they have made me stop and think: 'WTF am I doing?!?!'
This is the title of my Spotify playlist for this weekend, and when you hear the premise of what lies ahead for me and 9 equally crazy teammates, you'll see why it's so apt.
We are mere hours away from crossing the start line of the first EVER UK Ragnar Relay.
It consists of:
10 people/nutters split into two vans
176.1 miles, which you run in a relay-style
A not insignificant course elevation
36+ hours of driving, running, not sleeping and living in an increasingly fragrant van
10 pairs of exceptionally comfortable running shoes called Floatrides, kindly gifted to us by Reebok and which our feet are very grateful to have.
Before we get going, though, we have the important task of decorating our vans. This is one of the core traditions of Ragnar Relay, which started in 2003 in Utah and has grown from a single race with 200-odd participants, to 19 annual relays across North America. Ragnar White Cliffs will bring the total up to 20 and is the first outside the US – so we and 99 other teams are raring to get started!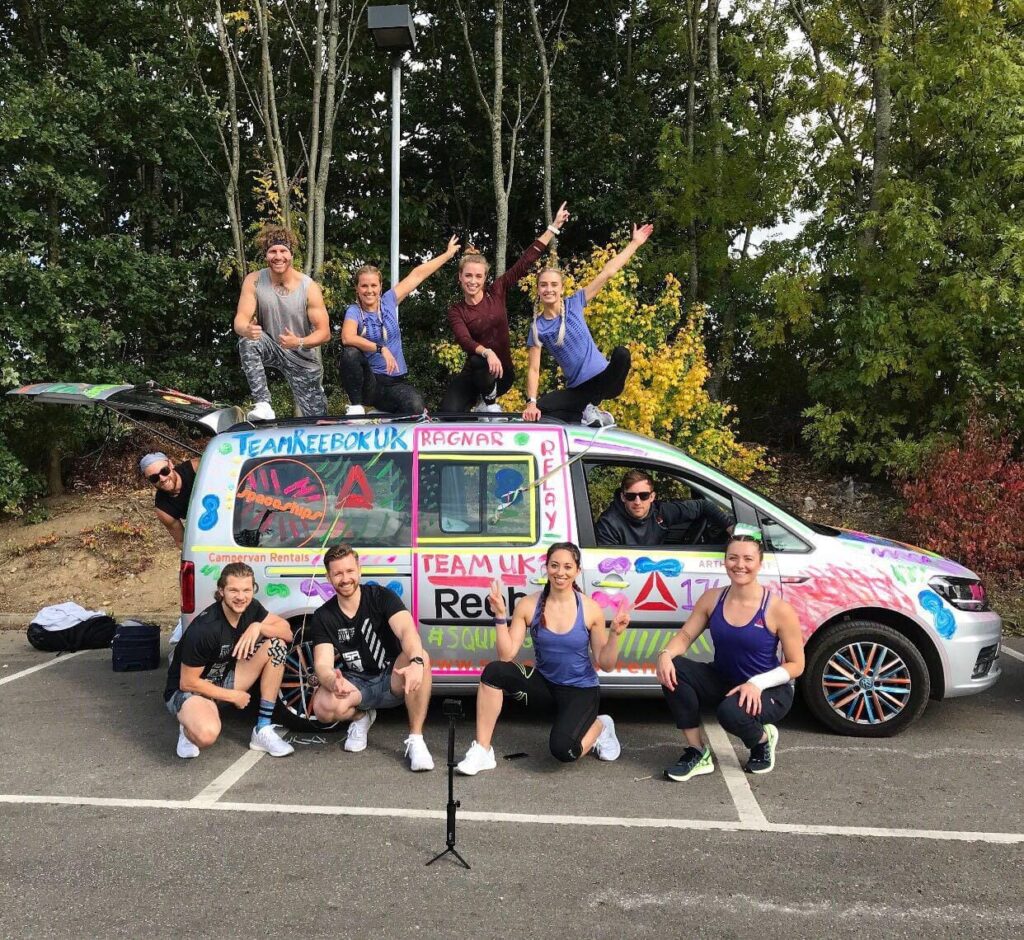 In Van 1 we have Runners 1-5:
@theleanmachinesofficial (John)
@theleanmachinesofficial (Leon)
In Van 2 we have Runners 6-10:
@tomrowleyhfm
Saturday 23rd September, 12:30 pm, Reebok Ragnar Start Line
At this point we are 10 people filled with nervous energy, keen to get running. We are well-organised in our vans with the first 5 runners in Van 1, and runners 6-10 in Van 2. Sophie who is first to go wears a bright orange slapband (hello, 1991!) and this acts as the baton for our team – you tag in the next runner by slapping the wristband and waving them off into the sunset/darkness/sunrise.
In Van 2 we have a few hours before the first 5 runners have completed their first leg, so we embark on the strangest supermarket shop I've ever done.
When you have 20-odd miles to run over 27 hours with NO sleep and a lot of driving, you need to fuel yourself totally differently to a 10k, marathon or any other challenge.
Our best food decisions:
Pre-cut fruit
Tortilla wraps and Nutella (which caused me great delight throughout the weekend)
Cooked chicken strips (for easily digestible protein)
Pip & Nut squeeze packs of almond butter (absolutely brilliant snacks)
Bottles of Fit Water to replenish lost electrolytes
Worst decisions:
Chicken korma (still don't know why you chose that one, Tom!)
Sushi (raw fish in a hot van = nope)
Pancakes (seemed like a great idea until they got lost in the van, only to turn up crushed into the floor 17 hours in…sorry to whoever had to clean that up!)
Saturday 23rd September, 9 pm, Exchange Point 10 near Sandwich (mmm, sandwiches)
By the end of Leg 10 we are 4 minutes ahead of our planned pace and all running well. There are definitely a few sore muscles after some strenuous first legs, and John's Compex muscle stimulator gets put to good use sorting his knees out ready for his second run.
The witching hours are when everyone's energy started to change. We are no longer nervous – we know exactly what's ahead of us and that running at 3 am is unlikely to be easier than running at 6pm. After you've run you get a huge rush of endorphins and feel invincible for a good 30 minutes but when that fades you're in danger of crashing out and feeling really tired, especially when you remember how many miles and hours you have left before you reach the finish line.
https://www.instagram.com/p/BZqxdu_H8jR/?taken-by=denvertronix
Sunday 24th September, 2 am, Exchange Point 15 near Folkestone
We did what any (vaguely) sane human would do in this situation: we put on fresh running threads, bust out the food, put on some big tunes (Fleetwood Mac, MJ and a little Black Eyed Peas 'Pump It') and danced ourselves awake. In a car park near Folkestone. With glow sticks. Yep, Ragnar really does make you do strange things…
…like running on your own, on an unknown route, in the absolute dead of night.
What advice would I give a Ragnar first-timer?
To begin with, these things are better policed than they let on. I saw a physical police presence on my middle-of-the-night leg which I'm sure was no coincidence; so did the runner before me. There are marshals radioing you in to each exchange point and the safety rules are strict: you have to watch a safety briefing before your team sets off on its first leg and the rule is that during hours of dull light (5.30 pm – 7.15 am) you all have to wear reflective vests with head torches and tail lights for the runners.
You can even double up on a leg to avoid running solo, with the option of skipping the other runner's leg entirely. We felt safe the whole time we were running, resting up in our vans or admiring the starry night sky.
Our team went for it and ran solo. I have never run in the dark before and would in all honesty normally be a bit afraid to do so, but something as physically and mentally challenging as Ragnar alters your opinion of what's achievable. And that's the most important thing about your night leg: knowing that you can do it, and not being afraid.
Top tip: keep your phone on you with your leg downloaded so you can check where you are, and you can call Race Command or a teammate if you get lost or stuck somewhere.
Sunday 24th September, 8 am, Exchange Point 25 near Camber Sands
If you ever want to find absolutely everything funny, have ridiculous conversations, and slur your words without having a drop of alcohol, this is the time in Ragnar you will reach that state. There are few chances to sleep and although a couple of people in our van managed to get an hour or so, if you're like me (Type A female, determined to stay organised and on top of the situation) you're unlikely to wind down enough to sleep at all.
When I rocked in from my 7 mile night leg to hand over to Leon, the sun was just about to show its face and I could not string a sentence together for love nor money. It's important to have a good sense of humour for Ragnar – so I laughed at myself, then ate a chocolate orange flapjack. Happy days.
https://www.instagram.com/p/BZecOlBHlkh/?taken-by=denvertronix
By 8am we'd had our first false start (turning up at the wrong exchange point – that's what happens when a tired runner tries to navigate) and found our mecca of a drive-thru Starbucks where we had our first coffee in over 24 hours. With just one run left for each of us the finish line was in sight – but there was no doubt it was going to be a tough few hours.
Which bring me to the best advice I can give to anyone contemplating a Reebok Ragnar Relay: choose your teammates wisely.
Our two vans – which made up Team Reebok UK – contained ten of the happiest, most self-motivated and down-to-earth people I've had the pleasure of meeting.
You are literally going to be living with these people in very close quarters for the whole weekend, so if you're considering bringing someone on board who's known to whinge, or is disorganized and prone to get angry, discount them from the start. You want upbeat, organised types who are amenable and don't mind sitting next to you when you're 21 hours in and haven't had a shower. If they'll share their snacks with you too, you're onto a real winner.
Sunday 24th September, 4:15 pm, Exchange Point 29 near Peacehaven (5.1 miles from the finish line)
As Runner 10, I have the privilege of running 5.1 miles along the seafront to Brighton, meeting my waiting teammates in time to cross the finish line together. As I set off I've been awake for 32 hours but I don't feel tired at all – the adrenaline is coursing through my body, and my Floatrides keep my feet cruising along over the rutted clifftops and unforgiving concrete promenade that makes up the final 4 miles to Brighton Marina.
I'm able to keep my pace to 7:55 minute miles which is better than I'd hoped for, particularly given I've already run 15 miles. I'm so happy to be running that I get carried away filming a video for my Instagram and miss a turning – in a way, despite how difficult it should be to run under these conditions my legs feel fresh and I don't want it to be over.
The feeling of elation turning the corner and seeing my 9 crazy teammates waiting for the final 100 meter dash is something else, and I want to do it all over again. Maybe after some sleep, and a shower. But I definitely, definitely want to do it again.
https://www.instagram.com/p/BYWVws1nCu7/?taken-by=denvertronix
Top Packing Tips for the Reebok Ragnar Relay:
Pack like you have OCD – packing your running clothes in order of when you'll be wearing them will save you a lot of hassle when you're tired and the van is dark.
Pack a spare waterproof bag for used clothes – so they don't stink out everything else.
Pack snacks and water, and ban garlic and curry (so you don't stink out everyone else).
In-car charging cables, power packs and headphones – and an in-car WiFi box if you can get hold of one (saves you using your entire month's data in 2 days)
Coconut oil – sorts out chafing, post-run hair, takes off makeup and can be used as a moisturizer, conditioner and lip balm. And – if you get really stuck – you can eat it
Baby wipes – because showers don't really exist on the course…
The Ragnar app – you can download your legs so they're accessible even in a signal blackspot – very useful for checking you're running the right way
Printed course map with directions to each exchange point – absolutely essential for when you're navigating to the next drop-off at 4 am.
We also set up a WhatsApp group so we could stay in touch across both vans – communication is everything!
One more thing to remember…
Ragnar is about so much more than just running. If you have a reasonable base level of fitness, are careful with your diet and wear a pair of Floatrides (they are honestly so comfortable) you will be fine with the physical aspect of Ragnar. The difficult part is all in your mind: running solo in the dead of night; being awake for what seems like forever; keeping everyone motivated even when you're really tired and aching.
Most things seem impossible before you set your mind to them, but mindset is what makes the difference when you're facing a difficult task.
With Ragnar, remember to:
SET your goal
PREPARE as best you can
FOCUS the mind
KEEP GOING until you reach your goal.
The finish line arrives all too soon – and you'll be counting the days till you can race again.
How I Used Crossfit to Train for The 26.2 Mile Marine Corps Marathon