Meet Steph Dekker, this year 17th placed athlete from the European Regionals, who was also one of the few Europeans who tried out for the GRID league.
This 25 year-old athlete from Scotland gave us some really fun answers on questions about training, nutrition and more. Read more below.
Name: Steph Dekker
Country: Scotland
Box: CrossFit Glasgow
Age: 25
Best results: 16th and 17th place finish at Regionals 13/14 respectively. 15th BOL 13.
Coach: no coach.
Favourite quote: Only he who can see the invisible can do the impossible – Frank Gaines.
1. Steph you recently placed 14th overall at the Athlete Games online qualifications. What was your strategy?
My strategy was to treat the qualifying WODs the same way I treat all my training. I tend not to "try" harder on some WODS than others. I just figure out what should be possible and what I think I'm capable of, how best to do it (where I should push, where I should relax) and just keep focussed on that.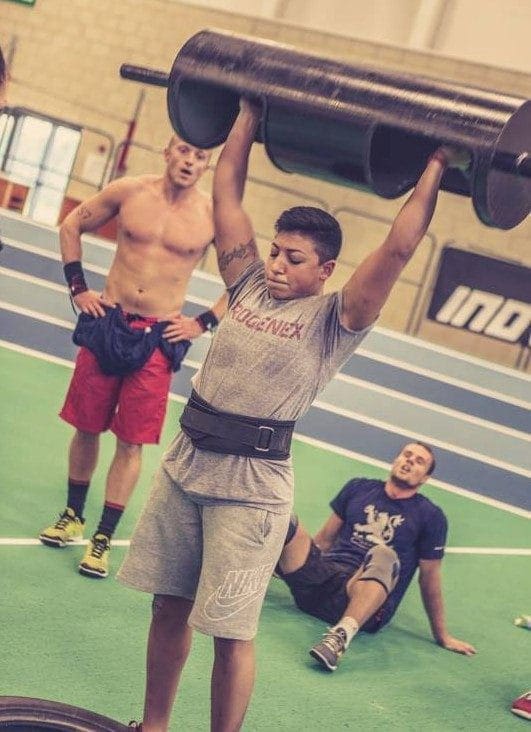 Sometimes you feel like you nail your tactics and other days you're like "what was I thinking!" Sometimes you even need to re-asses during the workout; it's all about paying attention and learning all the time. I think it's really important to be learning something every day. It might mean realising something new or changing your mind on something old, anything. You have to keep searching for ways to be better.
2. First workout with burpees and rowing was pretty challenging, but you finished strong (3rd place overall). What's the most brutal MetCon you've done so far? Can you write it down for our audience?
I was relatively happy with my finish on that workout. I'd go back and fix a couple of mistakes if I could, but I've learned for next time.
This is such a boring answer but it's the truth; the worst thing I've ever done was a max effort 1000 meter row. It was one of the stations at the Grid League try outs. I wasn't even going to do the row (you could pick the stations you wanted to try) but I saw a girl ahead of me go and row a 3:45 and I thought "here I could row a bit faster than that" so I sat down literally, did like five pulls on the rower to "warm up" and then just told the judge I was ready to go for it.
I started off and immediately burst into a ridiculous pace. I was holding around a 1:39/500m for the majority of it and started to attract a crowd. I just remember thinking "aahh this is a mistake." By the last 200 meters my world was closing in and my pace was dropping right off. I so very nearly passed out!
I finished with a 3:26 – joint 1st across all the combines! I was pretty proud of that, but have never rowed a max 1K since!
But if you just want a really sad workout, I once did this:
6 rounds for time of:
400m run
15 thrusters 35kg
15 ghd sit ups
400m run.
It was really bad.
3. Strict muscle-up with 10 kilos? You're really strong at gymnastics. What's your training background?
I honestly wouldn't say I'm strong at gymnastics. My movement isn't great, but I'm always working on it. I've done a strict muscle up with 15kilos in fact. I put this down to having the tiniest quads on earth. I have zero mass on my legs!
I don't have much of a sporting or training background at all really. Before starting doing Crossfit three years ago, I did Muay Thai for 2 years and did extra strength stuff in the way of whatever workouts I liked out of Muscle and Fitness magazine, that's really about it. Apart from that I did a lot of push-ups as a kid, maybe that helped.
4. This year you competed at the Regionals and placed 17th overall. And you also tried out for the GRID league? How was the experience like? Will you try again next year?
I was happy with my 17th place finish even though it was one place lower than the year before. I felt the standard of competition was much higher in 2014 compared to the previous year and I personally showed up as a much more well rounded and experienced athlete.
The Grid league was so cool, it was one of the best things I've ever done. The athletes that were there were absolutely incredible. I felt proud to be considered good enough to be in amongst them. What transpired was that I was too much of a CrossFitter for Grid league, meaning that I was too much of an all-rounder but didn't really have a "speciality" which a lot of the other athletes there did.
They were a very impressive bunch that all eventually made it on to teams. I won't try out again this year because I've spent my training from last year yet again focussed on all-round improvement and not having a speciality – and therefore no massive weaknesses either. Hopefully!
 5. How does your weekly training schedule look like? Can you give us a little insight into it?
I train 5-6 days a week. I split my sessions into AM and PM sessions. AM is usually MetCon of some sort- rowing intervals, AMRAPs or RFT of non complex movements so as to keep the intensity there (it's hard to do that if the movements aren't simple).
Then PM will be strength and skills work. I follow the conjugate method for my strength work and Sean Lind (gymnastics based around conjugate method). On top of this I add in some other things specific to me that I need to practice – barbell cycling for the Oly lifts, mobility work or other empty bar work or light movement work. Just trying to figure things out that need work.
6. What about nutrition? Do you stick to any particular style/diet?
I feel really bad about how I'm going to answer this question, because I don't set a good example here. I eat mostly the same kind of things every day. I done eat breakfast, I just have back coffee. My first "food" of the day will be after my AM training session and consists of whey protein isolate and half a banana and some honey. Later in the morning I'll have bacon and eggs. Then I tend to not really eat throughout the day because I'm quite busy coaching. If I do eat again it'll be a salad with some meat or another protein shake.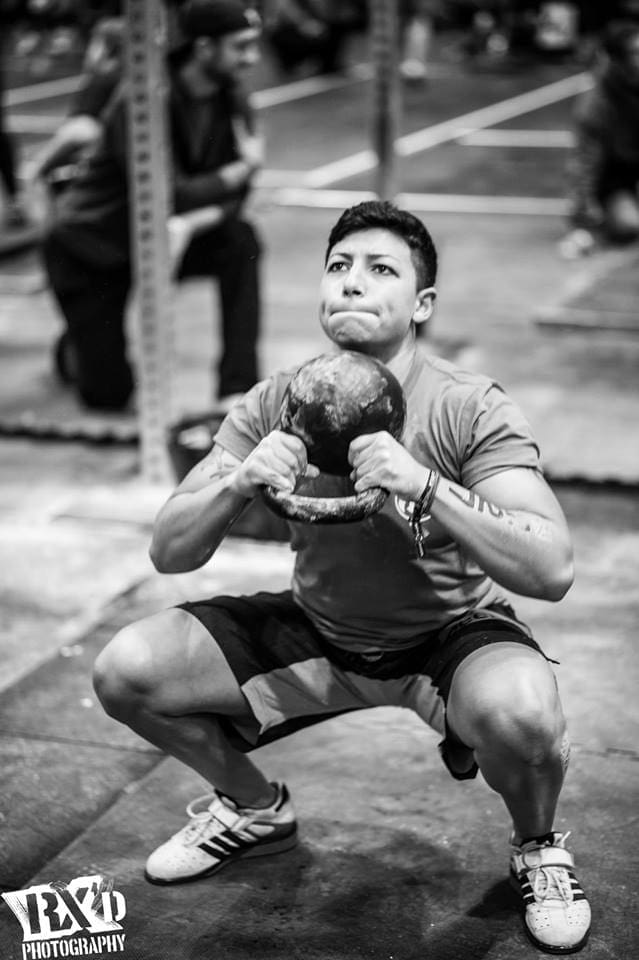 Then I have my PM training session. After that I basically just carb load, straight after I'm finished. I usually eat upwards of 3 doughnuts, some chocolate maybe like a snickers or something, and then loads of chilli or enchiladas or curry with a lot of rice. And if I make it myself I'll always make the effort to add as much veggies as possible – peppers, courgettes, spinach, broccoli, all that good stuff.
Sometimes I just have a McDonalds. I try to get in around 3,300 kcal a day. This way of eating works for me right now. I definitely wouldn't suggest it's for everyone.
7. What's your recovery strategy? What everything you pay attention to?
I just try to listen to what body is telling me, which really isn't easy at all. I find I've gotten better at this as I've matured as an athlete; you get to know yourself and your body. I mobilise and stretch where I feel I need it all the time. I like active recovery – just pick a movement that needs a bit of work and combine it with something that's going to keep your heart rate slightly raised like to rower and ski erg and just move for like 25-45 minutes.
8. Plans for 2015?
The Athlete Games, hopefully Regionals again and maybe some local power lifting or strongwoman stuff. I don't plan too far ahead on this stuff. I'm hoping this will be a good year for me though, I've worked really hard.
A big goal of mine is also to make Crossfit bigger in Scotland and inspire other athletes there to push for big goals! It's obviously not a training goal, but that means a lot to me.
9. And what about the dream goal for the future? Games?
Obviously yeah I'd love to make it to the Games one day. That really is the main goal. Like I say I don't like to get too far ahead of myself. I've a long way to go, to be at the Games.
Thank you Steph. BOXROX team wishes you all the best with the future.