The second week of the CrossFit Open is officially on. And it looks like a nasty one, so you would want to think before giving it a try and that is why we bring you some strategy and tips for CrossFit Open workout 23.2.
WHAT IS CROSSFIT OPEN WORKOUT 23.2? FULL DETAILS REVEALED, EVERYTHING YOU NEED TO KNOW
MOVEMENT STANDARDS FOR CROSSFIT OPEN WORKOUT 23.2
How to Scale CrossFit Open Workout 23.2
Strategy and Tips for CrossFit Open Workout 23.2
Remember, the original CrossFit Open workout 23.2 is:
23.2 A
15 min AMRAP
5 Burpee Pull Ups
10 Shuttle Runs
add 5 Burpee Pull-Ups after each Round
23.2 B
5 Minutes to establish a 1 rep max thruster
Here are some strategy and tips for CrossFit Open workout 23.2 from some of the best in the Sport.
Rich Froning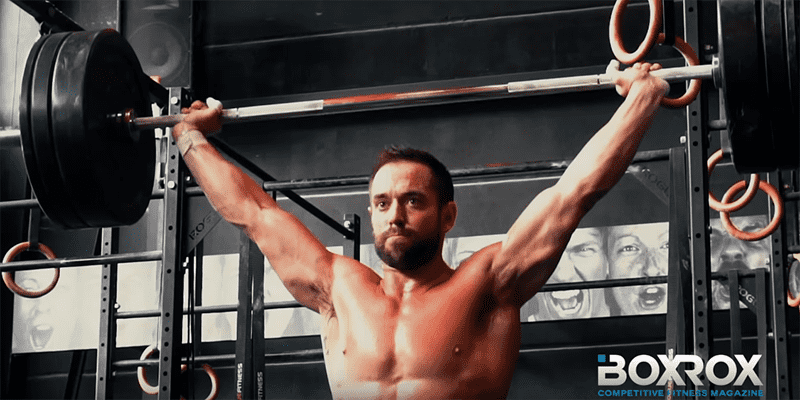 Rich Froning, the most successful CrossFit athlete of all time, was the one who ripped out the envelope and announced what CrossFit open workout 23.2 was. He was there to help and cheer on Roman Khrennikov, one of the newest Mayhem athlete.
In his words, although cliché and strategy tips for CrossFit Open workout 23.2 was:
Smooth is fast – gets those hips flipped on the shuttle runs
Find a pace that you can stick with
Rhythm on the burpees
Explode on the bottom on the 1-rep-max thruster with whatever you have left in those quads
From CrossFit HQ
The first ones to release strategy and tips for CrossFit Open workout 23.2 was, of course, CrossFit HQ themselves.
James Hobart, CrossFit seminar flowmaster and CF-L4, said that most athletes should be pushing to the 3rd round, in which you do 15 burpee pull-ups. For more advanced athletes, it could be easy to get to the following round of 20 burpees pull-ups and 10 shuttle runs.
Although you will only do thrusters in the last 5 minutes of the workout, Hobart explains that it is imperative to warm up for that heavy lift.
A good idea is also to establish beforehand what lifts you will try to attempt and leave the area clean of other weight plates you might not need it.
You can jump for the pull-up part of the movement, which is faster and easier when performing the exercise, but if your legs are very sore, you can opt to begin the pull-up from a dead hang as well.
Move Fast Lift Heavy
2x CrossFit Games athlete Christian Harris, from team Move Fast Lift Heavy, has also published a video explaining his strategy and tips for CrossFit Open workout 23.2
WODprep (article)
WODprepr is famous for, well, preparing people for WODs. They released an article in much detail about their strategy and tips for the Open 23.2 workout.
In it, you can read about strategies for pacing, how to set up for the burpee, and how to get your best score on the 1-rep-max.
WODprep (video)
If you don't want to read the article written by Ben Dziwulski, which we highly recommend, here is a video they posted.
Misfits Athletics
They released a podcast (with video) right after the revelation of the 23.2 Open workout detailing strategies and tips.
The Progrm
The Progrm offers training program for CrossFit athletes. They have shared an article with strategy tips for 23.2 as well.
Focusing more on how to pace the workout, especially if you struggle with gymnastic movements, The Progrm also offers ideas of when to attempt the 23.2B lifts.
Invictus Fitness
2023 CrossFit Open
Now in its 13th edition, the CrossFit Open is a three-week online fitness competition that unites the worldwide CrossFit community. It marks the start of the 2023 CrossFit Games competitive season and is the first step towards qualifying for the CrossFit Games.
This year's Open runs from February 16 through to March 6, with workouts released weekly every Thursday. There are a total of 37 divisions (based on age, gender, and ability) and three different tracks to follow: RX, scaled, and foundations.
BOXROX will keep updating this article as soon as more prominent figures in the Sport share their strategy and tips for 23.2A and 23.2B.