The Nike Air Max Trainer 1 Men's Training Shoe provides comfort, classic OG cushioning, a forefoot strap for support and leather sections for enhanced durability. The designers have revamped a hugely popular streetwear model and made it suitable and effective for working out.
This new model is a re-make of a training version called Air Trainer 1 from 1987, a landmark Training Shoe in the history of Cross Training.
ENHANCED SUPPORT ON THE UPPER
Anyone that has worn The Nike Air Trainer 1 in the past will already know how comfortable it really is. In this new iteration, the moulded collar provides locked-down support which keeps your feet feeling snug and secure on top of the Air sole. The Training Shoe is designed for working out as well as the street, so this fit is essential for helping achieve true functionality inside the gym.
The moulded collar is augmented by a forefoot strap that helps secure your foot in place. The inner sleeve supplies ankle and lateral support. When these various components of the Training Shoe are combined, they harmonise to create a snug and supportive fit without restricting your feet.
On the exterior, a rubber outsole with a nubby pattern delivers cross training traction, and the leather sections on the top deliver extra durability and stability.
STABILITY AND CUSHIONING ON THE LOWER
The Air unit offers significant cushioning and impact absorption, yet the flat heel provides stability when lifting weights. This seems like a juxtaposition of different aims, to offer cushioning AND stability, but they work surprisingly well together.
These are not the shoes to wear when you are trying to PR your snatch, or for exclusive strength sessions, but they are excellent when it comes to larger rep ranges of lighter weights and bodyweight movements such as bar facing burpees, thrusters or box jumps.
For these types of exercises, and workouts in the gym or box involving these types of movements, then The Nike Air Max Trainer 1 Men's Training Shoe is a great fit.
IMPROVED SOLE
The sole is much sturdier that I initially anticipated, and I was pleasantly surprised to find that I could generate much more power from the floor that predicted with my lifting.
DISTINCTIVE STYLE
The original Nike Air Trainer 1, released in 1987, was an iconic and stylish in equal measure. To stand on the shoulders of giants, in homage to that rich tradition, the designers and engineers at Nike decided to use a Max Air unit in the upgraded new version.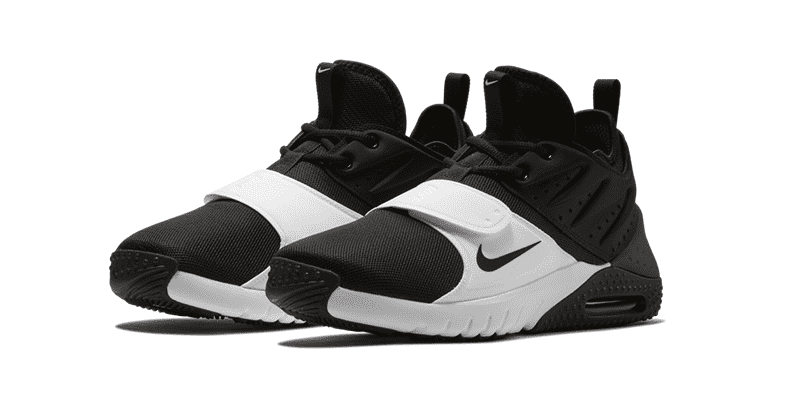 It also maintains the distinctive silhouette and clean, dynamic lines that characterised the original design.
NIKE – SHAPING THE HISTORY OF CROSS TRAINING
The legend goes something like this. Nike designer Tinker Hatfield was tired of packing multiple pairs of shoes in his gym bar. Tennis shoes, running, basketball, weightlifting, so he went back to the drawing board and tried to create the ultimate hybrid for athletes. Nike execs were unconvinced, but assisted by Mark Parker (who would later become the Nike CEO), the Nike Air Trainer 1 was born. That was 1987.
The height protected the ankle during running and basketball, and the strap allowed it be incredibly versatile depending on how securely the foot needed to be locked into place. This was perfect for the gym or for running. It was a shoe that looked as effortlessly stylish on the streets as it did in the gym or the court. It was unique, functional and effective, and it just got upgraded and re-released.
THE TECHNOLOGICAL EVOLUTION
Nike introduced its Air Cushioning Technology in 1979. By embedding air units in the midsoles of its running shoes, it altered the way that athletes approached and reacted to athletic performance forever. Years later, as Nike continued to bring the latest scientific discoveries to footwear design, the Nike Air component became larger – meaning greater cushioning and comfort – and was made visible for the first time in the Air Max shoe: now athletes could see as well as feel the benefits of Nike Air.
Many Nike Air products were developed since then and many of them grew to become icons both on and off the track, and in and out of the gym.
A NEW PARADIGM, A RICH HERITAGE
The Nike Air Max Trainer 1 is based in appearance and style on the original Air Trainer 1 from 1987, but the Air unit comes from the Air Max lineage. Check out how this developed over the years.
1987 – Air Max 1 (also known as Air Max 87). First ever visible air unit
1990 – Air Max 90. Increased air volume
1991 – Air Max 180. More visible air unit
1993 – Air Max 93. 270 degree heel visible unit
1995 – Air Max 95. Visible air unit at forefoot
1997 – Air Max 97. Debut of full length air unit
2003 – Lightweight upper material manufactured by Teijin
2006 – Air Max 360. 360 degree caged air unit
2013 – Flyknit Air Max. First Air Max training shoe with full flyknit upper
2015 – Air Max 2015. Updated tubular unit
2016 – Air Max 2016. Revamped engineered upper
2018 – Air Max Trainer 1. Enhanced training capability
What began as a revolutionary performance mechanism soon blossomed into an iconic symbol of street style, eventually earning its spot as the best of both worlds for athletes and sneaker enthusiasts alike.
Nike's willingness to push the envelope has resulted in what is perhaps the most well-known training shoe of all-time. To our generation, Nike is a household name, and its legacy is only continuing to
grow.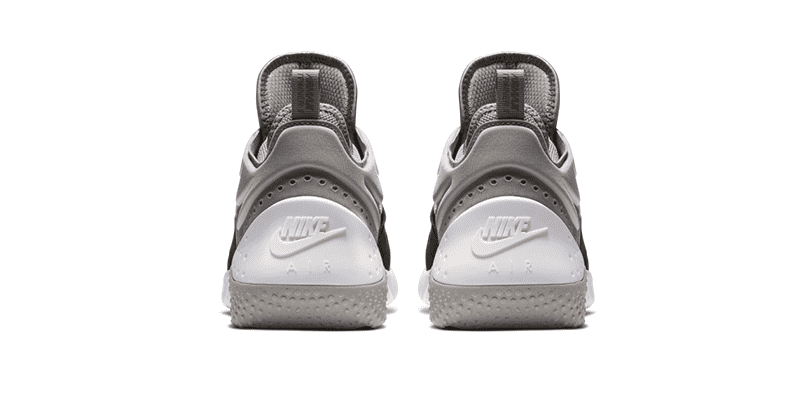 The Nike Air Max Trainer 1 Men's Training Shoe is the latest step in this process of refinement and improvement. Be part of the heritage.
Unfortunately the shoe is not in stock anymore but check out Nike's newest shoes for Cross-training.