Watch Justin Medeiros win the 2022 CrossFit Quarterfinals and go behind the scenes in his latest video.
After placing 3rd overall in this year's CrossFit Open, the 2021 Fittest Man on Earth has gone back to being dominant.
He did not only win the second stage of competition, the CrossFit Quarterfinals, in his respective continental region but also submitted the best scores worldwide.
Watch Justin Medeiros WIN Quarterfinals
Quarterfinal results are unofficial until Friday, April 1 but, as things stand at the time of writing, Justin took the top spot for workout 2 in the North American region with a time of 6:56. Only two male athletes went under seven minutes in North America for that workout.
He earnt two more top 10 finishes for workouts 1 and 3 and lifted a total of 1047 lb for the Other CrossFit Total (good for 54th in the region).
What are Quarterfinals?
Quarterfinals are an online competition that will serve as the second step in the qualification process for the 2022 CrossFit Games. Athletes competing in the Quarterfinals will be required to compete in a series of advanced workouts over the course of the weekend.
In total, 27,700 athletes qualified for the Individual Quarterfinals around the world, with 12,218 women and 15,482 men given the chance to compete in the second stage of the journey to the CrossFit Games.
Depending on their respective continental division, a small portion of those athletes will advance to CrossFit Semifinals. In North America, the top 120 women and top 120 men qualify for Semifinals. Europe will see the top 60 athletes in each division compete in the next stage, and Oceania, Asia, South America and Africa will each send their top 30 athletes to compete in the next stage.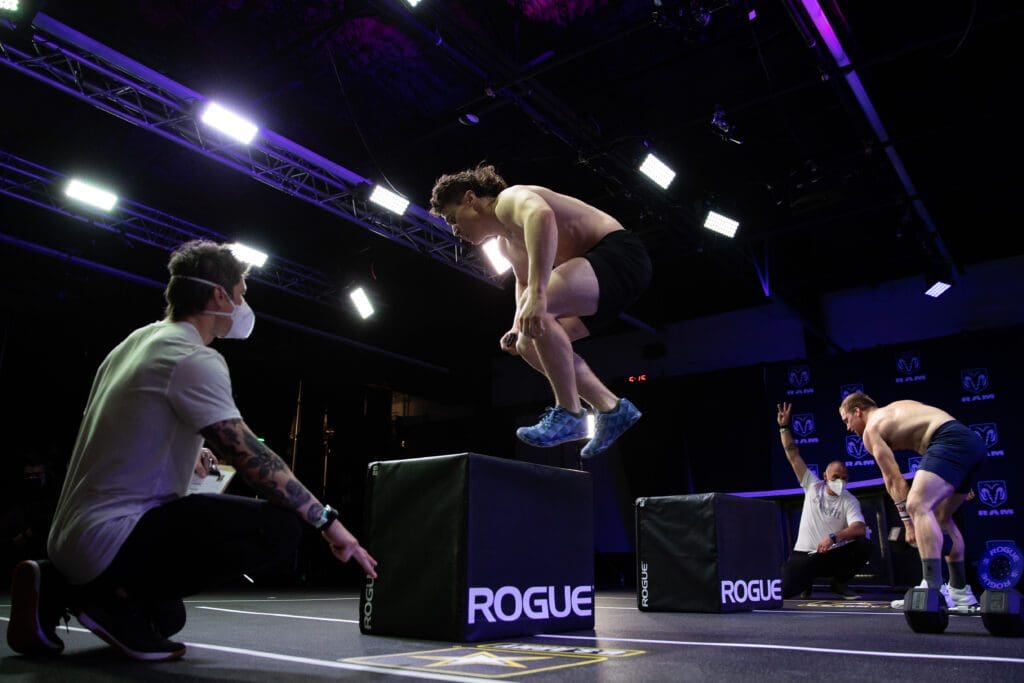 Quarterfinals workouts
Workout 1
For time:
50 dumbbell walking lunges
30 handstand push-ups
40 front-rack walking lunges
20 deficit handstand push-ups
30 overhead walking lunges
10 strict handstand push-ups
* Time cap: 15 minutes
Women: 35lb dumbbells for all lunges, 2 inches deficit
Men: 50lb dumbbells for all lunges, 3.5 inches deficit
Workout 2
3 rounds for time:
30 alternating single-leg squats
30 GHD sit-ups
10 muscle-ups
* Time cap: 15 minutes
Workout 3
For time:
8-16-24-32-24-16-8 wall-ball shots
4-8-12-16-12-8-4 shuttle runs
1-2-3-4-3-2-1 rope climbs
* Time cap: 25 minutes
Women: 14lb medicine ball, 10 feet target, 50-feet shuttle run
Men: 20lb medicine ball, 10 feet target, 50-feet shuttle run
Workout 4
Total load:
1 clean
1 bench press
1 overhead squat
* Time cap: 30 minutes
Workout 5
For time:
30-calorie row
20 burpee box jump-overs
10 snatches
* Time cap: 7 minutes
Women: 135lb, 20 inches box
Men: 185lb, 24 inches box