If you need a short training plan, BOXROX is sharing some CrossFit WODs under 10 minutes each.
Sometimes your plans for the day evolve in a totally different way than you had excepted or planned.
The 2 hours you planned for the journey, warm-up and training, have been cut down by long hours at the job, a traffic jam on the way or the class before overrunning again. Do not despair, here are 10 Crossfit WODs under 10 minutes to help you maintain your fitness level.
10. FRAN
3 rounds, 21-15-9 reps of thrusters and pull-ups for time:
21 Barbell Thrusters, 95/65lbs (43/30kg)
21 Pull-ups
15 Barbell Thrusters
15 Pull-ups
9 Barbell Thrusters
9 Pull-ups
Check out this video for a few more tips on how to have a great date with Fran.
LEARN HOW TO PERFECT YOUR PULL UP
9. GRACE – CROSSFIT WODS UNDER 10 MINUTES
30 reps for time
Clean and Jerk 135/95 lbs (61/43kg)
Then once you start to feel even more adventurous, there is always this version…
8. ANNIE
50-40-30-20 – 10 rep rounds for time:
Dan Bailey can give you a few pointers on how to position your hands and arms in order to make the double under portion of this workout easier.
7. WEDNESDAY WOD
8 minute AMRAP
6 Burpee over the Bar
8 Deadlifts (60/40kg)
10 PullUps
Raise your deadlift game with technique tips from the coach of the male and female 2016 winners of The CrossFit Games.
6. PUSH AND CLEAN – CROSSFIT WODS UNDER 10 MINUTES
For time
5 Rounds of
5 Handstand Push Ups
5 Squat Clean (70/50 kf)
5 Toes To Bar
Improve your toes to bar skills and stop gassing out so quickly during wods.
5. QUICK KILLER CHIPPER
For time
50 Kettlebell Swings (24/16 kg)
40 SitUps
30 DU
20 Pull Ups
10 Thrusters (43/30)
5 Muscle Ups
Pick up some quick tips on mastering bar muscle ups:
4. SHORT, SIMPLE AND SWEET
10 minute EMOM
15 Burpees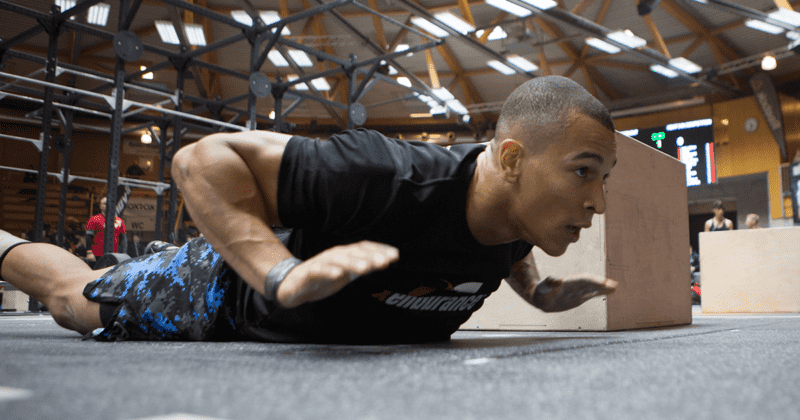 3. EMOM – CROSSFIT WODS UNDER 10 MINUTES
1 Clean
1 Squat Clean
1 Front Squat
1 Jerk
80kg/50kg
Go for 60-80% of the 1rep max from your weakest exercise. Don't cheat yourself, increase the load if it is too easy.
Also make sure to get inspired by the superhuman speed of Pyrros first as well.
5 Tips to Improve your Split Jerk
2. BALLS, BARS AND PISTOLS
10 minute AMRAP
10 Wall balls (10/9', 20/14#)
10 Toes-2-bar
10 Alt. pistols
1. GYMNASTIC STRENGTH EMOM
10 minute EMOM
Even minutes: Handstand Hold max
Even minutes: L-Sit max
Of course those WODs depend on your individual level of fitness but nevertheless they should be doable within 10 minutes. Good luck and let us know which ones you tried. Which other workouts have you completed in under 10 minutes that we should add to the list? Let us know in the comment section below.
10 AMRAP WORKOUTS TO IMPROVE MENTAL TOUGHNESS